So this past week marked the 180th anniversary of Belgian independence from those nasty Dutch folk, and to celebrate, Brewery Ommegang decided to brew up a limited edition saison. Of course, they already make one of my favorite saisons, Hennepin, but this one is different in terms of the spices added (Coriander, Grains Of Paradise, Lemon Peel, White Pepper) and the yeast used during fermentation (a Wallonia saison strain). It's a keg-only release, and Ommegang sent them out to restaurants throughout the country last week. The Philly area was lucky enough to feature several participants, and so I found myself among the lucky: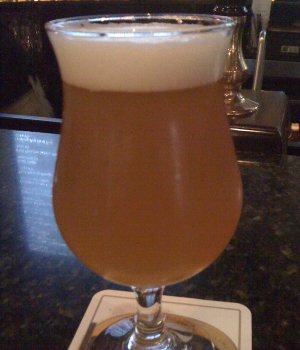 Ommegang 2011 Belgian Independence Day Saison - Pours a slightly darker and cloudier color than their traditional Hennepin, with a nice fluffy head and some lacing as I drank. The smell has lots of spiciness to it along with the typical Belgian yeastiness. The taste starts sweet with lots of spiciness, maybe a touch of citrus, and a very dry finish (this is something I associate with the white pepper, though I could be making that up). High carbonation but a light body, making for a smoother, more delicate example of the style. It's definitely distinct from Hennepin, but I think I may prefer Hennepin to this one. That said, this was good for what it was and I'm definitely glad I got to try some. B+
Beer Nerd Details: 6.5% ABV on tap. Drank out of a tulip glass on 7/23/11 (yeah, two days after the actual independence day - sue me).
This actually reminded me of Stillwater's various saisons, especially the pepper characteristic from Cellar Door... In any case, Ommegang is also apparently releasing a new fruit beer brewed with brettanomyces called Aphrodite. Brett beers have never been my favorite, but I'll try anything Ommegang releases...