I've reviewed 7 different Other Half beers... and they've all been some form of IPA. Excellent IPA. Well behaved IPA. Lovable IPA. In today's hop-obsessed beer environment, that's not all that unusual (and I am not complaining!), but it would be nice to see how their chops translate to other styles. Enter this little stout that originates from a beer called Short, Dark & Handsome, an American stout made with UK Fuggle and East Kent Golding hops. Take that, add coffee, vanilla, and cocoa powder, and you've got Short, Dark & Wired. I feel like non-barrel-aged stouts have gotten short shrift of late, so let's take a walk down that lane: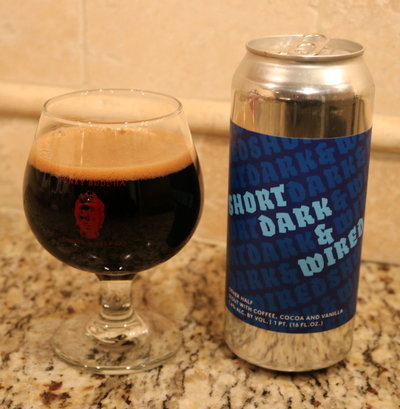 Other Half Short, Dark & Wired - Pours a deep, very dark brown color with a finger of tan head. Smells has some coffee notes, roast, maybe a hint of vanilla. Taste hits those coffee notes harder than the nose would have you believe, moderate roast, all tempered by a sweet vanilla cocoa flavor that is really quite pleasant and matches well with the coffee notes. Mouthfeel is medium bodied, smooth carbonation, sweet bite in the finish. Overall, this is a very good non-BA coffee stout. My traditional coffee ambivalence prevents hyperbole, but I'm enjoying this quite a bit. B+
Beer Nerd Details: 7.4% ABV canned (16 ounce pounder). Drank out of a snifter on 12/31/16. (No date on the can, I guess non-IPAs don't rate; it's a recent release though...)
Great, now I need to hunt down more in this vein. Many thanks to Kaedrin friend Nick for providing this can. I've actually had some good Other Half non-IPAs at shares or festivals and they're great, so I will most certainly need to nail down some more...