Tired Hands held a bottle release today, which, as far as I know, is their first official such event (I've heard tell of mythic one-off bottles, and even seen a few empties floating around as decorations, but I'm pretty sure this is the first real release). Approximately 500 bottles of wine barrel aged FarmHands (a saison, one of their two mainstay house beers) was available, and it sold out in less than an hour. Here at Kaedrin, we're big fans of Tired Hands, so we made sure we were there. Not a particularly nice day to wait in line outside, but I'd guesstimate that around a hundred folks were in line ahead of me, and it looked like the supply was dwindling mightily by the time I got my share. As per usual, all the beer dorks on line were amiable folk, so it was a good enough time, and I'm glad that I didn't arrive too late to get my greedy paws on some of this stuff.
Alrighty, that's enough preamble, let's get this party started: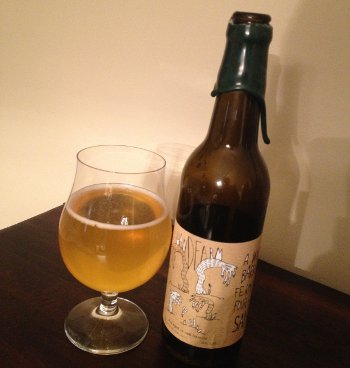 Tired Hands HandFarm - Pours a bright but hazy straw yellow color with half a finger of white head. Smells funky, lots of vinous aromas from the wine barrel, some musty, spicy farmhouse yeast character too. Taste is sweet, again lots of vinous white wine flavor here, but the more traditional FarmHands flavors (musty yeast, some grainy malt complexity, a little spice) come through in the middle. A nice sharp sourness also hits pretty quickly, and a pleasant tartness continues through the finish. Not a ton of oak, but it's there too, blended well with everything else. Mouthfeel is lightly but appropriately carbonated, a little pleasant acidity that delivers the sourness, but it's crisp and bright, and it's an easy drinker. It's not super dry, but it makes overtures in that direction. Overall, this is a well crafted, balanced, complex beer and I'm happy I got my hands on some. A-
Beer Nerd Details: 5.2% ABV bottled (500 ml wax dipped). Drank out of a tulip glass on 1/13/12.
So this is some pretty great stuff. For any Tired Hands experts out there, I'd put this a peg above Mysterious Mood, another barrel aged saison they did this past summer (which, actually, has a pretty good reputation). I guess this means I'll be hitting up Tired Hands bottle releases semi-regularly too. Fingers crossed for some Westy 13, which I really grew to love when it was on tap. I have, of course, got a bunch of other Tired Hands reviews in the pipeline somewhere, but I wanted to get this one out as soon as I drank it... I'll save those other ones for another speed round or something. Great stuff, as always. Indeed, their Domo, a black rye saison aged in a blend of Weyerbacher Insanity barrels and Chaddsford red wine barrels, is another fantastic sour beer, lots of sour cherry goodness. Ok, I'll stop now, as I could probably just ramble on and on about these guys. Here's to hoping they can keep this momentum up...