Now that it's officially ended, I think it's fair to say that I failed at Philly Beer Week. I went to a few things, but it seemed that all of the week's most interesting events were happening at inconvenient times for me (not complaining here, as it's a total pain to get into the city and I don't do it often enough). To be sure, I went to a few events and sampled a few beers, but nothing like last year's Hill Farmstead adventure, though I suppose the two Tired Hands events warrant excitement (technically not part of the official proceedings, I'm going to say they count anyway). You've already heard about their anniversary event, but they had an Only Void bottle release yesterday too, and I was fortunately able to get there early enough to snag some fancy glassware and bottles (sub-250 bottle release for each variant detailed below).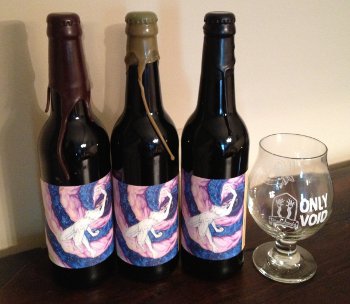 The black waxed one is straight up Only Void aged in stainless steel, which I got to sample at the Anniversary last week (it's spectacular). The light greenish waxed one in the middle is local rye whiskey barrel aged Only Void (I'll have to confirm this the next time I'm at Tired Hands, but I'm guessing that "local rye whiskey" is Dad's Hat Rye, which is a distillery I've been meaning to check out). I'm particularly excited for that one since, to my knowledge, it's the only non-sour whiskey barrel aged beer Tired Hands has ever made... Finally, we've got the red waxed variant, which was actually barrel fermented and then aged in local red wine barrels. They had some of this on tap at the release and I managed to snag a sample before it kicked (which happened within the first hour - there were still people waiting in line for bottles). Very nice fruity sour notes to this one. Special thanks to Rich on Beer for gifting his seat at the bar to me when he was leaving, much appreciated.
Other Philly Beer Week highlights included some Firestone Walker stuff (but nothing I haven't seen before, which was a slight disappointment), lots of Tröegs Scratch series beers, and a couple of relatively new local brewery Neshaminy Creek beers that I've been waiting on for a while now. I was a little disappointed by their Leon imperial stout (also known as the S'more beer, as it's brewed with graham crackers, marshmallow fluff, and chocolate), but I thought perhaps a 6 month stay in bourbon barrels would improve it. They had a lot of events last week, so it wasn't hard to track down the bourbon barrel stuff: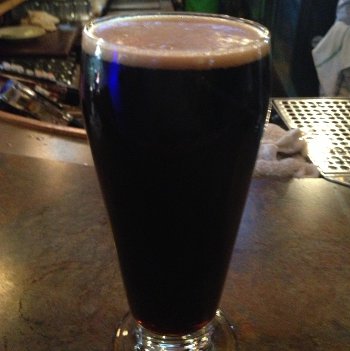 I was a little worried about it when I first took a sip. Super boozy and bourbon forward, I think it may have even been worse than the base beer... but it turns out that it was just served way too cold. As it warmed up, there was a big transformation. Still bourbon forward and a little boozy, but it evened out quickly, and more stoutlike flavors joined the party. All in all, I think it was a nice improvement over the base beer, but it's no top tier face melter either. I think the base is just too well attenuated to really stand up to the bourbon. Or something. I still enjoyed it quite a bit and will give it a B+
They also had a firkin of their Coconut Mudbank Milk Stout with Samoas and Caramel Delights added into the firkin. Not sure if it was those Girl Scout cookies or what, but this thing had an overpowering coconut aroma/flavor that sorta dominated the taste. I like coconut, so I guess there are worse things out there, but it ultimately felt a little unbalanced. Still enjoyed it. B-
And that just about covers my Philly Beer Week exploits. The Tired Hands stuff was great, but I wished I could have gotten my arse into the city for the Lost Abbey event, where there were apparently pours of Cable Car and Duck Duck Gooze happening. Oh well, I guess there's always next year...