Well, I'm cheating here. Two nights, two beers, and three movies. Not quite a double feature, but close enough! Or maybe not. The point of the beer double feature is to compare two beers of similar style, and the two beers below couldn't be more different. On the filmic side of things, it's a weekend of Trolls. One of the documentaries released this year that I've been really interested in seeing was Best Worst Movie. It's about the movie Troll 2, once crowned as the worst movie of all time, but which has somewhat recently undergone a resurgence as a cult classic (a "so bad it's good" kinda thing). Best Worst Movie was recently released on DVD, so in addition to adding it to my Netflix queue, I wanted to check out the movie itself… and Troll 2 is only available on a double feature disc of its own (with the original Troll). Intriguing, as those two movies have nothing to do with each other. Well, let's just say that the movies are all just about what you might expect .
The original Troll is actually a pretty interesting movie. Terrible, of course, but very watcheable. Plus, it's got midgets, a troll-filled musical number, and, I shit you not, a boy named Harry Potter who learns magic in order to defeat the trolls (seriously, Harry fucking Potter!?). Troll 2 is… hard to explain. I don't really think it deserves the title of worst movie ever, but it's certainly in the running. There are so many nonsensical components to the movie that I don't really know where to start. There are no trolls in the movie, only goblins (perhaps a pedantic distinction, but the lack of trolls is part of the movie's charm), and they all live in a town called Nilbog (that's goblin spelled backwards!). They lure people to their town, turn them into trees and plants, then eat them (you see, the goblins are vegetarians! Yes, the movie is an attack on vegetarians.) But it's so earnest and completely ridiculous that it's almost endearing (and most certainly funny), and so the cult that's grown around the movie makes some sort of sense. Best Worst Movie chronicles that cult and it's rise throughout the naughts. The documentary is made by Michael Stephenson, who played the little boy in Troll 2. There are some interesting parallels between the film's popularity and the way the actors view the film – they are as aware as anyone of the inadequacies of the film, but even they come around as the cult grows. The film gets a bit repetitive as it goes on, but that's also part of the point. Even the actors start to get sick of the screenings and repeating the lines over and over again ("You don't piss on hospitality!") and attending weird horror conventions and the like. It's an interesting bit of filmic nostalgia and I greatly enjoyed it, along with some beers!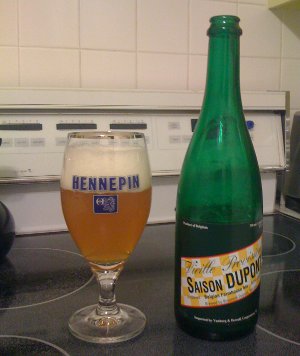 Saison Dupont – The saison style of beer has apparently been somewhat endangered, but in recent years it's had a bit of a resurgence, led by the likes of Ommegang's excellent Hennepin, and also Saison Dupont, which was named by Men's Journal as "the Best Beer in the World" a few years ago. Pours a slightly hazy golden color, nice fluffy head with some lacing as I drink. Smells great. Perhaps a bit of fruit in the nose, lots of spices (coriander? clove?), but nothing overpowering. Taste is sweet, citrusy and a little tart, with a full body, lots of carbonation and a bit of a harsh mouthfeel (as I've already established, that sort of harshness isn't necessarily a bad thing). There's a bitterness, but it's not hoppy. Is it the best beer in the world? I have a terrible time choosing favorites and picking bests, but I could certainly entertain the notion, which says a lot. A
Beer Nerd Details: 6.5% ABV bottled (750 ml, caged and corked bottle). Drank from a goblet (get it, goblin? goblet? Ha!).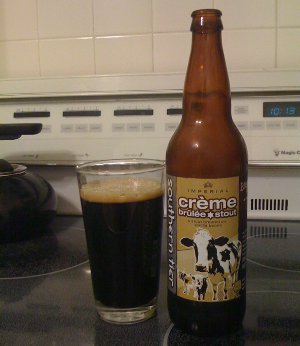 Southern Tier Creme Brulee (Imperial Milk Stout) – Recommended to me by Kaedrin regular Sovawanea, I have to admit that part of the reason I wanted to try this was that it's got such an evocative name. It just sounds like a perfect match. Pours a deep black color with a very thin, beige head. Smells very sweet, lots of vanilla and caramel. Usually the nose tapers off as I drink a beer, but not in this case – aromatic to the very end (even the empty glass gave off a strong scent). I didn't notice it, but the bottle says to drink it chilled out of a snifter, and that makes sense given the great aroma this stuff gives off. That vanilla and caramel shows up pretty strongly in the taste as well, but it's tempered by the roasty malt sweetness in a decidedly, well, creme brulee fashion. It's not as roasty as other stouts I've had recently (either that, or the sweetness is overpowering the roasted flavors). I found myself drinking quite slowly (it lasted longer than the documentary), but that's probably a good thing given the 10% ABV! Even so, it's perhaps a bit too sweet for one person to drink an entire 22 oz bottle of this stuff. It gets a bit cloying towards the end… (apparently I'm not the only one who recently tried this and felt that way) Nevertheless, it's an excellent and unique beer. It would make a nice after-dinner dessert to share with someone, and it's also something that showcases the amazing variety of flavors that beer can have (it could be a decent gateway beer in the right scenario). B+
Beer Nerd Details: 10% ABV bottled (22 oz bomber). Drank out of a pint glass (apparently shoulda been a snifter though)
So two pretty different beers, but both are pretty great.