As it turns out, I'm in the path of a hurricane wrapped in a nor'easter topped with a smattering of kick ass. But this Frankenstorm doesn't have me worried. I've battened down the hatches, I've got plenty of potable liquids in the form of beer and whiskey, and I think I might even have a flashlight or something in case the power goes out. So maybe I'm being punished for all this heretical beer I've been drinking, but damn, it was worth it.
This beer is a Belgian-style golden pale ale that's been aged in French oak Chardonnay barrels. The only other beer I've had with a similar treatment is Russian River's Temptation, which is setting the bar rather high. Fortunately, Worry is distinct enough that it carves out an identity all its own. Big thanks to Jay from Beer Samizdat for slinging this stuff my way, as fancy small-batch barrel-aged west coast beer like this usually doesn't make it's way out here: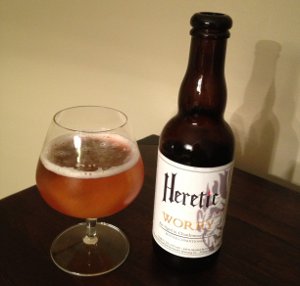 Heretic Worry – Pours a bright golden color with a finger of quickly disappearing white head. Smells of musty, bready yeast along with just a slight twang of earthy funk and maybe some white wine. Taste is very sweet, with very little of that Belgian yeast character, but plenty of oak and that vinous grape and pear character emerging in the middle and intensifying through the finish. There might be some natural fruity tartness to this, but nothing like the lactic acidity of Temptation, which is what makes this beer so distinct. Mouthfeel starts off well carbonated, but that gives way to a more wine-like, cidery finish. Deceptively easy to drink for such a big beer. Overall, a solid, intriguing beer, not quite like anything I've tasted before. B+
Beer Nerd Details: 9.8% ABV bottled (375 ml caged and corked). Drank out of a snifter on 10/19/12.
So I'm no longer in the shadow of the serpent riders, but I have a feeling that Heritic will be returning to this blog again at some point (either via distribution or trading, who cares which?) In the meantime, I'll have to make my peace with other wine-barrel aged monsters (which seem to be more common these days). And in all seriousness, I'm pretty well set for the Frankenstorm. I even have water.