Last Saturday's double feature was the unlikely pairing of The Kids Are All Right (a family drama featuring two moms, their half-sibling children, and the sperm donor father!) and Silent Night, Bloody Night (an escaped serial killer dredges up a past tragedy on Christmas Eve). Sometimes when I have a disparate pair of films like this, I'll find some unexpected similarities, but that's not really the case here, except perhaps that I think both films are a bit overrated (though both are still good, in their own way).
On the beer side of things, I'm still working my way through recent holiday purchases: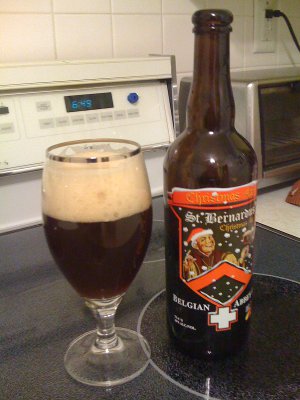 St. Bernardus Christmas Ale – First things firs, I love the label on this. It's hysterical. It looks like a bad photoshop of the trademark St. Bernardus monk with a Santa hat and some snow. Fortunately, the contents of the bottle are much better than the label. Pours a dark, hazy brown, with a big head. Smell is yeasty with some dark fruits coming through. Mouthfeel is full of carbonation, with lots of dark frutiy flavors. The finish is almost like caramel. Surprisingly drinkable for a 10% ABV beer, I had no problem downing a 750 ml of this… It's a really fantastic beer, one of the best I've had this season. A
Beer Nerd Details: 10% ABV bottled (750 ml, caged and corked bottle). Drank from a goblet.
I was quite pleased with the St. Bernardus, but it set a high bar… apparently, too high for my next beer: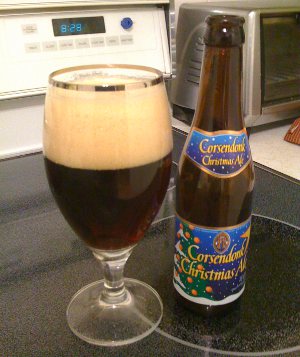 Corsendonk Christmas Ale – I picked up a 4 pack of this a while ago and I had a couple before last Saturday, but damn, drinking this back-to-back with the St. Bernardus was a bad idea, as St. Bernardus is clearly the superior beer. This isn't to say that this one is bad, per say, but it simply cannot hold a candle to the St. Bernardus (nor, I suspect, to my other favorite holiday beers). Pours a dark, clear brown color, with a big head. Smells fantastic, citrusy, spicy, and yeasty. It's a little lighter than the St. Bernardus, and a bit less flavorful. Lots of carbonation, with a lighter, fruity sweetness and a spicy kick at the end, maybe some coriander. The finish is crisp. It's a decent beer, but not at the top of the holiday seasonals. B
Beer Nerd Details: 8.5% ABV bottled (330 ml). Drank from a goblet.
A good night! Still have a few more holiday beers to get through, look for them soon…