As I make my way through my annual beer hibernation, I try to explore some beer adjacent realms, and this sometimes goes to some odd places, like… hot sauce? Last year, I discovered a new favorite, the BLiS Blast, which is aged in old KBS (or is it CBS?) barrels. It's not especially hot, but it packs a lot of flavor and it's got a character that was missing in my regular hot sauce repertoire (which it has now joined).
This year, we've got Habanero Heady, which I believe is sometimes called Heady Topper Owner's Reserve, and other times Red Heady (not to be confused with my poorly made homebrewed red ale that used yeast harvested from Heady Topper cans). They seem to name every batch differently and from what I can tell, they're all different anyway. Here's a video of them making a batch that does seem similar (but not quite the same as) my batch:
Whatever the case, I snagged a bottle of this from the brewery during last year's Operation Cheddar sortie into Vermont, and have been slowly making my way through it (yeah, it takes me a while to get through a bottle of hot sauce, wanna fight about it?) Made in collaboration with the Butterfly Bakery of VT and Maple Wind Farm, it uses Habanero peppers and a little Heady Topper (along with the usual hot sauce base of distilled white vinegar). Bright hops and spicy peppers actually go together reasonably well, so let's take a closer look: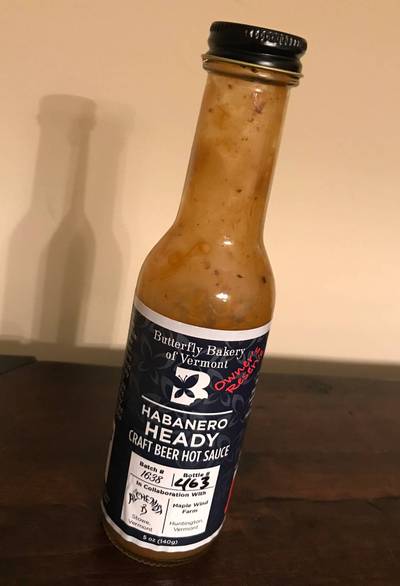 Butterfly Bakery of Vermont Habanero Heady Owner's Reserve – Appears a chunky light orange brown color, visible pepper chunks and seeds. Smells of habanero peppers with a little vinegar tang. Taste has that big spicy habanero character and tons of heat, pretty straightforward and more hot than flavorful. Mouthfeel is chunky and extremely hot. Not a ton of balance here, and the heat tends to overwhelm the taste. I certainly don't get any hops out of the flavor. Not bad at all, but also not exactly a must try. Overall, an interesting hot sauce, but not one that I see myself revisiting. Interestingly, in applications where it's mixing with something liquidy or creamy (like a sunny side up egg or mac & cheese), it actually works better, as the heat is diluted a bit and the flavor actually has room to emerge. More simple additions, like wings or similar things, the pepper overwhelms the rest. B
Hot Sauce Nerd Details: Bottled (5 ounces). Batch #: 1638. Bottle #: 463. Heat Level: 4/5 "Pretty Hot" (not sure I want to know what the 5/5 level, "Crazy Hot", is like).
There are apparently lots of other sauces they make, including other Alchemist based sauces that aren't quite as potent. I'd definitely like to check that out.