Since I know all of you religiously check this blog and my Twitter feed looking for updates, I must apologize, as I've been absentee of late and unresponsive to your repeated pleas for new posts. You're probably also very astute and did some research and figured out that I have a tendency to enter an annual beer hibernation around this time of year, which at least partially explains my absence. That being said, my general laziness has generated a backlog of beer reviews that I can leverage during this downtime. I also plan to post the customary non-beer reviews of things like hot sauce or bourbon or tea or wine or whatever throughout the season, though perhaps not quite as much as in previous years. For now, though, let's take a look at one of those beer reviews I've been neglecting…
A few years ago, I stumbled on this Four Seasons of Mother Earth series of limited, usually-barrel-aged brews from a San Diego brewery that seemed popular enough. The Autumn 2015 brew was a barrel-aged quad, and it was quite nice. This time around, we celebrate the winter solstice with an imperial brown ale brewed with brown sugar and aged in bourbon barrels. I mean, it's not one of them pastry stouts that people get hot-and-bothered about, but I'll tell you, I was quite taken with this: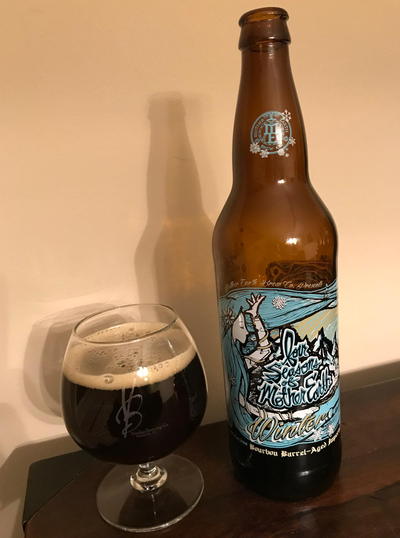 Four Seasons of Mother Earth – Winter 2017 – Pours a dark brown color with some amber when held up to the light and a finger of off white head. Smells great, sweet, vanilla, toffee, a little bourbon and oak too. Taste hits all those notes, rich toffee, a little caramel, plenty of bourbon, oak, and vanilla. Mouthfeel is full bodied, but leavened by a good amount of carbonation that makes this seem lighter than it really is (but not overcarbonated at all, it's actually very well balanced and enhances the beer), with a decent amount of pleasant booze. Overall, this is a fantastic, complex, uncommon style and I'm loving it. A little reminiscent of Firestone Walker's Bravo, but easily its equal if not even better. A-
Beer Nerd Details: 12% ABV bottled (22 ounce bomber). Drank out of a snifter glass on 1/26/18. Vintage: 2017.
So yes, I should probably seek out more of these Four Seasons of Mother Earth Beers. And maybe not wait another 3 years before trying another. Anywho, stay tuned, I have a few more beer reviews coming, with at least a couple of bourbons and one hot sauce in the pipeline as well.