It's been over a year since my last brewing escapade, so let's change that, shall we? First up is a quickie variant of Crom Approved, my Northeast IPA that I keep screwing up. Some differences in malt/hopping mean I should probably call this something different. Also, I'm guessing that Crom did not approve of my previous batches. Anywho, here's the nerdy details:
Beer #16: Untitled Conan Project
Full-Batch (5 gallons)
January 14, 2018
16 oz. CaraPils (specialty grain)
7 lb. Breiss Extra Light DME
1 lb. Breiss Wheat DME
8 oz. Turbinado Sugar
1 oz. Simcoe (bittering @13.6 AA)
1 oz. Amarillo (flavor)
1 oz. Amarillo (aroma)
1 oz. Citra (aroma)
1 oz. Citra (first addition dry hop)
1 oz. Galaxy (first addition dry hop
2 oz. Citra (second addition dry hop)
GigaYeast GY054 Vermont IPA Yeast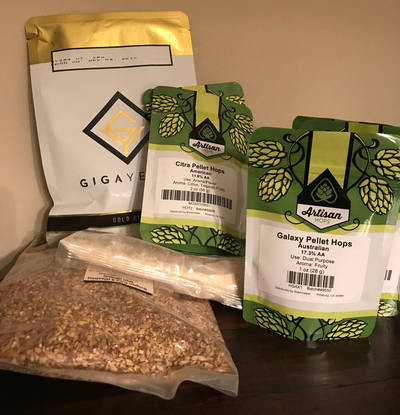 (Some malt not pictured, click to embiggen)
Very similar to previous batches. More CaraPils, no crystal 20, a little extra base malt, and some minor tweaks to the hopping. Moar Citra, less Amarillo. The all-important Vermont IPA yeast is the key to the recipe though, and I think I got a good pitch this time.
Original Gravity: 18.8 Brix, which runs about 1.079, higher than I was aiming for, but should result in something around 7.5%-8.5% ABV depending on how well the yeast does (I probably should have done a starter for this, but we'll see how it turns out).
I originally wanted this to be a bit toned down from the past couple of batches, but I must have done something wrong in my recipe app, as I ended up using too much malt, which is what brought the OG up. Still, this should wind up in the 8% area, and the higher Alpha Acid Simcoe hops actually yielded more IBUs this time, so I should be in decent shape there.
Activity started in the airlock almost right away, so I think I'm in decent shape here. If all goes well, dry hopping commences next week, and then I put this sucker in a keg on the weekend of 1/27… Fingers crossed.
As for the name, I'm not sure. This recipe has mutated enough from its initial batch that it warrants a new name. Current candidates include The Riddle of Steel, something about The Atlantean (i.e. Conan's Sword), or some sort of play on one of Robert E. Howard's Conan story titles (i.e. Rogues in the Hops, The Hops of the Dragon, The Hops in the Bowl, Hops of Gwahlur, etc…) Funnily enough, the "Untitled Conan Project" name that I chose as a placeholder is actually growing on me. It's the sort of thing you saw on Jason Mamoa's IMDB page, like 5 years ago or whenever they were making that movie.
Up next on the homebrew front is that Scotch Ale/Wee Heavy I've been threatening for a while now. This will be another split batch, with some oak aged, and some not. Or maybe I'll just oak it all. I'm hoping to get to this in relatively short order too (though obviously the oak aging takes a few extra weeks).