As its name would imply, Stagg Jr. is a younger version of Buffalo Trace's prized barrel-proof monster, George T. Stagg. It has no official age statement, but is rumored to be around 8 or 9 years old (while Stagg senior is more in the 16-17 year timeframe). It's also barrel proof in that same hazmat range of 60-70% ABV.
When it was first released in 2013, it ran aground amidst huge anticipation and hype. Perhaps nothing could live up to the expectations, but all accounts of that initial batch indicate a rough, overly-hot mess (as one review put it, it's "like drinking warm pepper spray"). Naming it Stagg Jr. probably didn't help. George T. Stagg is second only to Pappy in terms of bourbon obsession and hype, so that alone raised expectations to unrealistic levels.
Perhaps as a result of this lackluster reception, the next few batches seemed to linger on shelves longer than you'd expect. Around batch 3, its reputation started to turn around. Reviews started to wonder if Buffalo Trace had righted the ship and dialed in their newest product, but even I was able to snag a bottle of Batch 4 juice way back when, and I'm not exactly an expert whiskey hunter. I gather that subsequent releases have started to disappear more quickly, so I don't think people are sleeping on this anymore, but it'll still be a lot easier to get than Stagg senior.
I originally bought this bottle because I thought I'd never get the chance to try George T. Stagg… only to unexpectedly win the PLCB lottery a few weeks later. That Stagg is among the top 2 or 3 whiskeys I've ever had in my life, so Stagg Jr. did have a lot to live up to, but I tried to temper expectations. It helps that I'm still making my way through a lot of the more standard, boring offerings out there, so this still feels special to novice whiskey dorks like myself. It was nice to try this right next to Booker's to get a feel for how different these two bourbons can be: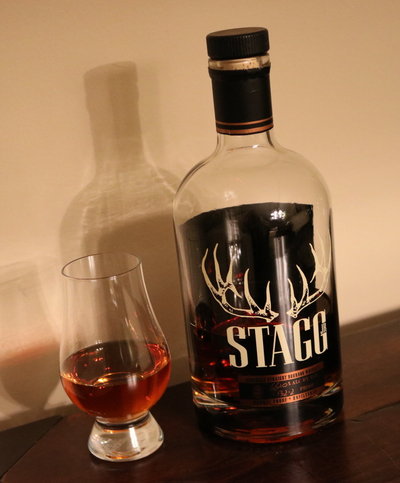 Stagg Jr. – Pours a dark amber orange color, long legs. Smells nice, typial oak, caramel, vanilla notes, some spice, cinnamon, molasses, brown sugar, booze not as nose-singing as Booker's despite the higher proof. Taste again hits those oaky notes pretty hard, some vanilla and caramel, plenty of spicebox, and ah, there's that booze. Mouthfeel is full bodied, thick, and yes, very boozy. Again, somehow not as harsh as Booker's, but still pretty hot (as per usual, take my baby beer palate into consideration here). Overall, this is quite nice, maybe a step up from Booker's but comparable. B+
Whiskey Nerd Details: 132.2 Proof, 66.1% ABV bottled (750 ml). Drank out of a glencairn glass on 4/8/17. Batch #4. Vintage 2015.
Beer Nerd Musings: I'm not aware of any beers specifically aged in Stagg Jr. barrels, but then, as I understand it, Stagg Jr. is just barrel proof Buffalo Trace or Eagle Rare, both of which are frequently cited barrel provenances. As you might expect, I think these barrels would do quite well with beer, and indeed, Buffalo Trace won the FiftyFifty Eclipse horizontal tasting I held a few years back. The concept of a sorta baby version of a more prized beer is something that does happen from time to time, though the differentiator is more about the amount of alcohol rather than the age. Some examples might include Great Divide Velvet Yeti (a lower alcohol version of their Yeti Imperial Stout that's designed for nitro pours) or The Bruery So Happens It's Tuesday, a slightly lower alcohol (and thus "more affable") version of the monstrous Black Tuesday. There are probably tons of other examples.
Fellow Travelers: Obviously lots of other folks have tried various batches of this out:
So this was a pretty decent bourbon. I enjoyed it a little more than Booker's, but I'm told it falls a little short of Elijah Craig Barrel Proof (a bourbon I've never managed to get my hands on). Alas, this will probably be the last whiskey I review during this year's Beer Recession. That being said, I've got another beer-adjacent bottle of booze that could use some reviewing, and even some things that don't involve alcohol at all. The horror!