In 2008, Allagash acquired a 2,700-gallon oak foudre and filled 'er up. For the uninitiated, the FV in the name stands for Fermentation Vessel and though you might think this was their 13th such vessel, it actually wasn't. They had a whole fleet of stainless steel fermenters and, being superstitious, they decided to skip the number 13. Apparently they managed to get over their Triskaidekaphobia before setting up their foudre.
As befits their first foray into this type of aging, they went through quite a labor intensive process. Primary fermentation happened in one of the lucky stainless fermenters with Allagash's house yeast strain, then moved to the unlucky foudre along with two strains of Brett, souring bugs (lactobacillus and pediococcus), Sherry yeast, and Allagash's reserve yeast. Then they waited four years before bottling. Sadly, I missed out on that 2012 vintage, but it's been another four years, another batch has been dispensed, and this time Kaedrin's beer acquisition department was ready to pounce.
What's different this time? Well, it seems that instead of just distributing the entire 2,700 gallons back in 2012, they kept some in reserve and used it to inoculate the next batch. Due to this sorta solera-like approach, each batch will be different (and we'll have to wait 4 years between batches). If this batch is any indication, I don't think 13 is as unlucky a previously thought: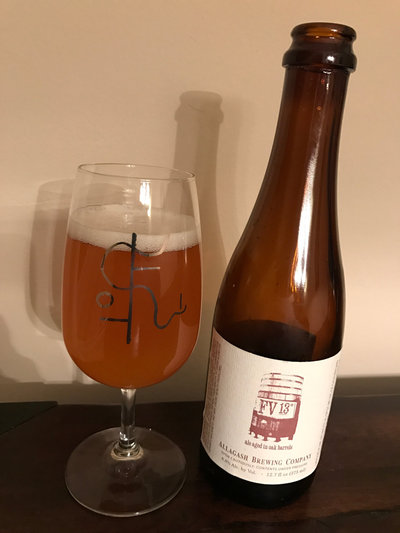 Allagash FV 13 – Pours a orange hued golden color with half a finger of white head. Smells quite nice, musty funk, vinous fruit, dark fruit, cherries. Taste hits those notes, lots of fruit notes, cherries, vinous fruit, estery, mild funk, plenty of oak, a nice acetic sour bite, quite balanced. It has a sorta oxidized sherry note to it that is quite nice. Mouthfeel is well carbonated, medium bodied, moderate to high but still pleasant acidity. Complex and very well balanced. Overall, something about Allagash's sour program hits my palate just right, I guess. A
Beer Nerd Details: 8.8% ABV bottled (375 ml caged and corked). Drank out of a flute glass on 10/23/16. Bottled: May 5, 2016.
As per usual, Allagash is killing it with these sours. As mentioned above, something about these things just clicks with me. One of these days, I really want to seek out some of their Coolship beers (i.e. spontanously fermented beers). Until then, I'm glad Kaedrin's beer acquisition department has been keeping tabs on these things…