One of the most famous white whales in the beer nerd world is Rare Bourbon County Brand Stout. Released in 2010, this sucker took the base Bourbon County beer and aged it in 23 year old Pappy Van Winkle barrels for two years. At the time, neither bourbon nor beer were as crazy as they are now, so these expensive bottles were actually on shelves for a bit before their reputation caught up with them. It is arguably considered the best stout ever made. Despite being called "Rare", there were quite a few of these bottles (the name is more about the aging process than the bottle count), so they became one of the most valuable commodities on trading boards. I have, alas, never gotten a taste of that original bottling of Rare, but Goose Island has gigantic balls and went ahead and slapped that label on another beer last year.
Now, living up to that reputation has to be excruciating, but Goose came up with an interesting successor at the least. Heaven Hill found a group of bourbon barrels in their warehouse that had been aging for 35 years*. For the uninitiated, bourbon is never aged that long. I won't get into details, but apparently it's possible for bourbon to get over-oaked and nearly undrinkable because of that. It didn't make sense to me either, but then I drank some over-oaked 20 year old bourbon this one time and now I get it. I'd also guess that 35 years of the Angel's Share would really knock down what's left in that barrel (for reference, the 16 year old Stagg lost 84% of its volume to evaporation, so imagine what happens over 35 years). As a result, the bourbon was never released (at least, not to the public), but Goose Island thought it might make for a nice heir to Rare. So they got their hands on these 35 year old barrels and filled them with Bourbon County base beer, aging them for two years (regular Bourbon county is aged for around 8-12 months). Then they went all out on the packaging (you guys, even the oak box this thing comes in smells fantastic) and sold these things for $60 a pop during last year's November release. Once again, there were a fair amount of these guys out there, but spread out across Goose's now very large distribution footprint. Also, beer dorks are a few orders of magnitude more obsessive these days, so the one place I knew was getting some in the Philly area had people lining up early on Thanksgiving night for the Black Friday release.
It was something I didn't expect to get ahold of easily, and indeed, it's trading pretty well these days and the secondary market is pretty bullish too. Enter local chain of beer establishments, The Pour House. For their third anniversary last Thursday, they broke out a case of Rare and would sell them for $85. It was unannounced too, so the crowds were bearable. This is indeed quite pricey, but we got a free glass out of the deal, it's a fair and typical bar-level increase on the $60 sticker price, far below the secondary market value, and when you split it across 5 people, it's pretty reasonable. And oh my, was it worth it.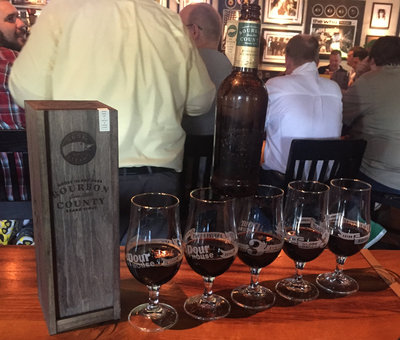 (Click to Embiggen)
Goose Island Rare Bourbon County Brand Stout (2015) – Yep, it looks like any of the other Bourbon Counties, black as night, minimal head, but if you swirl it around you can rustle some up. Smells amazing, huge wafts of caramel, vanilla, oak, and boozy bourbon. Only had a few ounces, so I made it last and just kept sniffing for a long time. Taste is like Bourbon County, only moreso. Sweet with caramel and vanilla, leavened by tons of oak and boozy bourbon. It's certainly hot and boozy, but I'm told it has mellowed a bit since the release (in November). Mouthfeel is full bodied, rich, and chewy, almost velvety, but very intense. Lots of boozy heat, might turn off some baby palates, but I'm totally into it and the base clearly stands up to the bourbon creating a harmonious middle ground. Obviously a sipping beer, but a glorious sipper. Overall, I hate to buy into the hype, but this was phenomenal. A
Beer Nerd Details: 14.8% ABV bottled (500 ml capped and boxed, 3-4 ounce pour). Drank out of a tulip glass on 6/9/16.
It was a great event, and I didn't even mention the best part. Everyone who came got entered into a free raffle, and guess who won? Yep, I'm a lucky SOB and now the proud owner of a bottle of my own. I will, naturally, have to share this with some friends at some point, but I'm quite happy to be in such a position!
* The marketing line here is that they "discovered" these "lost" barrels, which is just the latest in a long line of bourbons that have used this excuse to jack up prices lately. Either these distilleries are just blowing smoke or they have completely incompetent inventory management practices. In this case, at least, the bourbon wasn't released, indicating that maybe they really were lost, but still.