I've reviewed, like, a kajillion variants of FiftyFifty's venerable Eclipse series of barrel aged stouts, and at this point, it's like, what else is there to talk about? Last year I held a horizontal tasting of 6 variants and also tried the Four Roses variant side by side with the Bourbon, where do I go from there? There are plenty of variants that I haven't tried, for sure, but at some point these posts have to have diminishing returns, right? You hate these posts, right?
Well, too bad, because this is a situation where FiftyFifty's take on the normal approach actually feels groundbreaking or something. Whereas most Eclipse variants are aged in different expressions of bourbon barrels to highlight the individuality of the spirits, this one paradoxically does the innovative yet typical thing and combines all the different expressions into one amorphous blend. I mean, yeah, this is what every large barrel program does with their bourbon barrel aged beer, but for FiftyFifty, this is new and the result is phenomenal. They say that the Grand Cru is created "from the best barrels for blending", but I assumed that was just marketing fluff, which it probably is. Still, I loved this beer and would heartily seek this out again; maybe they really did pick the "best" barrels: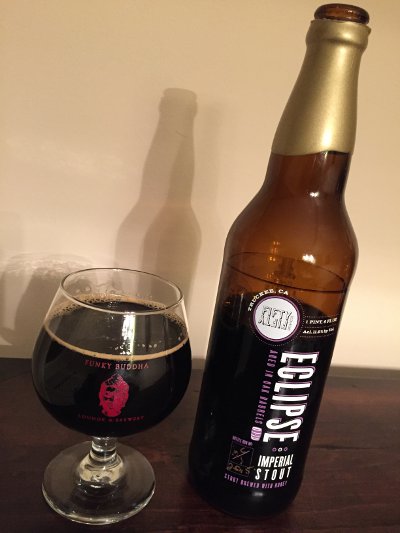 FiftyFifty Imperial Eclipse Stout – Brewmaster's Grand Cru Blend (2015) – Pours a deep dark black color with half a finger of light brown head, just like all of them. Smells phenomenal, rich caramel, tons of vanilla, oak, brownie batter, hints of roast, maybe even something like coconut. Taste isn't quite as complex, but it's still got a lot going for it, with that rich caramel and vanilla perfectly balanced with just enough chocolate and roast. Mouthfeel is rich and full bodied, well balanced carbonation, a nice sipper. Overall, this is fabulous and worth seeking out. A
Beer Nerd Details: 11.9% ABV bottled (22 ounce waxed cap). Drank out of a snifter on 4/2/16. Vintage: 2015. Bottle Run No. GC/1.
No other Eclipse variant reviews incoming, though of course I also snagged an Elijah Craig variant recently because who doesn't like those? I could do without the price tag on these suckers though, and it looks like next year's lineup is very similar to the last few years… I'm hoping to checkout the Vanilla Eclipse at some point, which should be cool, though who knows if it'll warrant a post… Blogger problems, I know. Posting should be back on track at this point, so look for 2-3 posts a week from here on out…