In these days of bourbon barrel beer obsessed drinkers (like, uh, me), it's easy to forget that a regular, plain old imperial stout can be absolutely fantastic. Sand Diego's Modern Times recently put out this imperial stout (along with, yes, some barrel aged versions which, alas, I did not mange to procure) that instantly made me think of that Simpson's Monster Island joke. To paraphrase and match to this beer:
Lisa: "He said it was just a name!"

Man: "What he meant is that Monsters' park is actually a meadow."
Well there you have it. Just a meadow, but great nonetheless: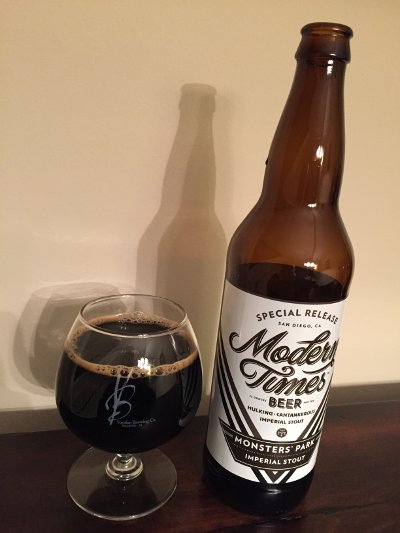 Modern Times Monsters' Park – Pours deep and dark, almost black, with a finger of light brown head. Smells fantastic, rich dark malts, a bit of roast, chocolate, caramelized sugar, maybe even a hint of liquorice. Taste follows the nose, lots of rich caramel up front, some chocolate peeks through in the middle, maybe even some dark, caramelized fruit, finishing with a bit of charred roastiness and enough bitterness to keep any sweetness at bay. Mouthfeel is rich, full bodied, moderate carbonation, a hint of boozy heat. Certainly a sipper. Overall, this is definitely my kind of imperial stout, quite tasty. A-
Beer Nerd Details: 12% ABV bottled (22 ounce bomber). Drank out of a snifter on 1/30/15.
As mentioned above, there are multiple barrel aged versions of this very beer, including a bourbon, rye, and other various expressions of whiskey. Alas, I have not managed to procure those beers…