Firestone Walker's excellent barrel aging program essentially grew out of their Anniversary beers. For their first entry in that series, they brewed 4 different beers and aged them in 6 different barrels (yielding 10 lots to blend, as it was their 10th anniversary). Some of these have gone on to become standard annual offerings on their own, like §ucaba or Parabola, but some have only been released in minute quantities at the brewery itself (or perhaps the occasional beer week surprise). For the past few years, Firestone Walker has been releasing larger doses of individual components in one-off bottles, and Stickee Monkey was 2014's entry.
They describe the base of this beer as a Central Coast Quad, and unlike many of their other beers, the ingredients are mostly "undisclosed". What we do know is that it "formulated to sit on the sweeter and malty side so that we could utilize it for blending" (bottle sez 22 IBU, which is indeed pretty low for such a big beer) and that it incorporates Turbinado brown sugar from Mexico in place of the traditional Belgian candi sugar. The result is decidedly more barleywine-ish or perhaps old-ale-ish than Quad-like, but I'm not complaining about this barrel of monkeys, it's delicious: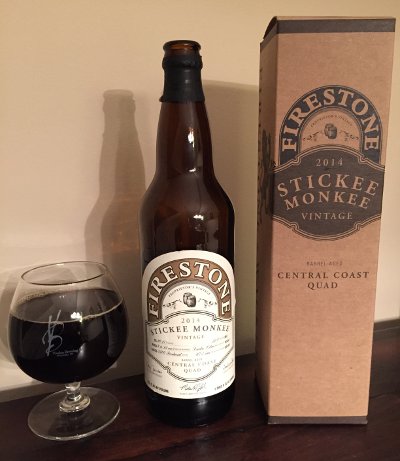 Firestone Walker Stickee Monkee – Pours a striking clear chestnut brown color with a cap of tan, fizzy head that quickly resolves into a ring around the edge of the glass. Smells of rich caramelized fruits, plums and the like, maybe some molasses, with huge barrel character, vanilla, oak, and bourbon. Taste follows the nose with a large, rich caramel presence, very sweet (but not cloying), a hint of fruit in the background, molasses, and that huge barrel presence brings the vanilla, oak, and bourbon, big time. Mouthfeel is full bodied, rich, and chewy, with ample carbonation to offset the sweetness, though it does finish with a bit of a sticky presence. Pleasant booze makes itself known with a little heat and warming in the belly. Overall, what we have here is a superb, complex, and intense barrel aged brew. A
Beer Nerd Details: 13.4% ABV bottled (22 ounce boxed bomber). Drank out of a snifter on 12/27/14. 2014 Vintage. Bottled 04/18/14.
I will never tire of Firestone Walker's barrel aged beers, despite being somewhat difficult to procure using standard methods. Even their sours and wilds are starting to come along. Up next: Firestone XVIII (14% of which is actually Stickee Monkey, heh). After that, well, Firestone has said that Double DBA will no longer be bottled, setting the stage for some sort of replacement. To my knowledge, this has not been chosen yet, but I'm guessing Parabajava (a coffee infused version of Parabola, relatively new) or Bravo (BA imperial brown ale, been around since the beginning). In any case, I'll still be hunting down bottles of §ucaba and Parabola, because they're so reliably great.