Last week was my now annual trip to Adirondacks to join family and friends for lakeside merriment and generalized fun (incidentally, this is why there were no posts last week). As with last year's Operation Cheddar, I took a little day trip over to Vermont to secure hallowed libations from the holy trinity of The Alchemist, Lawson's Finest Liquids, and Hill Farmstead.
The plan was pretty much the same as last year, except that The Alchemist was no longer distributing direct from their cannery, instead distributing to a variety of local Vermont establishments. Alas, this little switchup would prove to be my doom. Or, well, just make it so that I didn't manage to procure any precious Heady Topper. I suppose I could have, but I opted not to wait the extra two hours. I've had plenty of Heady in my day, including a recent fresh 4 pack, so I didn't judge this to be a huge loss. I could probably have found the odd 4 pack around somewhere, but this whole distribution situation makes this sort of day trip a little inconvenient. I'll need to do a more dedicated Vermont trip to make this work. No big whoop, onwards and upwards.
In any case, Operation Cheddar II: Sharp Cheddar commenced on Thursday morning. First stop was The Warren Store for some Lawson's Finest Liquids (see last year's operation for more on this great little store). Unlike last year where I basically walked in and picked a few bottles off the shelf, this year was a bit more of a production. There was a line of about 20 people ahead of me, and they sold out 34 cases in about an hour and half. Fortunately, I got there in time to secure my three bottles of Double Sunshine. On the one hand, it would have been nice to have gotten a hold of something I hadn't had before. On the other hand, Double Fucking Sunshine. These three bottles will not last long. Whilst there, I snagged a few other locals:
So aside from Double Sunshine, I grabbed a Foley Brothers Native IPA (I enjoyed their brown ale from last year's sortie), a Bent Hill India Pale Ale (dude at the shop said they're brand new and at the time, no reviews on the internets), a Crop Bistro & Brewery Idletyme IPA as well as their Crop Weizen (another brand new brewery).
Also procured at The Warren Store was some Vermont Maple Syrup and a wonderful breakfast sandwich, which I ate in peace out on their deck that faces the little waterfall and creek on the side of the building. Good times.
Next stop, Hill Farmstead!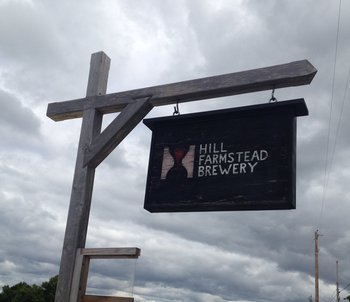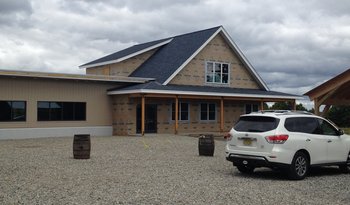 Construction and expansion efforts are moving along, and the line was actually indoors this year. They seemed to have streamlined some of their process, but there was a pretty steady line of folks looking to score their Hill Farmstead bottles and growlers. I have to admit, I spent wayyy too much money here, but it's totally worth it: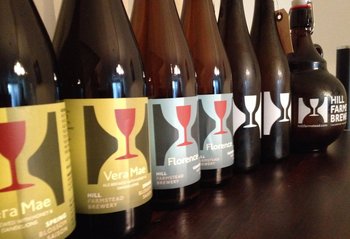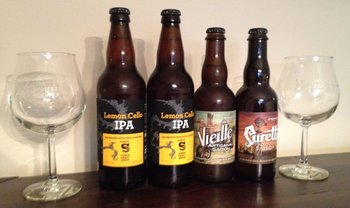 Once again, I ended up buying some of the same beer as last year. But when that beer is Vera Mae, I'm not going to complain. Plus, I got my hands on an ample bounty of Florence (more than pictured), and growlers of Harlan, Friendship & Devotion, and Society & Solitude #5, so there is that. Also snagged some Siren / Mikkeller / Hill Farmstead Limoncello IPA and Crooked Stave Surette and Vieille. Oh, and they had glassware this year too!
The last stop was Winooski Beverage, where I had hoped to score some Heady Topper. Alas, I got there at 4, there was already a few people waiting in line, and they weren't going to start selling until 6. I still had a three hour drive to get back home, so I opted to grab a few shelf turds (that happened to all be Massachusetts beers) and leave it at that.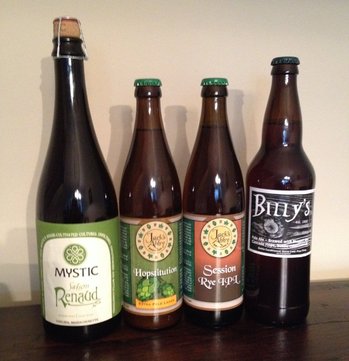 Let's see what we got here: Mystic Saison Renaud, Jack's Abby Hopstitution IPL and Session Rye IPL, and something that looks like homebrew (seriously dude, it's got those Brewer's Best caps) called Billy's Pale Ale.
And just for fun, some other stuff I procured on this trip, including some great tasting Olive Oil and Balsamic Vinegar, along with that Maple Syrup that I mentioned earlier.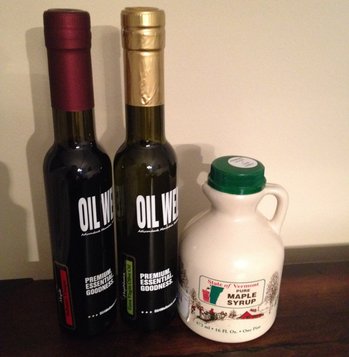 So yes, despite the lack of Heady, I declare that this mission has been accomplished. Until next year (though fingers crossed for a more wintry excursion in a few months).