If you know what I'm talking about, I love you.
Allright, fine, I'll explain. All the Boys Love Mandy Lane is a horror movie that was made in 2006, but it wasn't released until recently. Yes, a seven year wait, and part of a larger theme of movies I watched this past weekend. They were all things made a long time ago, but forwhatever reason, shelved for years before finally seeing the light of day. As such, I made a trip down to my cellar to liberate a bottle that's been down there too long.
We're big fans of FiftyFifty's Eclipse series of stouts, each with the same base imperial stout recipe aged in a different expression of bourbon (or rye) barrel. I was a huge fan of the Rittenhouse Rye variant, and the Elijah Craig 12 version was pretty great too. What's interesting about those two beers was how different they came out, the EC12 retaining a nice big roasty stout note with EC's spicy notes complementing that well, while the Rye variant was much smoother and while whisky forward, it had a bigger caramel and vanilla profile.
What we have here is the Evan Williams variant, I believe the Single Barrel Vintage expression (which is a go-to when I'm not in the mood for beer or Scotch). EWSBV is aged for at least 9-10 years in barrels, and Eclipse resides in those spent barrels for another 6 months or so, so I'm guessing this was the 2001 vintage (I haven't had them, but supposedly those late 90s vintages were a bit off due to a change in distilleries). EWSBV isn't as rare or prized as, say, Pappy or any of the 20+ year bourbons, but it's one of the most reliable values out there, so I was excited to try this out. Erm, apologies for the craptacular picture.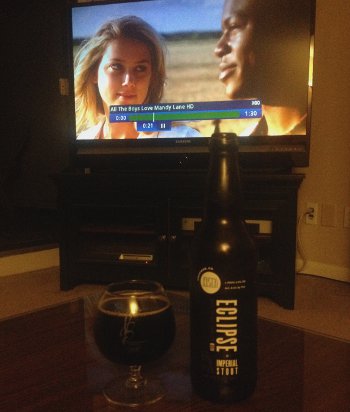 FiftyFifty Imperial Eclipse Stout – Evan Williams – Pours a black color with half a finger or light brown head. Smells of bourbon and vanilla, with just a bit of that stout base roast and caramel. Taste is sweet with a big bourbon and vanilla kick, less in the way of caramel and oak, though both are present… Just a hint of dark chocolate and roast make an appearance as well. Again, well balanced here, and it's smack dab in the middle of the EC12 and RR variants I've had. Mouthfeel is full bodied and very rich, well carbonated with just a hint of slick booze. Overall, this is great. I might prefer the Rittenhouse Rye variant to this, but it's still very worthy. A-
Beer Nerd Details: 9.5% ABV bottled (22 oz waxed bomber). Drank out of a snifter on 10/4/13. Bottle No. BR 1. 2012 Vintage.
So I have one more variant, the Old Fitz, in the cellar, and I promise that I will drink that bottle before the December release of this year's vintage (zomg Pappy). Anywho, one of my next two homebrew batches will be an imperial stout, partially aged on oak cubes soaked in… well, probably EWSBV (the current 2003 vintage). Exciting times.