The Lost Abbey: Inspired Beer for Sinners and Saints Alike… and also for: the Antichrist! Tomme Arthur's middle name? Damien! Does he have the number of the beast birthmark? Of course he does! Number of days since the last freak accident at the brewery? Two. Somehow a lose pane of glass was launched horizontally through the brewery, hitting a mild mannered bottling line worker right in the neck, popping his head off like a cork (well, a cork in a well carbonated beer, so, like, not a Lost Abbey cork). The disembodied head tumbled through the air, carromed off a couple of bottles of Cable Car and landed directly in the trash can. The tragedy was mostly averted, though, because the bottles of Cable Car were unharmed.
Well, Antichrist or not, Tomme "Damien" Arthur sure seems to know what he's doing on the beer front. This beer is a variant of one of their old standbys, a dry-hopped but relatively straightforward Belgian Pale Ale called Devotion. It's solid but not exactly lighting the world on fire. So they dosed it with Brettanomyces, which jacked the ABV up to (wait for it) 6.66%. Does the beginning of this post make sense now? No? Well fine then, here, look at the pretty picture: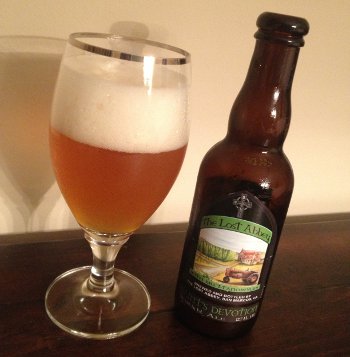 The Lost Abbey Saint's Devotion – Pours a cloudy golden yellow color with a ton of fluffy head. Smells utterly fantastic, spicy Belgian yeast and a beautiful fruity Brett character not unlike Logsdon Seizoen Bretta or Jolly Pumpkin Baudelaire iO (which is high praise). The taste starts with a sweet and spicy Belgian pale note, with that fruity, earthy Brett popping in towards the finish. Nice balance of flavor here, with no element getting too uppity. All cracks about poor carbonation aside, the mouthfeel for this one is highly carbonated, effervescent, and very dry. Crisp and refreshing, this could pull food pairing duty or perhaps a nice daydrinking deal, or just by itself. Overall, this is a fantastic brew! A-
Beer Nerd Details: 6.66% ABV bottled (375 ml caged and corked). Drank out of a goblet on 6/1/13. Vintage 2013 A (I think, date on the bottle kinda got smudged)
I will say, this was a bit pricey. I generally expect that from Lost Abbey, but I've heard it can be found for sub-$10 in some places, which would be a bargain. Not sure if it was just a bottle shop markup or what… Legit beer though, especially if you like those Bretty saisons/pales.