Rodenbach Grand Cru has very quickly established itself as a go-to Flanders Red (especially when I want to introduce someone to the rough and tumble, gum-rubbing world of sour beers). Widely available, affordable, and absolutely delicious. It's hard to believe that my first was less than a year ago, but here we are today, taking on next-level Rodenbach world beaters like Caractère Rouge. Life is good.
Made from the same base as Grand Cru, this sucker is 100% aged in oak foeders for 2 years, then steeped in macerated cherries, cranberries and raspberries for an additional six months. The result manages to retain that distinct Rodenbach character, even while it's softened by candy-like fruit notes. It's a worthy variation on Rodenbach's theme…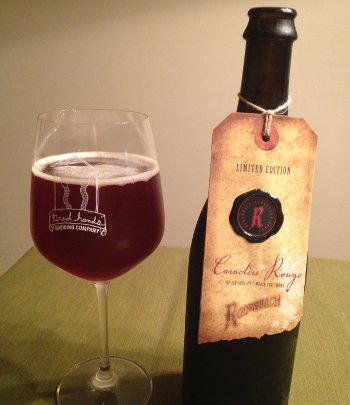 Rodenbach Caractère Rouge – Pours a deep, bright, darkish red color, serious robey tones, with a finger of light, almost pink head. Smell is pure fruit, rasberries, cherry, maybe even strawberry, sugary candy treats, fruit rollups, jolly ranchers, that sort of thing, with some nice funky twang. Taste is very sweet, again with the cherry, raspberries, and strawberry followed by a funky, assertive, sour kick in the middle, that fruit rollup character hitting in the middle too, finishing with an acetic sour note. As it warms, a subtle oak element emerges and livens things up, adding complexity and richness to the party. Mouthfeel is very well carbonated, medium bodied, bright, sticky sweet in the finish, though once it warms, that stickiness seems to yield to the oak, making it seem a little drier and actually, more palatable too (not that this was ever hard to drink). Easy going beer, complex, but accessible. Overall, it's a fruity delight. I'm perhaps more taken with the more oaky Rodenbach expressions, but this is still delicious and complex stuff. And as fruit beers go, it blows something like Serendipity out of the water. It keeps getting better as I drink, too, which is just another element of it's complexity that I really appreciate. A-
Beer Nerd Details: 7% ABV bottled (750 ml caged and corked). Drank out of a Tired Hands glass on 5/24/13.
The bottle had no markings on it at all (totally badass), but it does have that little label thingy attached by string. No real batch identification, but I'm guessing this was the 2012 batch. No other Rodenwales are incoming at this time, but I'm obviously going to be keeping an eye out for any new releases from these fellas. In the meantime, I'll have to settle for some Loonz, Ghosts, and the like. I'll be ok. For now.