The Bruery's Coton recently became just the fourth beer to earn the coveted Kaedrin A+ rating. Next up in my Bruery-fueled, liver-destroying, wallet-lightening, amazing-beer-filled winter is Oude Tart, a Flemish Red Ale aged in oak barrels. This is a descendant of Bruery brewer Tyler King's first homebrewed sour beer (which he attempted at the ripe age of 17 or 18), though obviously that recipe has been tweaked and honed through the years (I'm guessing they didn't age their original batch in giant oak barrels for a year), to the point where this was also the Bruery's first major award-winning beer.
So I'm continuing my orbit around sour beers, though at this point, I should probably just land this crazy spaceship and partake in all the sour beer I can find. But enough babbling, let's drink this stuff: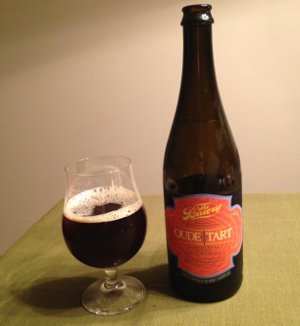 The Bruery Oude Tart – Pours a dark brown color with half a finger of bubbly off-white head that quickly subsides to a ring that shows pretty good retention. Smells of slightly twangy funk, some earthiness, a nice oak character, and plenty of fruity aromas, maybe cherry. Taste starts with a slap of sourness, with sweet, bright sour cherry notes quickly emerging along with some subtle oak notes, a little earthiness, with that sourness reasserting itself in the finish. Mouthfeel is medium bodied, lightly carbonated and smooth, a little acidic. A little mouth coating goodness here, but nothing overwhelming. Overall, a top tier sour beer! A
Beer Nerd Details: 7.5% ABV bottled (750 ml capped). Drank out of a tulip glass on 11/10/12. Label sez: 060712 LOT39 (presumably bottling date)
This winter is shaping up to be pretty awesome. I've got a couple more Bruery beers lined up, including one absolute monster that just arrived in the mail, not to mention a couple of upcoming bottle releases by local breweries and, uh, some other trades (no jinxing, but some other whales will be had in the next few months).