Back in the gestating phase of this blog, I put together a dorky list of beers I wanted to try. This was mostly based on hearsay and tomfoolery on the internets, but my friend and frequently-mentioned beverage compatriot Padraic recommended a few sour beers for me to try. One was Jolly Pumpkin's La Roja, a well-crafted beer that I ultimately enjoyed, even if it didn't blow my mind. Another recommendation was anything from Rodenbach, so I girded my loins for another foray into the sour realm of beer. This time, I was rewarded with a beer that I now count among my favorite sours. Consider my mind blown: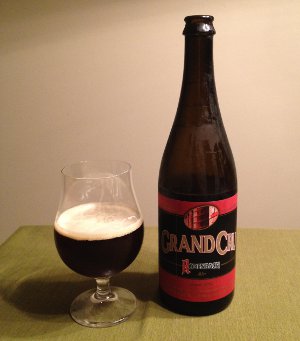 Rodenbach Grand Cru – Rodenbach apparently brews a single base beer, but what makes them special isn't really the brewing details, but rather, the aging process. They take that base beer and put most of it in giant oak vats. There it sits, for two years. At that point, it's then blended with a proportion of "young" beer and bottled. What we have here today is 33% young beer and 67% beer aged for two years. And boy, did that aging do the trick…
Pours a dark amber color with a finger of creamy looking tan head. Smells of a wine-like vinegar, a familiar twang that indicates sourness to me, with maybe some mustiness peeking through too. That fruity, vinous sourness hits immediately in the taste, but a nice rich malt character emerges quickly, along with a little of that caramel, oak, and vanilla character from the aging. Lots of complex but well balanced flavors here, a sourness that is pleasant but not overpowering, an oak-aged character that adds a richness of flavor without overwhelming the more delicate touches. Mouthfeel is well carbonated, rich, and full bodied, but that sourness prevents it from feeling heavy. A really wonderful beer, among my favorite sours. A
Beer Nerd Details: 6% ABV bottled (750 ml caged and corked and covered). Drank out of a goblet on 5/26/12.
Well, call me a believer. I just may be coming around to sour beers, though they still don't get me revved up the way a bourbon barrel-aged beer does. Anyways, I've already got a bottle of the Rodenbach "classic" (similar process, but only 25% is aged, the rest being young beer) in my fridge, though I'm not expecting that one to be quite as revelatory as the Grand Cru!