Back in the day, when I was still trying to wrap my head around the daunting complexity of the beer world, I put together a dorky list of beers I should try. It was based on recommendations from friends and things I read on teh internets (because that's a trustworthy and reliable source, right?) Anyways, this was one of the beers suggested to me (by frequently mentioned beverage compatriot Padraic), and in true Kaedrin fashion, I picked up a bottle about two years later, and here we are: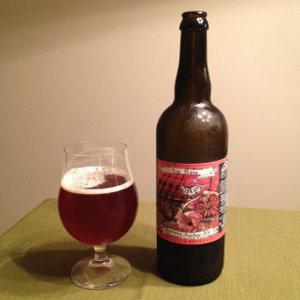 Jolly Pumpkin La Roja – Pours a dark amber color with a a bit less than a finger of whitish head. Smells funky, with some Brettanomyces character and that twang that makes me expect sour flavors, but there's also some malt sweetness peeking through. The taste is very sweet with a tartness emerging in the finish. It's not super sour, but that twang is there, along with some of that barnyard Brett character. Mouthfeel is light to medium bodied. The sourness makes it more of a sipper, but it's not heavy. Overall, quite solid, a nice example of the style. B+
Beer Nerd Details: 7.2% ABV bottled (750 ml capped). Drank out of a tulip glass on 4/21/12.
Yeah, so I'm, uh, still working through that list of beers I made in 2010. For the most part, I'm not actively pursuing the list (rather, the list of stuff I want to try that resides in my head has grown exponentially – I should really post a most wanted list or something), but I've actually made a great deal of headway. One of these days I'll pick up a bottle of Rodenbach, as was also suggested to me way back when. I do not forget these things… it just sometimes takes a few years for me to get to them.