The term "Ichor" has two meanings. The more recent usage is that of "a foul-smelling watery discharge from a wound or ulcer." Thankfully, I suspect that Sly Fox was going for the more classical definition when naming this beer: "an ethereal fluid flowing in the veins of the [Greek] gods." Yes, I think we've stumbled upon Sly Fox's nefarious plan to harvest the blood of long-dormant immortals and turn us all into unsuspecting vampires. Or something like that. Also of note: Apparently Greek gods had a Belgian style quadrupel for blood: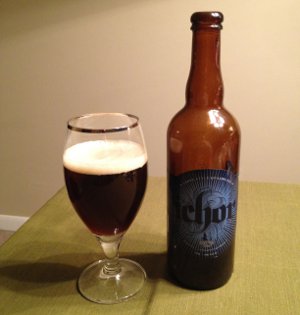 Sly Fox Ichor – Pours a deep chestnut brown color with amber highlights and a finger or so of white head. Smells very spicy, tons of clove in the nose, bready Belgian yeast, and a bit of fruitiness peeking through. Maybe even a slight roasted malt aroma. Taste is also very spicy, with that clove showing up again (usually clove aromas and flavor comes from the yeast, but in this case, I suspect Sly Fox actually spiced the beer with clove in addition to using a Belgian strain of yeast…) Lots of sweetness, some brown sugar/molasses character, and some of that dark fruit peeking through too. Mouthfeel is full bodied and well carbonated, with a well balanced dry finish. You get some heat from the alcohol, but it's otherwise hidden pretty well. Overall, a very well done, complex beer. Not top tier in the style, but it's an interesting take. B+
Beer Nerd Details: 10% ABV bottled (750 ml caged and corked). Drank out of a goblet on 2/25/12.
Sly Fox is yet another interesting semi-local brewery that I still have not visited. I'm going to have to rectify that at some point. Apparently this beer was featured in the Rare Beer of the Month club, though obviously I have no problem getting a hold of the stuff – my guess is that Sly Fox doesn't distribute very far at this point, as they're still a tiny brewpub operation. That being said, I'm always interested in trying their beers, even if I haven't had one that's really blown me away (every one I've had has been in the "B" range)…