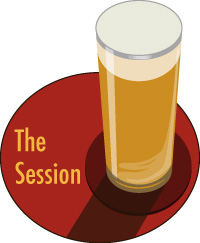 On the first Friday of every month, there's a beer blog roundup called The Session. Someone picks a topic, and everyone blogs about it. This month, Brian Stechschulte is hosting, and he wants to know about everyone's beer collectibles and breweriana:
I've decided not to focus on the substance of beer, but the material that plays a supporting role. Bottles, coasters, cans, labels, ads, tap handles, church keys, hats, t-shirts, tip trays, glassware and signs have been collected by fanatics ever since beer has been sold. These objects constitute the world of breweriana, a term that surfaced in 1972 to define any item displaying a brewery or brand name. The majority of highly prized objects are from the pre-prohibition era, but ephemera from every period in brewing history, including craft beer, finds a home with each beer drinking generation.

So what old or new beer related items do you collect and why? It's that simple.
It is indeed simple, but I'm at a bit of a loss here. I have a nice Ommegang Hennepin glass that was a memento of a trip to Cooperstown a few years ago, but that's kinda boring and it's not like I have a big collection of other breweries' glassware (though that's not a bad idea…)
I suppose the only thing that I have a pretty wide variety of is beer bottle corks. I didn't really consciously think to myself: Self, I should collect beer bottle corks! but I do tend to have some packrat tendencies and have recently found a couple of caches of corks (click for larger version).

Indeed, I am often intrigued by what appears on the cork. Some have nice artwork or patterns, some use it as a way to date the beer, some show the preferred glassware, some just have the brewery name printed on there, and some are just plain and unadorned. They're not as varied or interesting as, say, Bottle Caps (come to think of it, I probably have a lot of those lying around as well), but I like them. Obviously I don't keep every cork, especially since each brewery seems to use the same corks for most bottles, but I will keep ones I like or find interesting.
So, yeah, not a very exciting collection, but then, I prefer to direct my energy to finding and drinking beer. Speaking of which, it's Philly Beer Week! I should be drinking (Maybe I'll save a cork or two).