Another beer from a tiny West Coast brewery, courtesy of Jay from the most excellent Beer Samizdat blog. I found out after drinking it that the guy behind the brewery is Jamil Zainasheff. Not exactly a household name, but definitely a big figure in the dorky world of homebrewing. He's got some well respected books on the subject and co-hosts the Brew Strong podcast. When listening to people give advice on homebrewing, there's always a part of my mind that's wondering whether or not I can trust what I'm hearing. I mean, these guys clearly have a lot of knowledge and brew a lot, but it's not like I've ever tasted their beer. So it's heartening to see someone like Jamil open his own brewery and put his stuff out there for all to consume. Good on him, and if this beer is any indication, I think Heresy will become acceptable: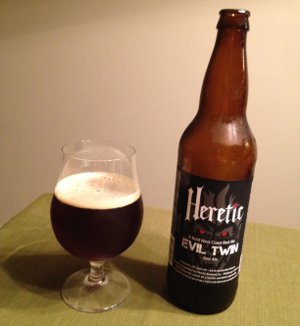 Heretic Evil Twin - Pours a dark amber ruby color with a finger of light head. Amazing nose on this thing. Tons of juicy citrus, pineapple, grapefruit, pine, the works. Unfortunately, I think that aroma may be writing checks the taste can't cash. Taste starts of with some big, sweet caramel and amber malts, coupled with a little citrus and pine hop character in the middle, and some hop bitterness finishing it off. This is in no way bad - it's actually really, really good, but it's a little more muted than the nose was leading me to believe. Mouthfeel is well carbonated, medium bodied, but easy to put down. Overall, a really nice hoppy red ale, certainly something I'd go out of my way for again. On the upper end of B+
Beer Nerd Details: 6.8% ABV bottled (22 oz. bomber). Drank out of a tulip glass on 9/22/12. Label sez: Bottled 05.14.12 X33
A nice first impression, and fortunately, Jay sent along another Heretical beer that I'm quite... Worried about (heh). Seriously though, super excited to try that other Heretic beer. In other news, I'm officially caught up on reviews (unless, uh, you consider the beer I drank tonight, which you'll be hearing about next week). Score. Also, it's getting cooler out, so that means homebrewing activities will resume en-force. First up: an Abbey Dubbel. Look for a recap on Sunday. After that... I'm thinking this imperial red ale style could be interesting. I'll have to start thinking up a recipe...