Back when I started homebrewing, I made a tripel for my second batch. A relative neophyte, the tripel was one of my favorite styles, and I was overexcited at the prospect of making a whole 5 gallons of the stuff. As it fermented away, I anxiously tried to come up with some sort of fancy name for my beer and promptly ran into a brick wall. I've noted before that I'm terrible at naming beer and am mildly comforted when a real brewer comes up with something straightforward to their beer. Ultimately, while I enjoyed that batch of tripel, it quickly dropped off in quality, with a huge fusel alcohol quality developing, so naming it was a moot point.
Here we have Logsdon's take on a Tripel, called Straffe Drieling, or Three Sisters. It's an oblique reference to the Three Sisters mountains of Central Oregon, but also a set of triplets presumably born to the Logsdon family or somesuch. Good for them, and that's certainly a worthy name for a tripel. As per usual, though, it's what's inside the bottle that really counts. Fortunately, this David Logsdon guy knows his stuff, especially when it comes to Belgian styles: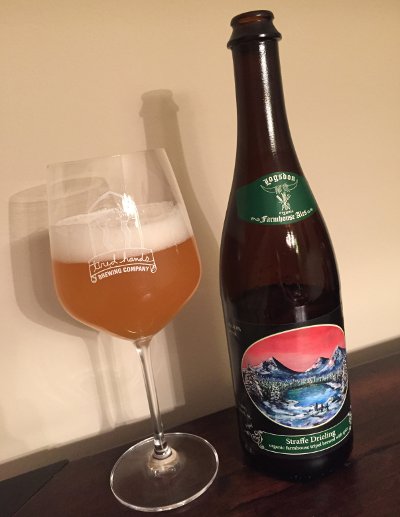 Logsdon Straffe Drieling - Pours a cloudy yellow color with a couple fingers of dense white head that has good retention and leaves a bit of lacing. Smells of Belgian yeast, sweet and spicy, cloves, even a little in the way of noble hops. The taste starts sweet, but then hits strong with the Belgian yeast spice character, and perhaps some actual spices themselves, clove, coriander and the like. Mouthfeel is highly carbonated, crisp, effervescent, and fairly dry, just like a tripel should be. Overall, an excellent example of the style, if not quite reaching the exalted heights of some of Logsdon's other masterpieces. B+
Beer Nerd Details: 8.8% ABV bottled (750 ml). Drank out of a Tired Hands wine glass on 11/8/14. Bottle No. 721. Best by 05/2016.
So not quite Seizoen Bretta levels awesome (incidentally, shared another bottle of that this past weekend and once again blew some minds - it's such a fantastic beer), but a really solid take on another Belgian style. I'm always down with trying more Logsdon. Fingers crossed for some Peche 'n Brett someday. Someday.