Rasputin is quite the interesting historical figure. Most of what's known about him comes from dubious sources, thus many details are unclear, but he is generally referred to as a Russian mystic or visionary, though also as a charlatan and sometimes even the antichrist. I never knew much about him, but what I did know always suggested that he was involved with the Occult and that he died under mysterious circumstances. Indeed, his murder has become the stuff of legend, various sources indicating that he was poisoned, shot (4 times!), stabbed, beaten, and drowned. His enemies apparently even severed... lil' Rasputin (leading to urban legends surrounding ownership of the accursed organ). The dude just wouldn't die; there are reports that he tried to sit up even while his body was being cremated. Quite resilient, I'd say. Like a video game boss.
This, of course, has little to do with the beer that bears his name unless... has drinking this beer made me immortal? Avenues of investigation seem limited. Tests could yield undesirable results. Such as my death. But I digress: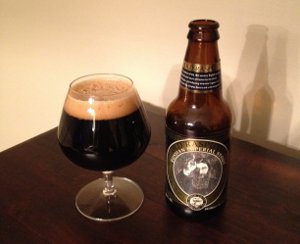 North Coast Old Rasputin Russian Imperial Stout - Pours a very dark brown, almost black color with a couple fingers of light brown head. Smells of roasted malt, but surprisingly, I get some juicy hop aroma in the nose (lots of citrus and a little pine). Those hops show up again in the taste as well, though the roasted malt is still prominent, and you get chocolate, caramel and booze too. Despite all the hop character, it's not super bitter, though the big malt backbone and booze are clearly well balanced by the bittering hops (otherwise, this would be cloying). Mouthfeel is very nice, full bodied, well carbonated, a little warming character from the booze. Overall, very complex and tasty. A-
Beer Nerd Details: 9% ABV bottled (12 oz). Drank out of a snifter on 2/18/12.
Apparently North Coast does a barrel aged version, but very little of it makes it out through distribution (most of it seems to be distributed at the brewery itself). Ah well. I've got my eyes on a bottle of bourbon barrel aged Old Stock ale, though I haven't quite pulled the trigger just yet (it seems quite expensive!)