I've already written about this beer's bigger brother, the legendary Westy 12 - purported to be the best beer in the world (maybe second best) - and most of what I said goes for this beer as well. It's just as hard to obtain (I got my bottle along with the 12), it's got that same spare Trappist aesthetic (no labels, just some info crammed on the crowns to identify them), and while its ratings might not be quite as high as its brethren, it's still extremely well reviewed (it currently resides at #16 on Beer Advocate's list and #15 on RateBeer's list). So let's take a closer look, shall we:
Trappist Westvleteren 8 - Pours a dark brown color with some amberish highlights and a couple fingers of light tan head. The aroma and taste have the same profile as the 12, but somewhat more subdued. Lots of dark fruit in the nose, plums, raisins and the like, and some of that musty Belgian yeast character. Taste is also very flavorful with that dark fruity sweetness and dry finish. Mouthfeel is a dream, just like the 12. Perfectly carbonated, dry (but not too dry), and just a hint of booze. It's definitely lighter bodied, and the flavors are slightly less rich. Overall, a fantastic beer, but not the equal of its big brother. A-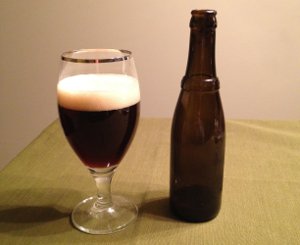 Beer Nerd Details: 8% ABV bottled (11.2 oz.) Drank out of a goblet on 1/13/12. The cap has a date printed on it that says 07.10.14.
Amazing stuff. I feel like I should have more to say about it, but nothing else is coming to mind. If you ever get the opportunity to try any Westvleteren beer, don't pass it up. I'm not going to go out of my way to try the Blonde, but perhaps I will luck into one at some point in my life. Or perhaps not. These are rare beers, after all!