Continuing on the theme of wet hopped beers, this past weekend, I cracked open a couple of Tröegs Scratch beers (cause, you know, I had an itch for such local exclusives). It's funny, while my past experience with Tröegs has certainly been cromulent, the only offering of theirs that I've grown to love is Nugget Nectar (a beer that I was initially unimpressed with, but which has grown considerably in my mindshare over the past couple years) and Flying Mouflan. Their Scratch series has always been interesting, but none have really pushed my buttons (though it should be noted that Flying Mouflan was apparently derived from a Scratch series beer at some point). I even sampled their Fresh Hop beer last year, but I came away underwhelmed. However, much like the Victory Harvest beers I mentioned in a recent post, Tröegs seems to have greatly improved their Fresh Hop offering (and for good measure, I also checked out another hoppy Tröegs brew). I cracked these open last weekend whilst taking in a couple of nonsensical (but gloriously fun) Italian Horror movies...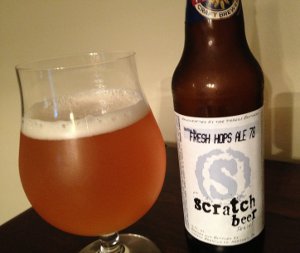 Tröegs Scratch Beer 78 - 2012 (Fresh Hop Ale) - The main wet hop component of this beer comes from Citra hops quickly imported from Yakima valley in Washington state. In addition to the wet Citra hops, they also apparently use some Amarillo and Nugget hops to round out the flavor/aroma profile. Near as I can tell, this is similar to what they did last year, though this is a slightly bigger beer in terms of alcohol. Pours a golden color with a finger of tight white head. Smells utterly fantastic, with a ton of citrus and pine, but also some grassy floral notes. Taste hits all the same notes; big fruity citrus and resiny pine flavors with some grassy floral hops along for the ride. Not a lot of bitterness in the finish, but there's enough to balance the sweetness of the malts, and it actually finishes with a sweet sorta resin character that I'm really enjoying. Mouthfeel is tightly carbonated, crisp, suprisingly light, and refreshing. This stuff goes down way too easy, downright quaffable. Overall, a big improvement over last year's Fresh Hop Scratch Beer and one of my favorite harvest ales yet. A-
Beer Nerd Details: 7.7% ABV bottled (12 oz). Drank from a tulip glass on 10/19/12.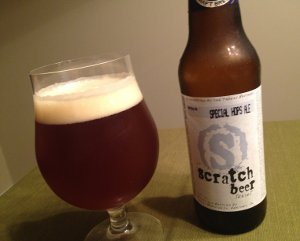 Tröegs Scratch Beer 76 - 2012 (Special HOPS) - Not strictly a wet hopped beer, but it does retain such qualities. It's a highly hopped imperial red ale brewed for charity to benefit injured soldiers. Pours a dark amber color with a couple fingers of creamy off white head. Smells of citrusy, piney hops and some caramel malt too. Taste also has that rich caramel malt character fused with citrus and resiny pine hop flavors and a well balanced resinous finish. Mouthfeel is perfectly carbonated, smooth, heavier and more intense than the Fresh Hop Ale. Not quite as quaffable but that's fine by me. Overall, this is actually an exceptional beer, well balanced, complex interactions between malt and hops, downright delicious stuff. I'd probably put it above the Fresh Hop Ale, though I'll still rate it an A-
Beer Nerd Details: 7.5% ABV bottled (12 oz). Drank from a tulip glass on 10/19/12.
I really enjoyed both of these beers, but I was so taken with the Special HOPS beer that I sent off an email to Tröegs asking them for some help with the recipe, as I'd really like to brew something along those lines for my next batch... Fingers crossed that they'll get back to me with some interesting info. In the meantime, it appears that Tröegs has earned their recent wins at the GABF. I will certainly be on the lookout for more of these Scratch beers, and here's to hoping they make the Special Hops beer a regular option for us...