What can I say, I'm a sucker for fancy-pants packaging. If you're a brewer and you want to trick me into buying your beer, here are a few tips: Cork and cage your beer (whether 375 or 750 ml, doesn't matter) or, if you don't want to do that, cover the cap with something. I actually don't really like the foil stuff, but some sort of cover works - wax-dipped bottles are quite attractive. I will say, most of the time, this makes it hard to open the beer, but for some reason, it makes it more attractive. Another trick: number the bottle, or put other meta-info on the label. Even if it's not limited, it will at least make me take notice. Finally, if you really want me to buy your beer, stick it in a box.
None of this stuff really means anything. The really important part is what's in the bottle, but there's something Pavlovian about a well-packaged beer. Firestone Walker's §ucaba certainly has a lot going for it in this manner. It's in a box. It says it's a "Special Limited Release". The label design is quite attractive. It's got all these fields on it for things like original gravity and IBU and whatnot; it's clearly printed up, but it looks sorta like a hand labeled beer, as if one of Firestone Walker's minions were forced to sit down with a pen and fill out labels for 3000 cases of beer (the label actually sez that's how many cases of this were produced). It's got a black plasticky thing around the cap. It's much nicer than foil caps as they have a really easy way to remove the wrapping from the cap (perhaps not as nice looking as wax dipped bottles, but again, easier to open).
Oh, and the beer inside is pretty awesome too. This beer was originally called Abacus, but due to some wine company owning that name, they had to change it. They settled on reversing the name and using the wacky section symbol (§) for the S, thus §ucaba. The origins of this beer go back to Firestone Walker's anniversary brews. Their initial anniversary batch consisted of a blend of a bunch of barrel-aged strong ales, specifically made for the anniversary beer. Eventually, they started releasing these component brews by themselves, and even bottling them, which is how I came to this beer, a barleywine aged in a variety of barrels (bourbon, wine, and retired Firestone-union barrels):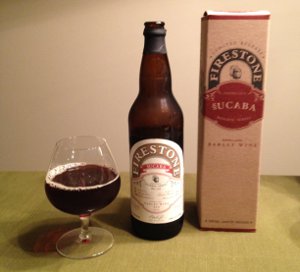 Firestone Walker §ucaba - Pours a clear dark rubyish brown color with half a finger of quickly disappearing light colored head. The nose is filled with rich caramel, vanilla, oak, bourbon, maybe even a hint of vinous character. The taste is filled with perfectly balanced rich malts, caramel, vanilla, oak, bourbon, vinous flavors (not quite wine-like), and booze. Amazingly complex stuff. I keep discovering new flavors as I drink, and it evolves as it warms. And yet nothing overpowers anything else, it's really nice. Mouthfeel is smooth, rich, a little sticky... almost creamy. The booze is certainly there and you get that warming factor in your belly, but this is a beer to be savored slowly. Overall, this is an amazing beer. A complex, intense, but still balanced beer. Highly recommended if you can find some. A
Beer Nerd Details: 12.5% ABV bottled (22 oz. bomber, boxed). Drank out of a snifter on 5/25/12.
Firestone Walker continues to impress. I will always be on the lookout for their beers, and especially their Proprietor's Reserve Series (of which this is a part). I think I've even got some of their Union Jack in my fridge at the moment, so perhaps another review soon.