It's been a while since the Weird Movie of the Week was actually, you know, a movie. We've had books, fake books, and television shows, but now we return to movies with a tale of, um, butt demons? Meet Bad Milo:
A horror comedy centered on a guy who learns that his unusual stomach problems are being caused by a demon living in his intestines.
If that didn't sell you on the movie, check out this poster: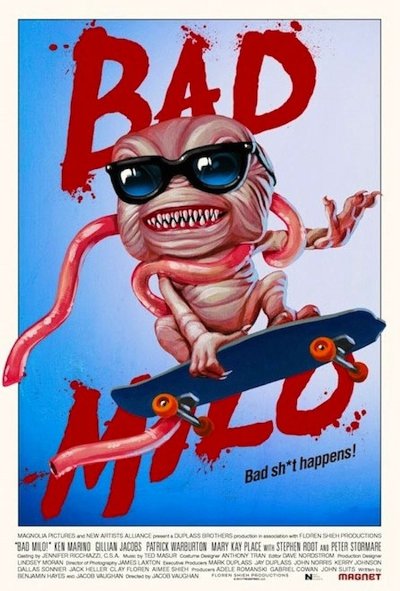 Pitch perfect 80s-style poster. As Evan Saathoff notes:
I don't know. Good movie posters don't necessarily ensure the advertised film will reach the same levels of quality you see in the one-sheet. Show me a movie poster featuring a butt demon wearing sunglasses and riding a skateboard, however, and it's hard not to get excited. Obviously, Bad Milo's not going to be Citizen Kane. But maybe it'll make a good pair with its lesser known sequel, Citizen Kane 2: Winter Break Snow Shredderz?
It's got a pretty great cast of lesser-known comedic talents as well: Ken Marino, Gillian Jacobs, Patrick Warburton, Stephen Root, Kumail Nanjiani, and a bunch of others. It's available on iTunes now (and maybe VOD, not sure, haven't checked yet) and will be getting a limited theatrical release in October.