No, this beer is not named for the awesomely badass shark. Like all of Hanger 24's Barrel Roll series beers, it's named after an aerial maneuver which is, in itself, named after the badass shark. I think. I mean, I guess it could also be named after, you know, the head of a hammer. But I prefer to think it's the shark that drove the name. It's a turn-around maneuver where the plane goes vertical, appears to stall, then rotates as the plane descends in a quarter loop so that it's made a full 180° turn. Or something. I'm clearly not a pilot, and haven't even really played one in video games.
After Pugachev's Cobra introduced me to Hangar 24's barrel aged beer program, I quickly resolved to sample more from the series, and this Barleywine aged in rye whiskey and bourbon barrels certainly did the trick. So let's take this highway to the danger zone: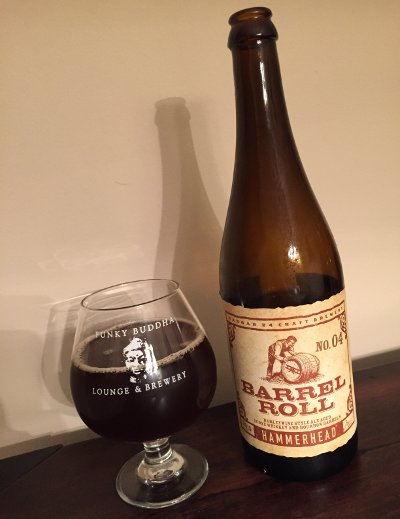 Hangar 24 Barrel Roll No. 4 Hammerhead – Pours a deep, dark brown color with half a finger of slow forming head. Smells sticky sweet, toffee and caramel, werthers original, a little bourbon, oak, and vanilla, a sorta rum-soaked fruit thing going on too. Taste is very sweet, some sticky toffee, light caramel, brown sugar, rum soaked fruit, with boozy bourbon hitting in the finish. The mouthfeel starts out in a way that makes you think this is a big, rich, chewy, full bodied beer, but it quickly thins out a little, with the barrel aged richness dissipating into the hot, boozy finish. It is perhaps not as hot as Pugachev's Cobra, but it gets the job done. Overall, this is a pretty great barleywine, not quite top tier, but well worth the stretch. A high B+, maybe A- territory, but will need to try again. If only someone would twist my arm and give me another bottle.
Beer Nerd Details: 13.9% ABV bottled (750 ml caged and corked). Drank out of a snifter on 5/2/15. Vintage: March 2015.
Would be really curious how a spell in the cellar would treat this one, and may actually have an opportunity to try that out. In the meantime, will be brushing up on my aerobatics and on the lookout for more Barrel Roll beers.