Before the tiny juggernaut of Hill Farmstead, there was Grassroots. It's the oft-collaborative label of Hill Farmstead's Shaun Hill, who began Grassroots during his 20 month tenure at Denmark breweries like Nørrebro Bryghus and Fanø Bryghus. The idea was to start a contract/gypsy/collaborative brewery called Grassroots that would build enough capital to move brewing operations to Hill Farmstead in Vermont. Grassroots started in Denmark, but has moved all around the world as Hill has collaborated with a variety of other brewers (including local Kaedrin heroes, Tired Hands, amongst many others). I've only had a couple Grassroots beers, but they've been uniformly excellent.
This particular beer is a saison fermented in oak tanks with Brett. It's a collaboration with Anchorage brewing in Alaska, and because it was brewed at Anchorage's larger facility, it's actually received a reasonable distribution (some Grassroots brews are made at Hill Farmstead, and thus don't really make their way out of Vermont). Me, I got this by waiting in line at Hill Farmstead during Operation Cheddar, but for some unfathomable reason, this beer sits on shelves at various places around the country. Given the obscene (yet somehow appropriate) hype surrounding Hill Farmstead, it's surprising that this beer isn't more highly sought after. I guess most folks don't know what to make of this whole separate, subsidiary label. I'm not complaining though, as that just means more for those of us in the know.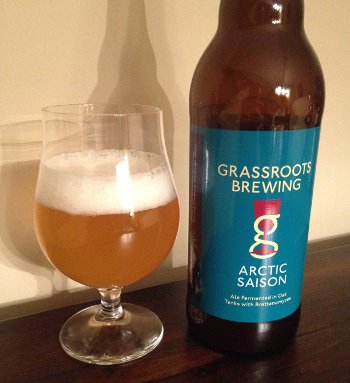 Grassroots Arctic Saison – Pours a slightly hazy straw yellow color with a couple fingers of bubbly head that has great retention. Smell is pure funk, lots of Brett, light earthiness with a fruity kick. Taste starts sweet and spicy, with that funky Brett bringing some earth and fruit to the story, slightly tart finish. Mild oak character, but really loght… Mouthfeel is medium bodied with a high, effervescent carbonation, some spice, a little rough, but very drinkable. Overall, this is pretty great stuff! A-
Beer Nerd Details: 6% ABV bottled (750 ml caged and corked). Drank out of a tulip glass on 1/26/14. Batch 1 May/2013.
This marks the last of my Vermont treasures, and thus I think I need to start planning another trip up north to stock up on more Alchemist, Lawson's, and Hill Farmstead.