Crossed over the serpent and the rainbow to get ahold of some Zombie Dust, a single-hop American Pale ale from Three Floyds. Those Munster, Indiana brewers have quite the reputation these days, partly because of beers like this, currently sporting a 4.52 average rating (out of 5) on Beer Advocate and clocking in at number 13 on their Top Beers list. Brewed with Citra, the trendiest and thus supply constrainediest of hops these days, this was originally only available on draft, but a little over a year ago, they started bottling it. And thus it was that Indiana beer traders rejoiced at their ability to pawn off $2 bottles of beer for the veritable pick of the litter. And who can blame them? I recently acquired a few of these, along with a boatload of other Three Floyds brews (from someone who thankfully was very generous with their side of the bargain). Within hours of delivery, I was drinking Zombie Dust, and I didn't even have to take a powerful Haitian narcotic or fight sharks. Go me.
Apologies for the picture. The label is gorgeous but does not photograph well.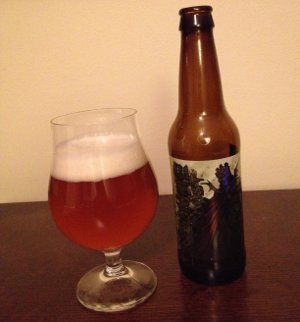 Three Floyds Zombie Dust – Pours a deep golden orange color with a couple fingers of tight white head, lacing out the yin yang, and nice retention. Aroma is intense grassy citrus hops, smelled it right away, as soon as I popped the cap. Really beautiful nose. The taste features a little more in the way of grassy and herbal hop notes, but that juicy citrus hop character, grapefruit and such, is the real driving force in the middle. Well balanced sweetness up front with a nice dry bitterness in the finish. Mouthfeel starts with a very well carbonated but smooth dryness flowing into that juicy, sweet middle before returning to dryness in the finish. Low medium bodied but immensely refreshing and quaffable, this thing disappeared quickly. Overall, it's superb, especially for a "simple" pale ale. Is it 14th best beer in the world? Maybe not so much, but I'll be damned if the hype on this isn't well deserved. Definitely among the top pale ales, if not the king. A-
Beer Nerd Details: 6.4% ABV bottled (12 oz.) Drank out of a tulip glass on 12/7/12.
This beer made a pretty fantastic first impression for Three Floyds, and I'm really looking forward to some of the others I've acquired, including the likes of Dreadnaught (another top 100 tick) and Dark Lord.