« January 2013 | Main | March 2013 »
Wednesday, February 27, 2013
Recent and Future Podcastery
I have a regular stable of podcasts that generally keep me happy on a weekly basis, but as much as I love all of them, I will sometimes greedily consume them all too quickly, leaving me with nothing. Plus, it's always good to look out for new and interesting stuff. Quite frankly, I've not done a particularly good job keeping up with the general podcasting scene, so here's a few things I caught up with recently (or am planning to listen to in the near future):
Idle Thumbs - This is primarily a video game podcast, though there are some interesting satellite projects too. I have to admit that my video game playing time has reduced itself considerably in the past year or so, but I still sometimes enjoy listening to this sort of thing. Plus, the Idle Book Club is, well, exactly what it sounds like - a book club podcast, with a book a month. I've not actually listened to much of any of this stuff, but it seems like fertile ground.
Firewall & Iceberg Podcast - The podcast from famed television critics Alan Sepinwall and Dan Fienberg. It focuses, not surprisingly, on television shows, which is something that I've been watching more of lately (due to the ability to mainline series on Netflix, etc...) Again, I haven't heard much, but they seem pretty knowledgeable and affable. I suspect this will be one of those shows that I download after I watch a series to see what they have to say about it.
Film Pigs Podcast - A movie podcast that's ostensibly right in my wheelhouse, and it's a pretty fun podcast, though I'm not entirely sure how bright it's future really is at this point given that they seem to be permanently missing one member of their normal crew and publish on a bi-monthly schedule. Still, there's some fun stuff here, and I'll probably listen to more of their back catalog when I run out of my regulars...
Speaking of that regular stable, this is what it's currently looking like:
There are a few others that I hit up on an inconsistent basis too, but those are the old standbys...

Sunday, February 24, 2013
The Oscars
The Academy Awards! At this point, every conceivable opinion you could have about the Oscars has become gauche. Whether you're genuinely enthusiastic, profoundly bored, or searingly cynical, you've got a pretty lame outlook on the event. It's not your fault, it's just the hand we're all dealt. I've found that two things help make the show palatable: beer and mockery. And predictions!
For the past 9 years (!?), I've been "liveblogging" the Oscars. When I started this practice, blogging was still mildly hip and cool. Now the concept of a "liveblog" is hoary and lame. As such, who the hell knows what I'm going to do tonight. I will certainly update this post throughout the show, but I probably won't do so as often as I have in the past. Or maybe I'll take to
twitter
, like any sane person would do. We'll just have to wait and see what happens, won't we? If you're interested, previous installments are here: [
2012
|
2011
|
2010
|
2009
|
2008
|
2007
|
2006
|
2005
|
2004
]
In accordance with tradition, I'll lay out my predictions for major awards right now:
So there are my picks. I'll be back later tonight, though I think I'm going to be mostly just tweeting or something. Who knows? Will post an update here either way.
Update 7:30 pm:
It looks like Twitter will work for this, so I'm just going to insert a twitter widget here. Feel free to leave a comment here or @ me on twitter...

Wednesday, February 20, 2013
Adventures in Brewing - Beer #10: IPA Bottling
After two weeks in the bucket, I bottled the
Fat Weekend IPA
today. Fermentation seemed to as well as usual. A week into the process, once fermentation had slowed considerably, I cracked the lid and dropped in an ounce of Simcoe hops. This is only the second time I've dry hopped a batch of beer, but hot damn, judging from the smells emanating from the bucket during bottling, I'm in for a fantastic little brew here. Last time, I got a huge grapefruit character, this time, I got a more well rounded fruitiness as well as a piney aspect that was very pleasant.
Final Gravity: 1.014, which is just about dead on what I was expecting. That being said, I also still seem to have trouble reading my refractometer. Comparing an actual hydrometer reading, I get something lower (around 1.012). The refractometer is showing something around 9.3 bx, which translates to around 1.016. I need to get better at this. Regardless, it's looking like I'm somewhere on the order of 7.3% to 7.6% ABV, which is close to what I'm shooting for, so all will be well.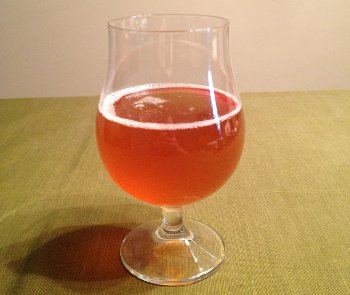 Very pretty looking beer, a nice warm golden orange color, perhaps a hint darker than my last batch of IPA. As already mentioned, the aroma is fantastic, citrusy fruit and pine all over. I gave it a taste too, and I do believe this is going to be fantastic stuff. I got almost exactly 1 full case of beer out of this batch (2.5-3 gallons), which will be perfect. Though only half of what I normally make, I've found that hoppy beers don't last, and start to fade quickly. After 6 months, my last IPA was still good, but it was a bit of a malt bomb. This is something I've become more sensitive to as my palate evolves, so I'm glad I'll probably finish this case off before it has a chance to fade significantly. Fat Weekend is about a month out, which means that this should be fully conditioned and indeed peaking right about then.
Not sure what's going to come next here. I've been toying with the idea of an imperial red ale, but may also try a batch of barleywine or imperial stout too (and perhaps finally take the secondary fermentation plunge, complete with bourbon soaked oak cubes). Whatever the next batch is, I'll probably start it in March/April. If I end up going the big beer route, I'll definitely be spending more time conditioning the beer than usual, so it will hopefully be doing really well by next Autumn... But I definitely want to make a sessionable Summer saison, akin to my last saison attempt, but a little lighter. I'll plan for that in April/May, and that should last me through the summer...
(Cross posted on
Kaedrin Beer Blog
)

Sunday, February 17, 2013
Favorite Films of 2012
2012 was a solid year for movies! Unlike
last year
, we got a full spectrum of movies, ranging from very good to truly great.
2010 was back-heavy
(a horrible first half that year), but 2012 was pretty well stocked throughout the year, with great films peppered into even the doldrums of the year. Most years, I have difficulty filling the top 10 list. This year was also difficult, but only because I had too many movies that I wanted to sneak in...
The notion of finding a theme for the year in movies is perhaps unfair. It's an attempt to condense the irreducible, but sometimes it can happen. 2010 had a clear theme of questioning reality, but 2011 was less cohesive. I am seeing something in 2012 though, and I think it could be best summarized by "the search for truth". At least half of my top 10 fits that mold pretty well, and I could arguably include a few others, not to mention some of the honorable mentions. Some films are literally about a search (
Zero Dark Thirty
,
Searching for Sugar Man
), others feature a more metaphorical search for truth, such as the search for perfection (a word that could easily be substituted for truth) in
Jiro Dreams of Sushi
or the argumentative system of law in
A Separation
. You can come up with other forms of this theme, like objective reality versus subjective reality, or maybe science versus faith, and all would be pretty well representative of the year, even for bad movies like
Prometheus
(sorry, had to get in another dig)! Of course, that may just be because this is a pretty universal theme, but hey, work with me here.
As of this writing, I have seen 72 movies that would be considered a 2012 release. This is a distinct step down from the past few years, though perhaps the quality of this year's crop means that I didn't have to search as long and hard to fill out the below list. Is that a good thing? Who knows! In recent years, I've certainly been gravitating more towards making this a list of my favorite films, rather than some sort of "objective" list of "best" films (and thus that search for truth rears its head again, this time in a meta-context). I guess that's a disclaimer of sorts, but in all honesty, my list of "favorite" films is more distinct and thus probably much more interesting than any sort of "objective" list. There were certainly films that I have a lot of respect for, but just could not connect with on a personal level, for whatever reason. They don't appear below, though maybe I'll reinstitute the conspicuously absent category. Anywho, that's enough by way of introduction, let's get this party started:
Top 10 Movies of 2012
* In roughly reverse order
Honorable Mention
* In alphabetical order
Just Missed the Cut:
But still worthwhile, in their own way. Presented without comment and in no particular order:
Should Have Seen:
Despite the fact that I've seen 72 of this year's movies (and that this post features 30+ of my favorites), there were a few that got away... mostly because I'm lazy! Or something wasn't available yet. Take your pick. I may or may not catch up with some of these...
Well that just about wraps up 2012 movies... Stay tuned next Sunday for the usual Oscar Liveblogging - previous installments here: [
2012
|
2011
|
2010
|
2009
|
2008
|
2007
|
2006
|
2005
|
2004
]
Update:
Uh oh! It looks like I miscounted and put 11 movies on my top 10. Dammit, I had a hard enough time narrowing down to 11! Let's just call two of them a tie. Or something.

Wednesday, February 13, 2013
Link Dump
Time is short, so just a few links to tide you over until Sunday:
Visual timeline of the One Ring - A thoughtfully composed diagram of the One Ring from LotR, illustrating how the ring passed from owner to owner as well as the location of the ring, over the course of almost 5000 years. Well played.
Yelping with Cormac - An old one, but any tumblr dedicated to parodying Cormac McCarthy by portraying his reviews on Yelp is worth a look. Sample awesome:

The hacendado whistled through his teeth and shook his head. You Americans, he said. Always the judge. This hotel is very good. That country is very bad. But when it is time for you to be reviewed you are begging please no. Please I can pay money. I will review you now. The hacendado snapped his fingers and a vaquero entered carrying a branding iron in the shape of a star, the whitehot tip sputtering and sparking like some wroughtiron incubus.

Heh.
Cudgel of Xanthor - Many moons ago, back in the days of GFW Radio, Jeff Green wrote a spoof video game preview on April fools. Apparently he cut too close to the bone, in that nearly no readers realized it was a joke and continually emailed 1Up, asking when Cudgel of Xanthor would actually hit shelves. A couple years ago, Green built upon the idea for his NaNoWriMo novel, writing a story set in Xanthor, but also set in a video game studio that was tasked with making Cudgel of Xanthor. As the game developers have to compromise and change the game to meet their budget and corporate goals, the setting of Xanthor changes, and the characters living in that setting have to fend for themselves. Green claims he'll release the book at some point, and heck, I'd read that.
A Letter To "The Breakfast Club" Explaining Why They All Failed Their Assignment - By Principal Richard Vernon, Shermer High School...

At one point during the essay, the handwriting changes four different times. Brian wrote, "We found out that each of us is a brain," and then someone else wrote "an athlete," another wrote "a princess," another "a basket case..." Why did you guys do this? It's weird.

You're not all of these things. Brian, you have no athletic ability. "Bender" certainly isn't a brain. "Bender" isn't an athlete either, because he backed down after I threatened him physically in the supply closet. Your essay doesn't make sense.

Heh.
That's all for now...

Sunday, February 10, 2013
Netflix's House of Cards
Last weekend, Netflix debuted their highly anticipated original series
House of Cards
. Based on an old BBC series, starring Kevin Spacey and directed by David Fincher, the show certainly has an impressive pedigree and has been garnering mostly positive reviews. From what I've watched so far, it doesn't quite reach the heights of my favorite television shows, but it's on the same playing field, which is pretty impressive for original content from an internet-based company that was predicated solely on repackaging and reselling existing content from other sources. It's a good show, but the most interesting things about the series are the meta-discussions surrounding the way it was produced and released.
Like the way free music
streaming services are changing the narrative
of that industry, I'm seeing something similar happening with Netflix... and like the music industry, I don't really know where this will end up. Netflix certainly fell on hard times a couple years ago; after a
perfectly understandable price hike
and the
inexplicable Qwikster debacle
their stock price plummeted from 300+ to around 60. Since then, it's been more or less ping-ponging up and and down in the 60-140 range, depending on various business events (earnings reports, etc...) and newly licensed content.
Recently, the stock has been rising rapidly, thanks to new content deals with the likes of Disney and Warner Bros., and now because of
House of Cards
. Perhaps fed up with wrangling the rising cost of streaming content (which are ever rising at a spectacular pace and cutting into Netflix's meager profit margins), Netflix has started to make their own content. Early last year, Netflix launched
Lillyhammer
to middling reviews and not a lot of fanfare... I have not watched the series (and quite frankly, the previews look like a parody or SNL sketch or something), but it perhaps represented Netflix's dry run for this recent bid for original content. A lot of the interesting things about
House of Cards
' release were presaged by that previous series.
For instance, the notion of releasing the entire 13 episode run of the first season on day one of release.
Netflix has done a lot of research
on their customers' viewing habits, observing that people will often mainline old series (or previous seasons of current series like
Mad Men
or
Breaking Bad
), watching entire seasons or even several over the course of a few days or weeks. I've wondered about this sort of thing in the past, because this is the way I prefer to consume content. I can never really get into the rhythm of "destination" television, except in very limited scenarios (the only show I watch on a weekly basis at the time it airs is
Game of Thrones
, because I like the show and the timeslot fits into my schedule). There are some shows that I look forward to every week, but even those usually get stored away on the DVR until I can watch several at once. So what I'm saying here is that this release of all episodes at once is right up my alley, and I'm apparently not alone.
With the lack of physical shelf space or broadcast schedule needed, I suspect this would also lead to shows actually getting to finish their season instead of being canceled after two episodes, which could be an interesting development. On the other hand, what kinds of shows will this produce? Netflix greenlit this series based on a mountain of customer data, not just about how viewers consumed TV series, but also on their response to Kevin Spacey and David Fincher, and probably a hundred other data-points.
And the series does kinda feel like it's built in a lab. Everything is top notch about the show. Great actors, high production value, solid writing, the show is optimized for that binge-watching experience. Is that a good thing? In this case, it seems to be working well enough. But can that sort of data-driven model hold up over time? Of course, that's nothing new in the entertainment industry. Look no further than the whole vampire/zombie resurgence of the past decade or so. But I wonder if Netflix will ever do something that sets the trends, rather than chasing the data.
What does this all mean for the world of streaming? Netflix appears to have stemmed the tide of defecting subscribers, but will they gain new subscribers simply because of their original content? Will this be successful enough for other streaming players to take the same gamble? Will we have Hulu and Amazon series? Will we have to subscribe to 8 different services to keep up with this? Or will Netflix actually license out their original content to the likes of Cable or Network television? Ok, that's probably unlikely, but on the other hand, it could be a big source of revenue and a way to expand their audience.
Will Netflix be able to keep growing thanks to these original content efforts?
House of Cards
is just the first of several original series being released this year. Will the revived Arrested Development (season 4, coming in May) draw in new subscribers? Or the new Ricky Gervais show? Will any of this allow Netflix to expand their streaming content beyond the laughable movie selection they currently command (seriously, they have a good TV selection, but their movie selection is horrible)? Will we ever get that dream service, a single subscription that will give you access to everything you could ever want to watch? Technologically, this is all possible, but technology won't drive that, and I'm curious if such a thing will ever come to fruition (Netflix or not!) In the meantime, I'm most likely going to finish off
House of Cards
, which is probably a good thing for Netflix.

Wednesday, February 06, 2013
Adventures in Brewing - Beer #10: Fat Weekend IPA
So I've been slacking on my brewing hobby of late, though not without good reason. I spent most of December revamping my kitchen from the ground up, so there was much time when I simply wasn't capable of brewing anything (not to mention the sanitary conditions, which were obviously poor whilst work was proceeding). After putting some finishing touches on the kitchen in January, I'm finally ready to resume brewing. One of the nice things about my new kitchen is that I upgraded my stovetop, which now comes complete with a "PowerBoil" element that, you guessed it, boils water faster than my old stovetop (I'm forced to use electric, which is less than ideal for brewing purposes). And boy did that come in handy. I estimate that this shaved a solid 30-60 minutes off the brewing process, which came in at around 2.5-3 hours, including post-brew cleaning.
This batch is being brewed for a specific reason, the titular "Fat Weekend", a gathering of portly friends from all over the northeast (and some points west) which will be sometime in mid-march. Last year, I brought a variety of homebrews and was shocked to see that the Simcoe IPAs were the first beers to go (and got the best complements), so I'm making this specifically for that weekend. Let's hope it turns out well.
In terms of recipe, this is a variation on my
Simcoe Single Hop IPA
from last year (interestingly enough, brewed exactly one year ago to the day). For the most part, the malt bill is identical. A slight increase in Crystal 20, simply because my homebrew shop was only selling in half-pound increments, and I'm using pilsen for the entire base malt (which, again, is just based on what was available). The big change, though, is in hops. Instead of using just Simcoe, I'm adding in the trendy hotness of Citra and Falconer's Flight (both used in equal proportions for flavor and aroma additions). Simcoe will remain on bittering duty, as well as contributing the dry hop addition. Otherwise, we've got an identical recipe.
Beer #10: Fat Weekend IPA
Half-Batch (2.5 gallons)
February 4, 2013
.5 lb. Crystal 20 (specialty grain)
.5 lb. CaraPils (specialty grain)
.5 lb. Vienna Malt (specialty grain)
3.3 lb. Briess Pilsen Light LME
1 lb. Briess Pilsen DME
0.5 lb. Turbinado Sugar
1 oz. Simcoe (bittering @13.2 AA)
0.5 oz. Citra (flavor)
0.5 oz. Falconer's Flight (flavor)
0.5 oz. Citra (aroma)
0.5 oz. Falconer's Flight (aroma)
1 oz. Simcoe (dry hop)
1 tsp. Irish Moss
Wyeast 1056 - American Ale Yeast
Overall, pretty straightforward stuff here. The only major change is the hops. Citra seems very much in the vein of Simcoe, but it's got a more fruity and less piney, woodsy feel to it. I also usually get a more herbal fruit out of it... nothing like a Euro-hop, but distinct from the grapefruit and pine character of Simcoe. Falconer's Flight is actually a proprietary blend of numerous hops, including Amarillo, Citra, Simcoe, Sorachi Ace, and other Northwestern US hops, apparently even experimental hops not yet available by themselves. The idea of this blend is to approximate the flavor of the trendy hops in a blend featuring those same hops, but also less trendy (and thus more readily available) hops. Tired Hands has made a few beers featuring Falconer's Flight recently, and they're exceptional, so I'm thinking they'll be a good fit here. Really excited to see how this will turn out.
Brought 2 gallons of water up to steeping temperature 150° F - 160° F in record time (less than 10 minutes), steeped the specialty grains for around 25 minutes or so, drained, sparged with another half gallon of water, added the malt extracts, put the lid on to bring to a boil. Again, this happened in record time, at which point I added 1 ounce of Simcoe and started the timer. Realize I forgot to add the Turbinado sugar, so do some quick calculations, add about half a pound in, throw the lid back on to get the boil going a little better. 45 minutes into the boil, add half an ounce each of Citra and Falconer's Flight. I don't have a scale or anything, so I'm doing this by sight, but it seems to be working out fine. Also throw in the irish moss at this time. Finally, with 5 minutes left to go, I add the aroma hops, which is again split between Citra and Falconer's Flight.
Moved the pot to the ice bath to cool it off, brought it down to about 80° F, strained the wort (removing the hops) into the fermenter, and topped off with about a gallon of cold water, bringing the final temperature down below 70° (almost too low, actually, but still above 62°). This will produce slightly more than 2.5 gallons, but it'll all work out for the best in the end.
Original Gravity: 1.070. A little higher than my last batch, but not by much (this makes sense, given the hot scotchie adventure I engaged in last time). I'm guessing this will still clock in around the 7% - 7.5% ABV range, perhaps on the higher end, which is fine by me.
Like I did last time, I'll wait a week or so to let the primary fermentation stage end, then add the dry hops (1 ounce of Simcoe) for another week or so, at which point, I rack to the bottling bucket and bottle the suckers. I'm quite confident this batch will come out well.
After this one, I'm not sure what will be next. I've been toying with the idea of a hopped up imperial red ale, which could be a lot of fun (and would probably resemble the above recipe quite a bit, with some amber malt and maybe some other darker malts to balance things out). After that, I want to make a sessionable summer saison, similar to my last saison batch, if not quite as potent.
(Cross posted on
Kaedrin Beer Blog
)

Sunday, February 03, 2013
2012 Kaedrin Movie Awards: The Arbitrary Awards
As the normal awards have concluded, the abnormals begin. Sometimes I can't think of enough nominees, other times, it just seems like a movie is doing something so weird that it deserves recognition. A few of these have become an annual tradition, but most are just random and, well, arbitrary. Let's get to it, shall we:
So that wraps up the awards, with the top 10 list coming in the next couple weeks or so.

« January 2013 | Main | March 2013 »