« January 2012 | Main | March 2012 »
Wednesday, February 29, 2012
Link Dump
It's been a while since I did one of these, so here's some links recently unearthed by my chain-smoking monkey research squad:
That's all for now. Go forth and multiply.
Posted by Mark on February 29, 2012 at 07:11 PM .:
link
:.

Sunday, February 26, 2012
Oscar Liveblogging
It's always hip to claim that the Oscars are a big horrible affair, and to be sure, it is an overlong ceremony dripping with hoary jokes and self-congratulation. Here at Kaedrin, we don't mind all that though. I find that two things really help make the experience palatable: Beer and Mockery. In all seriousness, as much as people are sick of awards season, I like this late placement - it gives you time to catch up with some of the lesser-seen films and because of the dearth of good films released this time of year, theaters will often feature Oscar nominated films that you didn't get a chance to see before (I doubt I'd have seen
The Artist
if it didn't get nominated). Sure,
the demographics of the Academy
(basically old white dudes (the horror!)) seem to get things wrong often, but the Oscars are ultimately a celebration of movies, and I think that's a good thing, even if they almost never reflect my tastes.
If you're interested, here are previous installments: [
2011
|
2010
|
2009
|
2008
|
2007
|
2006
|
2005
|
2004
] Check back for frequent updates (starting around 8:30 pm EST), and feel free to hang around and leave comments to play along (I've re-instituted anonymous commenting for the event)...
I'm going to post my picks for the major awards now (around noonish), but again, check back later for frequent updates (usually posted every 2-5 minutes or so).
So there's my picks. Check back later tonight to see how I did!
Update 7:40 pm:
Ok, just settling in now, making final preparations etc... Alex from Batrock has posted his guided tour of the nominees and in previous years, he's also at least posted a recap, so check it out. "I'm calling for an immediate moratorium on Bullock and all Bullock related products." Yes.
Update 7:54 pm:
Every year, I tune in a little early and then immediately tune out of the inane Red Carpet pre-ceremony. This stuff is just mind-numbing and I can't take it. This will either force me to start drinking early, or... Holy shit, what the hell is going on with Zach Galifianakis' facial hair? He looks a little like Stephen Root. Not that that is a bad thing, cause Stephen Root is awesome, but Galifianakis's quasi-beard is just bizarre. (Expect updates to start in full force at 8:30)
Update 8:04 pm:
Uh oh, it looks like the porno stache is going to be a trend this year. Bradley Cooper is sporting one. Makes him look like a child molester.
Update 8:06 pm:
I aspire to someday be one of the people who stand by the red carpet and just scream as loud as I can whilst in the general vicinity of C list celebrities. I'm nothing if not ambitious.
Update 8:09 pm:
Stella Artois commercial basically confirms that they spend all their time making really fancy glassware and no time on the crappy beer.
Update 8:17 pm:
I usually feature other blogs that are liveblogging, but no one does that anymore, so I'll just feature some
tweets
: "Shitty joke, smug smirk, everyone laughs = George Clooney's life."
Update 8:25 pm:
In anticipation of some sort of musical number at the beginning of the ceremony, I've cracked open my first beer: Firestone Walker Walker's Reserve Porter. (Natalie Portman's answer to how she felt last year when she was nominated: "I was in a daze" in other words, she was totally baked)
Update 8:29 pm:
This beer is really solid, though not really in my favorite style. Lots of roasted coffee flavors, but enough other notes to make up for it, and really easy to drink. Perfect. Ok, let's get this party started.
Update 8:37 pm:
So this youtube video (cause seriously, that's what it's like) they did at the beginning of the ceremony was ok, but Billy Crystal as TinTin is the creepiest thing ever.
Update 8:40 pm:
Oh God, a musical number. And it's horrible. Drink.
Update 8:41 pm:
Jonah Hill fat joke. I want to say that I was surprised that Crystal took the risk... but it was a really lame, unfunny joke. If you're going to insult someone, go whole hog. Anyway, musical number is over, and now I remember why Billy Crystal doesn't have a career anymore.
Update 8:44 pm:
Cinematography kicks things off and goes to Hugo, and I'm 0 for 1. Nice. Hahah, even the guy who won can't believe they put Cinematography first.
Update 8:46 pm:
So Hugo wins another technical award and boy these two are weird and can't talk. Is this a harbinger of things to come, or a consolation prize for Hugo?
Update 8:48 pm:
James Gunn
: "Martin Scorsese deserves a best actor nod for laughing at Billy Crystal's song." ALso, apparently the guy who won for Cinematography was Quentin Tarantino's "
coke wizard
"
Update 8:52 pm:
Montage! Over/under this year is 8. This is number 1. Place your bets!
Update 8:59 pm:
Costume Design goes to The Artist and I'm 1 for 2. This guy spent all morning practicing this speech. Makeup goes to The Iron Lady? I guess they think that portraying someone on the opposite end of the political spectrum takes a shitload of makeup. Nice speeches. Ok, I'm 1 for 3. Meanwhile, on twitter, everyone is noting that the Montages are like YouTube supercuts. Heh.
Update 9:01 pm:
Montage #2! Kinda? Its a montage of interviews, but I like it better than the supercuts.
Update 9:07 pm:
Sandra Bullock, in German/Chinese: "Death to America!" Best Foreign Language film goes to A Separation, and I'm 2 for 4. I will see this movie someday. Maybe this guy will make a political statement. And yep, here we go. War bad!
Update 9:14 pm:
Jessica Chastain was in every movie last year, right? Best supporting actress goes to Octavia Spencer for The Help. I'm 3 for 5, and yes, racism bad! Ohhh, she's gonna cry! Cry, crybaby, cry! Seriously, always nice to see genuine emotion in a speech, but she's gonna get ushered offstage soon, but she didn't and she's actually asking them to wrap up because she knows she's freaking out. Awesome.
Update 9:17pm:
Hmm:
"What does Spielberg, Voice of All Jews, think of this Iranian gentleman? #Oscars" and
this
: "A SEPARATION is the best film if the year, period. Well deserved win. I hope Iran doesn't kill the director." and
finally
: "Someone, I hope, transcribed that speech. I'm pretty sure he said 'stay away from our enriched uranium.'"
Update 9:24pm:
Bob Balaban! Hey, at least it's not a montage. Unfortunately, we've seen this a hundred times before. Tina Fey and Bradley Cooper's Mustache present editing, which goes to: The Girl With the Dragon Tatoo? Ok, I guess. I'm 3 for 6 now. And they weren't expecting this either. Heh, some of the team didn't even bother showing up, and these guys are so flustered that they're just leaving.
Update 9:29pm:
Hugo picks up another technical award. Hmm. Awesome "Hugo, no you go" pun. Also, I would love to be able to call him Marty. These guys are pretty good. Wait, sound mixing and sound editing are separate awards? I smell a way to make this ceremony shorter. And Hugo wins this other award too. Martin Scorsese is apparently dating a 9 year old girl.
Update 9:31 pm:
Stay tuned for a memorable performance from Circ du Solei. Can it be a "memorable performance" before it actually happens? Is that how memory works now? Damn.
Update 9:37 pm:
The Muppets! Well, at least they put some sort of live performance in front of this Montage. Does that count as a montage? I'll say yes, which brings us to...3? And this is actually pretty good, though not sure how relevant it is. Jesus, look at that guy. Is he human? Or is he just going to have really bad back problems for the rest of this life?
Update 9:45 pm:
Man, these Crystal jokes are reallly hoary. This Robert Downey Jr and Paltrow bit is really stupid. He should have just walked out in the Iron Man costume. Best Documentary goes to Undefeated. Holy crap, I was right, bringing my total to 4 for 7. Nice speech for a bunch of thank yous. Ohhh, did he just curse? Sound cut out. And had to believe, but these are the first people to be played off... and damn, they cut off the microphone, hehe. Chris Rock is rockin a mini-afro, reminding me of that Good Hair documentary he did...
Update 9:50 pm:
Chris Rock is pretty funny, best animated movie goes to Rango and I'm 5 for 8.
Update 9:57 pm:
Emma Stone and Ben Stiller, weird pairing. And I never knew she was so tall. Holy shit, she's totally trashed. Or high. Probably both. Visual Effects goes to Hugo, and shit, I'm 4 for 8, and I'm still not sure what this means for Hugo. Will it be a big sweep, or all these technical awards a consolation prize. Guy just said that winning an Oscar is really "underrated". Hehe.
Update 10:03 pm:
Wow, they didn't use the breakdown scene from Warrior, good on the Oscars. Best supporting actor goes to Christopher Plummer and I'm 5 for 9. Oldest actor ever to win an Oscar? Huh. Totally had his speech prepared, and now, heh, he admits to rehearsing his whole life for this, classy move acknowledging the other nominees, nice.
Update 10:05 pm:
Heh
: "Drop and give us ten pushups, Christopher!"
Update 10:10 pm:
Actually laughed at a Billy Crystal joke here. Twice. Tyler Perry joke and Nick Nolte joke... and oh shit, the President of the Academy! Run! Go! Get to the Choppa! Save yourself!
Update 10:15 pm:
Crystal's crack about the President of the Academy riling up the audience got a giggle from me. Best Original Score goes to the Artist, and I'm 6 for 10. Accents are funny. Anyone else bothered by the weird, tinny audio feedback thing that's going on with the sound? What the fuck is this guy going on about? He sounds French.
Update 10:19 pm:
Will Ferrell is always a highlight, and Zach's weird facial hair is a fine addition. It's funny, this is the first time in years when I wouldn't mind seeing a live performance of the songs (especially since there's only two, and one of them is from the Muppets, which would be awesome). And yeah, best song goes to The Muppets, duh. I'm 7 for 11, and this dude was in Flight of the Concords? Heh. Nice speech.
Update 10:21 pm:
Beer numero dos: homebrewed Simcoe IPA. Just bottled it last week, and it's still a little light on the carbonation, though there's enough here to make it drinkable. Another week or two and it will be perfect. Huge citrus hop character here, really nice, but will benefit from some additional time.
Update 10:24 pm:
Heh
: I'm behind on Oscars but I'd be remiss if I didn't express my happiness about hearing the Meet Joe Black theme in this first montage.
Update 10:28 pm:
God, the sound at the Oscars is horrible. Also, I like how this is the one night out of the year that Hollywood pretends that writers are important. Best Adapted Screenplay goes to The Descendents, and I'm 8 for 12. Holy shit, is that Dean Pelton? Posing? Nice!
Update 10:31 pm:
And best original screenplay goes to Woody Allen for Midnight in Paris... and he's not there? WTF? I'm 9 for 13. Nice interview montage. Again. Herzog, Overboard, well done. Oh great, the short film awards are next.
Update 10:42 pm:
And so we enter the portion of the show that no one cares about: technical awards and short films. Brutal. But the Bridesmaids penis talk is livening things up a bit. And the Oscar goes to... a short film no one has heard of or cares about! Funny drinking on stage. Marty is as confused as I am. And the other Oscar goes to... another short film (documentary) no one has heard of or cares about!
Update 10:45 pm:
Morgan Freeman isn't clapping. He hates Pakistanis. Or is drunk. And best animated short goes to... another short film no one has heard of or cares about! Yeah!
Update 10:47 pm:
Who is this guy kidding with that hat? Let's get back to some real awards.
Update 10:54 pm:
Ohh, best director award. But we haven't done the best actor/actress yet? Huh. I wonder how they really determine what order to do these awards in. Anyway, the oscar goes to haha, Michael Douglas can't pronounce his name either, for The Artist. He forgot his speech, and he's just thanking everyone he can think of. I'm 10 for 14. He just thanked the dog from the movie. Before the financer.
Update 10:59 pm:
What the hell are the Governor's Awards? Are these like the Lifetime Achievement Awards? Honorary Oscars, apparently. Yeah, so as much as I like guys who do makeup and James Earl Jones and even Oprah, this is totally unnecessary.
Update 11:02 pm:
Beer #3, my homebrewed stout. I wasn't really planning on drinking these tonight, but it seems all the beer in my fridge is high ABV and I'd like to, you know, work tomorrow.
Update 11:03 pm:
Yay dead people!
Update 11:04 pm:
I think that, instead of
What a Wonderful World
, the song for the dead people montage should be Queen's
Who Wants to Live Forever
. You know, like Highlander does it.
Update 11:07 pm:
Oh, and that afro is amazingly awesome.
Update 11:10 pm:
I should have counted these interview montages as actual montages, but whatever. In other
news
: "It would be cool in the In Memoriam segment if they could tell us which people were in Hell."
Update 11:20 pm:
Natalie Portman arrives, and finally we get to some more big awards. It would seem so appropriate for Natalie Portman to present best actor to Gary Oldman, but it's probably not to be... Best Actor goes to Jean Dujardin. I'm 10 for 15. Jean speaks pretty good English, but he still has a funny accent. He seems very excited and good for him.
Update 11:32 pm:
Mama mia! Colin Firth is pretty likeable, love his anecdote about Michele Williams... And Best Actress goes to Meryl Streep! I'm 10 for 16, and it's hard to argue with her win, but, you know, racism. Or not, whatever. And in fairness, it's been like 30 years. Nice speech though, acknowledging the "her, again?" side, then completely dismissing it, as she should.
Update 11:35 pm:
Hahah
: "And, of course, Rooney Mara. She showed bush."
Also
: Horse is shitting himself waiting for Best Horse.
Update 11:38 pm:
And Best Picture goes to The Artist, and I'm 11 for 17. No surprise here, holy crap, look at all those people on stage. Who are all these people? What is this guy talking about? Who is he? Ah, he's the producer, and he, too, does not know how to pronounce Hazanavicius.
Update 11:42 pm:
Well, 11 for 17 works out to 65% or so, which is actually pretty low for me. Yet the show was still not all that exciting. Whatevs. It's been real folks, I'm going to bed. Maybe one more update tomorrow when I realize that I counted wrong.
Posted by Mark on February 26, 2012 at 11:26 AM .:
link
:.

Wednesday, February 22, 2012
Adventures in Brewing - Beer #7: Bottling
After two weeks in the fermenter, I bottled the
single-hopped Simcoe IPA
this past weekend. Fermentation started quickly and lasted most of the first week, despite the small batch. About a week into the process, when fermentation had slowed considerably, I cracked the lid and dropped in another ounce of Simcoe hops. I've never done dry hopping before, but it's supposed to impart additional aromas to the beer...
And judging from the smell in my kitchen during bottling day, I'd say that extra step was worth the stretch! Amazing citrus aromas (grapefruit!), not quite as much in the way of pine, but still a great smell.
Final Gravity was 1.012, which is a little lower than expected, but it could also be that low because the Original Gravity wasn't as high as I estimated. That being said, I'd say I'm in for something around 7-7.3% ABV, right at the high end of a single IPA (or the low end of the Double IPA). I gave it a taste, and hoo boy, that citrus is huge. Very nice bitterness in the finish too, though I'm guessing that will mellow out as the beer conditions in the bottle. I'm so very looking forward to this beer! There's nothing quite like a super-fresh IPA, and this is probably as fresh as I'll ever get to taste...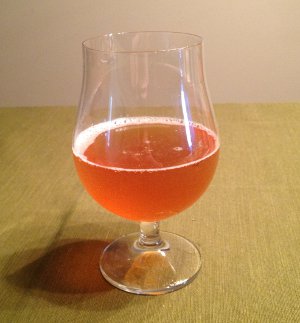 I'm planning on cracking one open this weekend, though who knows if it will be carbonated enough. I only got around 1 case of beer out of this batch, but then hugely hopped beers fade with time, so having a case should last just long enough.
Up next is what I'm calling an Earl Grey beer. The base beer will be a sessionable English Bitter (which is a style that has always confused me, since they're not actually that bitter), and I'll be adding some Bergamot oil towards the end of the boil (and maybe even some Earl Grey tea). Should be interesting! After that, I'm going to start working on my Belgian Dubbel for this summer...
(Cross Posted on
Kaedrin Beer Blog
)
Posted by Mark on February 22, 2012 at 08:31 PM .:
link
:.

Sunday, February 19, 2012
Favorite Films of 2011
Once again, I find myself attempting to sum up a rather unusual year for movies. Here we have a year of movies that managed to transcend mediocrity, but none which achieved true greatness. There were a ton of good movies released this year, ranging from a
good
way to spend a few hours to... a
very good
way to spend a few hours? Again, nothing seemed to really hit on all cylinders this year.
The theme of 2010 was a questioning of reality. I don't see a theme in 2011, but I do see some patterns. The one that sticks out to me is that there seemed to be a preponderance of art house genre pictures. These movies tend to be low budget schlock-fests, even when they're good. But this year, several talented directors took on unusual genres, and instead of schlock, we got deliberate pacing punctuated by visually spectacular moments of beauty. From cosmic existentialism (
The Tree of Life
,
Melancholia
,
Certified Copy
) to straightforward action (
Drive
) to westerns (
Meek's Cutoff
), we got a ton of unusual takes on standard genres this year. There are even more examples that will be listed below. Does this really qualify as a Theme (capital T) for 2011? Probably not, but it's the pattern I'm most struck by... it seems that all the interesting movies this year were playing with form and genre...
As of this moment, I've seen 75 movies that would be considered 2011 releases. Add in the 19 movies I saw at
Fantastic Fest
, and that brings the grand total up to 94 movies. This is a record for me, though probably much less than a lot of critics would see in a year.
The standard disclaimer goes double for this year: creating a list like this is an inherently subjective process, and I seemed to have struggled with the list more than expected, to the point where I'm having trouble orienting films on a pure 1-10 scale. For the past several years, I've always had a pretty easy time with the top 5 movies of the year. I would have a little more trouble with the 6-8 picks, and the final two were always impossible to pick. This year? I feel like I've got 10 movies I want to cram in those 9 and 10 slots, with maybe a few in the 6-8 realm... As such, I'm breaking from tradition this year and listing out my top 10 in alphabetical order. A bit of a cop out, sure, but what are you going to do? Sue me?
I used to put this list together by trying to figure out the
best
films of the year, but in the past few years, I've been gravitating more towards my
favorite
films. There were films I really respected this year that never quite connected with me the way they did with critics, so I have a feeling my list will be more personal and unusual than most top 10s... Indeed, this is probably the least commercial list I've ever put together (there are normally at least a few big budget Hollywood type films on the list, but not so much this year...) My hope is that this will make for a more interesting list to read, but enough babbling, let's get this show started:
Top 10 Movies of 2011
* In alphabetical order
Honorable Mention
* Also in alphabetical order
Just Missed the Cut
But still worthwhile, in their own way. Presented without comment and in no particular order:
Conspicuously Absent
These are films that are almost universally recognized in critics' circles, but which didn't really connect with me. Again presented without comment and in no particular order:
Should Have Seen
Despite the record number of movies I saw this year, there were still a few that got away. This could be because of limited distribution, or because I just didn't find the movie that compelling until after it was out of theaters or something like that... Again presented without comment and in no particular order:
Well, there you have it. More than you could ever want to know about my favorite movies of 2011. Did I miss anything? Are my picks wildly off-base? Feel free to leave a comment. I have to say that I'm sorry that two of the films on my top 10 aren't even really available on DVD/BD/Streaming yet. I usually hate it when critics do crap like that, but I do love both of those movies, so they have to stay on the list. I think this might also be my least commercially successful list ever. I don't quite know what to make of that, but here we are...
Anyways, stay tuned next week for the annual Kaedrin Oscars Liveblogging event! It should be a real corker.
Posted by Mark on February 19, 2012 at 07:17 PM .:
link
:.

Wednesday, February 15, 2012
Zemanta
Last week, I looked at
commonplace books
and various implementation solutions. Ideally, I wanted something open and flexible that would also provide some degree of analysis in addition to the simple data aggregation most tools provide. I wanted something that would take into account a wide variety of sources in addition to my own writing (on this blog, for instance). Most tools provide a search capability of some kind, but I was hoping for something more advanced. Something that would make connections between data, or find similarities with something I'm currently writing.
At a first glance, Zemanta seemed like a promising candidate. It's a "content suggestion engine" specifically built for blogging and it comes pre-installed on a lot of blogging software (including Movable Type). I just had to activate it, which was pretty simple. Theoretically, it continually scans a post in progress (like this one) and provides content recommendations, ranging from simple text links defining key concepts (i.e. links to Wikipedia, IMDB, Amazon, etc...), to imagery (much of which seems to be integrated with Flickr and Wikipedia), to recommended blog posts from other folks' blogs. One of the things I thought was really neat was that I could input my own blogs, which would then give me more personalized recommendations.
Unfortunately, results so far have been mixed. There are some things I really like about Zemanta, but it's pretty clearly not the solution I'm looking for. Some assorted thoughts:
Zemanta will only work when using the WYSIWYG Rich Text editor, which turns out to be a huge pain in the arse. I'm sure lots of people are probably fine with that, but I've been editing my blog posts in straight HTML for far too long. I suppose this is more of a hangup on my end than a problem with Zemanta, but it's definitely something I find annoying. When I write a post in WYSIWYG format, I invariably switch it back to no formatting and jump through a bunch of hoops getting the post to look like what I want.
The recommended posts haven't been very useful so far. Some of the external choices are interesting, but so far, nothing has really helped me in writing my posts. I was really hoping that loading my blog into Zemanta would add a lot of value, but it turns out that Zemanta only really scanned my recent posts, and it sorta recommended most of them, which doesn't really help me that much. I know what I've written recently, what I was hoping for was that Zemanta would be able to point out some post I wrote in 2005 along similar lines (In my previous post on Taxonomy Platforms, I specifically referenced the titles of some of my old blog posts, but since they were old, Zemanta didn't find them and recommend them. Even more annoying, when writing this post, the Taxonomy Platforms post wasn't one of the recommended articles despite my specifically mentioning it. Update: It has it now, but it didn't seem to appear until after I'd already gone through the trouble of linking it...) It appears that Zemanta is basing all of this on my RSS feed, which makes sense, but I wish there was a way to upload my full archives, as that might make this tool a little more powerful...
The recommendations seem to be based on a relatively simplistic algorithm. A good search engine will index data and learn associations between individual words by tracking their frequency and how close they are to other words. Zemanta doesn't seem to do that. In my previous post, I referenced famous beer author Michael Jackson. What did Zemanta recommend? Lots of pictures and articles about the musician, nothing about the beer journalist. I don't know if I'm expecting too much out of the system, but it would be nice if the software would pick up on the fact that this guy's name was showing up near lots of beer talk, with nary a reference to music. It's probably too much to hope that my specifically calling out that I was talking about "the beer critic, not the pop star" would influence the system (and indeed, my reference to "pop star" may have influenced the recommendations, despite the fact that I was trying to negate that).
The "In-Text Links", on the other hand, seem to come in quite handy. I actually leveraged several of them in my past few posts, and they were very easy to use. Indeed, I particularly appreciated their integration with Amazon, where I could enter my associates ID, and the links that were inserted were automatically generated with my ID. This is normally a pretty intensive process involving multiple steps that has been simplified down to the press of a button. Very well done, and most of the suggestions there were very relevant.
I will probably continue to play with Zemanta, but I suspect it will be something that doesn't last much longer. It provides some value, but it's ultimately not as convenient as I'd like, and it's analysis and recommendation functions don't seem as useful as I'd like.
I've also been playing around with Evernote more and more, and I feel like that could be a useful tool, despite the fact that it doesn't really offer any sort of analysis (though it does have a simple search function). There's at least one third party, though, that seems to be positioning itself as an analysis tool that will integrate with Evernote. That tool is called Topicmarks. Unfortunately, I seem to be having some issues integrating my Evernote data with that service. At this rate, I don't know that I'll find a great tool for what I want, but it's an interesting subject, and I'm guessing it will be something that will become more and more important as time goes on. We're living in the Information Age, it seems only fair that our aggregation and analysis tools get more sophisticated.
Posted by Mark on February 15, 2012 at 06:08 PM .:
link
:.

Sunday, February 12, 2012
Taxonomy Platforms
The human brain is basically a giant correlation machine. Well, ok, that's a drastic simplification, but I've often
written
about how
correlation
and
induction
play an important role in life. This is a large subject, but today I want to focus on one result of our predilection towards correlation: our tendency to develop complex taxonomies. For books and movies, we've got genres. For beer, we've got style. Retail stores have departments. You name it, chances are that there's a complex taxonomy describing variations (you'll notice that this post tends to consist of examples from my obsessions with movies, beer and technology, but this would all be relevant to a wide variety of subjects).
This tendency invariably leads to nerdy arguments about specific examples and where they fall within the taxonomy. Is Inglourious Basterds Science Fiction? Are comic book movies science fiction? Should we make a distinction between science fiction and science fantasy? What exactly constitutes a West Coast IPA? What do we call Black IPAs? What are the defining characteristics of a Weblog? What are some examples of the Hillbilly Horror genre? Take a trip down TV Tropes lane, and you're guaranteed to find a comprehensive list of genres, sub-genres, and myriad conventions or cliches.
Why go to all this trouble to categorize everything? What is it about the internet that seems to magnify these discussions?
Well, the most obvious reason for such excessive categorization is that it will communicate something about the particular instance being discussed. Categorizing movies into various genres helps us determine what we're in for when we sit down to watch a movie. Style guidelines communicate what kinds of characteristics to expect from a beer. Genres and styles provide a common ground for both creators and critics, and the reduce the pool of possibilities to a more manageable number.
Those are good things1, but they're really only scratching the surface of why we taxonomize. Most people get frustrated by taxonomies. It seems that every genre, every style, is inadequate, especially when their favorite instance is pigeonholed into a particular category. Hence, we get the aforementioned nerdy debates on the nature of science fiction or west coast IPAs. Genres and styles are blurry along the edges, and there's a great deal of overlap. Individual works often fit into many categories. If one were so inclined, they could make each category excessively inclusive or moderately narrow, but worrying about the blurry edges of taxonomy is kinda missing the point. In the parlance of hackers, the blurry edges of taxonomy are a feature, not a bug.
I've been reading Steven Johnson's book Where Good Ideas Come From: The Natural History of Innovation, and he makes a fascinating observation that genres are the stacked platforms of the creative world:
For understandable reasons, we like to talk about artistic innovations in terms of the way that they break the rules, open up new doors in the adjacent possible that lesser minds never even see. But genius requires genres. Flaubert and Joyce needed the genre of the bildungsroman to contort and undermine in Sentimental Education and A Portrait of the Artist as a Young Man. Dylan needed the conventions of acoustic folk to electrify the world with Highway 61 Revisited. Genres supply a set of implicit rules that have enough coherence that traditionalists can safely play inside them, and more adventurous artists can confound our expectations by playing with them. Genres are the platforms and paradigms of the creative world. They are almost never willed into existence by a single pioneering work. Instead, they fade into view, through a complicated set of shared signals passed between artists, each contributing different elements to the mix.
I love the description of genres fading into view, perhaps because you could say that genres never really come into full clarity. That may frustrate some, but that inherent blurriness is where taxonomies derive power and it's what allows geniuses to create their most amazing works. And this does not just apply to art. In Brew Like a Monk, Stan Hieronymus relates an anecdote from Michael Jackson (the beer critic, not the pop star):
In one of the many stories he likes to tell about German, English and Belgian brewers, Michael Jackson first asks a German how beer is made. "Pils malt, Czech hops," the brewer replies. Then Jackson asks the German brewer down the road the same question. "It's the same as Fritz said. That's how you make a Pilsener, that's what we learn in school."

After getting a different answer from a British brewer, Jackson turns to a Belgian brewer. "First of all, you take one ton of bat's droppings. Then you add a black witch," the Belgian answers. "The brewer down the road uses a white witch." Jackson concludes with the lesson: "Belgium is a nation of tremendous individualists."

If style guidelines for Bat Dropping Ale stated that color shouldn't be less than 25 SRM, do you think that would have stopped the brewer down the road from using a white witch? Of course not. Style guidelines don't limit creativity, lack of imagination does.
As Hieronymus later notes, if we didn't make "rules," we wouldn't know when to break them.
That is the power of taxonomy. It gives us a place to start. It gives us the basic rules and techniques. Defining such conventions may seem limiting, but it's actually freeing. You have to understand those conventions before you can break them or combine them properly, which can sometimes result in something inspirational and brilliant. Ironically, this seems to happen with such regularity that I'm sure many "innovations" we see today are repeats of previous revolutions. As Johnson notes, genres and style are part of a stacked platform. They're built on top of even more basic building blocks, notably technology. Technology often recontextualizes existing taxonomies, opening them up to subtly different interpretations. The same innovative idea can be magnified and mutated into something different by technology. It's very rare that something completely new emerges from history. It's more likely something that has existed for a long time, but slightly tweaked to match the times. Taxonomies are platforms. They are not limiting. You build things on top of platforms, and that's why we go to the trouble of categorizing everything we can.
1 - Nerdy fury on the internets is one thing, but for the most part this isn't really controversial stuff. However, once you start placing taxonomies on human beings, things get a little more complicated. If one were so inclined, an interesting discussion on the nature of prejudice as it relates to the human penchant for correlation could yield interesting insights. Unfortunately, this is not a post for that more weighty (and controversial) subject.
Posted by Mark on February 12, 2012 at 09:21 AM .:
link
:.

Wednesday, February 08, 2012
Commonplacing
During the
Enlightenment
, most intellectuals kept what's called a
Commonplace Book
. Basically, folks like John Locke or Mark Twain would curate transcriptions of interesting quotes from their readings. It was a personalized record of interesting ideas that the author encountered. When I
first heard about the concept
, I immediately started thinking of how I could implement one... which is when I realized that I've actually been keeping one, more or less, for the past decade or so on this blog. It's not very organized, though, and it's something that's been banging around in my head for the better part of the last year or so.
Locke was a big fan of Commonplace Books, and he spent years developing an intricate system for indexing his books' content. It was, of course, a ridiculous and painstaking process, but it worked. Fortunately for us, this is exactly the sort of thing that computer systems excel at, right? The reason I'm writing this post is a small confluence of events that has lead me to consider creating a more formal Commonplace Book. Despite my earlier musing on the subject, this blog doesn't really count. It's not really organized correctly, and I don't publish all the interesting quotes that I find. Even if I did, it's not really in a format that would do me much good. So I'd need to devise another plan.
Why do I need a plan at all? What's the benefit of a commonplace book? Well, I've been reading Steven Johnson's book
Where Good Ideas Come From: The Natural History of Innovation
and he mentions how he uses a computerized version of the commonplace book:
For more than a decade now, I have been curating a private digital archive of quotes that I've found intriguing, my twenty-first century version of the commonplace book. ... I keep all these quotes in a database using a program called DEVONthink, where I also store my own writing: chapters, essays, blog posts, notes. By combining my own words with passages from other sources, the collection becomes something more than just a file storage system. It becomes a digital extension of my imperfect memory, an archive of all my old ideas, and the ideas that have influenced me.
This
DEVONthink
software certainly sounds useful. It's apparently got this fancy AI that will generate semantic connections between quotes and what you're writing. It's advanced enough that many of those connections seem to be subtle and "lyrical", finding connections you didn't know you were looking for. It sounds perfect except for the fact that it only runs on Mac OSX. Drats. It's worth keeping in mind in case I ever do make the transition from PC to Mac, but it seems like lunacy to do so just to use this application (which, for all I know, will be useless to me).
As sheer happenstance, I've also been playing around with
Pinterest
lately, and it occurs to me that it's a sort of commonplace book, albeit one with more of a narrow focus on images and video (and recipes?) than quotes. There are actually quite a few sites like that. I've been curating a large selection of links on Delicious for years now (
1600+ links on my account
). Steven Johnson himself has recently contributed to a new web startup called
Findings
, which is primarily concerned with book quotes. All of this seems rather limiting, and quite frankly, I don't want to be using 7 completely different tools to do the same thing, but for different types of media.
I also took a look at
Tumblr
again, this time evaluating it from a commonplacing perspective. There are some really nice things about the interface and the ease with which you can curate your collection of media. The problem, though, is that their archiving system is even more useless than most blog software. It's not quite the hell that is Twitter archives, but that's a pretty low bar. Also, as near as I can tell, the data is locked up on their server, which means that even if I could find some sort of indexing and analysis tool to run through my data, I won't really be able to do so (Update: apparently Tumblr does have a backup tool, but only for use with OSX. Again!? What is it with you people? This is the internet, right? How hard is it to make this stuff open?)
Evernote
shows a lot of promise and probably warrants further examination. It seems to be the go-to alternative for lots of researchers and writers. It's got a nice cloud implementation with a robust desktop client and the ability to export data as I see fit. I'm not sure if its search will be as sophisticated as what I ultimately want, but it could be an interesting tool.
Ultimately, I'm not sure the tool I'm looking for exists. DEVONthink sounds pretty close, but it's hard to tell how it will work without actually using the damn thing. The ideal would be a system where you can easily maintain a whole slew of data and metadata, to the point where I could be writing something (say a blog post or a requirements document for my job) and the tool would suggest relevant quotes/posts based on what I'm writing. This would probably be difficult to accmomplish in real-time, but a "Find related content" feature would still be pretty awesome. Anyone know of any alternatives?
Update:
Zemanta
! I completely forgot about this. It comes installed by default with my blogging software, but I had turned it off a while ago because it took forever to load and was never really that useful. It's basically a content recommendation engine, pulling content from lots of internet sources (notably Wikipedia, Amazon, Flickr and IMDB). It's also grown considerably in the time since I'd last used it, and it now features a truckload of customization options, including the ability to separate general content recommendations from your own, personally curated sources. So far, I've only connected my two blogs to the software, but it would be interesting if I could integrate Zemanta with Evernote, Delicious, etc... I have no idea how great the recommendations will be (or how far back it will look on my blogs), but this could be exactly what I was looking for. Even if integration with other services isn't working, I could probably create myself another blog just for quotes, and then use that blog with Zemanta. I'll have to play around with this some more, but I'm intrigued by the possibilities
Posted by Mark on February 08, 2012 at 05:31 PM .:
link
:.

Sunday, February 05, 2012
Adventures in Brewing - Beer #7: Simcoe Single-Hopped IPA
After some post-holiday procrastination, I finally settled down to make myself a small batch of a Simcoe single-hopped IPA. Hops are one of the 4 key ingredients in beer, and there exists an amazing variety of hops. Most of the bitterness in beer comes from hops, but they also provide flavor and aroma characteristics. Some hop varieties are good for bittering, but not for flavor or aroma. Some are great for flavor or aroma, but not really for bittering. And then there are the utility players - hops that do everything. Simcoe is one such hop. Simcoe is actually a relatively new variety of hop, often referred to as Cascade on steroids (Cascade hops were the most revolutionary of American hops - most notably featured in Sierra Nevada's classic Pale Ale). They're a high alpha acid hop (around 12-13%), which makes them great for bittering, but they also impart a huge, distinctive citrus and pine flavor/aroma.
I patterned my recipe on
Weyerbacher's Double Simcoe IPA
, though I have no idea how accurate the recipe I used matches that beer (I do know that my recipe wouldn't be as strong as 9% ABV though). The guy at the homebrew shop mentioned that my grains, at least, were similar to
Bell's Two Hearted
(which is another fantastic IPA), but that beer uses Centennial hops instead of Simcoe. Anywho, this is what I settled on (note: this is a small, 2.5 gallon batch, so there's much less malt than you might expect):
Beer #7: Simcoe Single-Hopped IPA
February 4, 2012
.25 lb. Crystal 20 (specialty grain)
.5 lb. CaraPils (specialty grain)
.5 lb. Vienna Malt (specialty grain)
3.3 lb. Briess Pilsen Light LME
1 lb. Golden DME
0.5 lb. Turbinado Sugar
1 oz. Simcoe (bittering @12.2 AA)
1 oz. Simcoe (flavor, 2 additions)
1 oz. Simcoe (aroma)
1 oz. Simcoe (dry hop)
1 tsp. Irish Moss
Wyeast 1056 - American Ale Yeast
Nothing too fancy here (although damn, Simcoe hops are expensive!) I suppose the Turbinado sugar isn't a typical ingredient, but simple sugars like that help dry out the beer (which would otherwise have been pretty heavy). Steeped the specialty grains in 2-2.5 gallons of 150° F - 160° F water for around 20 minutes, drained, sparged with another half gallon of water, threw in the can of Light LME, and put the lid on to bring the wort to a boil. During the wait, I scooped out a small sample of wort and made myself a Hot Scotchie. It's a strange beast, this hot scotchie. I've heard many homebrewers talk about it, but details on exactly how to make one are a bit scarce. Near as I can tell, you take a sample of unhopped wort before it reaches boiling, then add a shot of Scotch to it.
Jeff Alworth has a decent description
:
Brewers would draw off a small amount of the mash as it issued from the grain bed, fresh and warm. To this they added a dollop of Scotch. What happens is nothing short of mystical. Mash runnings are very sweet and flabby--there's no definition to the flavors. The addition of Scotch somehow reverses all this. Like an electric current, the Scotch animates the grains so that you can taste them in HD. The Scotch is likewise a very clear note, but not sharp or aggressive. It has all the flavor of a straight shot, but it's floating amid Mom's comforting malted. Insanely beguiling.
So I took a sample of wort, and threw a shot of
Ardmore
(it's a cheap Scotch, but it's got a nice, distinctive peat smoke character to it that's not overpowering) in there.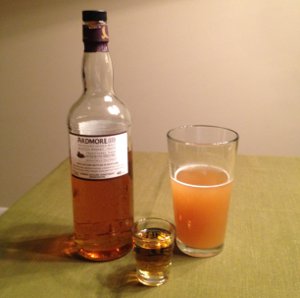 It was an interesting experience. My experience with the hot scotchie wasn't quite as revelatory as it seems to be for everyone else though. It was good, to be sure, but I'm not sure it's something I'd always do. Also, because this is a small batch, I probably shouldn't have taken that much malt out of the wort - I ended up with a lower OG than I'd like...
Anywho, once the boil begins, I add in 1 ounce of Simcoe hops and start the timer. 30 minutes into the boil, I add the Golden DME and Turbinado sugar. When I do this, the temperature of the pot seems to drop (makes sense because I'm adding room temp ingredients), so I pot the lid back on the pot and bring it back to a boil (I'm not counting these 5 minutes time as part of the boil). Once it's back boiling, I add a half ounce of hops (the first flavor hop addition). 10 minutes after that, I add another half ounce of Simcoe (second flavor hop addition) and the teaspoon of irish moss. Finally, with 5 minutes left to go, I add the aroma hops (actually sprinkling some throughout the last 5 minutes).
Moved the pot to the ice bath to cool it off, brought it down to about 80° F, strained the wort (removing the hops) into the fermenter, and topped off with about 1/4 to 1/2 gallon of cold water, bringing the final temperature down below 70°.
Original Gravity: 1.068. Definitely lower than I was shooting for (my target was in the 1.070s), but assuming a 75% attenuation, this should work out to around 6.7% ABV, which will be a solid IPA. Add in that citrusy, piney goodness from the Simcoe, and I'll be a happy camper.
I did notice a lot of sediment in the wort, even after I strained it into the fermenter, which has me a bit worried, but what else can I do? I guess we'll find out in a few weeks.
I'm going to try something new with this batch - dry hopping! I talked to the guy at the homebrew shop and he said I could do it in primary, so I figure I'll wait a week or so (i.e. until fermentation ends), chuck in the last ounce of hops, give it another week, then rack to the bottling bucket and bottle the suckers. Exciting!
Not sure what my next batch will be. I've been toying with the idea of a Earl Grey beer - start with a british beer base (perhaps an ESB), then use some sort of bergamot oil for extra flavor. I have no idea if it will work, but I want to see how it turns out. It'll probably be another small batch, so even if it's bad, it won't be a big deal. After that, I've been thinking about a Belgian dubbel for a while now, and I think it'll be time...
Posted by Mark on February 05, 2012 at 12:14 PM .:
link
:.

Wednesday, February 01, 2012
Link Dump
As I compile my top 10 list and design my next homebrew, my chain-smoking monkey research squad has found some things that might interest you:
And that's all for now.
Posted by Mark on February 01, 2012 at 07:50 PM .:
link
:.

« January 2012 | Main | March 2012 »