« June 2011 | Main | August 2011 »
Sunday, July 31, 2011
Link Dump
Interesting links from the depths of the internets:
Just a note that I'll be traveling this week and thus there won't be a post on Wednesday. See you next week!
Posted by Mark on July 31, 2011 at 08:34 PM .:
link
:.

Wednesday, July 27, 2011
Recent Podcastery
I like podcasts, but it's depressingly hard to find ones that I really enjoy and which are still regularly published. I tend to discover a lot of podcasts just as they're going through their death throes. This is sometimes ok, as I'm still able to make my way through their archives, but then I run out of content and have to start searching for a new podcast. I will often try out new podcasts, but I have only added a few to the rotation of late. Here's some recent stuff I've been listening to:
I really only have 3 or 4 shows that I really look forward to every week, but I'm always looking for more...
Posted by Mark on July 27, 2011 at 10:01 PM .:
link
:.

Sunday, July 24, 2011
Streaming and Netflix's Woes
A few years ago, when I was still contemplating the purchase of a Blu-Ray player (which ended up being the PS3), there was a lot of huffing-and-puffing about how Blu-Ray would never catch on, physical media was dead, and that streaming was the future. My thoughts on that at the time were that streaming is indeed the future, but that it would take at least 10 years before it actually happened in an ideal form. The more I see, the more I'm convinced that I actually underestimated the time it would take to get a genuinely great streaming service running.
One of the leading examples of a streaming service is Netflix's Watch Instantly service. As a long time Netflix member, I can say that it is indeed awesome, especially now that I can easily stream it to my television. However, there is one major flaw to their streaming service: the selection. Now, they have somewhere on the order of 20,000-30,000 titles available, which is certainly a huge selection... but it's about 1/5th of what they have available on physical media. For some folks, I'm sure that's enough, but for movie nerds like myself, I'm going to want to keep the physical option on my plan...
The reason Netflix's selection is limited is the same reason I don't think we'll see an ideal streaming service anytime soon. The problems are not technological. It all comes down to intellectual property. Studios and distributors own the rights, and they often don't want to allow streaming, especially for new releases. Indeed, several studios won't even allow Netflix to rent physical media for the first month of release. In order for a streaming service to actually supplant physical media, it will have to feature a comprehensive selection. Netflix does have a vested interest in making that happen (the infrastructure needed for physical media rentals via mail is massive and costly, while streaming is, at least, more streamlined from a logistical point of view), but I don't see this happening anytime soon.
Netflix has recently encountered some issues along these lines, and as a result, they've changed their pricing structure. It used to be that you could buy a plan that would allow you to rent 1, 2, 3, or 4 DVDs or BDs at a time. If you belonged to one of those plans, you also got free, unlimited streaming. Within the past year or so, they added another option for folks who only wanted streaming. And just a few weeks ago, they made streaming an altogether separate service. Instead of buying the physical media plan of your choice and getting streaming "for free", you now also need to pay for streaming. I believe their most popular plan used to be 1 disc with unlimited streaming, which was $9.99. This plan is now $16.98.
As you might expect, this has resulted in a massive online shitstorm of infantile rage and fury. Their
blog post announcing the change
currently has 12,000+ comments from indignant users. There are even more comments on their
Facebook page
(somewhere on the order of 80,000 comments there), and of course, other social media sites like Twitter were filled with indignant posts on the subject.
So why did Netflix risk the ire of their customers? They've even
acknowledged
that they were expecting some outrage at the change. My guess is that the bill's about to come due, and Netflix didn't really have a choice in the matter.
Indeed, a few weeks ago,
Netflix had to temporarily stop streaming
all of its Sony movies (which are distributed through Starz). It turns out that there's a contractual limit on the number of subscribers that Sony will allow, so now Netflix needs to renegotiate with Sony/Starz. The current cost to license Sony/Starz content for streaming is around $30 million annually. Details aren't really public (and it's probably not finalized yet), but it's estimated that the new contract will cost Netflix somewhere on the order of $200-$350 million a year. And that's just Sony/Starz. I imagine other studios will now be chomping at the bit. And of course, all these studios will continually up their rates as Netflix tries to expand their streaming selection.
So I think that all of the invective being thrown Netflix's way is mostly unwarranted (or, rather, misplaced). All that rage should really be directed at the studios who are trying to squeeze every penny out of their IP. At least Netflix seems to be doing business in an honest and open way here, and yet everyone's bitching about it. Other companies would do something sneaky. For instance, movie theaters (which also get a raw deal from studios) seem to be raising ticket prices by a quarter every few months. Any given increase is met with a bit of a meh, but consolidated over the past few years, ticket prices have risen considerably.
Ultimately, it's quite possible that Netflix will take a big hit on this in the next few years. Internet nerd-rage notwithstanding, I'm doubting that their customer base will drop, but if their cost of doing business goes up the way it seems, I can see their profits dropping considerably. But if that happens, it won't be Netflix that we should blame, it will be the studios... I don't want to completely demonize the studios here - they do create and own the content, and are entitled to be compensated for that. However, I don't think anyone believes they're being fair about this. They've been trying to slow Netflix down for years, after all. Quite frankly, Netflix has been much more customer friendly than the studios.
Posted by Mark on July 24, 2011 at 06:33 PM .:
link
:.

Wednesday, July 20, 2011
First Contact
As it turns out, Aliens from other planets do exist. On the other hand, whether intelligent life exists is apparently still open for debate:
It's not nearly as good as Terry Bisson's classic short story
They're Made of Meat
, but it shares some similarities.
Posted by Mark on July 20, 2011 at 06:06 PM .:
link
:.

Sunday, July 17, 2011
The Book Queue
So the last book queue I posted at the beginning of this year had 12 books on it, and I've made great strides against that list. Only 4 remain, and I'm halfway through one of those. I've also read at least 7 other books that weren't on that list (mostly Bujold's
Vorkosigan Saga
books, of which only the first was on the original list). With only 3 books remaining, I'm looking to fill up the immediate queue again.
Holdovers
The four remaining books from my last queue...
Vorkosigan Saga
I started Lois McMaster Bujold's long-running series of science fiction novels mostly (but not solely) chronicling the adventures of the physically diminutive but mentally gifted Miles Vorkosigan. So far this year, I've read 7 novels in the (loosely connected) series. I've got a whole stack of other books just waiting on my shelf now too... and Bujold just released a new one last year, so there's always the chance of more books in the future! I don't know if these are the nerdiest books I've ever read, but referring to them as the Vorkosigan Saga certainly makes it seem so... In any case, this is what I've got left in the series. I'm trying not to read too many of these in a row - I can already sense that I'll be a bit bummed when I finish the series because I very much enjoy spending time with these characters:
New Stuff
Pretty self explanatory:
So that's 15 books right there, which should keep me busy through the end of the year. Of course, new books will undoubtedly be added (especially since I've just noticed that there's no new non-fiction on the list) and so on, but that is the way of the book queue.
Posted by Mark on July 17, 2011 at 01:55 PM .:
link
:.

Wednesday, July 13, 2011
Link Dump
As per usual, interesting links from the depths of the internets:
That's all for now.
Posted by Mark on July 13, 2011 at 10:38 PM .:
link
:.

Sunday, July 10, 2011
Flow and Games
When I read a book, especially a non-fiction book, I usually find myself dog-earing pages with passages I find particularly interesting or illuminating. To some book lovers, I'm sure this practice seems barbaric and disrespectful, but it's never really bothered me. Indeed, the best books are the ones with the most dog-ears. Sometimes there are so many dog-ears that the width of the book is distorted so that the top of the book (which is where the majority of my dog-ears go) is thicker than the bottom. The book
Flow
, by Mihaly Csikszentmihalyi
1
is one such book.
I've touched on this concept before, in posts about
Interrupts and Context Switching
and
Communication
. This post isn't a direct continuation of that series, but it is related. My conception of flow in those posts is technically accurate, but also imprecise. My concern was mostly focused around how fragile the state of flow can be - something that Csikszentmihalyi doesn't spend much time on in the book. My description basically amounted to a state of intense concentration. Again, while technically accurate, there's more to it than that, and Csikszentmihalyi equates the state with happiness and enjoyment (from page 2 of my edition):
... happiness is not something that happens. It is not the result of good fortune or random chance. It is not something that money can buy or power command. It does not depend on outside events, but, rather, on how we interpret them. Happiness, in fact, is a condition that must be prepared for, cultivated, and defended privately by each person. People who learn to control inner experience will be able to determine the quality of their lives, which is as close as any of us can come to being happy.

Yet we cannot reach happiness by consciously searching for it. "Ask yourself whether you are happy," said J.S. Mill, "and you cease to be so." It is by being fully involved with every detail of our lives, whether good or bad, that we find happiness, not by trying to look for it directly.
In essence, the world is a chaotic place, but there are times when we actually feel like we have achieved some modicum of control. When we become masters of our own fate. It's an exhilarating feeling that Csikszentmihalyi calls "optimal experience". It can happen at any time, whether external forces are favorable or not. It's an internal condition of the mind. One of the most interesting things about this condition is that it doesn't feel like happiness when it's happening (page 3):
Contrary to what we usually believe, moments like these, the best moments of our lives, are not the passive, receptive, relaxing times - although such experiences can also be enjoyable, if we have worked hard to attain them. The best moments usually occur when a person's body or mind is stretched to its limits in a voluntary effort to accomplish something difficult and worthwhile. Optimal experience is thus something that we make happen. For a child, it could be placing with trembling fingers the last block on a tower she has built, higher than any she has built so far; for a swimmer, it could be trying to beat his own record; for a violinist, mastering an intricate musical passage. For each person there are thousands of opportunities, challenges to expand ourselves.

Such experiences are not necessarily pleasant at the time they occur. The swimmer's muscles might have ached during his most memorable race, his lungs might have felt like exploding, and he might have been dizzy with fatigue - yet these could have been the best moments of his life. Getting control of life is never easy, and sometimes it can be definitely painful. But in the long run optimal experiences add up to a sense of mastery - or perhaps better, a sense of participation in determining the content of life - that comes as close to what is usually meant by happiness as anything else we can conceivably imagine.
This is an interesting observation. The best times of our lives are often hectic, busy, and frustrating while they're happening, and yet the feeling of satisfaction we get after-the-fact seems worth the effort. Interestingly, since Flow is a state of mind, experiences that are normally passive can become a flow activity through taking a more active role. Csikszentmihalyi makes an interesting distinction between "pleasure" and "enjoyment" (page 46):
Experiences that give pleasure can also give enjoyment, but the two sensations are quite different. For instance, everyone takes pleasure in eating. To enjoy food, however, is more difficult. A gourmet enjoys eating, as does anyone who pays enough attention to a meal so as to discriminate the various sensations provided by it. As this example suggests, we can experience pleasure without any investment of psychic energy, whereas enjoyment happens only as a result of unusual investments of attention. A person can feel pleasure without any effort, if the appropriate centers in his brain are electrically stimulated, or as a result of the chemical stimulation of drugs. But it is impossible to enjoy a tennis game, a book, or a conversation unless attention is fully concentrated on the activity.
As someone who watches a lot of movies and reads a lot of books, I can definitely see what Csikszentmihalyi is saying here. Reading a good book will not always be a passive activity, but a dialogue
2
. Rarely do I accept what someone has written unconditionally or without reserve. For instance, in the passage above, I remember thinking about how arbitrary Csikszentmihalyi's choice of terms was - would the above passage be any different if we switched "pleasure" and "enjoyment"? Ultimately, that doesn't really matter. Csikszentmihalyi's point is that there's a distinction between hedonistic, passive experiences and complex, active experiences.
There is, of course, a limit to what we can experience. In a passage that is much more concise than my post on
Interrupts and Context Switching
, Csikszentmihalyi expands on this concept:
Unfortunately, the nervous system has definite limits on how much information it can process at any given time. There are just so many "events" that can appear in consciousness and be recognized and handled appropriately before they begin to crowd each other out. Walking across a room while chewing bubble gum at the same time is not too difficult, even though some statesmen have been alleged to be unable to do it; but, in fact, there is not that much more that can be done concurrently. Thoughts have to follow each other, or they get jumbled. While we are thinking about a problem we cannot truly experience either happiness or sadness. We cannot run, sing, and balance the checkbook simultaneously, because each one of those activities exhausts most of our capacity for attention.
In other words, human beings are kinda like computers in that we execute instructions in a serial fashion, and things like context switches are quite disruptive to the concept of optimal experience
3
.
Given all of the above, it's easy to see why there isn't really an easy answer about how to cultivate flow. Csikszentmihalyi is a psychologist and is thus quite careful about how he phrases these things. His research is extensive, but necessarily imprecise. Nevertheless, he has identified eight overlapping "elements of enjoyment" that are usually present during flow. Through his extensive interviews, he has noticed at least a few of these major components come up whenever someone discusses a flow activity. A quick summary of the components (pages 48-67):
A Challenging Activity that Requires Skills - This is pretty self explanatory, but it should also be noted that "challenging" does not mean "impossible". We need to confront tasks which push our boundaries, but which we also actually have a chance of completing.
The Merging of Action and Awareness - When all of our energy is concentrated on the relevant stimuli. This is related to some of the below components.
Clear Goals and Feedback - These are actually two separate components, but they are interrelated and on a personal level, I feel like these are the most important of the components... or at least, one of the most difficult. In particular, accurate feedback and measurement are much more difficult than they sound. Sure, for some activities, they're simple and easy, but for a lot of more complex ones, the metrics either don't exist or are too obtuse. This is something I struggle with in my job. There are certain metrics that are absolute and pretty easy to track, but there are others that are more subjective and exceedingly difficult to quantify.
Concentration on the Task at Hand - Very much related to the second point above, this particular component is all about how that sort of intense concentration removes from awareness all the worries and frustrations of everyday life. You are so focused on your task that there is no room in your mind for irrelevant information.
The Paradox of Control - Enjoyable experiences allow people to exercise a sense of control over their actions. To look at this another way, you could see it as a lack of worry about losing control. The paradox comes into play because this feeling is somewhat illusory. What's important is the "possibility, rather than the actuality, of control."
The Loss of Self-Consciousness - Again related to a couple of the above, this one is about how when you're involved in flow, concern about the self disappears. Being so engrossed in a project or a novel or whatever that you forget to eat lunch, and things along those lines. Interestingly, this sort of thing eventually does lead to a sense of self that emerges stronger after the activity has ended.
The Transformation of Time - The sense of duration of time is altered. Hours pass by in minutes, or conversely, minutes pass by in what seem like hours. As Einstein once said: "Put your hand on a hot stove for a minute, and it seems like an hour. Sit with a pretty girl for an hour, and it seems like a minute. THAT'S relativity."
So what are the implications of all this? There were a few things that kept coming to mind while reading this book.
First, to a large extent, I think this helps explain why video games are so popular. Indeed, many of the flow activities in the book are games or sports. Chess, swimming, dancing, etc... He doesn't mention video games specifically, but they seem to fit the mold. Skills are certainly involved in video games. They require concentration and thus often lead to a loss of self-consciousness and lack of awareness of the outside world. They cause you to lose track of time. They permit a palpable sense of control over their digital environment (indeed, the necessity of a limited paradigm of reality is essential to video games, which lends the impression of control and agency to the player). And perhaps most importantly, the goals are usually very clear and the feedback is nearly instantaneous. It's not uncommon for people to refer to video games in terms of addiction, which brings up an interesting point about flow (page 70):
The flow experience, like everything else, is not "good" in an absolute sense. It is good only in that it has the potential to make life more rich, intense, and meaningful; it is good because it increases the strength and complexity of the self. But whether the consequences of any particular instance of flow is good in a larger sense needs to be discussed and evaluated in terms of more inclusive social criteria. The same is true, however, of all human activities, whether science, religion, or politics.
Flow is value neutral. In the infamous words of
Buckethead
, "Like the atom, the flyswatter can be a force for great good or great evil." So while video games could certainly be a flow activity, are they a good activity? That is usually where the controversy stems from. I believe the flow achieved during video game playing to be valuable, but I can also see why some wouldn't feel that way. Since flow is an internal state of the mind, it's difficult to observe just how that condition is impacting a given person.
Another implication that kept occurring to me throughout the book is what's being called "The gamification of everything". The idea is to use the techniques of game design to get people interested in what are normally non-game activities. This concept is gaining traction all over the place, but especially in business. For example,
Target encouraged their cashiers
to speed up checkout of customers by instituting a system of scoring and leaderboards to give cashiers instant feedback. In the book, Csikszentmihalyi recounts several examples of employees in seemingly boring jobs, such as assembly lines, who have turned their job from a tedious bore to a flow activity thanks to measurement and feedback. There are a lot of internet startups that use techniques from gaming to enhance their services. Many use an awards system with points and leaderboards. Take
FourSquare
, with its badges and "Mayorships", which turns "going out" (to restaurants, bars, and other commercial establishments) into a game.
Daily Burn
uses game mechanics to help people lose weight.
Mint.com
is a service that basically
turns personal finance into a game
. The potential examples are almost infinite
4
.
Again, none of this is necessarily a "good" thing. If Target employees are gamed into checking out faster, are they sacrificing accuracy in the name of speed? What is actually gained by being the "mayor" of a bar in Foursquare? Indeed, many marketing schemes that revolve around the gamification of everything are essentially ways to "trick" customers or "exploit" psychology for profit. I don't really have a problem with this, but I do think it's an interesting trend, and its basis is the flow created by playing games.
On a more personal note, one thing I can't help but notice is that my latest hobby of
homebrewing beer
seems, at first glance, to be a poor flow activity. Or, at least, the feedback part of the process is not very good. When you brew a beer, you have to wait a few weeks after brew day to bottle or keg your beer, then you have to wait some time after that (less if you keg) before you can actually taste the beer to see how it came out (sure, you can drink the unfermented wort or the uncarbonated/unconditioned beer after primary fermentation, but that's not an exact measurement, and even then, you have to wait long periods of time). On the other hand, flow is an internal state of mind. The process of brewing the beer in the first place has many places for concentration and smaller bits of feedback. When I thought about it more, I feel like those three hours are, in themselves, something of a flow activity. The fact that I get to try it a few weeks/months later to see how it turned out is just an added bonus. Incidentally, the saison I brewed a few weeks ago? It seems to have turned out well - I think it's my best batch yet.
In case you can't tell, I really enjoyed this book, and as longwinded as this post turned out, there's a ton of great material in the book that I'm only touching on. I'll leave you with a quite that seems to sum things up pretty well (page 213): "Being in control of the mind means that literally anything that happens can be a source of joy."
1
- I guess it's a good thing that I'm writing this as opposed to speaking about it, as I have no idea how to pronounce any part of Mihaly Csikszentmihalyi's name.
2
- Which is not to take away the power of books or movies where you sit down, turn your brain off, and veg out for a while. Hey, I think True Blood is coming on soon...
3
- This is, of course, a massive simplification of a subject that we don't even really understand that well. My post on
Interrupts and Context Switching
goes into more detail, but even that is lacking in a truly detailed understanding of the conscious mind.
4
- I have to wonder how familiar Casinos are with these concepts. I'm not talking about the games of chance themselves, though that is also a good example of a flow activity (and you can see why gambling addiction could be a problem as a result). Take, for example, blackjack. The faster the dealer gets through a hand of blackjack, the higher the throughput of the table, and thus the more money a Casino would make. Casinos are all about probability, and the higher the throughput, the bigger their take. I seriously wonder if blackjack dealers are measured in some way (in terms of timing, not money).
Posted by Mark on July 10, 2011 at 07:44 PM .:
link
:.

Wednesday, July 06, 2011
Adventures in Brewing - Beer #4: Bottling
When I put my most recent homebrew,
a saison style beer
, in the fermenter, I started seeing bubbles in the airlock after only a few hours - a much quicker start than any of my previous brews. Indeed, this thing fermented vigorously for nearly 5 days. With all my previous attempts, bubbles didn't appear in the airlock until at least 12-24 hours after pitching the yeast, and once they had started, there was only 2-3 days of vigorous activity, after which things trail off. Usually by the end of 2 weeks, things have slowed down considerably. And that happened for the saison too, but I was surprised at how long that initial phase of activity lasted. Now, I'm not entirely sure what this means, but I suspect that perhaps my pitching/fermentation temperature was a bit high, leading to a more active fermentation than is normally desired.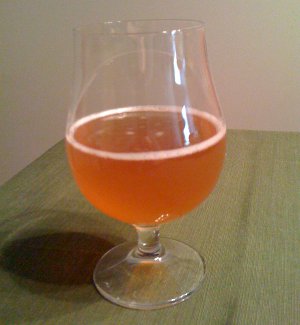 Or I could be completely wrong. The beer seemed to come out ok. It smells wonderful. It looks a little darker than usual for the style, but that's kinda expected for extract brewing. I took a quick swig of it, and at first glance it seems to share a certain character with the Hefeweizen I brewed on my last attempt. Here's to hoping that this goes a little better than my last attempt.
The final gravity was really low though. Somewhere around 1.005 (target was more around the 1.010 area), maybe even less. I guess we'll see how that plays out. Doing the calculations, this means the beer should be somewhere around 7-7.5% ABV, which is certainly higher than I was shooting for, but not outside the realms of possibility.
I won't bore you with the details of the bottling process, which basically went the same as usual - it's a semi-tedious process, but the only really bad part is the sanitization of the bottles. Otherwise all went well and this stuff should be ready to drink in a few weeks. Wish me luck.
At this point, I'm looking to try something a little darker for my next batch. That's apparently more suitable for extract brewing, and besides, my last 3 batches have been lighter style beers. Also, since I've been doing so much in the way of belgian styles, I figured I should try something different. Perhaps a chocolate stout or maybe an American Black Ale (or whatever you call those things).
(Cross Posted at
Kaedrin Beer Blog
)
Posted by Mark on July 06, 2011 at 11:32 PM .:
link
:.

Sunday, July 03, 2011
The Unintended Consequences of Spoiler Culture
Chuck Klosterman's recent article
over at Grantland (Bill Simmons' new site) features some interesting musings on twist endings and the spoilers that can (potentially) ruin them.
...could The Sixth Sense exist today?

Now, I don't mean "Do we still have the technology to make this picture?" because (obviously) we do. We could make it better, probably. I'm also not asking, "Would the twist to The Sixth Sense be spoiled on the Internet?" because (obviously) that would happen, too. It's simply how the media now works. I'm also not wondering if simultaneously promoting and protecting The Sixth Sense would be a marketer's nightmare, because that's undeniable and not particularly important. What I'm asking is this: Are screenwriters now affected by "spoiler culture" before they even begin the writing process? If you know a twist will be unavoidably revealed before the majority of people see the work itself, and if you concede that selling and marketing a film with a major secret will be more complicated for everyone involved … would you even try? Would you essentially stop yourself from trying to write a movie that's structured like The Sixth Sense?
It's an interesting premise, but even Klosterman admits that it's impossible to know for sure. He gives a few examples: the aforementioned
The Sixth Sense
, the semi-recently concluded TV show
Lost
, and the new TV show
The Killing
. I think part of the problem with the article, though, is that it lacks some of the context of what makes these particular twists work.
Take
The Sixth Sense
. Writer and director M. Night Shyamalan, as of right now, is almost comically known for his
reliance on twists
, but it's important to remember that back in 1999, Shyamalan was an unknown. The movie was basically a Bruce Willis vehicle, and even then, it was dumped into theaters in August, the month Hollywood releases movies to die. So what does all that mean? Well, there wasn't much buzz about the movie beforehand - few people were following the making of the movie, thus they didn't have to worry much about spoilers on the internet (and while it's probably worse today, there were still plenty of movie rumor sites active back in the day). The only thing the filmmakers needed to do was to ensure that the marketing didn't give away the twist
1
... and luckily, the film had other readily marketable elements.
Shyamalan's problems came later and are mostly his own fault. After the twist ending of
Unbreakable
, he had pretty much pigeon-holed himself as a twist ending writer. Twists rely on an audience that isn't expecting a twist. This works in a movie like
The Sixth Sense
because there were lots of other things going on. The reason the twist works so well is that the film wasn't asking you to explain anything throughout the film. The ending provided an answer to a question we didn't realize needed asking. And it did so in a way that didn't feel cheap or contrived. It just fit. But it probably wouldn't work so well if you were looking for it all throughout the film.
This is where Klosterman's point comes in. Once you're known for writing twists, it becomes much more difficult to pull them off. I readily agree that Shyamalan and Damon Lindelof (of
Lost
) will have trouble writing a new movie/show that is heavily reliant on twists... but only because both of those writers have abused the twist in their previous work. The same goes for most TV series, especially police procedurals, all of which tend to fall into certain established patterns of red herrings, etc... A while ago, in
reference to Hitchcock's earliest works
, I made a similar observation:
...the "twist" at the end of the story wasn't exactly earth-shattering. These days, we're so zonked out on Lost and 24 that our minds immediately and cynically formulate all the ways the filmmakers are trying to trick us. Were audiences that cynical 80 years ago? Or did the ending truly surprise them?
In this respect, Klosterman is certainly correct: if audiences are looking for your twist, you're going to have a really rough time. So writers known for their twists - even if it's just one big twist - will have to contend with that.
The problem here is that this doesn't necessarily mean that Hollywood is skewing away from twists... just that writers like Shyamalan and Lindelof are. Nothing's stopping anyone else from writing a twist ending, and there's no real shortage of examples, even in the past couple years (I have a whole category devoted to plot twists in the
yearly
Kaedrin
Movie
Awards
). They just happen to come from movies where we're not necessarily looking for the twist
2
.
Klosterman also points out that hiding the twist can also lead to disappointment. His chief example:
Take the 2008 sci-fi film Cloverfield: The marketing campaign was flawless. Without revealing any aspect of the story, the trailers for Cloverfield made it clear that something cataclysmic was going to happen in New York, and that this massive event was some unthinkable secret. Considering how the media now operates, the makers of Cloverfield did a remarkable job of keeping its details clandestine. Yet this secrecy probably hurt the film's ultimate reception — when people realized it was "only" an updated version of a traditional monster movie, they were often disappointed.
Well, that's certainly one way to look at it. Another way to look at it was that audiences were disappointed because the movie kinda sucked
3
. Also, that's a "twist" manufactured by marketing, not one related to storytelling or anything. In a very real sense,
Super 8
has similar issues, though I think that ended up being a much better movie.
Ultimately, I think the "twist" is here to stay. Oh sure, it may go away for a while as the Shyamalans and Lindelofs of the world move on to more straightforward narratives. But the twist will make a comeback soon enough, just when we least expect it. Which is, of course, the whole point of a twist.
1
- This is not a trivial challenge.
Terminator 2: Judgment Day
provides an interesting example. Watch that film with a blank slate, and you'll notice that it's written as if the audience doesn't know that Schwartzenegger's terminator is a "good guy" and that Robert Patrick's T-1000 is the villain. In the absence of marketing, it would be reasonable for someone not familiar with the movie to assume that it's following the same pattern as the previous installment. When I was little, I was a huge Terminator fan, so I distinctly remember a lot of the marketing surrounding T2... and they gave all of it away. Of course, the reveal happens relatively early in the film, but I still remember finding it a bit weird that they spent so much time trying to obscure what everyone already knew.
2
- The first example that came to mind was kinda odd because it's not very prominent in it's film (and I doubt anyone would call it out in a discussion of twists), but I always liked it: the last scene in
Batman Begins
(in the board room, not the action sequence on the train) is wonderful, and I think it did more to cement how much I liked that movie than anything else. It fits very well with the story, and there are even hints about it earlier in the movie. But it's an action film and the twist was far away from most of the central plot points, so I never saw it coming.
3
- I guess that's a bit unfair. The film has its merits, but most people who saw it complained about the shaky cam much more than the fact that it was a monster movie. Seriously, even I had problems with the camerawork in that movie making me sick, and I'm normally fine with that sort of thing. The premise is actually the best part about the movie - a monster movie told from the perspective of normal folks fleeing the attack. No spunky scientist teaming up with a hardened military veteran to take down the monster, just normal folks trying to survive. Unfortunately, the execution of this was... lacking.
Posted by Mark on July 03, 2011 at 03:23 PM .:
link
:.

« June 2011 | Main | August 2011 »