« February 2011 | Main | April 2011 »
Wednesday, March 30, 2011
Artificial Memory
Nicholas Carr
cracks me up. He's a skeptic of technology, and in particular, the internet. He's the the guy who wrote the wonderfully divisive article,
Is Google Making Us Stupid?
The funny thing about all this is that he seems to have gained the most traction on the very platform he criticizes so much. Ultimately, though, I think he does have valuable insights and, if nothing else, he does raise very interesting questions about the impacts of technology on our lives. He makes an interesting counterweight to the techno-geeks who are busy preaching about transhumanism and the
singularity
. Of course, in a very real sense, his opposition dooms him to suffer from the same problems as those he criticizes. Google and the internet may not be a direct line to godhood, but it doesn't represent a descent into hell either. Still, reading some Carr is probably a good way to put techno-evangelism into perspective and perhaps reach some sort of Hegelian synthesis of what's really going on.
Otakun
recently pointed to
an excerpt from Carr's latest book
. The general point of the article is to examine how human memory is being conflated with computer memory, and whether or not that makes sense:
...by the middle of the twentieth century memorization itself had begun to fall from favor. Progressive educators banished the practice from classrooms, dismissing it as a vestige of a less enlightened time. What had long been viewed as a stimulus for personal insight and creativity came to be seen as a barrier to imagination and then simply as a waste of mental energy. The introduction of new storage and recording media throughout the last century—audiotapes, videotapes, microfilm and microfiche, photocopiers, calculators, computer drives—greatly expanded the scope and availability of "artificial memory." Committing information to one's own mind seemed ever less essential. The arrival of the limitless and easily searchable data banks of the Internet brought a further shift, not just in the way we view memorization but in the way we view memory itself. The Net quickly came to be seen as a replacement for, rather than just a supplement to, personal memory. Today, people routinely talk about artificial memory as though it's indistinguishable from biological memory.
While Carr is perhaps more blunt than I would be, I have to admit that I agree with a lot of what he's saying here. We often hear about how modern education is improved by focusing on things like "thinking skills" and "problem solving", but the big problem with emphasizing that sort of work ahead of memorization is that the analysis needed for such processes require a base level of knowledge in order to be effective. This is something I've
expounded on at length
in a previous post, so I won't rehash that here.
The interesting thing about the internet is that it enables you to get to a certain base level of knowledge and competence very quickly. This doesn't come without it's own set of challenges, and I'm sure Carr would be quick to point out that such a crash course would yield a false sense of security on us hapless internet users. After all, how do we know when we've reached that base level of confidence? Our
incompetence could very well be masking our ability to recognize our incompetence
. However, I don't think that's an insurmountable problem. Most of us that use the internet a lot view it as something of a low-trust environment, which can, ironically, lead to a better result. On a personal level, I find that what the internet really helps with is to determine just how much I
don't
know about a subject. That might seem like a silly thing to say, but even
recognizing that your unknown unknowns
are large can be helpful.
Some other assorted thoughts about Carr's excerpt:
I love the concept of a "commonplace book" and immediately started thinking of how I could implement one... which is when I realized that I've actually been keeping one, more or less, for the past 10 or so years on this blog. That being said, it's something I wouldn't mind becoming more organized about, and I've got some interesting ideas about what my personal take on a commonplace would look like.
Carr insists that the metaphor that portrays the brain as a computer is wrong. It's a metaphor I've certainly used in the past, though I think what I find most interesting about that metaphor is how different computers and brains really are. The problem with the metaphor is that our brains work nothing even remotely like the way our current computers actually work. However, many of the concepts of computer science and engineering can be useful in helping to model how the brain works. I'm certainly not an expert on the subject, but for example: You could model the brain as a binary computer because our neurons are technically binary. However, our neurons don't just turn on or off, they pulse, and things like frequency and duration can yield dramatically different results. Not to mention the fact that the brain seems to be a massively parallel computing device, as opposed to the mostly serial electronic tools we use. That is, of course, a drastic simplification, but you get the point. The metaphor is flawed, as all metaphors are, but it can also be useful.
One thing that Carr doesn't really get into (though he may cover this in a later chapter) is how notoriously unreliable human memory actually is. Numerous psychological studies show just how impressionable and faulty our memory of an event can be. This doesn't mean we should abandon our biological memory, just that having an external, artificial memory of an event (i.e. some sort of recording) can be useful in helping to identify and shape our perceptions.
Of course, even recordings can yield a false sense of truth, so things like Visual Literacy are still quite important. And again, one cannot analyze said recordings accurately without a certain base set of knowledge about what we're looking at - this is another concept that has been showing up on this blog for a while now as well: Exformation.
And that's probably enough babbling about Carr's essay. I generally disagree with the guy, but on this particular subject, I think we're more in agreement.
Posted by Mark on March 30, 2011 at 06:06 PM .:
link
:.

Sunday, March 27, 2011
I'll meet you in the Temple with the grenade launcher.
The most played video games of my college career would include a handful of great games:
NHL 94/95
, various iterations of
Mario Kart
, and, of course,
Goldeneye
for the N64. There are several notable aspects Goldeneye: It's a video game based on a movie and it
doesn't
suck. While the FPS genre was already a long-established tradition in PC gaming, it had never really picked up momentum on consoles... until
Goldeneye
. Before
Halo
and
Call of Duty
, there was
Bond
. The most popular feature of the game, at least for me, was the split screen multiplayer. I don't know how many hours I spent playing that game with a group of friends, staring a tiny screen that was split in 4, but it was probably more that I'd care to admit.
A few years ago, some friends and I found an old N64 and played some
Bond
on a much bigger screen (indeed, we had a nice HD projector and a 100+ inch screen - it was awesome). Of course, it was great fun, though it quickly became clear to me that the FPS had come a long way, even on consoles. That being said, it's still one of my favorite games of all time. Perhaps that's more due to nostalgia than any objective evaluation of the game, but I think it holds up reasonably well.
A few months ago, I received a text: "I'll meet you in the Temple with the grenade launcher." It came with a picture of the recently released
re-imagining of Goldeneye
for the Wii. Since I hadn't even turned my Wii on in several months, I thought it might be a good idea to check this out, and maybe play with some friends online. I eventually bought a copy, plopped it in and played the first section of the single player game. I promptly stopped playing and didn't turn it back on until yesterday, when I met up with a group of friends from college. I'm happy to say that the multiplayer is a heck of a lot more fun than the single player, though I'm not really sure any of that is actually due to this game itself.
Nostalgia certainly plays a big role in the enjoyment of the game. I don't think it's quite as fun as the original was back in the day, but it's still a good time, and a lot of the key elements of the game are nicely adapted to more modern conventions. Unfortunately, there are several things that are awful (Note: all of this is based on local, split-screen multiplayer):
The Wii Controller scheme is atrocious. It was a key reason I stopped playing the single player, but it was even worse on a split-screen multiplayer experience. This isn't entirely the fault of the game - it's a general problem with FPS on the Wii platform. The wiimote just isn't precise or responsive enough, and it's annoying that you have to keep it pointed directly at the screen at all times (I invariably spawned with my character spinning around and around as I had let me hand sway one direction or another). I was constantly fighting the controls, often losing the fight, as it was very difficult to look up without the wiimote leaving the acceptable pointing range (leading to a frustrating and annoying No symbol appearing on screen). There's also the fact that we had four guys trying to crowd around a relatively small TV, and sometimes the Wii Remote Sensor was blocked by someone's leg or something (something that wouldn't happen with normal controllers). Everyone playing with the wiimotes had similar problems, so it wasn't just me. Now, I could go out an buy the "Classic Controller", which is basically a Wii controller that looks and works like the XBox 360 or PS3 controller, and I probably will at some point, but I'm really starting to get annoyed with the Wii, as it seems like every damn game I buy requires some new doodad or accessory. And that's without even getting into the infamous keyboard/mouse vs console controller debate!
The game doesn't feature any of the previous maps or weapons. It turns out that there isn't a Temple map, nor is there a grenade launcher (though we eventually figured out how to use the grenade launcher that was attached to an M16 or something, it's not like the original grenade launcher). No power weapons, no Klobb (not that you'd ever want to use it unless you had two of them, but still), no grenade launcher, no Cougar magnum, no lasers, and so on. There is a rocket launcher, but it sucks (and you only get two rounds). Mines are available, but only as a part of your loadout (and again, ammo is limited). Some of the maps are similar, but they're all rather different, and a couple are absolutely terrible. None of them really bring back the feeling of the original, which is annoying because nostalgia was a key driving factor in my purchase of the game.
The graphics are certainly a big improvement over the original, but I also found that everything was so dark that it was sometimes difficult to see, well, anything. Combine that with imprecise controls and the heat of battle, and you get some pretty jumbled multiplayer encounters where the screens are just spinning all over the place as we try to shoot or melee each other. Of course, we were playing on a small SD television set, so that probably has something to do with it. I'm not sure how we were able to cope with the screen split 4 ways in college, but I'm guessing the lack of lighting effects back in the day actually made everything more visible. We ended up fiddling with contrast, color, and brightness settings and managed to improve things a bit, but it was still annoying. However, I suspect things would look a lot better on a bigger HDTV (then again, when playing single player on my nice 50" TV, there was at least one point where I got totally stuck and could not find my way to the next room because it was too dark and I couldn't see the hallway I needed to take, so it's not just because of the TV and split screen mode).
The available customization options seem to be less comprehensive than the original. Part of this has to do with shifting the game away from found weapons to the more contemporary loadout strategy (where you pick what weapon you want at the beginning of the match), but that again makes the game feel less like the original, thus nullifying any of the nostalgia factors. It's fine for what it is, but then it also reminds me of other recent FPS games like Call of Duty, etc... which are better at this stuff than Goldeneye.
Again, this is only the local multiplayer - I have not yet jumped through Nintendo's ridiculous hoops to start playing online with my friends (including some sort of improvised voice chat, whether that be through skype or some other phone conferencing possibilities) but I will probably figure that out at some point.
I get that the developers of this game are trying something new (and given the state of IP law, they probably weren't allowed to copy that much of the original, though that's just blind speculation) and for what it's worth, they have created the best FPS I've played on the Wii. It's still frustrating that so much of what I loved about the original is missing from the remake though.
Of course, this didn't stop me from playing the game for 6 hours yesterday, and I did have a really good time. At first, I was getting clobbered, as I haven't really played this game much and the aforementioned control scheme didn't help. But as I got a hang for the controls (inasmuch as one can actually do so) and started to take the game less seriously, I started doing better. While everyone else was playing with machine guns or sniper rifles, I picked the rocket launcher, which actually does have a really satisfying sound effect. You only get 2 rockets and you need to be more precise than the original version of the game (this is particularly annoying given the controller issues), but I managed to get the hang of it pretty quickly (I'm now a fucking surgeon with the rocket launcher). I also figured out how to get the grenade launcher working on one of the loadouts, which was nice, though again, the original game's grenade launcher was way better. We also figured out proximity mines and smoke grenades (a welcome and well implemented addition to the game) and some other things, which made it a bit more interesting. And, as always, the ability to pick a Bond character as your avatar during the game is enjoyable and underrated (perhaps because it's a licensed property and most such games suck).
In the end, it's a game I'm having fun with, but it's very flawed and it missed a lot of opportunity to really generate nostalgia. It's a big disappointment in that respect. Again, that may be due to the fact that the developers couldn't legally use some of the stuff from the original game, but it's still annoying. I will probably get the classic controller and figure out the whole online component at some point as well. Perhaps the game will grow on me a bit, but having also recently finished
Call of Duty: Black Ops
, I can't say as though it will rank among my top games of this generation.
Posted by Mark on March 27, 2011 at 06:57 PM .:
link
:.

Wednesday, March 23, 2011
Recent Television on DVD/BD
I don't watch a lot of live television, but thanks to the magic of DVD/BD/Netflix Instant, I can catch up on a series pretty quickly if I want to. The biggest issue with this approach happens when the series isn't done yet, and you have to then either slow down and wait between episodes (and deal with things like commercials!) or wait a year or more for the next set of DVDs to come out. That being said, watching a TV series like this can get really addictive, really fast. Here's a few things I've been watching lately:
Sherlock - Without a doubt the best Sherlock Holmes series, I've probably ever seen. This includes movies, like Guy Richie's recent Sherlock Holmes and the 1985 Spielberg-produced Young Sherlock Holmes (which I have a soft spot for, despite the fact that no one ever knows what I'm talking about when I reference that movie). Heck, it's even better than the Sherlock-inspired House, which was probably the best modernized update of the Sherlock Holmes ideal... until now. I've only seen the first two episodes, but they're long episodes (90 minutes each), and there have only been three episodes created so far (with another three scheduled to air later this year). But this is high quality stuff. It's got a contemporary setting (unlike the usual Victorian setting) and excellent writing, casting, and acting. The visual style of the show even shows more flare than your typical British production. Holmes has his usual quirks, though he is altogether more likeable here than Greg House or Robert Downey Jr.'s version of Holmes. Watson is fun, though I don't think he's really been given enough time to really shine just yet. And of course, the mysteries are intriguing (indeed, I rather enjoy this more than what limited stories I've actually read). Highly recommended. Thanks to Otakun for his recommendation a while back, as I surely wouldn't have put this in my Netflix queue without that recommendation. He's also got some extra info on the series and some interesting links to online tie-in sites (like Watson's blog, etc...)
Fringe - I was in the mood for an X-Files style show, and so I popped this series into my Netflix queue and what I found was something that started off in a similar vein, but which pretty quickly managed to establish its own identity. The show revolves around a series of strange science-gone-wrong accidents that seem to be occurring (ominously referred to as, The Pattern), the idea being that there are these mad-scientists out there experimenting with chemical and biological weapons out in public. It's creepy stuff, actually. Of course there's the FBI's Fringe division, lead by Agent Olivia Dunham and her sidekicks: Walter and Peter Bishop. Walter is a fun character, eccentric and brilliant. You get the impression that he's done a lot of bad things in the past, but he's clearly a different person now. And so on. It takes its time, but it eventually establishes a main, overarching conflict which seems pretty compelling. Some of the execution is a bit silly or uninspired (tons of cliches), but it's a generally entertaining series. What passes for "science" in the show is a bit fluffy, but coming from the guys who dreamed up "red matter" in the Star Trek reboot, that's par for the course. In that respect, it reminds me a bit of Lost. Again, generally entertaining, but not something I'm convinced will pay off that well. Still, I'd like to watch more of it (alas, we're well into season 3 now, so I have no idea when I'll be able to catch up).
Breaking Bad - Based mostly on the enthusiastic recommendations of the /Filmcast, I checked out the short first season of this series about a high school chemistry teacher who learns he's going to die, and to pay for the cancer treatments, he teams up with a former student to cook meth. It's a lot better than I'm making it sound, and very well acted, but on the other hand, there's something a little off about the show that I can't quite place. It was an interesting first season, but I can't say as though I'm all that excited to revisit these characters. I suppose that I can see why the series has inspired so much love, but it just isn't clicking with me. I may give it another chance at some point, but probably not anytime soon.
There are a bunch of other series I have in the queue, including Veronica Mars, Deadwood, and a few others (including some Anime). And, of course, the next season of Sherlock.
Update:
Damn you, cliffhanger! (Just finished the last episode of Sherlock.)
Posted by Mark on March 23, 2011 at 08:35 PM .:
link
:.

Sunday, March 20, 2011
SF Book Review, Part 6
It's been a while since I followed up on my
book
queues
(and some of the books on here weren't even on the queue, they just jumped to the top of the queue - which is probably why the queue is so long).
And there you have it! Coming up in the queue are some more Bujold novels, perhaps some Timothy Zahn, and even though it's probably not SF, some Thomas Pynchon for good measure. I may also need to do a Non-Fiction book review soon, as I've been reading a lot of that lately too...
Posted by Mark on March 20, 2011 at 07:58 PM .:
link
:.

Wednesday, March 16, 2011
Link Dump
As usual, just some interesting stuff I've seen lately...
That's all for now...
Posted by Mark on March 16, 2011 at 07:00 PM .:
link
:.

Sunday, March 13, 2011
Top 5 Long Takes
On
this week's Filmspotting podcast
, the hosts did their top 5 long takes. For the uninitiated, a
Long Take
in cinema is referring to an uninterrupted shot that lasts a lot longer than the general editing tempo in the film, usually several minutes. Of course, there are a lot of ways to implement this concept. Some filmmakers, like Ozu or Tarkovsky, are known for more static long takes, meaning that the camera is stationary and the action simply unfolds in front of it. Other folks, like Scorsese or Wells, took the concept further by moving the camera to follow the action. This is usually accomplished by mounting the camera on a dolly and rolling it around on preset tracks (or by using cranes) - thus yielding the term
Tracking Shot
. The invention of the
Steadicam
in the mid 70s allowed for smooth tracking shots without the tracks.
You could say that most Long Take/Tracking Shot combos are a lot more showy and maybe even distracting, but I generally enjoy those sorts of pyrotechnics, so long as they're used for a reason, so that's what I'll be focusing on. Now, there are a lot of really famous long takes, but I don't want to make a super-boring list either, so I'll just mention three of the most famous first: The
opening sequence
of
Touch of Evil
is a masterpiece and often tops lists like these. The
Coppacabana
scene from
Goodfellas
is another classic that always shows up on these lists. Paul Thomas Anderson was seemingly inspired by Scorsese (though he puts his own touches on it as well) in his film
Boogie Nights
, which features a couple of bravura sequences, including one where the camera even follows someone as they dive into a pool. There are even some films, like Hitchcock's
Rope
or
Russian Ark
, that are comprised of just a hadful of shots (indeed, the latter is only a single take). There are, of course, tons of other famous shots like this, but I'm going to be focused on relatively short takes (in the 3-20 minute range). I'm also going to shoot for some more obscure stuff on my list, including some action films (sorely lacking in the Filmspotting lists). I'm going to try and avoid most of the films on the Filmspotting list as well, so there are some other obvious shots that I'm trying to avoid (of course, they also mention about 30 films in their discussion, so it's hard to be completely unique here).
Well, there you have it. A few of those are perhaps very well known and often referenced, but there's at least one that is rarely mentioned when it comes to long takes.
I do have one honorable mention though, and it's a strange one. I don't think I've ever heard it referenced in long take discussions before, but it's definitely at least 2-3 minutes long. I'm not sure why this one sticks with me so much, but it's the scene in Tarantino's
Jackie Brown
(which has a couple of good long takes, including another opening shot) where Ordell Robbie (Samuel L. Jackson) goes to talk to Beaumont Livingston (Chris Tucker) at a hotel. It's a long scene, and the camera follows them around a bit, but stays relatively stationary, despite the fact that they get into a car and drive around for a while. Again, I don't know why, but that scene always sticks in my mind when I think of long takes.
Well, I suppose that's enough blabbering about Long Takes. Feel free to share any of your personal favorites in the comments!
Posted by Mark on March 13, 2011 at 08:17 PM .:
link
:.

Wednesday, March 09, 2011
Link Dump
You know the drill:
That's all for now...
Posted by Mark on March 09, 2011 at 08:10 PM .:
link
:.

Sunday, March 06, 2011
Adventures in Brewing - Beer #2: The Bottling
After three weeks in the fermenter, I've finally managed to bottle my
Belgian Style Tripel
. Since this was a high-gravity beer, it required additional time in the fermenter and will most likely take a while to condition in the bottles as well. I'm hoping to check it out in about 3 weeks, just to see how it's doing.
The Final Gravity ended up being somewhere around 1.015 (maybe a little less). The more I use a hydrometer, the less confident I am in the measurements. I got somewhat inconsistent readings. Nevertheless, it was definitely lower than the recipe's goal of 1.020.
My last beer
also ended up lower than the recommended FG, so perhaps I should bottle a little earlier in the process. If my math is correct, this yields a beer that is somewhere in the 9-10% ABV range, which is right in the middle of the proper range for Belgian style tripels. The recipe I was using was meant to imitate
Westmalle Tripel
, which is 9.5%, so I'm definitely in the right neighborhood. If I make some extreme assumptions about my hydrometer readings for both the OG and FG, the highest it could come out is around 10.5% ABV, which would be a little high for the style, but still within the general range of acceptable ABV.
The process went smoothly, just like last time. No problems racking the beer from the fermenter to the bottling bucket. Sanitizing the bottles is tedious and repetitive, but easy enough. I was hoping to be able to use some 750 ml bottles I'd harvested from recent drinking, but it turns out that the caps I have don't fit on those bottles, which are slightly larger than the standard bottlecap. I had plenty of regular bottles, and even some 22 oz bombers that worked, so no real problem there, I just had to sanitize more bottles than I realized. Filling the bottles was kinda fun though, even if it's also tedious and repetitive. Something about using the bottling wand is just great fun.
The beer itself looked and smelled great. The aroma was maybe a bit boozy (I was sorta expecting that given the high ABV), but it still had that distinct Belgian yeast smell that I love so much. Once the bottles condition and the priming sugar does its thing, there should be plenty of carbonation to cut the alcohol though, so I still have high hopes for this one. I poured some in a glass and it looked great. Whilst brewing and looking at it in the buckets, it seemed a lot darker than your typical tripel, but when I poured a glass of it, it looked fantastic. The picture below actually looks a little more orange where I remember it being a little more brown, but I guess we'll see what it looks like when it finishes conditioning (obviously, since it's now bottle conditioning, there's no carbonation and thus no head in the picture):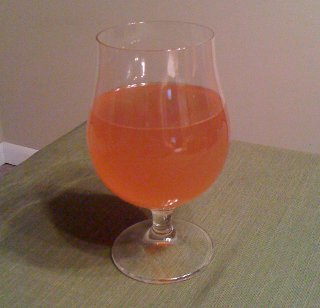 So that just about finishes up this batch. I'm already looking into a new batch of beer, though I'm torn about what style to go for next. If I brew again in the next few weeks, I could probably have something that's ready to drink right in time for summer. So I was thinking of trying my hand at a wheat beer (perhaps a Hefeweizen) or a Saison. Both tend to be lighter and more refreshing beers, so they're perfect for summer. Right now, I'm leaning towards the wheat beer because Saison is another Belgian style and I just finished something along those lines. Of course, I could end up brewing both (one for early summer, one for later summer), which would leave time for a fall batch (perhaps an IPA of some kind) and a winter batch (I was think a Belgian dubbel, perhaps with some added holiday spices).
(Cross Posted on
Kaedrin Beer Blog
)
Posted by Mark on March 06, 2011 at 07:21 PM .:
link
:.

Wednesday, March 02, 2011
Readme
Not long after the release of Anathem, it was
announced
that Neal Stephenson's next novel was due in 2011 and would be titled "Reamde". The computer geeks among Stephenson's fans (which is to say, most of Stephenson's fans) were quick to wonder if the title was really supposed to be "Readme", a common name for help or pre-installation files on computers, but everyone insisted that it "wasn't a typo". Well, a couple of days ago, I see on
Tombstone
that
HarperCollins has now listed the book on their site... as Readme
. So was it a typo all along, or are the new listings (also on booksellers like
Amazon
) the actual typo?
There isn't much information about the book available just yet. Just that it's coming in at a svelte 960 pages (about par for Stephenson's recent work) and that it will be released on September 13 (which happens to be my birthday). The original
io9
article also noticed that it was classified as "thriller" rather than SF. They wonder if that means he's abandoning the genre (as if the 2700 page historical epic featuring no science fiction that he wrote a few years ago didn't happen), but they may have a point about the novel perhaps resembling the
pair of pseudonymous techno-thrillers
that Stephenson wrote in the early/mid-1990s with his uncle -
The Cobweb
and
Interface
. I actually really enjoy those novels for what they are, so I wouldn't have any problem with the new book being like that. Given the aforementioned significance of the term "Readme" and how it relates to computers, I think that most SF fans would probably be fine with it too.
Unless the book
actually is
titled "Reamde". Then we're totally fucked.
Posted by Mark on March 02, 2011 at 07:47 PM .:
link
:.

« February 2011 | Main | April 2011 »