« January 2011 | Main | March 2011 »
Sunday, February 27, 2011
Oscar Liveblogging
In accordance with tradition, I'll be liveblogging the Oscars tonight. If you're interested, here are previous installments: [
2010
|
2009
|
2008
|
2007
|
2006
|
2005
|
2004
] Check back for frequent updates (starting around 8:30 pm EST), and feel free to hang around and leave comments to play along (I've re-instituted anonymous commenting for the event, though I have added a CAPTCHA to prevent spam - sorry for any inconvenience)...
To start things off, here are my predictions for the major awards:
Well, there you have it. Check back later tonight for frequently updated commentary. See you soon!
Update 7:59 pm:
Yeah, it's still Red Carpet torture time, so not much to say yet. Instead of watching this, I'm going to check out
Alex's Oscar Roundup
and maybe watch some of the
Flyers Wives Fight For Lives
. See you at 8:30, when the ceremony actually starts.
Update 8:27 pm:
I'm looking forward to
Source Code
, though I'm getting a feeling from the commercial that just played that I'll have similar issues as I had with Duncan Jones' previous effort,
Moon
. Anyway, only 3 minutes to go. In anticipation of some sort of lame musical number, I'm going to crack open my first beer of the night. I'm starting off relatively tame tonight, with a fancy can of
Dale's Pale Ale
.
Update 8:30 pm:
Hurm. The first montage of the night? Over/under is 8. I'm taking the over.
Update 8:33 pm:
Great opening skit here. Much better than the lame musical number I'm still expecting later in the show. Love the accents when they're making fun of The Fighter. "The naked girl from
Love and Other Drugs
" Heh.
Update 8:37 pm:
Is there any young actor that has turned their careers around as dramatically as James Franco? I can't think of any. Of course, like Devin Faraci,
I Honestly Believe James Franco Could End Up Doing Porn
. Not a bad start to the show though, decent monologue too. Fingers crossed for no musical numbers.
Update 8:39 pm:
Oh, burn, "Marky Mark". He seems to be a good sport about it, but as someone named "Mark", I have to admit that it's really freakin annoying when people call me "Marky Mark". I imagine it's doubly so for, uh, the real Marky Mark.
Update 8:41 pm:
Does that count as a montage? I mean, it's just from
Gone With The Wind
, but still. We'll make that a half-montage (bringing the count up to 1.5). And now, a Titanic quasi-montage. Make that 2 total montages.
Update 8:49 pm:
Well, that didn't take long. I'm now a few minutes behind due to the magic of the DVR. I simply can't resist! Sorry about that. So I just saw that
Alice in Wonderland
won Art Direction. Nice job, I guess. Decent speech so far, but you know she's not going to be able to say anything because he's hogging the mic.
Update 8:53 pm:
She didn't say anything? By choice? Who knows. Maybe she was drunk! Cinematography goes to...
Inception
! I'm 0 for 1, but I don't mind. And what the hell man, take your glasses off, don't put them on your forehead. Moron. Haha, he chastises the audience for clapping as they're "taking up his time"
Update 8:59 pm:
Only three minutes behind now. Kirk Douglas takes the stage. I can never think of this guy without picturing his "prestige" moment in
Path's of Glory
. He's not sounding so great right now though. But he's right, Anne Hathaway is indeed gorgeous. Helena Bonham Carter just gave a look that she knows she's not going to win. Jackie Weaver looks very happy. Mellissa Leo looks nothing like her character. Supporting Actress award goes to... Jesus, I wish I had someone to hold my cane. He's really dragging this out. But I kinda like it. Melissa Leo wins! And I'm 0 for 2. Yay!
Update 9:01 pm:
Kirk's minder from the mental clinic just ushered him off the stage. Heh. She's really speechless. Kinda nice to see that sort of thing, I guess. Holy shit, she just cursed. Awesome. Stupid delay caught it though. They seem to be giving everyone time to talk, moreso than usual. Nice politics at the end of the speech. Ok, come on, next award. Or montage. Or something.
Update 9:06 pm:
I love Mila Kunis. Justin Timberlake is Banksy? Heh. Oh come on, who cares about Shrek anymore. Oh, look, I know the first animated short. Because they put it in front of Pixar movies. Timberlake is making fun of old man Douglas, and it's pretty hilarious. And the short that no one cares about wins.
Update 9:10 pm:
So is that guy, like, 4 feet tall? Or is the guy standing next to him, like, 7 feet tall? He's tiny! Tall guy manages to get some words in as well, despite the music attempting to play him off. And best animated movie goes to: Toy Story 3. Duh. I'm 1 for 3!
Update 9:11 pm:
He's talking like Toy Story 3 was a hard-sell or something. Weird.
Update 9:17 pm:
Damn these quasi-montages. We're up to 2.5, I guess. Whoa with the white tuxes guys. Isn't Javier Bardem's accent quaint? Toy Story 3 being an adapted screenplay because it's based on the previous films seems strange to me. Adapted screenplay goes to Aaron Sorkin for the Social Network, because duh. Let's see if he says something good in his speech. It's so obvious that he wrote this speech ahead of time. Heheh. Oh man, they're really trying to get him off the stage. I blame old man Douglas!
Update 9:20 pm:
The Figher is "Original"? Hehehe. Oscar for Original Screenplay goes to King's Speech. I'm now 3 for 5. Don't call it a comeback! Great speech so far though. "Late bloomer" indeed, oldest person to win this award. Probably also a prepared speech, but it's.. more natural. And he's already being ushered off stage. And he mentions the F word, heeheh. Nice. I can't believe King's Speech was rated R.
Update 9:22 pm:
And I'm finally caught up to real time again. Since it's still a commercial, I'll just say that this Dale's Pale Ale is pretty awesome for what it is. I could drink the entire 6 pack tonight, I think...
Update 9:26 pm:
Oh mother fucker! Musical number. "Hugh Jackass" ok, that's kinda funny I guess. Anne Hathaway is very talented, I just can't stand musical numbers. And what the hell, Jackman is apparently right there in the audience. Nice, James Franco is in a dress and "just got a text message from Charlie Sheen." I know you thought I was kidding about the Franco doing porn thing earlier, but now? Not so much, right? Seems very possible.
Update 9:28 pm:
Is it me, or is the pre-award banter better this year than in previous years. Best Foreign picture goes to
In a Better World
, and I'm now 4 for 6. Score. She seems overwhelmed, but not as much as Melissa Leo! And she's very gracious and classy, but boring.
Update 9:31 pm:
There's Christian Bale, rockin the crazy-man beard. It suits him, I think.
Update 9:33 pm:
Christian Bale wins! I think he might actually be drunk. I know I joke about that sometimes, but seriously, he seems drunk. Or maybe that's just him. He's not embarrassing himself though, and even seems to have a sense of humor about his reputation. Decent speech. I wonder how Marky Mark feels about not being nominated. He's one of the few people not nominated for that movie (not that he deserves to be, but still).
Update 9:37 pm:
This was a few minutes ago, but I can't get over seeing Geoffrey Rush with a shaved head. It's so... I don't know what to make of that. It doesn't look right. On an unrelated note, I love how JJ Abrams feels no need to tell people what his movies are actually about. I am looking forward to Super 8 mostly because I have no idea what it's about (I gather it's some sort of Area 51 SF/Action thing, but I'm not sure).
Update 9:38 pm:
Holy shit, the President of the Academy! Run! Save yourselves!
Update 9:44 pm:
They were only on for, like 10 seconds, but they're like a black hole of boringness. It's like someone scratching the record player. And another montage, this one less quasi- than the others, so I'm putting us up to 3.5 on the Montage count. Man, weird, it's a musical montage too. Still counting it as one full montage. Winner for best musical score goes to: Trentie-poo and Atticus Ross for The Social Network. I'm 6 for 8, a much better showing than I started with. And Trent and Atticus both give a nice, measured speech. Good job fellas, I really like your soundtrack.
Update 9:46 pm:
Remember what I said about the pre-award banter being good? Yeah, forget that. Interminable. Sound goes to Inception. Racking up the technical awards, Inception is. Writing like Yoda speaks, I am.
Update 9:48 pm:
Wait, didn't we just do sound editing? Well, the Oscar goes to Inception. Again. Good job guys. Next award please.
Update 9:56 pm:
Marissa Tomei gets the thankless task of talking about the scientific awards that no one cares about. I would probably find them mildly interesting though. Ohh, burn. "Congratulations Nerds!"
Update 9:57 pm:
What the hell is Cate Blanchett wearing? Why do I even bother to pick makeup? But I was right, The Wolfman wins! "Gross" as Blanchett says. Rick Baker is a master though. I'm 7 for 9. Doing pretty good now! Classy move letting the other winner talk. "It was always my ambition to lose an Oscar to Rick Baker. Hehehe"
Update 9:59 pm:
Alice in Wonderland wins best costumes. I didn't realize that anything in that movie was actually real. Ohhh, she's got a cheat sheet! And she's... reading right off it. Um, huh. Lame. Can, uh, someone usher her off stage. Ah, here comes the music. Actually thankful for that this time.
Update 10:03 pm:
Montage 4.5. OBAMA! YEAHHHHH! OBAMA! LET'S BURN THIS MOTHERFUCKER DOWN! OBAMA! He's a good president because he likes movies and I can relate to him! Kevin Spacy: moron. Oh shit, an actual musical performance. Shit, shit, shit. I thought we got rid of this last year. Shit.
Update 10:05 pm:
Oh fuck, they're doing all the songs now. I'm getting another beer. Maybe something stronger than a Dale's Pale is appropriate now. If anyone from work is reading this, I apologize in advance for tomorrow. It's not my fault though. Stupid Oscar musical performances. At least they're all together now.
Update 10:09 pm:
Or maybe not. They only did 2 of them. Does that mean we have to suffer through 3 more? Can't we just give the award to Randy Newman like we always do and be done with it? Incidentally, I didn't mention it earlier, but this year had several really awesome music scores. The Social Network was certainly a deserving winner, but Inception had a great one, as did Scott Pilgrim vs. The World and even Tron: Legacy. But I guess we can't have Trent Reznor doing a live show at the Oscars, though I wouldn't mind seeing that. Of course, he's all older and boring now. AHHHHHHH. Stella Artois commercial. Sorry.
Update 10:13 pm:
"Shorts are the hardest categories to pick on your home oscar ballot" because no one gives a fuck, Jake. No one gives a fuck. Sorry, that came off sounding kinda angry. And the winner is... Who cares? Next award please.
Update 10:14 pm:
She's posing like the Incredible Hulk. Look at those muscles!
Update 10:16 pm:
"Shoulda got a haircut." Hehehe. Alright, you redeemed me having to sit through the shorts awards. Guy is funny, even giving the straightforward thanks that he does. Nice.
Update 10:18 pm:
What the hell? Auto-tune!? Wasn't that overplayed, like, years ago? Does this count as a montage? Yeah, definitely. 5.5 montages so far tonight. A million dollars isn't cool. You know what's cool? An OSCAR, bitch!
Update 10:19 pm:
OPRAH! YEAHHHHHHHH! OPRAHHHHHHHHHHHHHHHHHHHHHHHHHHHHHHHH!
Update 10:22 pm:
Why do all documentaries have to be so activisty. Oscar goes to Inside Job, and I'm 8 for 10. Go me. Still would have liked to have seen Banksy attempt some sort of acceptance speech. Ah this guy seems like a big douche. "Forgive me, I'm going to make a boring, trite political statement." Eh, not that bad, he seemed to pull his punches a bit. If you're going to do it, go whole hog. Scream or something.
Update 10:26 pm:
Shocking, Billy Crystal is still alive. Of course, his career isn't! Ba-dum-tsshhh.
Update 10:29 pm:
MONTAGE! 6.5. This is a montage that isn't even about movies though, it's Bob Hope highlights from hosting the Oscars. Haven't we already done this before? We have to have had a Bob Hope montage before.
Update 10:33 pm:
FIGHT! FIGHT! Did Hereafter actually happen? That's a movie that just disappeared off the face of the planet, isn't it? Inception wins best Visual Effects. Score, I'm 9 for 11. Jesus, there's like five million different people that worked on the visual effects for this movie.
Update 10:35 pm:
Film editing goes to Social Network and now I'm 10 for 12. Sweet. Nice hug, and nice reference - "We wanna thank everyone that Aaron thanked..." Haha - Oh, and thanks to the academy! Please don't ruin me because I didn't thank you!
Update 10:40 pm:
So this
Weyerbacher Merry Monks
beer says it's a Tripel, but it doesn't really taste like a tripel. A little too peppery and boozy. Not bad, though. "How to Train Your Dragon, that's disgusting" Hehehe. "Winters Bone." Haha.
Update 10:42 pm:
Oh shit, more musical performances. Kill me now.
Update 10:44pm:
This beer is 9.3% ABV, and it's still not enough to put up with this music. GAHHH.
Update 10:48 pm:
And the Oscar goes to Randy Newman for Toy Story 3. Like I said we should do, like, an hour ago. Did we really need to suffer through all those other nominees? Yeah, right, you're surprised. I'm 11 for 13. Thank God this award is over. Oh shut up Randy, 4 songs is too much. It's bad enough that we have to listen to your stupid song!
Update 10:52 pm:
Holy shit, is that Celine Dion? I thought we were done with the music. Gaahh. Run! Run for your lives! She will devour us all!
Update 10:53 pm:
Yay dead people! Hello Sally! And don't call me Shirly.
Update 10:57 pm:
That was montage #7.5, and here comes #8.5, for Lena Horn.
Update 11:05 pm:
Last year, we awarded the Best Director award to a Woman for the first time. This year, we didn't even bother nominating one. Holy shit, Tom Hooper wins, pretty much guaranteeing a Best Picture win for The King's Speech. David Fincher mus be pissed, but he seems to be clapping and happy about it. Class act. And Hooper is at least very kind to his competition. "Triangle of man-love." Ok. I'm 11 for 14, dammit.
Update 11:08 pm:
The moral of the story is "Listen to your Mother." Right on. Lifetime achievement awards have apparently been relegated to a separate event, like the nerd awards (i.e. the technical awards). Why? They're much cooler than, for example, the short film awards.
Update 11:11 pm:
What are the odds that Anne Hathaway and James Franco are going to knock boots after the ceremony tonight?
Update 11:13 pm:
Oh man, I know this is a major award, but they're really drawing it out, aren't they?
Update 11:16 pm:
Natalie Portman wins! Crowd is really into it... I'm 12 for 15. And she's crying. Just like her role! Thank Mila Kunis for the lesbian kiss scene, thank Mila Kunis for the lesbian kiss scene, thank Mila Kunis for the lesbian kiss scene, thank Mila Kunis for the lesbian kiss scene, thank Mila Kunis for the lesbian kiss scene, thank Mila Kunis for the lesbian kiss scene. Dammit. She didn't thank Mila Kunis for the lesbian kiss scene. Classy move thanking people with thankless roles though.
Update 11:19 pm:
"Flub, drink at home" Don't mind if I do!
Update 11:26 pm:
I like the way the're doing the big awards better this year than they did the past few years. Surprising amount of applause for Jesse Eisenberg here... But come on, who are we kidding, this is going to Colin Firth, and probably deservedly so. I do think I might have voted for James Franco for this one, but I really can't fault anyone for voting for Colin Firth. And, of course, he wins. 13 for 16, I am. Talking like Yoda again, I am. "I have a feeling my career has just peaked" Hehehe. And a nice, solid, classy,
British
, dryly funny acceptance speech.
Update 11:32 pm:
Man, they're playing the King's Speech over the other nominees. Foreshadowing? Thanks a lot. Does this count as a montage? Probably not. But still.
Update 11:37 pm:
I seem to have truly screwed up my award count. Not only did I wrongly think I picked one correctly, but I seem to have missed an award somewhere. But best picture goes to: big surprise: The King's Speech. 13 for 17, I am.
Update 11:37 pm:
13 for 17 works out to around 76 percent, which is pretty decent, though maybe a hair below recent years. Oh well. Overall, a pretty good show. Haha, dude is getting played off by music, good on him for asserting himself. Well, that pretty much wraps up the show, only about 10 minutes over schedule. Not bad, Oscar folk. Wow, Anne Hathaway's new dress really emphasizing... uh, nevermind. Shit, it ends on a musical number. Fuck. This is my last update. Have a good night folks. It's been real.
Update 11:43 pm:
Haha, they were just playing music from Top Gun. Yeah, so I lied, wanna fight about it? But seriously, this one is my last update. Probably.
Posted by Mark on February 27, 2011 at 12:27 PM .:
link
:.

Wednesday, February 23, 2011
Link Dump & Notes
Just some interesting links and some notes about upcoming posts and whatnot:
That's all for now. Look for my Oscar picks early on Sunday. Updates after that will most likely begin when the show does (I really hate the damn red carpet crap, but sometimes I'm on a bit early anyway).
Posted by Mark on February 23, 2011 at 07:00 PM .:
link
:.

Sunday, February 20, 2011
Best Films of 2010
2010 was a really strange year for movies, though in the end, I don't think it's as bad as a lot of people are saying. I think this has to do with the bad first impression made by the abysmal first half of the year. It wasn't until the middle of the year that things began to turn around for me and by the end of the year, things were looking up. Indeed, many of my favorites turned out to have been released in that first half of the year, just with limited distribution. As I caught up with some of the smaller films from earlier in the year, I managed to fill out most of the below list.
As of right now,
I've seen 81 movies
that would qualify as a 2010 release (with the usual borderline 2009 releases that don't make it to my market or DVD until 2010 - usually foreign films). It turns out that this is something of a record for me, though I have to admit that around 50 of those have been watched since November (previous years were generally more spread out through the year) and mostly on DVD or Netflix Watch Instantly. Anyway, this is probably way more than most ordinary folks, but also less than most critics. I had no problem putting together a top 8, but those last two slots were really difficult to fill. Not because I couldn't find a good film to put there, but because there were too many films that I could put there. Many of the Honorable Mentions could easily fit in those last two slots (the first two listed below).
The other thing I found really interesting about this year is how thematically similar a lot of films were. I actually mentioned this in a
recent book review
:
One of the themes of 2010 cinema has been a question of reality. Is what we're watching real? Or is it a fabrication? Or perhaps some twisted combination of the two? Interestingly, this theme can be found in the outright fictional (films like Inception certainly induce questions of reality), the ostensibly true story that is notably and obviously fictionalized (a la The Social Network), and most interestingly of all, the documentary. Films like Catfish and Exit Through the Gift Shop are certainly presented as fact, though many questions have arisen about their verisimilitude. Joaquin Phoenix and Casey Affleck collaborated on I'm Still Here, a supposed documentary about Phoenix's strange transition from a well known actor to a crazy aspiring rapper that Phoenix and Affleck have since admitted was something of a hoax (I have not seen the film, but from what I can see, many of the events certainly did happen, even if they were manufactured). In most cases, audiences don't seem to mind the blurring of reality with fiction (this includes myself), so long as that blurring is made clear (that may sound paradoxical, but it is perhaps better understood as the main component of the Reflexive Documentary: movies that acknowledge the biases of the filmmakers and the subjectivity of the material at hand are more trustworthy than movies that claim objectivity). Indeed, one could probably make a case for the presence of fiction in most non-fiction stories. Bias, subjectivity, and context can yield dramatically different results depending on how they're portrayed.
And there are even some other themes that people have been noticing this year (i.e. strong female leads, interesting Mother characters, etc...) This sort of consistency doesn't seem to be present in the past few years, and I found that interesting. Ultimately, I think 2010 has got a bad rap. It's certainly not one of the best years in recent memory, but as usual, I've managed to find a lot of stuff to like.
As always, I should note that this list is inherently subjective and of course most people will find something to gripe about. So be it. One thing I've found interesting in the past few years of doing this list is that I've gravitated away from trying to put together a list of the
best
films, instead favoring my
favorite
films. What I'm ending up with is a mixture of both components here and it's a tricky line to walk, but I think it ultimately makes for a more interesting list. So without further ado:
Top 10 Movies of 2010
* In roughly reverse order
Honorable Mention
* In alphabetical order
Just Missed the Cut:
But still worthwhile, in their own way. Presented without comment and in no particular order:
Should Have Seen:
Despite the fact that I've seen 81 of this year's movies (and that this post features 30+ of my favorites), there were a few that got away... mostly due to limited releases, though a few of the flicks listed below didn't interest me as much when they were released as they did when I heard more about them.
Well that just about wraps up 2010 movies... Stay tuned next Sunday for the usual Oscar Liveblogging - previous installments here: [
2010
|
2009
|
2008
|
2007
|
2006
|
2005
|
2004
]
Posted by Mark on February 20, 2011 at 06:27 PM .:
link
:.

Thursday, February 17, 2011
Game Dev Story
I mentioned last week that I've been playing an iPhone game called
Game Dev Story
. It's a simple game, but it can get very addictive. The premise is basically that you are the head of a new video game studio. You hire people and direct them into making various games, which are then released. You get updates on your fans, you can track your sales, and so on.
The process of game development is rather straightforward. You don't really direct the actual content of the game, except for certain high level components (i.e. I'm making a Ninja themed Action RPG!) At various times in the development process, you choose one of your employees (or you outsource) to hack one particular aspect of the game, whether that be fun, creativity, graphics, or sound. In a lot of ways, this is a passive process. But the way you watch this stuff is addictive. You typically see your employee sitting at a computer banging away at the keyboard and these little icons pop out and start to accumulate. You can also spend some extra research on other boosts along the same lines. You can feed your employees Red Bull until they fall down and start hallucinating.
There are a number of things I find fascinating about this game:
There's this weirdly twisted version of video game console history. Of course they don't use real names, but it's not hard to see that Intendro is supposed to be Nintendo. Furthermore, you see the entire history of video games from the early 80s onward (I just got to the point where the Wii-like "Whoops" has been released). Most of the companies are there: Senga, Sonny, Microx 480, etc... It's not an exact history, but it's close enough to be funny and interesting.
The neatest thing about the game is how it turns the tables on me, a person who is normally playing games and even occasionally reviewing/criticizing them. This is mostly a big deal at the beginning of the game, when you don't have much money or resources, etc... For example, you make a game, and one of the first things that happens once you release it is that 4 critics give it a rating on a 10 point scale. Since you don't have much money or talent at the beginning of the game, they're typically pretty hard on your games. It's pretty funny, especially when you get some 6s and 7s, and then some asshole gives you a 2. Fuck that! Later in the game, I have a lot more money and was able to hire better folks, so the critics typically rate my games pretty high. Even then, though, you get the three people who will rate a game a 10, and then the one jerk who rates it an 8 (and to make matters even worse, that guy will say it's "The best game of the year!" What the hell man? Wouldn't the best game of the year be at least a 9?)
Every once in a while, you'll get some letters from a fan. I got one once that said something to the effect of "I borrowed Monkey Wars 3 from my friend and I loved it and am going to recommend it to all my friends!" Borrowed? Fuck you buddy! If you liked the game so much, why didn't you just buy it yourself?! Hmmm! I'm a little surprised that they didn't take a swipe at the whole "Used Games" market, which is apparently quite the controversial issue with publishers and retailers. Still, it's funny to be on the other end of the spectrum and it makes me feel a little for those who develop games for a living.
There are these game awards every year, and you can win an award for best graphics, best sound, runner up, and best game of the year (also worst game, but I think you'd have to try hard to get that one). I have no idea what it takes to actually win the best game award - I had one game that scored a perfect 40 points from critics, sold a boatload, and it only won the runner up award. Gah!
There are some random disasters that can happen. Another developer could put out a similar game, which can decrease sales. You can have a power outage, which decreases the stats of the game you're working on, sometimes significantly. I got hit by a couple of these things once, and the game I was working on would have done really poorly, so I canceled the project. Obviously this is a bad thing, but then some ungrateful bastard sends me some "fan mail" where he tells me that since I can only release 2 games this year, he's never going to buy my games again, then my fans drop by 30% (this seemed like a pretty big deal at the time, though who knows, the next game I released sold a ton).
I don't mean to imply that by playing this game, I know what it's like to be a developer, but if you're so inclined, it does provide you with an opportunity to think about video games from a developer's perspective, and it's an interesting experience.
Ultimately, it's a pretty simple game. At this point, I've developed 45 or so games, and everything I make now is a smash hit. The one additional wrinkle that I have yet to figure out is that I can apparently develop a console (and then presumably games for the console, etc...) However, I can't seem to find any "Hardware Engineers"... I assume they'll become available later or something. It's a really fun game. I suppose there's some room for improvement here - it could be a bit deeper and more varied, but it's still good. I don't play a lot of iPhone games, but this one makes me think I should try more out.
Posted by Mark on February 17, 2011 at 06:29 PM .:
link
:.

Sunday, February 13, 2011
Adventures in Brewing - Beer #2: Electric Boogaloo
I learned a lot during the course of
my first homebrew attempt
a few months ago, and after the hectic holiday season and beginning of the year, I resolved to put my learnings into practice this weekend.
My first homebrew
was a straightforward English Brown Ale. I don't think there was anything wrong with the beer, and it's certainly drinkable, but it's also a bit too simple and the taste ends up a bit thin. Again, not bad, but not very complex or interesting either. But then, that was kinda the plan. It was my first beer, so I wasn't expecting much out of it.
But I wanted to try something a little more ambitious for my second attempt and after browsing the recipes at
High Gravity
, I settled on a Belgian Style Tripel - one modeled after the Trappist
Westmalle Tripel
(one of my favorite beers).
Brew #2 - Belgian Style Tripel
February 13, 2011
10.5 lb. Montons Light LME
2 lb. Weyermann Pilsner Malt (grains)
4 oz. Melanoidin (grains)
1 lb. Belgian Light Candi Sugar
1.5 oz. Styrian Goldings pellet hops (bittering)
0.25 oz. Hallertau Herbrucker hops (flavor)
0.25 oz. Tettnanger German hops (flavor)
0.5 oz. Czech Saaz pellet hops (Finishing)
1 tsp. Irish Moss
White Labs Trappist Ale Yeast WLP500
Steeped Weyermann Pilsner Malt and Melanoidin in about 2.5 gallons filtered tap water at around 150°F for 20 minutes. Unlike last time, I started this batch with warm water, which saved a bunch of time in getting to 150°F (also, I wasn't afraid to crank the stovetop to it's highest setting). Removed grain bag slowly, letting letting whatever water was left in there drain out. Per instructions, I added a little more water, removed from heat, and added about half of the Light LME and all of the candi sugar. I stirred vigorously, as I was afraid the candi sugar would stick to the bottom. After a few minutes, all appeared well, at which point I threw it back on high heat, eventually bringing to a boil (in the future, I need to figure out a better way to do this - my stovetop is clearly not up to the challenge - it took around 45 minutes to bring the mixture to a boil). The ingredient kit I bought came with another muslin bag (i.e. a thin netting) for hops, so I put the hops in the bag, then put the bag in the boiling wort. Kept at a small rolling boil for 45 minutes, stirring occasionally to make sure the hops didn't just float to one side of the pot. Added flavoring hops. Directions say to add to existing hop bag, but I just threw them in directly, along with the Irish Moss. 10 minutes of that, and I added the remaining LME. I also threw in the finishing hops, and removed from heat. A few minutes later, I removed the hop bag and placed pot in my sink (which was filled with some cold water and some ice) to quickly cool. I was a little more prepared with ice this time, but cooling the wort continues to be a bit of an issue. Got the wort down to manageable temperature and poured it into my fermentation bucket (attempting to remove sediment with a controlled pour through a sanitized strainer). Added some extra water to the bucket to bring up the 5 gallon mark, pouring from high up to aerate the wort. Stirred things around some more, again attempting to aerate the wort, and took an original gravity reading. For such a high OG, I probably should have done a yeast starter, but I didn't have any extra DME laying around, so I figured I could just use the yeast as packaged. The packaging says the yeast is best before April 15, 2011, so I'm definitely ok there, though I'm not sure when the yeast was packaged in the first place. Pitched yeast, stirred a bit, threw the cap on, and installed the airlock. Done!
Original Gravity: 1.085 (approximate). This is a little less than what the recipe says (1.088), but I also have a hard time reading the hydrometer, so I'm guessing it's good enough for the start.
Well, it looks like I cut off about 30-60 minutes from the process - it only took about 2.5-3 hours this time. Plus, I was a little more comfortable walking away from the stove and doing other stuff while (for example) the boil started, so it wasn't quite as draining of an experience. The only thing I'm worried about now is keeping the temperature of the fermenting wort at around 70°F (this is apparently the temperature at which the yeast works best). My house tends to be in the mid 60°s F during the winter though, so maybe I'll need to break out the space heater and make sure my closet is at a better temperature or something.
I'm already planning out my next batch, which If I start a couple weeks after I bottle this batch, should put me in a good timeframe to consider a summer brew. Perhaps a Saison or a wheat beer....
Update 3/6/11:
Bottled!
(Cross posted at
Kaedrin Beer Blog
)
Posted by Mark on February 13, 2011 at 03:21 PM .:
link
:.

Wednesday, February 09, 2011
Link Dump
Time is short, so just a few things I've found interesting lately:
That's all for now!
Posted by Mark on February 09, 2011 at 10:59 PM .:
link
:.

Sunday, February 06, 2011
The Video Game Sequel Problem
Astute readers may have noticed that my blogging about video games has slowed considerably. I haven't written anything about video games since late-November, and that was a
tasting notes
post that only touched on what I was playing. The last real video game post was from August, and that was a
review of a book about video games
. The last post where I focused on an actual game was in May (for
Killzone 2
)! As you might guess, I haven't been playing much in the way of video games.
Looking at my collection, I can narrow this down to when I started playing
Grand Theft Auto 4
. I think there were several factors that kept me from getting into that game. Of course, one is a standard complaint this generation, which is the way missions are structured from a usability perspective (i.e. if you fail a mission, you have to retrace several steps before you can even retry). I realize that this was one of the first games of this generation and they've apparently implemented a checkpoint system in the DLC (which I don't have), so I guess I can cut it some slack in that respect, but that doesn't make it fun to play. However, the biggest problems I had with the game are things that are endemic to a lot of video game sequels.
When you start the game, you've got very little in the way of weaponry and it takes you a while to get to an even reasonably powerful weapon. Your access to the city is very limited, as are the cars you can steal. Now, starting small and earning more powerful weapons is a time-honored video game tradition, as is the expansion of access as you gain more power. But is it really necessary for
GTA 4
? In most respects, this game is the same as
GTA 3
(this is, in itself, another problem, though not one I'm going to focus much on in this post), which was made almost a decade ago at this point (of course,
GTA 4
was made a few years ago, but still). Though you can't tell from the numbering, there have actually been several games between those two mentioned. And every one of them starts you off with limited weapons and limited access to the city. Is that really necessary?
It's a tricky problem though. Someone who's new to the series might very well appreciate the slow approach. There are a lot of mechanics to master in the game, so jumping right in might be overwhelming to a new player. But for long-time fans of the series, it can be excruciating to go through the paces
yet again
. This is most certainly not a problem that is limited to the
GTA
series.
One particularly egregious example is in the
God of War
series. The protagonist of the series, Kratos, has these nifty blades that are attached to chains, allowing him to swing them around in many acrobatic maneuvers. In the first game, they're called the "Blades of Chaos". Towards the beginning of
GoW II
, you get an "upgrade" to the "Blades of Athena". Despite being nearly identical in appearance and functionality, you suddenly forget all of the advanced attacks you had learned on the "Blades of Chaos". Really? So Kratos gets a pair of identical blades, but now he forgets how to spin around with them (I believe this move is called the "Cyclone of Chaos")? And starting the player off with all the powers from the previous game, only to take them away because of a lame plot point? That's not cool. The same thing happens at the beginning of
GoW III
.
Other recent sequels I've played recently have similar starts. In
Uncharted 2
, you start with melee attacks and freakin dart guns. You don't get a proper pistol until at least an hour or two into the game (and that's not exactly a powerful weapon either). This is apparently a longstanding issue.
David Wong wrote about this years ago, giving one great example from Half Life 2
: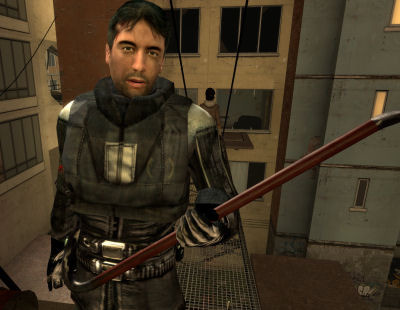 "Gordon, the whole world has been taken over by a race of malevolent aliens. All of humanity is depending on you. Here's a goddamned crowbar."
As Wong notes in his article, it's nice that "earning bigger, fancier weapons is a reward to keep us playing. But don't make us start with a weapon we probably have in our real-life garage (hey, thanks for the wrench, Bioshock)." Now, Wong was making a general point about underpowered starting weapons... but it becomes doubly annoying when you're playing a sequel to a game and you have to start back at the beginning again.
Again, this is a bit of a challenge for game developers, since they don't always have the luxury of assuming that everyone played the previous installment (indeed, their goal is to expand the market and sell more than the previous game, so they have to plan for that possibility). I recently picked up
Ratchet & Clank Future: Tools of Destruction
and haven't had any problems... but that's probably only because this is my first
Ratchet and Clank
game. I'm sure fans of the series were a bit annoyed at starting the game with limited weaponry, and I'm sure that if I pick up
A Crack in Time
, I'll it will suffer from the typical sequel problems...
The most obvious solution is to allow existing players to skip forward somehow. In the case of
GTA IV
, that means making more of the island available right away, as well as letting you pick up more powerful weaponry and nicer cars. For
Ratchet and Clank
, it means having more weapons available right from the start. The problem with this solution is that the developer either has to code two introductory sections of the game, or they have to make sure the game is well balanced for both the experienced and new player (this is probably a lot more difficult than it sounds). For an open ended game like
GTA IV
, that is probably more feasible than for a more cutscene and story-oriented game, like
Uncharted 2
. That being said, if it's a sequel, one would assume that the game is popular enough to warrant the extra expenditure.
One thing that might be interesting is to tie this into Trophies/Achievements. If the system can see that you've played the previous game, perhaps you automatically load the player into the experienced track. Of course, that assumes that the sequel is on a game from the current generation (of the games mentioned in this post, the only one that really qualifies is
Uncharted 2
, though you could make a case for
God of War
, since they released an
upconverted version of the last-generation games
on the PS3)
The only game I've played recently that got this right was
Call of Duty: Black Ops
, where you get a pretty great weapon right from the start. But then, I haven't played the multi-player yet, and I'm sure you have to start at the bottom there...
Apparently there are some games that try to tie your decisions from the first game into the sequels.
Mass Effect 2
was supposed to do that, but I get the impression that it wasn't as big a deal as some were expecting. Of course, the first game isn't even available on the PS3 (and my computer is too old to go that route), so I'll be starting ME2 as a new player... but then, Mass Effect 3 is supposed to carry those same decisions on as well, so I guess we'll find out. In any case, I find that concept encouraging, even if I haven't actually played it yet. In the end, I don't think every game will be able to get that far, if only because some games won't have the luxury of planning for a sequel ahead of time. But there might be some simpler things you can do to mitigate the issue, and I hope more developers get creative in that respect.
Posted by Mark on February 06, 2011 at 04:02 PM .:
link
:.

Wednesday, February 02, 2011
Anecdotal
I'm currently reading
Cognitive Surplus: Creativity and Generosity in a Connected Age
, by Clay Shirky. There seems to be a pattern emerging from certain pop-science books I've been reading in the past few years. Namely, a heavy reliance on fascinating anecdotes, counter-intuitive psychology experiments, and maybe a little behavioral economics thrown in for good measure.
Cognitive Surplus
most certainly fits the mold. Another book I've read recently,
How We Decide
by Jonah Lehrer, also fits. Most of Malcolm Gladwell's work does too (indeed, he's a master of the anecdote).
I don't think there's anything inherently wrong with this format. In fact, it can be quite entertaining and sometimes even informative. But sometimes I feel a bit uncomfortable with the conclusions that are drawn from all of this. Anecdotes, even well documented anecdotes, can make for great reading, but that doesn't necessarily make them broadly applicable. Generalizing or extrapolating from anecdotes can lead to some problematic conclusions. This is a difficult subject to tackle though, because humans seem to be hard wired to do exactly that. The human brain is basically a giant heuristic machine.
This is not a bad thing. Heuristics are an important part of human life because we usually don't always have all the information needed to use a more reliable, logical process. We all extrapolate from our own experiences; that is to say, we rely on anecdotal evidence in our daily lives all the time. It allows us to operate in situations which we do not understand.
Unfortunately, it's also subjective and not entirely reliable. The major issue is that it's rather easy to convince yourself that you have properly understand the problem, when in fact, you don't. In other words,
our incompetence masks our ability to recognize our incompetence
. As a result, we see things like
Cargo Cults
.
Security beliefs
and
superstitions
are also heuristics, albeit generally false ones. But they arise because producing such explanations are a necessary part of our life. We cannot explain everything we see, and since we often need to act on what we see, we must rely on less than perfect heuristics and processes.
So in a book like
Cognitive Surplus
, there's this instinctual impulse to agree with conclusions extrapolated from anecdotes, which is probably the source of my discomfort. It's not that I doubt the factual content of the anecdotes, it's that I'm not always sure how to connect the anecdote with the conclusion. In many cases, it seems like an intuitive leap, but as previously noted, this is a subjective process.
Of course, Shirky does not rely solely on anecdotal evidence in his book (nor do the other authors mentioned above). There are the aforementioned psychology experiments and behavioral economics studies that rely on the scientific notions of strictly controlled conditions and independent reproduction. The assumption is that conclusions extrapolated from this more scientific data are more reliable. But is it possible that they could suffer from the same problems as anecdotes?
Maybe. The data is almost always presented in an informal, summarized format (very similar, in fact, to the way anecdotes are formed), which can leave a lot of wiggle room. For instance, strictly controlled conditions necessary to run an experiment can yield qualifying factors that will make the results less broadly applicable than we may desire. I find this less troubling in cases where I'm already familiar with a study, such as the
Ultimatum Game
. It also helps that such a study has been independently reproduced countless times since it first appeared, and that many subsequent tests have refined various conditions and variables to see how the results would come out (and they all point in the expected direction).
Later in the book, Shirky references an economic study performed on 10 day-care centers in Haifa, Israel. I will not get into the details of the study (this post is not a review of Shirky's book, after all), except to say that it was a single study, performed in a narrow location, with a relatively small data set. I don't doubt the objective results, but unlike the Ultimatum Game, this study does not seem to have a long history of reproduction, nor did the researchers conduct obvious follow-up experiments (perhaps there are additional studies, but they are not referenced by Shirky). The results seem to violate certain economic assumptions we're all familiar with, but they are also somewhat intuitive when you realize
why
the results came out the way they did. On the other hand, how do we know
why
they came out that way? I'm virtually certain that if you vary one particular variable of the experiment, you'll receive the expected result. Then what?
I don't mean to imply that these books are worthless or that they don't contain valuable insights. I generally find them entertaining, helpful and informative, sometimes even persuasive. I like reading them. However, reading a book like this is not a passive activity. It's a dialogue. In other words, I don't think that
Cognitive Surplus
is the last word on the subjects that Shirky is writing about, despite a certain triumphal tone in his writing. It's important to recognize that there is probably more to this book than what is on the page. That's why there's a lengthly Notes section with references to numerous papers and studies for further reading and clarification.
Cognitive Surplus
raises some interesting questions and it proposes some interesting answers, but it's not the end of the conversation.
Update:
I thought of a few books that I think are better about this sort of thing, and there's a commonality that's somewhat instructive. One example is
The Paradox of Choice: Why More Is Less
, by Barry Schwartz. Another is
Flow: The Psychology of Optimal Experience
by Mihaly Csikszentmihalyi. The interesting thing about both of these books is that they are written by researchers who have conducted a lot of the research themselves. Both of them are very careful in the way they phrase their conclusions, making sure to point out qualifying factors, etc... Shirky, Gladwell, etc... seem to be summarizing the work of others. This is also valuable, in its own way, but perhaps less conclusive? (Then again, correlation does not necessarily mean causation. This update basically amounts to heuristic, and one based on the relatively small sample of pop-science books I've read, so take it with a grain of salt.)
Again Update:
I wrote this post before finishing
Cognitive Surplus
. I'm now finished, and in the last chapter, Shirky notes (pages 191-192):
The opportunity we collectively share, though, is much larger than even a book's worth of examples can express, because those examples, and especially the ones that involve significant cultural disruption, could turn out to be special cases. As with previous revolutions driven by technology - whether it is the rise of literate and scientific culture with the spread of the printing press or the economic and social globalization that followed the invention of the telegraph - what matters now is not the new capabilities that we have, but how we turn those capabilities, both technical and social, into opportunities.
In short, I think Shirky is acknowledging what was making me uncomfortable throughout the book: anecdotes and examples can't paint the whole picture. Shirky's book is not internet triumphalism, but a call to action. I suppose you could argue that even the assertion that these opportunities exist at all is a form of triumphalism, but I don't think so.
Posted by Mark on February 02, 2011 at 08:27 PM .:
link
:.

« January 2011 | Main | March 2011 »