« February 2009 | Main | April 2009 »
Sunday, March 29, 2009
Video Games as Art
I recently wrote about
Flower
, a game which I think qualifies as art while losing none of it's inherent entertainment value. Indeed, as I had mentioned in this
old guest post by Kaedrin friend Samael
, I have a pretty broad definition of art and have no issue seeing a wide variety of video games as art. However, it's rather interesting that many of the people working in the field don't see their efforts as art. In Sam's post, he references an interview with Hideo Kojima (who, in Sam's words, "is one of the most significant forces in video games today, the creator of Metal Gear"), who says "I believe that games are not art, and will never be art."
Last week at GDC, there was
a panel featuring three highly respected game creators, including Fumito Ueda
, lead designer and director of
Shadow of the Colossus
. My recent video game kick was set into motion by my purchase of a PS3, but I've also spent some time discovering and revisiting games for other systems... and one of the games I revisited was
Shadow of the Colossus
. It truly is an intriguing game and a wonderful idea. The game starts off typically enough - a lone rider approaches a temple with his dead lover in the hopes that the spirits that live in the temple will revive her. The rider is met by a disembodied voice, which tells him that he must defeat a series of Collosi before he can be reunited with his lover. This is where the game starts, but it's also where the surprises start coming. There are no fantasy game or RPG staples like towns or NPCs and aside from the Colossi, there are no other "enemies" in the game. You spend a fair amount of time travelling through the expansive world the game has created, but the pretty landscapes are not broken up by small battles or other characters. To be sure, even the Colossi aren't an enemy so much as they are an obstacle to your ultimate goal. Fighting the Colossi is also unusual in that each one has its own set of weaknesses and thus each one must be approached in a different manner. It's more of a puzzle game, forcing you to observe the environment around you and the actions of the Colossus before acting. It's very much a game that relies on the player's ability of
probing
(i.e. the exploration of the game world and its possibilities).
This is an elegant idea for a video game. A game that basically features a series of 16 boss fights that are won or lost on the basis of thinking rather than brute force. Visually, the game is quite pretty. As I mentioned before, there are times when you must navigate through the game world... and nothing happens during that time. You simply ride your horse towards the next Colossus. There are occasionally mini-puzzles you must solve before getting to the Colossus, but for the most part, you are given a lot of time to think while riding around on your horse. The landscapes are sufficiently pretty and epic that they never become boring, and the game seems to relish these downtimes in order to give the player time to think about what they're doing.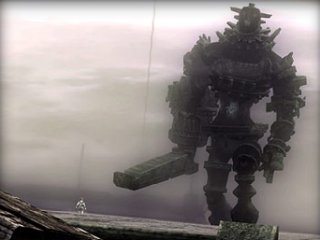 A Colosssus
I actually haven't finished the game yet, and I have to admit that there are times when I've had to resort to a walkthrough to figure out how to defeat a few of the Colossi (in this and a couple of other areas, the game could perhaps use some work - however, this post is not about that), but I do find the game fascinating, in part because of the relatively silent moments navigating through the world. Even though I'm not at the end of the game, I have an inkling of what's going to happen. I'm fairly certain that the spirits of the temple are misleading my character, and that there will be some sort of betrayal in the end. I seriously doubt my character will be reuinited with his lover, except possibly in death.
The reason I'm thinking this is how it will end is that the game's story has all the earmarks of a traditional tragedy. What I'm seeing is a man motivated by the loss of a loved one. He is so blinded by his loss that he doesn't recognize that he's destroying these gigantic, beautiful creatures (some of whom are admittedly aggressive). I just can't see this ending well. I have to admit that this feeling isn't entirely based on the game itself. It's been out for a while, and the way everyone talks about the game seems to indicate an unhappy ending. It seems that people who review the game try their hardest not to spoil the ending, but skirting around the issue is difficult and the game itself does point in that direction.
The interesting thing about this, to me, is that my feelings on the game are predicated on art. In this case, it is dramatic literature or more specifically, tragedy, that is informing my feelings for the game. While I have gleaned some idea of this from reading about the game, a lot of it came from the time for reflection that is seemingly built into the game. It seems to me that the makers of the game really did want players to take that time to think about the story of the game.
Interestingly, when asked about the game during the panel mentioned above, Ueda had this to say:
The second and final question, lauded Shadow of the Colossus as the posterchild of "games as art", but Ueda disagreed. "My team and I are making a game which is close to art -- that's what people say. Personally I don't think that way."

"We're making a game to entertain people. Sometimes my personality and my team's might be reflected on the game, and it might look like art, but it is a game to entertain people. That kind of feedback is welcome but it's not what I'm trying to achieve."
What is going on here? Why is it that such prominent game creators are so reticent to call their games art? The answer seems to be that they are more focused on entertaining players of video games than engaging in artistic enterprises. I suppose there is something to that idea. In my mind the best art is also entertaining, and a lot of people who set out to create art often end up making something that is difficult to relate to or understand. Some artists see this difficulty as an ends unto itself and end up producing truly impenetrable works. However a lot of successful artists try their best to avoid such pitfalls. In my previous entry, several people asked author Neal Stephenson about how he comes up with various ideas or what he thinks his books represent, and his response to such questions is generally something about how he's not that introspective about his work and that perhaps thinking to hard about such things would make his work worse. I think perhaps there is something to that.
Another idea was brought up by Emil Pagliarulo (lead designer of
Fallout 3
among other games):
Pagliarulo took up this point in comparison to the film industry. "Early films were meant to entertain and became art along the way as part of that process... I think the whole Roger Ebert 'are games art' thing gets taken a little too far."

"We'll come into our own. We don't have to push the issue. Who are we trying to impress? I think game developers should concentrate on making good games. The art thing will happen naturally."
I think he's on the right track there. I don't know the answer, but I do wonder how early filmmakers thought of movies. Did D. W. Griffith consider himself an artist? When Sergei Eisenstein started formulating his theory of montage, did he consider what he was doing to be art or was he simply a craftsman figuring out how to use various tools? Was that even a question that was asked back then? This is something I'd have to look into more before saying for sure, but I wouldn't be surprised if Griffith or Eisenstein did not consider themselves artists. The interesting thing about video games is that they are such a young medium and that they've come a long way in such a short time. In the quote above, Pagliarulo mentions that the art thing will happen naturally, as if it hasn't happened yet. Again, I find this confusing. I've pretty much always considered video games art, in at least some ways.
There is a lot more to this subject than I've written about in this post (for instance, Pagliarulo made reference to Roger Ebert's
infamous stance
that video games can't be art), but what I wanted to explore was why video game creators tend to shy away from the artist label... The question that keeps popping up in my head is whether or not entertainment can be art. To me, the two have always gone hand in hand. You can't have entertainment without art and most art is meant to entertain (or at least, engage the consumer) in some way or another. I suppose there is a distinction to be made between entertainment and art - you can certainly be entertained by something that is bad art, or bored to tears by something that is good art. In the end, of course, it's all subjective, but I still say that games are artistic and am not really sure why some people are so hesitant to call games art.

Wednesday, March 25, 2009
Stephenson @ Google
This is old and I probably should have posted it half a year ago (and I'm surprised I didn't - I had to check and make sure), but it's still interesting and if you haven't seen it and are a Neal Stephenson fan, it's worth a watch. He talks about
Anathem
and knowing that he's speaking to Google, he suggests they talk about the infamous Atlantic article
Is Google Making Us Stupid?
(the article shares some thematic similarities with
Anathem
). It's mostly a Q&A though, so there's a lot of other topics.
That's all for now.

Sunday, March 22, 2009
The Queues
As usual, my media diet consists of way more content than I could ever hope to consume in a reasonable timeframe. I know people don't wait with baited breath to see what I think about some of this stuff (like they do with
other folks
) but I figured it might be worth throwing out a few lists of stuff I hope to be consuming in the coming months:
10 Already Released PS3 Games I Want to Play:
An interesting thing about this generation of video game consoles is that even though the PS3 is universally considered to be the least successful console (due to poor sales which are usually attributed to the PS3's unusually high price tag coupled with an unforseen economic downturn), there is still a wealth of great games to be played. In previous generations, a console with the PS3's market penetration would probably be dead in the water, with less and less support as time goes on. While I am starting to see some grumblings about less third party support, etc..., there are still a whole slew of games out there that I want to play.
5 Forthcoming PS3 Games I Want to Play:
Interestingly, most of these are PS3 exclusives, and there are a few others that sound entertaining to me as well. Too many games, too little time.
5 Books I Want to Read:
The book queue is infamously large, but these are books I actually own and are sitting on my shelf, just waiting to be read or re-read.
5 Anime Series I Want To Watch:
Yes, I still watch Anime. But as you can see from this post, there are lots of other things competing for my attention, which is why Anime posts come at an agonizingly slow pace. I don't see this changing anytime soon, but there are lots of Anime series and movies that I want to watch.
5 Upcoming Movies I Want To See Even Though I Know They'll Suck:
I did
a list like this
a couple years ago, and I wound up being pleasantly surprised by most (though not all) of the movies on the list.
Well, that took longer than expected. That's all for now...

Wednesday, March 18, 2009
Flower
The games I've played for the PS3 include
Assassin's Creed
, the
Resistance games
,
Call of Duty 4 and Dead Space
. One thing all those games have in common is that they're very violent. For crying out loud, the core gameplay of
Dead Space
is advertised as "strategic limb dismemberment." Now, I'm not inclined to say there's anything particularly awful about violent video games, but it can get to be a bit much. Enter
Flower
.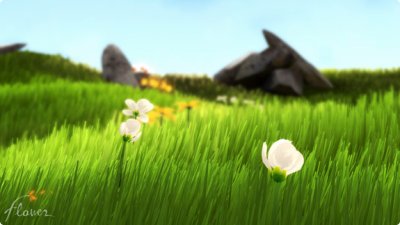 Instead of playing a grizzled space-marine or an assassin, you control... the wind! As you pass flowers, you cause them to bloom and you start to collect a trail of flower pedals. The flowers are arranged in various patterns and as you complete the series, you transform the environment or create a new windflow, among other results. These transformations are oddly satisfying. The landscapes change as you progress through the game, and strangely enough, there's something of a narrative to the progression. Of course, there's no exposition at all, which leaves the "story" (such as it is) open to interpretation, but there are some thrilling momemnts and even surprises in the game (including one "twist" about halfway through the game).
Controlling the wind is done by using the much-maligned Sixaxis tilting functionality of the PS3 controller, and pressing a button (any button) to "blow" the wind forward. Strangely enough, its exactly the sort of game you'd expect to see on the Wii... but it works just fine on the PS3. This game is a PS3 exclusive... and I have to admit that the visuals of the game are indeed very impressive. I'm not sure the game would work as well with the Wii's graphics. Also worth mentioning is the music. As you pass each flower, you trigger a sound, usually some sort of chime, and in some situations you're flying past flowers at a fast rate, chiming along with the background music.
The game is relatively short (3 or 4 hours), but it really is a fantastic game that brings about feelings I'm not used to getting from games. It's a
relaxing
game. The simple gameplay style allows you to just sit back and enjoy what you're seeing and hearing, even as you control what's happening. However, don't let the simplicity fool you. There is more depth here than is apparent at first glance. The game does have PS3 trophies, and some of them are rather complex (of course, some are rather simple, but there are tough ones as well). I would think that this is a game that most gamers would enjoy. I'd be really interested to see how non-gamers or casual-gamers would react to this game - much of what I've heard about the game comes from the typical hardcore gamers (not that they don't like it, but I wonder if it's the sort of game that could transcend gaming).
Now, I'm not as in love with the game as
Brainy Gamer
, but I like the game a lot, and it's nice to play a game whose color palette goes beyond black, gray, brown, and muzzle-flash. I'm really glad I bought it (if you have a PS3, you can download the game in the PSN store for $9.99) and will most likely keep playing it fairly regularly.
ArsTechnica thinks the game is art and that it extends the conversation
of what games are:
Whether or not Flower has a story is up to what you think is going on, and I'm unconvinced that the most topical explanation for the events in the game is the right one, or even the only one. Games are interactive in more ways than one, and playing Flower before it is released is actually something of a handicap; part of the draw of this game is going to be the discussions that it spawns across the gaming blogs and forums.

There will be some that simply don't get it, and that's OK. There will be some that don't care for it; this is a game that isn't for everyone. There will be others, and I am one of them, that will hear the game whisper to them when they close their eyes.
A while back, I posted a guest entry by my friend Samael (aka Roy) where we discussed
video games as art
. Sam and I pretty much agreed on a relatively broad definition of art... one that included the possibility of games. He distills the debate well:
The problem mostly seems to be that we're asking the wrong questions. We shouldn't be asking "are video games art" any more than we'd ask "are movies art." It's a loaded question and you'll never come to any real answer, because the answer is going to depend completely on what movie you're looking at, and who you're asking. The same holds true with games. The question shouldn't be whether all games are art, but whether a particular game has some artistic merrit. How we decide what counts as art is constantly up for debate, but there are games that raise such significant moral or philosophical questions, or have such an amazing sense of style, or tell such an amazing story, that it seems hard to argue that they have no artistic merrit.
And I firmly believe that
Flower
is one of those games. Furthermore, there is a stereotype for "artistic" games that they focus on the artistic side of the game so much that it isn't fun to play... but for me,
Flower
is a clear repudiation of that argument. It's gorgeous and it's fun, and it is most definitely "art."

Sunday, March 15, 2009
More PS3 Reviews
A couple of other games that I've played for the PS3 lately:
Call of Duty 4: Modern Warfare: Remember when I said that most FPS games are set in WWII or some sort of futuristic Alien Invasion? Well the Call of Duty franchise is one of those WWII series. I played one of them once, but I don't remember which one because they're pretty much all the same. You kill Nazis! Well, CoD4 is set in the present day and features contemporary enemies... a setting that is surprisingly underused. Usually, game designers try to spice things up with zombies or aliens or other paranormal crap. Off the top of my head, the only game I can think of with a similar setting is Operation Flashpoint. But while that game was so realistic and complicated that a single shot from an enemy would probably kill you (though I still like the game, I eventually gave up on OF when I got to the squad based missions, which were just unplayable), CoD4 goes for more of an arcadey feel, and it's a lot of fun.

The game's developers have crafted a surprisingly well balanced game. There are, of course, all the standard FPS tropes here, and these sequences are well balanced. However, what sets CoD4 apart from the crowd is that it managed to break up the gameplay every now and again, and in more ways than just the standard vehicle portion. For instance, there is a level where you take the gunner's seat on a C130 and basically rain down destruction upond your enemies in coordination with a ground assault. Another standout is a sniper mission, which is optimized to actually let you use your sniper rifle (a feature that is surprisingly absent from most FPS games). In terms of weaponry, what you get is mostly standard and realistic.. but the weapons you use are generally pretty satisfying to use and like the sniper level, the game is relatively good about creating set-pieces that require the use of a certain weapon to get through.

In terms of story, you're mostly following around a British SAS squad and some US Marines, and there's some story about Russians and terrorists who have a nuclear bomb, etc... It's all very standard, but well executed. The single player game is really short and ends in a bit of an abrupt manner. Despite perhaps wanting some more closure than I got, I'm not sure the length is really that bad. What's in the game is fantastic and I suspect that making the game longer would basically mean making it repetitious, which would have made the game seem more muddled. The game has a very deep multi-player mode that I've only really started to use (and, of course, got my arse handed to me). All in all, an above average FPS game with fun, balanced gampelay (if a little too short).
Dead Space: A third-person shooter and survival horror game that takes place on a large interstellar mining ship that is stationed around an alien planet. Of course, they've uncovered some sort of alien artifact that begins infecting the crew and turning them into monsters called Necromorphs. You play Isaac Clarke (a not-too-subtle nod to classic SF authors Isaac Asimov and Arthur C. Clarke), an engineer sent to help retake the infected mining ship. The game features an off-center, over-the-shoulder third-person view, and the interface tries something different by putting all the various readouts in the environment rather than some sort of HUD. Of course, most of these make no sense. For example, your life meter shows up as a series of bars accross your spine... So while you as the player can see it, Isaac would never be able to see it (he wears a helmet, so it's conceivable that he has a HUD... but then, why advertise how weak you are to your enemies?) I know this is a nitpick, but that's really just an indication that the game failed to fully immerse me in the gameplay. For a survival horror game, immersion is crucial, and this game consistently knocked me out of the world it was trying to create. There's a lot to like about the game, but there were a few key elements that are just inexcusable. Chief among them is save points. All of the games I'd played for the PS3 up to this point have had really nice checkpoint/auto-save style systems. Ultimately, the save points are spaced close together and you never go too long without having an opportunity to save... which just begs the question of why they're needed at all? Save points are a relic - David Wong perfectly summarized the issue years ago:

This is a throwback to the arcade/NES days when physical limitations in the system wouldn't allow you to save your progress just anywhere. There is no reason for this now. None. We're busy. We've got work, appointments, phone calls. We shouldn't tolerate an inability to save our progress in any piece of software.

Half Life 2 did this perfectly--it auto-saved every few minutes, behind the scenes. You didn't have to worry about it and you didn't have to re-fight enemies you had already defeated.

There are people who say that preventing saves adds to the "tension" of the game. Sure, in the sense that the fact that your 360 could catch on fire at any moment also adds to the tension. Face it, if the only way you can think of to add suspense to your game is to disable a feature of the hardware, then you suck at making games.

Like I said, most of the games I've played on the PS3 so far were fantasic about this. They auto-saved every time something meaningful was accomplished. All Dead Space's save points serve to do is ruin immersion and remind you that you're playing a game rather than fighting off the undead alien hordes. Again, the survival horror genre requires this more than any other type of game, so I'm baffled as to why they would choose to have save points.

One of the neat things about the game is that killing the enemies require more than just shooting at them - you have to shoot them in such a way as to remove their limbs in order to kill them. This is an interesting way to differentiate the game mechanics of a standard shooter, and the weaponry is suited to this sort of cutting task. Unfortunately, the variation in weaponry is pointless. You would be fine if you only used the first weapon you come accross, the Plasma Cutter. Indeed, one of the PS3 trophies for the game is to complete the whole game with the Plasma Cutter - and I think that would be an easy trophy to earn (if I were willing to play the game again). Some of the other weapons are somewhat neat, but they're also mostly unnecessary. Unlike the Resistance games or even CoD4, there's nothing that is optimized for a specific weapon. Sure, the Line Cutter is great for taking out both legs in one shot, but it has a much slower fire rate. The Ripper is pretty neat and I've heard some people say that it's overpowered, but I always had trouble with it. And so on. In any case, the core gameplay of fighting Necromorphs is pretty fun and one of the better things about the game.

There are several other gameplay elements in this game - there's a kinesis module that lets you move stuff around (though it's generally used for stuff that would seem simpler if you could just use your arms), there's a time-slowing mechanic that I always forget I even had, and the actually neat mechanic of zero-space maneuvering. There are a couple of interesting gun turrent style sequences that I enjoyed playing as well. Some mini-game style stuff shows up as well (i.e. zero-g basketball). So the various "strategic limb dismemberment" sequences are mixed up with various other tasks that require these other gameplay elements. Sometimes this is fun, sometimes it just seems rather pointless. All these different abilities also mean that the controller scheme is more complicated than usual, though for the most part, I didn't have many problems.

The atmosphere can be effective at times, what with the spooky noises and music and all. There are also lots of "boo" momeents when a body you thought was dead actually jumps up and attacks you, which generally leads you to stomp around on dead bodies just to make sure they're really dead. Ultimately, like movies that overuse "boo" moments, they become progressively less effective as time moves on. There's more to horror than just a startling moment, so when you add in the gameplay elements that take you out of the story (like the save points), the game becomes less effective. Story-wise, there's not much going on. Isaac Clarke never actually talks during the course of the game, which is kinda weird and makes it a little difficult to tell what's going on... his wife was apparently on the mining ship and is missing.. and the game tries to tease you by showing glimpses of her (or her voice) throughout the ship. One thing I will say is that the very end of the game (the last cutscene) was actually pretty great - I was glad I stuck with the game until the very end.

For all my gripes, this game is actually pretty competent. It's got some unique elements that perhaps make it worth playing, but there are several flaws that prevented me from loving the game. I pretty much agree with Yahtzee's review of the game as well. Competent, but bland.
That's all for now.

Wednesday, March 11, 2009
Viva La Resistance (and Resistance 2)
One of the first games I played after getting my PS3 was
Resistance: Fall of Man
and it's sequel,
Resistance 2
. These are Playstation exclusive games, and they are indeed shining examples of the FPS genre on the PS3.
First up is
Resistance: Fall of Man
. Since the dawn of the first person shooter genre, there have been two main settings: WWII and alien invasion. With Resistance, what you get is basically both! As trite as that may sound, it actually works really well. The setting is actually an alternate history, starting around the time of the
Tunguska event
, which in Resistance actually carried with it the seeds of an alien virus/race called the Chimera. By 1950, the Chimera had infected and overtaken most of Asia and continental Europe. The game starts in 1951, following an American soldier stationed in Britain. He is Sergeant Nathan Hale, and of course, he's the
only
surviving American soldier. He hooks up with British forces and they seek to halt the advancing Chimeran invasion. Part of the reason he's a survivor is that he is somewhat resistant to the Chimeran virus. Instead of dying and becoming a Chimeran, his eyes turn yellow and he gains strength and regenerative abilities.
Alright, enough of the story and the setting. As FPS games go, this is pretty good. Now that I think about it, it might be the first FPS game I've played all the way through on a console. While I still think the PC is ideal for FPS games, I had no problem adjusting to Resistance and the controls worked reasonably well. The only annoying thing is that the zoom is the R3 button, and I sometimes inadvertently triggered it in the middle of a particularly heated battle. Another aspect of FPS games that Resistance accels at are the weaponry. There are some interesting weapons here and most of them produce satisfying results, but the impressive thing is that many are optimized for certain situations or enemies. You don't
need
to use a specific weapon to address a specific battle, but certain weapons are ideal for certain situations. There are some vehicle portions of the game which help break up the gameplay... and I have to admit that it is fun taking a spin in the Tank or even the Chimeran Stalker. So as FPS games go, this is a very solid example. (It's available on the budget Greatest Hits line - if you get a PS3 and like FPS games, it's well worth the effort).
Resistance 2
is the sequel to
Resistance: Fall of Man
and picks up right where the first game left off, then skips forward to a few years later, as the Chimeran plague spreads across the pond to America (I guess the victory at the end of the first game was only a temporary one). Sergeant Hale has been promoted to Lieutenant and is now a part of a military unit (called SRPA, pronounced "sirpa") of similar Chimeran virus resistant soldiers (referred to as Sentinals).
The gameplay has evolved a bit in this game to resemble other popular shooters here, particularly the
Halo
and
Call of Duty
games. Gone are the health meters, and I actually really like that change. The game also only allows you to carry two weapons at a time, which is perhaps a less welcome change, but the game is pretty good about making sure ammo and other weapons are all over the place. Speaking of the weaponry, most of the weapons from the first game are still here, though there are a couple of new ones and even enhancements to the old ones (I particularly liked the changes to the Auger and the new sniper-rifle-like Marksman). The controls have changed a bit as well. For instance, they fixed the issue I mentioned about the R3 button... but the way they did that makes it difficult to use the sniper rifle's alternate fire method... still, it's an improvement. They've also done away with the vehicles... perhaps to make way for all the new boss fights. There were a few boss fights in the first game, but this game is filled with them. They usually take the form of some gigantic Chimeran monster and these are usually pretty fun battles. The scope and scale of the battles in this game are larger and impressive than the first game.
In terms of the story, you do start to get more information on what's happening, including some info on the unseen but often referenced "Cloven" (who are not Chimeran, but not human either and, well, let's just say they don't like anyone). There's also a specific villain in this game, a Chimeran creature named Daedalus, who is suitably creepy and seems to know more about Hale than you'd be comforable with. There are still plenty of unanswered questions in the story and I think the game suffers from the lack of a consistent narrator (the first game was narrated by a British Captain, and she provided a good perspective on what was happening and tied the various events together in a useful way), but the story progresses well enough, and the game ends with a rather gutsy event in the cutscene. Visually, both Resistance games are impressive, but
Resistance 2
's scope and scale give it a bit of an edge. There are also some levels that have a welcome change from the typical gunmetal gray color palette, sometimes even including things like sunlight and plants.
Also worthy of mention in this game is the online multiplayer functionality. The first game had multiplayer as well, but
Resistance 2
seems to be trying for a comprehensive online experience, providing tons of options and two main modes. One is the traditional multiplayer that everyone should be familiar with (deathmatches, capture the flag, etc...). I am really bad at this kind of game, but I did find myself really enjoying the other main online multiplayer option, which was the Cooperative campaigns. These allow you and up to 7 other players to go through various missions, attacking the Chimera. There are multiple player classes, and you really have to cooperate with each other if you want to win the level. The three classes are pretty straightforward and easy to pickup. Like most multiplayer games, these missions can get somewhat repetitive, though it's worth noting that there are tons of maps and variations of maps. Honestly, when it comes to the Deathmatch style games, it makes it somewhat difficult to play because there are so many levels that I still am not particularly familiar with any one level... The only other gripe here is that in order to get experience points, you have to use the matcmaker, which automatically chooses a game and a map for you... making it more difficult to get familiar with a given map.
Overall, I think
Resistance 2
is a small improvement over the original, a solid shooter in its own right, and with the ending of the single player campaign, I'm actually somwhat excited to see where they take the third game.

Sunday, March 08, 2009
Link Dump: Who Watched The Watchmen Edition
A few links about and reactions to
Watchmen
.
So the box office estimate is around $55 million. This sounds pretty good to me and I don't think anyone could argue that it's a failure, but it's apparently not the massive success the studios were hoping for either. Andre comments:

When I look at these numbers, and the people who want to use these numbers to argue anything about anything, I feel exactly like Dr. Manhattan. Warner's sold a hard-sell as well as they could. The numbers are good for that, they're just not good enough to make this an out of the park hit. And that's that. At the end of the day this was never that film. Maybe someone thought it would be with Snyder at the helm, but it isn't. It's too dense, it's too intellectual, and not in a way with an easy through line. Few are celebrating the fact that one got through, instead a lot of critics seem happy to piss on the grave.

Given the alternate versions, an international release, DVDs and other supplemental material, I bet it will end up doing well enough to be a success.
The Annotated Watchmen - A guide to the comic book.
104 Ways to Hilariously Ruin the Watchmen Movie - A photoshop contest with funny results.
Wired Interview with Alan Moore: Recent interview with the writer of the Watchmen comic book. There are some interesting bits... Here's a taste:

At the time I thought that a book like Watchmen would perhaps unlock a lot of potential creativity, that perhaps other writers and artists in the industry would see it and would think, "This is great, this shows what comics can do. We can now take our own ideas and thanks to the success of Watchmen we'll have a better chance of editors giving us a shot at them." I was hoping naively for a great rash of individual comic books that were exploring different storytelling ideas and trying to break new ground.

That isn't really what happened. Instead it seemed that the existence of Watchmen had pretty much doomed the mainstream comic industry to about 20 years of very grim and often pretentious stories that seemed to be unable to get around the massive psychological stumbling block that Watchmen had turned out to be, although that had never been my intention with the work.

The movie's box office prospects aside, I'm positive that the Watchmen movie will be influential. It might very well be the death knell of comic book movies! Or not. But when you get this sort of artful deconstruction of the very concept, it's hard to break free of it. For instance, the traditional western movie was pretty thoroughly melted by movies like The Wild Bunch, and the genrea never really recovered (except when further opportunities for deconstruction appeared, such as Unforgiven). Westerns simply haven't been the same since then. And with The Dark Knight and now Watchmen, I have a feeling that superhero movies might not be able to go back to the way things were. Or not. We'll see, I guess.

Anyway, Moore expands on some of the things I referenced in my post:

There was a time I would have said that if any of my books could work as films, it would have been that first volume of The League [of Extraordinary Gentlemen]. It was pretty much structured so it could have been made straight into a film, and it would have been as powerful as it was in the original publication. But that is to overlook the proclivities of contemporary Hollywood, where I really simply don't believe that any of my books could be benefited in any way by being turned into films. In fact, quite the opposite. The things I was trying to instill in those books were generally things that were only appropriate to the comics medium.
That's all for now...

Friday, March 06, 2009
Watchmen: Initial Thoughts
The long awaited movie adaptation of Alan Moore and Dave Gibbons' classic graphic novel
Watchmen
has finally arrived. It has certainly been a long time coming - my
first post on the subject
was over 7 years ago, and at that point, the movie had already been stuck in
development hell
for 15 years, with no realistic prospects... The project went from director to director (including the likes of Paul Greengrass and Darren Aronofsky) until
2007
, shortly after the surprisingly profitable premiere of another graphic novel adaptation,
300
, when Warner Brothers tapped director Zack Snyder to direct the forthcoming
Watchmen
. There was some apprehension to the selection of Snyder for this, and he certainly hadn't demonstrated the sort of heft that
Watchmen
would require, but I was glad the movie was being made.
I just got home from the theater, and to be honest, I'm not entirely sure what to make of it. What follows may turn out to be a rambling mess and I'm sure that my feelings about the film will solidify as time goes on, but for now, I'd like to write my initial impressions. I'll try to be mostly spoiler free, though I'm going to write some stuff in the extended entry that will contain spoilers.
The writer of the original comic book is Alan Moore, and he has repeatedly disavowed any of the attempts to adapt his work. I think
this quote from an EW interview
is the key to how I feel about the
Watchmen
movie:
There are things that we did with Watchmen that could only work in a comic, and were indeed designed to show off things that other media can't.
Indeed, many have claimed
Watchmen
was an unfilmable work, citing the long history of failed productions as evidence. Throughout the years, several strategies were considered. Terry Gilliam wanted to create a monsterous 12 hour epic. Paul Greengrass wanted to update the story to directly address the war on terror (as opposed to the graphic novel's Cold War), a direction I'm convinced would have been disasterous. Ultimately, the man who was chosen to direct had a pretty simple strategy: remain religiously faithful to the original work.
I think it's an admirable strategy, but there are some things that just don't work (like when he changed the story). In particular, some of the dialogue in the film isn't so great. Ironically, many of these are direct quotes from the novel... but what works on the page doesn't necessarily translate well to the screen. There is a melodramatic tone that fits the comic perfectly, while it just sorta floats off the screen and hangs there in a film. On the other hand, some of the dialogue works well. For instance, when Rorschach growls his "You're trapped in here with me." line (one of my favorites from the novel - and while I'm talking about him, Jackie Earle Haley's Rorshach is fantastic, better than I expected and perhaps the standout of the film), the theater erupted into something that was a mixture between a cheer and nervous laughter (which was perfect). Most of Dr. Manhattan's dialogue was suitably incongruous, and the Comedian worked well too. But when the Dreiberg Night Owl whines "What happened to the American dream?" or when a news anchor says "The superman exists and he's American," it just doesn't work.
In the end, I'm not sure anyone could do much better in adapting this comic book into a movie... Snyder got more right than I thought he was capable of... and I'm not sure a better adaptation would be possible. I reread most of the graphic novel this past week, and one of the things that struck me was how many parallel threads Moore and Gibbons were working with, and the techniques they used to illustrate those parallel tracks. For instance, the Tales of the Black Freighter comic-within-a-comic is a microcosm of the whole story, and Moore and Gibbons cross cut between that and the events of the story to great effect. That almost certainly would not have worked in movie form, so I'm glad that Snyder didn't include it (though apparently he did do something that will be released separately). That was one of two big changes in the adaptation, and I think the movie is better for that change. But Snyder does make effective use of cross cutting in several cases (aligning with the cross cutting used in the novel), and the editing in the Dr. Manhattan origin story was much better than I was expecting.
Which brings me to the other major change - the ending. I don't understand why so many adaptations opt to change the ending, especially adaptations that are really attempting to be faithful to the source material. The new ending is basically an attempt to replicate the same outcome of the book without using the same catalyst. The result is the same, but the method is different. I think it just barely works, but I still don't see the need for it (a more spoiler-laden discussion of this will be in the extended entry). I think it was an unnecessary change and while I was willing to accept it and go with it, I'm positive that many fans of the comic will dislike the new ending.
So I think the movie is good, maybe even great, but not perfect and not a classic. It gets a lot of things right - more than I would have thought possible... and while that's actually quite impressive, it's perhaps not enough. It's cliche to say that the book is better than the movie, but that's only because it's mostly true, and this adaptation is no different. My initial take on it is that it's a solid *** (three out of 4 stars) movie. I look forward to the extended cut of the film, but ultimately, I don't see that changing my overall feelings.
Update:
Alex
didn't think the ending worked at all and
MGK
thought the whole thing sucked. And this is everywhere, but
Saturday Morning Watchmen
is brilliant.
Update 3.10.09:
Nerdquest comments
. We have similar overall views, though we differ on some of the details. He doesn't seem to like the music, which I admit could be a bit much...
Here be the spoilers:
So, the ending. In the comic, a Giant Squid is dropped on New York, instantly killing millions with some sort of psychic ability. The event is made to look like an alien attack, which results in America and the Soviets uniting against a new enemy. Ozymandias/Veidt orchestrated the whole thing, and has to live with what he did, even if he believes it was for the best. This is a drastic simplification of what happens, but it's the basic idea.
Before I move on to the ending of the film, I want to backtrack a bit and talk about one of the scripts not used in this new adaptation. It was one of the first scripts produced.
Written by Sam Hamm and dated 1989
, the script was pretty faithful right up until the ending. Ozymandias/Veidt figures out time travel and parallel universes, and after examination, he realizes that the only timelines where the human race survives are the ones where Dr. Manhattan never existed. So he attempts to change the past by assassinating Osterman before he becomes Dr. Manhattan. I did not like this ending at all, as it pretty much undermines the rest of the story.
Now, the new movie's ending attempts to retain the spirit of the original comic, but it also sorta has elements of the Hamm ending (I doubt anyone was intentionally trying to use the Hamm ending, but there are similarities). In the original comic, there is a subplot about how Dr. Manhattan and Veidt collaborated to create widespread and cheap electric cars. It's not a tremendously important development in the book, but the new movie tries to elevate that portion of the story (perhaps in an effort to make the movie more relevant to our present day situation). Dr. Manhattan and Veidt haven't completed anything - they're working on a general power source. "Free power" that will rid us of our dependance on oil. However, Veidt had an ulterior motive for this new energy source. He creates several generators, and then uses them to detonate nuclear explosions in several American cities. Because the technology is based on Dr. Manhattan, the conclusion that officials come to is that Dr. Manhattan blew up the cities. So America and the Soviets unite against a new enemy, and the Cold War crisis is averted. Manhattan leaves for another galaxy, just like in the comic.
Does this work? I guess (barely), but I find it uncessesary and there are probably more plot holes that I'm not thinking of at the moment. It's much better than the Hamm ending, at least, but I don't understand the desire to besmirch Dr. Manhattan's name. I find the irony in the "free energy" angle interesting. All the talk about creating free energy and ridding ourselves of our dependency on fossil fuels was just a way to fool everyone. I suppose the one main argument for not doing the giant squid ending is that, you know, it's a giant freakin squid. It might look stupid. I haven't reread the last couple chapters of Watchmen yet, but I just scanned through it. Most of what you see are mounds of dead, bloody bodies along with a tentacle. The main portion of the squid is shown in one full page panel and I think it's also shown in a painting or a TV monitor at one point. I think it could have worked fine, but that's just me.

Wednesday, March 04, 2009
Danger After Dark
The schedule for the
Philly Film Festival
was announced recently. As with
previous
years
, my favorite part of the festival is sure to be the
Danger After Dark
series, which is generally filled with all sorts of genre films. However, in flipping through the
program guide
, it seems that the PFF is significantly reducing the size of the Danger After Dark series. Last year, there were 19 films in the DAD series. This year? 11. I was talking to someone at a screening last year who said that the guy that used to run the series was great, but that he left and the new guy wasn't as good. I guess new guy is still there. Particularly noticeable is a lack of Asian gangster films. Just about everything listed is a horror film.
All of that said, looking through the rest of the program, I think I'll be able to find some other films to pick up the slack. Here are the films I'm most looking forward to:
And that about covers it. I probably won't get to all of these and I might see something not listed, but it looks like it could be a decent festival, despite the lack of
Danger After Dark
fun. Ah well, maybe I should try
Fantastic Fest
in Austin instead!

Sunday, March 01, 2009
Trigun: Initial Thoughts
Since finishing
Hellsing
, I've been working my way through
Trigun
. In short, the series has grown on me, though there are some things that just aren't clicking for me. I expected the series to be much different than it really is, which kinda put me off at first.
The series follows a character named Vash the Stampede (aka The Humanoid Typhoon) as he wanders across a desolate planet. Towns he visits have a nasty habit of sustaining massive amounts of damage, and he has a $$60,000,000,000 bounty on his head (the currency is referred to as "double dollars"). So Vash is constantly being chased by a plethora of bounty hunters and unsavory types. He's also being tracked by two insurance agents named Milly and Meryl, whose goal seems to be to simply discourage him from destroying towns, as the Bernardelli Insurance Company is apparently taking a bath on property supposedly damaged by Vash. Naturally, much of what is known about Vash is an exaggeration, so at first, they don't believe Vash is who he claims. As time goes on, it becomes clear that Vash is who he says he is, and that he has a dark past that he can't remember.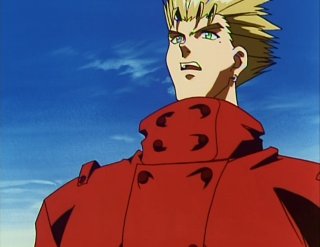 Vash the Stampede
Vash is an interesting main character. At first, he seems like a bumbling idiot, and a naive one at that. He has a silly sort of demeanor and seems to be constantly down on his luck. As the series progresses, you see that he's not as hopeless as he seems. He's constantly being thrust into tricky situations, and he always seems to be able to handle the situation perfectly despite still mostly appearing like a clumsy moron. And despite all the damage that happens to towns, it's usually not caused much by his actions (the bounty hunters who chase him seem to be the worst offenders)... and he never kills anyone either. He's a very likeable character. A lovable buffoon.
This is helped along by the character design, which looks like your typical Anime art mixed with absurdly stylized exclamations. Honestly, I found this a bit disconcerting. The tone of the series is all over the place. Sometimes it's a silly, practically slapstick comedy, other times, it's stoic and deadly serious, and it can switch modes at the drop of a hat.
The setting is reminiscent of a western, but with a distinct steampunk flair, and that's another thing that I'm not particularly in love with. Steampunk is one of those conventions that can look really cool, but which always make me ask nitpicky questions. For instance, every town on this planet seems to have a giant lightbulb hanging over it. We learn later that it's some sort of generator, but still, why would you design your generators like that? It's stupid and not important to the story, but I find myself nitpicking all sorts of stuff like this while watching the show. This usually happens to me when a show or movie isn't clicking with me.
The experience of watching this show has been odd. I watched the first disc and seriously considered quiting the series right then... but Netflix had already shipped the next disc, so I watched it, and I found the series growing on me. And this seemed to be continually happening. Every disc I'd get, I'd start off not particularly enjoying it, but by the end of the disc, I'd be sucked in. So I'll probably finish the series, even though it's not especially my bag.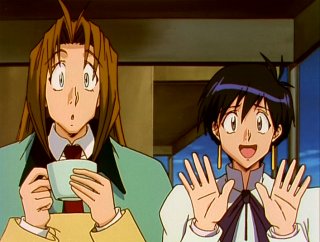 Milly and Meryl
The story is relatively simplistic, and there seems to be a lot of filler in the series. Every episode or two is a new town with a new challenger, whether it be a bounty hunter or one of the main villain's henchmen. Perhaps it's just my recent bout of video game madness, but the series seems structured like a video game - it's like every episode has a boss battle. This can be an entertaining dynamic, but it's not especially substantial either. There seems to be something more substantial brewing with Milly and Meryl, but 5 discs in, and it's still just surface level stuff...
Visually, the series has some neat looking designs. The art is good, but the animation isn't that great. One of the tricks of low-budget animation is to create one large cell drawing, then pan accross it. This gives the impression of movement without actually having to animate the movement. This series uses that technique a lot. Perhaps too much. The series has good music though. Not as good as
Cowboy Bebop
, but it's up there.
I can see why this series is popular, but it didn't especially click with me. I suppose my thoughts could change after seeing the ending, but I'm doubting that. More thoughts and screenshots below the fold.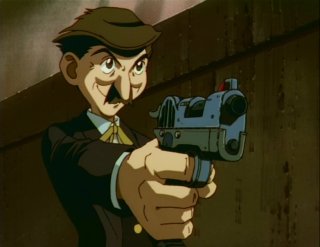 Obvious Villain #458
As previously mentioned, the show is a series of encounters with various vaillainous types and encounters with bounty hunters and the like. The series features a fair amount of gunplay, and like
Hellsing
, it's often used as an excuse to have cool shots like this with someone pointing a gun straight at the "camera".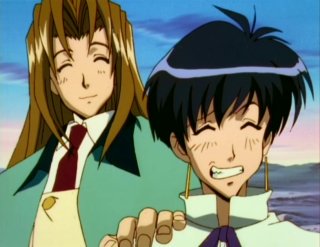 Closed Eyes
Closed eyes syndrome
continues unabated.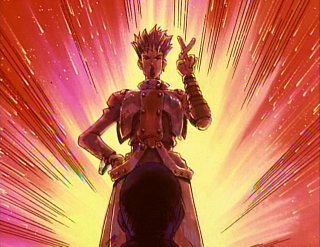 Peace and Love
At one point, after defeating his enemies without resorting to violence, Vash makes this symbol with his hand and starts chanting "Peace and Love" over and over again. The hand gesture has a similarity to the "V" peace gesture common in the west, but it's not the same. His fingers are crossing. I've never seen this before... and it doesn't look biologically feasible either. I mean, I can cross my fingers, but not like that! What's the deal with this gesture?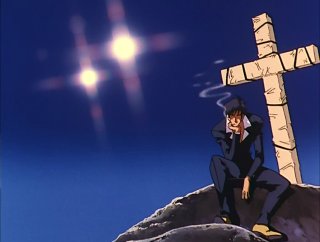 Two suns and Wolfwood
This is Wolfwood. He shows up about halfway through the series. He's apparently some sort of priest or preacher or something... but you see that cross he's carrying? It's really just a big gun rack, which makes one wonder what kind of Church he belongs to. Note also the dual suns in the sky. This planet seems to have two of everything. Well, it has two suns and two moons, at least. Perhaps that's why the currency is "double dollars".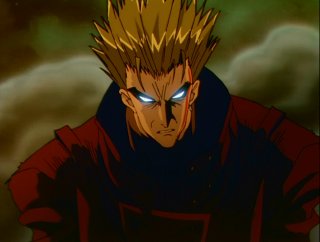 Vash the Stampede, channeling Spawn
As the series progresses, you get more of an idea about Vash and the dark secrets in his past. When he gets cornered by one of the various assassins sent after him, he really puts on his game face and shows flashes of the darkness in his past. He looks a little like
Spawn
, doesn't he?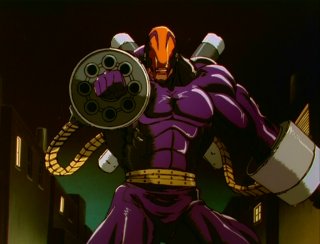 Obvious Villain #460
This is one of the aforementioned bossfights... I mean, assassins that is sent to handle Vash, but gets more than he bargained for when he meets up with the Spawn style Vash.
Obvious Villain #461
This guy seems to be the main villain. 5 discs in, and I know very little about him, except that he seems to know about Vash's past, and he has lots of powers.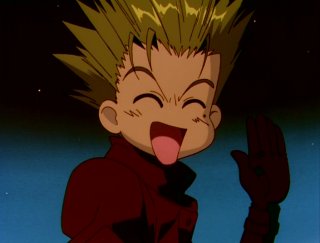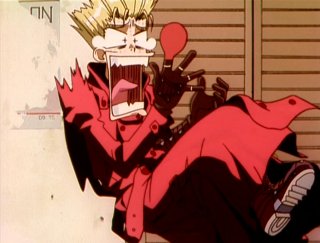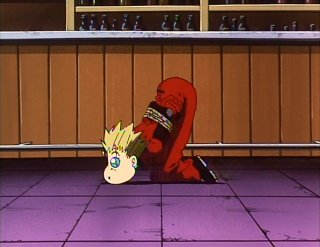 Here is a small sampling of Vash's many silly faces and the stylized way the series portrays him. This sort of thing always strikes me as odd.
Well that's all for now. Perhaps more when I finish the series...

« February 2009 | Main | April 2009 »