« January 2009 | Main | March 2009 »
Wednesday, February 25, 2009
Playstation Network Gamercards?
I've been spending a lot of my spare time playing the PS3 of late, and I've even started to get my feet wet with the various online features. One of the notable things about the PS3 online experience is that it's free. Of course, playing games online is also free on the PC or the Wii, but Xbox Live is a pay service ($50 a year, though you can get coupons or something to lower that to $30 a year). By all accounts, the Xbox Live system seems to be far better than the Playstation Network, but I'd say that the PSN is good enough to get the job done. After all, I have no problem playing games online, and I don't have to pay for that privilege. But there are seeminly simple things I'm surprised they're not doing. For instance,
Gamercards
. This is something that Xbox Live does really well. Here's the example gamercard for Xbox live from wikipedia: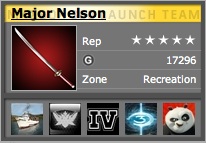 The idea is that this card provides a bunch of information about a player, and they can post it on their blog or their favorite forums. The information includes the person's gamertag (i.e. their name), their reputation, their score, a zone (i.e. are you a family gamer, a casual gamer, an "underground" player, etc...), and the last few games that you've played. It's a community thing, and it fits into some of the other things Xbox Live does. I'm not that experienced with Xbox Live, but my understanding is that it uses your score and reputation to help find matchups for you. That way, if you're a new player, you won't get matched with the expert gamers who'll just destroy you. Neato.
The PSN seems to have a patchwork of features, none of which are tied together very well. For instance, they implemented a "Trophy" system last year which parallels the Xbox Live Achievements functionality... except that this information doesn't seem to serve any real purpose. This is exemplified by the PSN Portable ID, which is supposed to be their answer to the Xbox Gamercard. Here's my PSN Portable ID:
Wow! Look at all that info! Just as good as Xbox Live, right? Ok, so the trophy system doesn't get you any real tangible rewards in terms of matchmaking, but at the very least it could be used for bragging rights, and this is seemingly a big part of why people post their Xbox Gamercards all over the place. For reasons that are beyond me, I've spent some time playing games with the sole intention of getting this or that trophy. It can be fun (perhaps I just enjoy activating the reward circuitry of my brain), but it's kinda pointless if I can't share my accomplishments. The dumbest part about this is that I can login to the PSN and bring up an online gamercard that's much cooler. I just took a picture of it: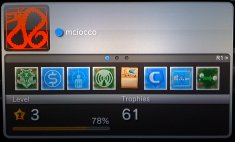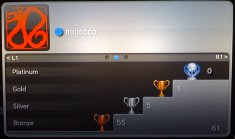 (Apologies for the lack of a good screenshot, these were pictures taken of my TV) Ok, so even this might not be as good as the Xbox Live gamercard, but it's a heck of a lot better than their portable ID thingy. It's got a PSN level, the number of trophies you've earned, and it has pictures of the last several trophies you've achieved. You can then go to another page which breaks out what kinds of trophies you've won (and there's a third page that has some biographical information). You can view your friend's cards as well, and you can even compare your trophies with theirs. Of course, none of this is available in the official gamercard. What's the point of using the official PS3 gamercard if the only information it contains is my name? If I want to tell people my name, I can do that pretty easily (hey, my PSN id is "mciocco"). The point of a gamertag is to populate it with at least some dynamic data that indicates what kind of player you are or what you've been up to lately.
Shamus recently summarized
the issue thusly:
I know they have the trophy system, but it doesn't look to be tied to anything like an account or gamer profile which can be shared. Without a gamertag, you have to just tell people you beat Explodious 3 on super double-hard. The system tracks your accomplishments, but it doesn't give you a way to share them, which is what makes the system social and perhaps even viral.
Am I making too big a deal of this sort of thing? Maybe. Even the Xbox Live Achievements system is arguably not that useful, but to Shamus' point, it's fun to share your accomplishments. And if you don't think that PS3 owners care about that, then why are there a bunch of sites that allow you to
create your own
PS3
gamercard
by populating the data manually?
I suppose the good news is that Sony is tracking that sort of data and they do seem to be making strides in the right direction. After all, they did only just recently implement these trophies... but still, part of the fun of earning trophies is that it's supposed to be a community thing. The lack of a respectible gamercard seems rather silly to me - it should be a relatively easy thing for them to implement, right? (Come to think of it, it takes forever for the gamercard to populate with data in the PS3 interface, so maybe it is more difficult than it sounds... but I can't see why it would be...) On the other hand, I've heard rumors that your Trophy points would contribute towards unlocked stuff in
PS Home
or possibly even some sort of monetary value. I suppose that would be nice.
Of course, the Wii is selling double what the Xbox and PS3 are combined, and the Wii has nothing like this at all, so I suppose this whole online experience should be taken with a grain of salt (then again, one of the manual gamercard sites linked above also provides a Wii gamercard option). Now if you'll excuse me, I've got some
Dead Space
trophies to earn.

Sunday, February 22, 2009
Oscar Liveblogging
In accordance with tradition, I'll be liveblogging the Oscars tonight. If you're interested, here are previous installments: [
2008
|
2007
|
2006
|
2005
|
2004
] Check back for frequent updates (starting around 8:30 pm EST), and feel free to hang around and leave comments to play along...
Anyway, here are my predictions for the major awards:
Best Picture: Slumdog Millionaire. I've seen 4 of the 5 nominated films this year (not bad!), and Slumdog certainly seems to have all the momentum going into the ceremony. The only thing that could upset this is the backlash that's been happening since it started picking up smaller awards, but I don't see that changing the outcome. What's more, I think that of the nominees, it's also the best film. I suppose there's an outside chance for Milk or The Curious Case of Benjamin Button, but I don't think either will take it home. Milk may take one of the other major categories and Button will take all the technical awards and none of the majors.
Best Director: Danny Boyle for Slumdog Millionaire. Traditionally, the best director winner tracks with the best picture (as evidenced by the fact that the nominated movies are the same for both categories). Of course, they do split from time to time, and that is certainly possible here - the likely candidate being David Fincher (though again, I think Button, which has the most nominations, will take more of the technical awards). There's probably also an outside chance for Gus Van Sant.
Best Actress: Kate Winslet for The Reader. Put simply, Winslet is due. This is her 6th nomination and she has no wins, and the academy will want to reward her. Of course, you can't count out Meryl Streep, but she's at least won a couple Oscars before. Anne Hathaway has garnered lots of praise as well, and the academy does like to champion young actresses, but she's still more of a dark horse in this race. Of course, I'm embarrassed to say that I have not seen any of the nominarted films in this category... but I still think I got it right!
Best Actor: Mickey Rourke for The Wrestler. This is probably the most interesting race of the night, as the other obvious choice is Sean Penn for Milk, and I think there's a really good chance the academy will give it to Penn as a reward to Milk because they're primarily Californians and they messed up Prop 8. So for that and other political reasons, there's a chance for Penn. The dark horse is probably Frank Langella, but this is really a two horse race.
Best Supporting Actress: Penéope Cruz for Vicky Christina Barcelona. Honestly, this is a shot in the dark. The award could easily go to 3 of the other nominees. The only one I'm counting out is Amy Adams... I would say that Viola Davis has screen time working against her (apparently only one scene... but on the other hand, it's supposedly a spectacular scene in which she upstages Meryl Streep). Tomei has a chance, but she also already has an Oscar in this category. Tarajj Henson has an ourside chance because she could get Benjamin Button sympathy votes. I've only seen 2 of the 4 nominated films, but somehow I don't think seeing the other two would really help in this category.
Best Supporting Actor: Heath Ledger for The Dark Knight. Duh.
Best Original Screenplay: Milk. I suppose there's also an off chance that In Bruges will win, and maybe even WALL-E (though I imagine it would be tough to vote for a film with so little dialogue), but in this post-prop-8 California, I'm betting on Milk. I've only seen 3 of the 5 nominated.
Best Adapted Screenplay: Slumdog Millionaire. Because it's going to be Slumdog's night. I suppose it's possible that Benjamin Button will win, and a couple of other nominees have a chance, but really, this is going to Slumdog.
Editing: Slumdog Millionaire. The very structure of the story makes strong editing necessary. I suppose there's an outside chance that The Dark Knight will take this home, but I'm doubting that.
Cinematography: The Curious Case of Benjamin Button. The academy apparently likes this movie a lot, so I'm betting that this is how they'll reward it. But if it truly is Slumdog's night, that's got a good chance too.
Visual Effects: The Curious Case of Benjamin Button. Again, because the academy probably wants to reward Button for something and they're not going to do it with any of the major awards. I do think that The Dark Knight has a chance at this one too, but it's also going to take one of the major awards (despite being snubbed in the Best Picture category).
Musical Score: Slumdog Millionaire. Because I said so.
Best Song: Slumdog Millionaire "Jai Ho". There are only two movies nominated here. Why do they do this? There are always at least 2 songs nominated from one movie in this category (for the past two years, there were 3 songs for one movie). Anwyay, I don't think that Slumdog will split its votes, giving WALL-E the win. Why? Because everyone loves the closing credits dance sequence at the end of Slumdog.
Makeup: The Curious Case of Benjamin Button. I'm betting this is a lock. I'd give it to Hellboy II though.
Best Animated Film: WALL-E. Is there any doubt?
Best Documentary: Man on Wire. I'd love to see a speech from Werner Herzog, but I doubt he'll get the award. Katrina doc Trouble the Water is the dark horse, and I'd say it has a pretty good chance too.
Best Foreign Language Film: The Class. I suppose this could easily to go Waltz With Bashir, given it's take on Israel at war, but I'm still betting on the French with this category.
And that's all for now. Check back as the Oscars start for frequent commentary.
Update 7:58 pm:
I doubt I'll be up to watching the red carpet crap, but in the mean time here are a few pre-Oscar links for your enjoyment:
And oh God Hugh Jackman is giving Barbara Walters a lapdance. My eyes. MY EYES!
Update 8:08 pm:
In an attempt to avoid this red carpet nonsense, I'm going to do some speculating. There are two supposedly odd things about this year's ceremony. The first is that Hugh Jackman is hosting, which marks the first occasion that a non-comedian is hosting. By all accounts, he's not going to be doing much comedy either. Here's to hoping that he doesn't do a bunch of song-and-dance numbers. It would totally ruin the joy I have that only 3 songs were nominated this year (and thus my suffering at their live performances will be minimized - also, I kinda liked that Slumdog closing song and they'll probably do something fun with that). I suppose I should start drinking now.
The other thing that's supposed to be surprising is that the presenters for each award are being kept a secret. OMG! That's so exciting! Seriously, how is that going to be fun? Who the heck cares? Unless they go completely crazy and allow random nutjobs to take the stage and improvise or something.
And presenting the award for Best Actor, please welcome Hulk Hogan and Carl Weathers!
Do they qualify as nutjobs? Probably not, but they were the most random people that came to mind.
Update 8:19 pm:
Dammit, the ceremony hasn't even started yet and they're showing montages already. This one is about accountants. ACCOUNTANTS!
Update 8:22 pm:
I'm usually driven to drink by Oscar music performances, but I might have to start so that I can endure this red carpet junk. By the way, Meryl Streep's daughter is gorgeous.
Update 8:26 pm:
Beer of the night,
Ommegang Rare Vos
, drunk ironically out of a Hennepin glass.
Update 8:30 pm:
Are they ushering Hugh Jackman onstage with
Lawrence of Arabia
music?
Update 8:33 pm:
Ah, he's doing comedy. That Australian line was funny. So was the New Zealand one. Crap, despite budgetary limitations, he's doing a musical number. Shit.
Update 8:36 pm:
So Jackman is talented and the Anne Hathaway thing was cute, but I'm still hoping this is the last musical number. Please. It's almost certainly not though.
Update 8:37 pm:
I hope Jackman has an uncontrollable giggle-fit. It might happen. He apparently hasn't seen The Reader, just like everyone else.
Update 8:39 pm:
And he ended with a Wolverine plug. You stay classy, Hugh Jackman.
Update 8:45 pm:
First official montage! OMG the presenters are such a surprise, I'm so glad I tuned in for this shocking development. Past Supporting Actress winners are giving away the award. Shocking! In other news, someone at CHUD wonders "So will Mickey Rourke's dog be on this year's death montage or the next one?" They apparently aren't showing clips for the nominees, but instead talking about the performances. Much more exciting! Christ, are they trying to ruin the show?
Update 8:46 pm:
Oh wow is this announcing of the nominees thing boring and stupid. And a half hour later, they announce that the Oscar goes to Penelope Cruz. I'm 1 for 1. Accents are funny. It's sad, but I kinda wish someone would faint on stage. Or at least fall down. She's gorgeous and she's giving us her life story. Great. Is she drunk? She's speaking spanish now, and probably cursing at us.
Update 8:58 pm:
Steve Marin and Tina Fey are mildly funny. Ok, they're funny. How is
Happy Go Lucky
nominated - they improvised most of that right? Not that improvisation isn't impressive, it's just not good screenwriting.
In Bruges
should probably win this... if it weren't for that ending. And
Milk
wins original screenplay and I'm 2 for 2. Score. Oh good, he's going to tell off Hollywood for prop 8. Wait for it, wait for it, and crap, FAIL.
Update 9:00 pm:
And adapted screenplay goes to
Slumdog Millionaire
and I'm 3 for 3. I'm guessing this is the first of many for
Slumdog
. They don't seem to be ushering people off the stage anymore. Interesting. I guess we'll be here until 3 am or so.
Update 9:04 pm:
Hehehe, Jack Black made a funny. BTW, Pixar is a pretty good bet for Best Animated Film. Ahhhh, WALL-E is cheating. Did they just show
Space Chimps
? Was that nominated? What's going on here? Oh, I get it, montage #2.
Update 9:07 pm:
And
WALL-E
wins and I'm 4 for 4. Pixar is a "cinematic haven" eh? Why do they give awards for the short films? I mean, I'm sure they're great and it's nice to honor the people who spent a lot of time and effort creating them, but
no one has seen them
...
Update 9:10 pm:
Accents are funny. Sank you. Domo oregato, mr roboto! Ha! Nice work, Japanese guy!
Update 9:18 pm:
Ah production design, one of the awards I "forgot" to pick. Oscar goes to
Ben Button
, which will clean up on the technical awards and get nothing in the major awards. Ah, and they usher the nerds off the stage with music. Interesting.
Update 9:20 pm:
I bet these presentations would go quicker if they didn't announce the nominees
twice
. And
The Dutchess
wins costume design. Shocking - a period drama wins costume design. That's never happened before, right?
Update 9:22 pm:
Wouldn't it be great if someone won an award and took the opportunity to scream
Bobba Booey, Bobba Booey
or something?
Update 9:24 pm:
Makeup goes to
Ben Button
and I'm 5 for 5. Score. Jeeze, this guy is talking fast. Brad Pitt looks bemused.
Update 9:25 pm:
OMG, a vampire, run!
Update 9:28 pm:
Montage #3. What's the over/under this year? I'll put it at 12. I think Montages are a blatant attempt to make the Oscars somewhat relevant by showing clips from movies people actually saw.
Update 9:32 pm:
Natalie Portman and Joaquin Phoenix... er, I mean Ben Stiller. Hehehe. Funny. Oh crap, is he going to rap. Please, no. Please. Ok good, looks like we averted that disaster. Heheh, his name is Fister. Well, Cinematography goes to
Slumdog Millionaire
and I'm 5 for 6. Crap. And he thanked the Academy twice. Nice.
Update 9:40 pm:
Sci-tech thingymajigs? Jessica Beal is incredibly gorgeous, but her dress stinks. Whoa, that was like a 1 minute segment between commercials. Strange.
Update 9:41 pm:
Is this the Judd Apatow short film? Aka, a Montage! Number 4. Wait a sec, why wasn't James Franco nominated for best supporting actor? I didn't like the movie much, but he was fantastic. Oh nice, he's watching his own gay kiss. Ok, for a montage, that was pretty cool.
Update 9:48 pm:
The Janusz Kaminski bit is great. Of course, he's presenting the short film award, so bleh.
Update 9:49 pm:
A once in a lifetime live performance? I smell musical number. Perhaps the
Slumdog
one. I'm grabbing my third beer.
Update 9:52 pm:
CHUDcom: "George Romero is presenting Supporting Actor." Oh man, that's so cruelly funny.
Update 9:53 pm:
Shit, I was right: musical number. This is a once in a lifetime live performance
because no one will ever want to see anything like this ever again.
Update 9:55 pm:
No Lady Marmalade performance should ever happen without Christina Aguilera's whore costume.
Update 9:57 pm:
Another CHUD comment: "I never thought I would be nostalgic for interpretive dance:"
Update 10.06 pm:
Montage #5! Former Best Supporting Actors take the stage (no George Romero though). I didn't think that Josh Brolin was very good in
Milk
, but what do I know. And the Supporting Actor Oscar goes to Heath Ledger. I'm 6 for 7. The Ledger family takes the stage in Heath's stead and cut to the crowd, where everyone is pretending to cry (moreso than Heath's family, even).
Update 10.16 pm:
I'd love to see Herzog win just to see what he'd say, but he won't win. Wow, Maher really hates religion, huh? And the documentary Oscar goes to
Man on Wire
, and I'm 7 for 8. Score. Hey, Felipe! He should be walking on a high wire! And a great speech from him too! Nice.
Update 10.18 pm:
I'm not even going to comment on the documentary short subject award. Crap, I just commented on it. Anyway, I'm glad that this year's documentaries aren't
ALL
about Iraq like last year.
Update 10.22 pm:
Great Jimmy Kimmel commercial with Tom Cruise. Oh boy, Montage #6, featuring movies that people saw.
Update 10.26 pm:
Will Smith made a funny. And the visual effects oscar goes to
Ben Button
and I'm 8 for 9. Ironically, for a segment about action movies, the award goes to the non-action-movie. Heh.
Update 10.29 pm:
Sound editing, an award no one cares about, goes to
The Dark Knight
. Good, I'm glad TDK is taking home something other than just supporting actor. Oh boy, Sound Mixing award. I'm getting another beer.
Update 10.33 pm:
Editing goes to
Slumdog Millionaire
and I'm 9 for 10.
Slumdog
is unstoppable.
Update 10.41 pm:
Eddie Murphy is still alive?
Update 10.45 pm:
Jerry Lewis wins some sort of humanitarian award. Good on him, I guess. Let's hope he does a prat fall or something. The Oscars need something.
Update 10.46 pm:
I guess they were saving all the good awards for last.
Update 10.49 pm:
Chud: "Jerry Lewis let everybody down by not being racist, sexist or homophobic. He's not representing his generation well."
Update 10.54 pm:
Ah, the Musical Score award. Is it me, or do they all sound the same? Must be the way they flow from one nominee to the other. Wait, why are they announcing the nominees again? They keep doing this. Stop it. The winner is
Slumdog Millionaire
, and I'm 10 for 11.
Update 10.57 pm:
Oh damn, are they going to do the entire song? For all three nominees? Gah! Chud: "Danny Boyle rebelled against his created. Danny Boyle evolved. And he has a plan." Hehehe.
Update 11:02 pm:
I'm always hard on the best song nominees, but I have to admit, I miss Antonio Banderas. And the Falling Slowly song from
Once
last year was great. This year, not so much. Winner goes to Jai Ho from
Slumdog Millionaire
, and I'm 11 for 12. I'm doing well... but what that really means is that this year's awards are really boring. And man, this guy is awful. I hate him. Stop it. I now dislike Jai Ho.
Update 11:03 pm:
Have you ever seen
Scanners
? I think the best we can hope for in the remainder of the ceremony is that Danny Boyle's head will explode when he wins Best Picture/Director.
Update 11:04 pm:
Or zombies. This show could use some zombies. Fast ones, like from Boyle's
28 Days Later
. And I don't even like zombies that much.
Update 11:07 pm:
Will Liam Neeson be nominated next year for
Taken
? Somehow I doubt it, but he will certainly be nominated for Best Hero/Badass in the 2009 Kaedrin Movie Awards. Best foreign picture goes to
Departures
? Oooooookaaaaaay. It's an upset! Finally! In a category where no one cares. I'm 11 for 13. Oh awesome, Engrish, I love it. This guy has a great delivery.
Update 11:11 pm:
Yay dead people!
Update 11:12 pm:
Oh God why is Queen Latifah singing? She's soiling the memory of the dead.
Update 11:14 pm:
This has been bothering me for the whole show: Why can't they put these montages in full screen? Gah.
Update 11:15 pm:
Soylent Green is people!
Update 11:18 pm:
Wow, no speech from the Academy chairman guy. Outstanding! OOooo, Best Director award! Make sure that camera is on Boyle's head so that we can see it explode. From multiple angles. It'll probably happen even if he doesn't win.
Update 11:20 pm:
Heh, you can so totally tell that Fincher knows he's not going to win. And Boyle wins. And he does a tigger dance. Not quite an exploding head, but good enough. Hmm, he thanked a rival studio. Classy. And he's apologizing for leaving someone off the credits. Also classy. He even thanked people who didn't help him make the film!
Update 11:23 pm:
Chud: "jesus, Danny's head... i think the Predator has a new trophy to get" Hehehehe. Nice.
Update 11:26 pm:
Wait, there's only three remaining awards right? This show is somewhat on schedule. Oh, best actress montage (#8, I think). Why isn't Meryl Streep up there? Oh, right, she was nominated. Like
every year
. I think Anne Hathaway is going to cry, even though she's not going to win.
Update 11:28 pm:
Hmmm, Kate Winslet looks like she'll cry too. Wow, look at Angelina Jolie's ring. She's going to vaporise the winner with a laser beam eminating from that ring. Oscar goes to Kate Winslet, and I'm 13 for 15. Winslet is hyperventilating. She might very well pass out. She sounds like she just finished running a marathon. A decent speech though, and I'm happy she's finally gotten an Oscar. I suppose I should actually watch that movie.
Update 11:41 pm:
No Roberto Benigni in the actor montage? Did I miss him? And this is one of the only awards I think is still a bit of a mystery. Hehe, De Niro is great. The Oscar goes to... Bruce Campbell for
Evil Dead II
! Or not. Of course, of course Mickey Rourke is wearing sunglasses. The real winner is Sean Penn. I guess Hollywood doesn't hate gay people afterall.
Update 11:44 pm:
Yay gay people. Yay Obama. Yay Rourke. I'm 13 for 16.
Update 11:51 pm:
Montage #9? Or is it 10? I don't remember. And best picture goes to
Slumdog Millionaire
. Not a surprise and not entirely undeserved (at least, among the other nominees, it's definitely not). By the way, I'm obligated to mention that
The Dark Knight
should have at least been nominated here. What the hell.
Update 11:55 pm:
And a montage to end the show? We ended up just a bit below my over/under of 12. Overall, this show was not great. Probably one of the worst. But I'm biased against song and dance numbers, so take that with a grain of salt, I guess. I can't wait to see
Pulic Enemies
. 2009 is looking like a pretty good year for movies. At least, better than 2008, which isn't exactly saying much. So I ended up 14 for 17, which is around 82%, my highest percentage evar. Yay me.
Update 12:00 am:
Why is it that whenever Captain Mal Reynolds shows up in another show, I want to watche it, even if I know it will stink? Anwyay, have a good night folks, I'm packing it in. It's been real.

Saturday, February 21, 2009
Mad Detective
When I posted my
top 10 movies of 2008
last week, I noted that it wasn't a particularly great year for movies and that I had a really hard time compiling the list. I also noted that some of my "Should Have Seen" movies had the potential to unseat my number 10 movie. Indeed, I even mentioned one I had ordered already:
Mad Detective
. It was delivered earlier than expected and I watched it last night. I'm now in the awkward position of having to amend my top 10 list. This is something I didn't want to do, which is why I waited so long to post my list in the first place, but what's a guy to do? So I'm updating my top 10.
At first glance,
Mad Detective
seems like your typical police procedural with a Hong Kong twist. But it quickly becomes apparent that there is more going on here, even among typical Hong Kong cinema conventions. The story follows Bun. Once a master profiler who consistently solved impossible mysteries by reenacting the crime from both the perpetrator and the victim's perspective, he has since become something of a nutcase. He's kicked off the police force when he cuts off his ear and presents it to his police commissioner as a retirement present. It seems Bun's talents have taken a toll on his sanity. Five years later, a young cop named Ho enlists the retired Bun's help in solving a series of murders committed with a police gun. As the film proceeds, you learn more about his talents and his madness.
Bun claims that he can see people's "inner personalities." Directors Johnny To and Ka-Fai Wai do not explain Bun's powers through a lot of exposition, relying instead on subjective shots from Bun's point of view. They effortlessly mix these subjective shots with objective shots from the young detective Ho's point of view. So when Ho sees a man walking down the street, Bun sees seven people (one for each personality within the man) walking down the street. Once this dynamic is established, things proceed at a fast pace, alternating between objective and subjective views of the investigation. Bun's madness isn't explored deeply, but you can figure it out from the visual cues. For instance, there is an interesting dynamic between Bun and his wife that is explored but not explained except through visual means.
This may sound like an annoying gimmick and I'm not usually a fan of movies that play confusion for depth, but I have to say it worked really well here. Perhaps it was the pace of the film or the central mystery, but there is a certain giddy wackiness that strangly grounds the film. The directors are clearly enjoying themselves, and the film ends up being quite entertaining. The film employs all manner of wide angle shots and as you might expect, some excellent editing (which is necessary given the nature of the story being told). There were times when I wasn't sure what was going on, but I was just along for the ride and trusted that To and Wai would end things right.
The climactic confrontation is among the best set pieces I've seen all year. It takes place in a warehouse filled with mirrors, allowing the directors to show the inner personalities in reflections. Johnny To is a master of such set pieces and shootouts, and the final standoff is superbly executed and the films closing shots are haunting (I don't want to spoil the ending, but it's chilling and thought provoking).
The film was released on
Eureka's Masters of Cinema
Blu-Ray series (Eureka is supposedly the UK's answer to the
Criterion Collection
). The picture is fantastic, but the extras are somewhat lacking. Still, you do get an excellent French Q&A session with Johnny To, and he answers questions about several films from his prolific career. You get some interesting info out of this, like the fact that Kaedrin favorite
The Mission
was shot in just 18 days and was largely improvised (
The Mission
was on my
top 10 for 2000
). Johnny To has become one of my favorite directors and he's clearly the best director working in Hong Kong today. Nowhere was this more evident than in the recent film
Triangle
, in which To shared directing duties with Hong Kong legends Tsui Hark and Ringo Lam. I saw Triangle during the
2008 Philly Film Festival
. To's segment at the end of the film is great and completely blows away Hark and Lam's segments... In this movie he's working with frequent collaborator Ka-Fai Wai, who I'm much less familiar with, but who seems to mix well with To.
It's certainly not for everyone, but it hit all the right notes for me and it definitely belongs on my
Top 10 of 2008
. Unfortunately, it's not available on Netflix yet, though it is listed and should be coming at some point. If you get a chance to see it and if the ludicrousness of the premise doesn't bother you, it's well worth a watch. ***1/2

Wednesday, February 18, 2009
Link Dump & Notes
Hooray for link dumps. Everyone likes link dumps! Right? RIGHT?
That's all for now, see you on Sunday!

Sunday, February 15, 2009
Best Films of 2008
I saw somewhere on the order of
70 movies
that were released in 2008. Most critics see more than that, but your average moviegoer probably sees far less than that. I have to say, I've been really disappointed with 2008. It's been a rough year for movies and I had a really hard time cobbling together a top 10 (Hence the extreme lateness of this post). The 6-10 of my list is somewhat weak and probably wouldn't have made the list in either
2006
or
2007
. On the other hand, the films near the top of the list are great, and would compete with the films of the last two years.
Of course, making a top 10 list is an inherently subjective exercise. I've noted before that these lists tend to tell you more about those who are compiling the list rather than the movies on the list. The hosts of the Filmcouch podcast were recently talking about how these sorts of lists are an autobiographical exercise and invited listeners to send in their top 5 lists, at which point they would psychoanalyze the list and try to come up with a picture of who the list's owner was. I submitted my list, and
they tried to figure me out by the movies I listed
. Before I go through their results, I should probably let you see my full list, so here goes:
Top 10 Movies of 2008
* In roughly reverse order
So how did the
Filmcouch hosts do in psychoanalyzing
me? For the record, the top 5 I sent them was a little different - I had
The Bank Job
where
Forgetting Sarah Marshall
is in the above list. Anyway, their first observation was that I was a relatively young male, which is certainly true. The next thing they noticed was that all of these movies are about people who are operating under the radar (i.e. counterfeiters, bank robbers, vigilantes, vampires, etc...), so they think I'm drawn to people who operate outside the system (or smarter than the system). This may be partially true (see next paragraph for more). They also noticed that most of the movies touch on the idea that sometimes you have to do a bad thing to make things right (i.e. two wrongs make a right), and in some cases, sympathy for people doing bad things (but a recognition that such sympathy is strange). Because of that, they see me as someone who likes shades of gray. Again, this is probably partially true (more below).
I found their comments interesting, and it did make me wonder about why I really did choose the movies that I did. I think there is some truth in what they say, but I wouldn't say that I am the person they describe. There are some things that I'm fascinated by that aren't things I'd actually do. For instance, I've written before about vigilantes, and despite what the hosts of Filmcouch may think, I'm not a vigilante, and don't really have a desire to do so. What
fascinates me about vigilante stories, though, is consequences
. This is something that
The Dark Knight
did in spades, and it also features prominently in a lot of the other movies on the list. I wouldn't say that I particularly like the idea of "two wrongs make a right" but I am fascinated by situations in which the only possible alternatives are wrong. What do you do when no available option is right? How do you counter someone like the Joker? What are the consequences of time travel? What happens if you become a vampire when you're 12 years old? Do you help the Nazis destabilize the Allied economy, or do you protect your fellow concentration camp prisoners? I'm also the type of person who thinks the devil is in the details, and so I like movies that show that sort of thing. Again,
Batman
is a good example of this sort of thing. Everyone agrees that fighting crime is an honorable thing, but when you get down to the details of such an endeavor, things become a lot more complicated. Sure, Batman could spend all his time taking down the criminals on the streets - but then he's not getting at the root of the problem. But taking on the root of the problem has consequences. And so on. So I supposed their "shades of gray" thing might be somewhat accurate as well. But the point remains, while I may be fascinated by vigilantes in film, that doesn't mean that I want to be a vigilante, nor does it mean that I would tolerate a vigilante in my community. Something similar could be probably be said for other people prominently featured in my list (i.e. vampires, bank robbers, etc...) I'm fascinated by them, but it's not like I want to be them. Perhaps there's a cathartic value in these movies as well. They mentioned that I might be someone who likes to operate outside the system, but in fact, I do no such thing in my life. I'm pretty firmly ensconced within the system. But I suspect that makes people who operate outside the system fascinating... So anyway, that's what Filmcouch thinks. Not a bad job, but perhaps you can't truly read someone's soul through a list of 5 movies:p
Honorable Mention
* In alphabetical order
Bottom 5 Movies of the Year
Perhaps as evidence of how bad a year this is, I am listing out my 5 least favorite movies. Typically, I'd have a tough time with this list, because I generally try to avoid bad movies and am usually somewhat successful in that. This year, I was not.
Should Have Seen
There are a couple of these that might even have potential for unseating my number 10 movie, but I couldn't get to them for whatever reason (usually that it wasn't playing near me or otherwise available). For instance, I ordered
Mad Detective
(co-directed by Kaedrin favorite Johnny To) on blu-ray on January 21, but according to Amazon, the delivery estimate is sometime in early March!?
Well, that just about covers it for 2008. The only thing that remains is the annual liveblogging of the Oscars (which are next Sunday? Yikes, time flies!) Anyway, here's to hoping that 2009 is a better year!
Update 2.21.09:
Well that didn't take long. I saw
Mad Detective
last night and decided that it needed to be on the top 10. This knocks
Spiral
off the list and into the Honorable Mentions. Also worth noting are the
comments
to this post where I have an interesting discussion Adam from Filmcouch. And finally, the Filmcouch podcast mentioned my comments on
this week's podcast
as well. Thanks guys!

Wednesday, February 11, 2009
Console Wars: Available Video Games
I've been making my way through
Malstrom's Articles
lately (thanks to
Shamus for pointing them out
) and have found them to be perceptive and fascinating reading. Sean Malstrom wanted to learn about how companies succeed. In order to do so, he chose to examine a company that was "exploding in wealth." Having missed the iPod explosion, he chose to examine Nintendo. In doing so, he has made several interesting observations about their business strategy. In particular, he has identified the two major driving forces behind Nintendo's actions:
Blue Ocean Strategy
and
Disruption
. This is not something you read about in typical media accounts of the console wars, but ironically, Malstrom was able to discern Nintendo's strategy by simply listening to Nintendo executives talk about their plans. In any case, Malstrom's articles are long and detailed and his points are well made. In
Drowning in the Blue Ocean
, Malstrom speculates about what defines console generations and comes to the conclusion that the software (i.e. games) is more important than the hardware (i.e. consoles).
The real reason why the Playstation 1 and 2 succeeded was because Sony corrected (to a point) the licensing issues of Sega and Nintendo but more due to the fact that Sony flooded their console with software. The number of software available for the original Playstation was beyond any other system ever. It was this vast library that shot the Playstation up.
Way back when the original NES hit the market, Nintendo imposed certain licensing limitations and content standards (i.e. censorship). They were the only game in town, and their limitations were imposed for a reason. However, competition appeared in the form of Sega (specifically, the Genesis), who competed along similar lines. Meanwhile, Sony sat along the sidelines (briefly flirting with Nintendo in a failed attempt to bring their CD technology to the SNES), observing that first console war, until they released the first Playstation (based on the same technology they were going to provide to Nintendo). Their licensing was more leniant than Nintendo or Sega, so the available games skyrocketed. This continued into the PS2, which wins the available game count by a massive margin. The idea is that the more games a console has available, the more popular that console becomes. Of course, it's more complicated than that. The quality and variety of gaming experiences is also important and plays into this. However, looking at the number of available games tends to be a good approximation, perhaps because developers are seeking to make money, so they will favor the more popular systems. This positive feedback loop only serves to reinforce the winner. There are many other factors that help determine the value proposition for a given console, but I became interested in the available games (or size of library, as Malstrom calls it) metric because it seems to follow from the other factors (i.e. a cheap system with cheap development costs can lead to more games).
So if the number of games available is a reasonable proxy for which system is winning a console war, how do the current consoles stack up?
Despite the fancy chart, I have to admit that there are several caveats. But the data is also interesting in many ways, as it mostly correllates with my expectations (confirmation bias? Perhaps...).
The data all comes from Wikipedia, particularly the pages that list games for the Wii, Xbox 360 and PS3. I compiled all the data in a Google Spreadsheet here, if you want to take a look. Given that my main source admits that the lists of games are incomplete (and indeed, "may never be able to satisfy certain standards for completeness"), you should probably take it with a grain of salt. If anyone knows of a more rigorous dataset that is available, I'd be interested to get my hands on it.
Given the rather high number of games on each list (even the PS3, which has the fewest games), I haven't examined the lists very closely. This means that there is no indication of the quality or variety of available games. This is an important factor, because quantity alone is not everything. That said, I don't know if it's reasonable to assume that the number of games available is an indicator that the market has chosen a winner and is thus allocating resources accordingly...
The game lists include games that are scheduled to be released in 2009. I don't know how comprehensive that is, but I'm assuming that the margin of error is similar for all three consoles (again, considering that the source is Wikipedia, this might night be a wise assumption).
It's also worth noting that the number of games available does not tell us anything about the number of games actually sold for each system. It would hardly matter if Wii had command of the numbero of games offered if PS3 games had outsold Wii games by a factor of 10 to 1. Of course, that does not appear to be the case and I'd be really surprised if the PS3 even began to approach the Wii in terms of games sold (let alone surpass them) - the point is that I don't have any data about this. Again, if anyone has a set of data for this, I'd be interested.
I've compared the number of games along several vectors, but my main focus was on titles available in the U.S. Interestingly, while the Wii is far and away the winner among all categories, their percentage of games that are unavailable in the US (over 20% of Wii games listed are not available in the US) is much higher than either the PS3 or Xbox (which are more like 7-8%).
I was curious about excusivity, so I included some stats about that as well. The Xbox and PS3 were much closer than I thought they'd be, especially considering the Xbox's head start. I didn't have a number for the Wii though because the Wii's unique controller scheme presumably means that nearly every available Wii game is exclusive. I suppose there are some exceptions, such as the Guitar Hero and Rock Band games, which have the same interaction as the other consoles. There are other mitigating factors as well. The aforementioned Guitar Hero and Rock Band games have a wealth of downloadable bonus content on PS3 and Xbox, while the Wii does not have this yet (apparently it's coming soon though). Also, while many games that are ported to the Wii take advantage of the unique controller system, they are also often missing content that is in other consoles. For instance, a game like Madden 2008 features some nifty Wiimote controls (I can throw a better touch pass than McNabb!), but it doesn't feature some of the deeper general mangement or franchise features (not positive how drastic the difference is though). Similarly, the downgraded graphics and level design for games ported to the Wii turns away some people (The Force Unleashed is apparently an example of this). This makes it difficult to say - does it count if the Wii is exclusively worse than the other consoles? Even that is a subjective measure, though, so I just left the number off (plus the wikipedia list I used doesn't have a column for exclusivity, while the Xbox and PS3 lists do). In the end, I'd say the number of completely exclusive Wii titles probably still far outweighs the other two consoles.
I also included some data regarding downloadable content for each console. Again, the Wii is the clear winner. The amount of games offered by Wii's Virtual Console (which feature many old but classic NES, SNES, Genesis, etc... games) and Wiiware are higher than the XBox Live Arcade and Playstation Network offerings combined. When combined with the Wii's advantage in regular games, you can see that the Wii has a commanding lead over the rest of the market. I'm not sure which metric is the best to use to compare the systems though...
While there does appear to be a correllation between console sales and the amount of video games available for each system, it's debateable how much of a factor it plays in the competition. If you look at the percentages in the data, you can see that in raw numbers for amount of games available, the Xbox 360 is offering about 74% as much as the Wii is offering (PS3 is at 52%). In terms of consoles, the Xbox has only sold about 62% as much as the Wii (PS3 is at 47%). If number of games was truly an indicator of the success of a given system, I would expect those numbers to have a closer correllation (though the PS3 numbers are pretty close). Perhaps the difference is due to the quality or variety of games, or perhaps the Wii has so thoroughly won this generation that it has pulled away in terms of console sales, no matter how many Xbox games are added (winning consoles have the benefit of positive feedback loops, etc...).
If the Playstation and PS2 were so great about making sure they had a huge library of games, what the heck is going on with the PS3? There are a couple of potential answers. First, in comparison to the Xbox, PS3 isn't that bad, especially when you consider that the Xbox had about a 1 year head start. Second, in comparison to the Wii, it's obvious that the PS3's advanced technology is getting in the way. Nintendo has actually said that their plan is to flood the market with games (I think they learned this from the PS and PS2 consoles). Wii games are standard definition, run on relatively old and established hardware, and are apparently much easier to develop than PS3 games, which are in HD and run on brand new, cutting edge hardware that no one understands yet. PS3 games take much longer to produce and are also much more expensive, which could explain why the Wii has so many more games. For that matter, the Xbox suffers from similar advanced technology problems. Furthermore, because the Wii's games take less time and effort, they are also more profitable. This is something that will also lend positive reinforcement to the Wii's already hefty lead...
Ultimately, I don't think I have enough data to say for sure whether or not there is a really firm correllation between number of games available and the success of a given system. There does seem to be some evidence of this, but correlation does not imply causation and I think better data sets are needed. Funnily enough, Malstrom has some
graphs in his article which have a value breakdown accross a number of features
. He doesn't list where he got his data though, and it's clear that he's simply attempting to make a broader point about how Nintendo is focusing on areas that the PS3 and Xbox are not (if you look at the various plots, Nintendo is almost the inverse of the PS3 and Xbox).
Nintendo is the clear winner in terms of sales right now, and it appears that the amount of games available correllates with that. I'm really curious to see how Nintendo leverages their position to attract gamers away from the Xbox and PS3, or if that's even possible. As I mentioned in my recent
overview of the consoles
, I'm not sure how well they'll be able to make that transition. So far, they've experienced great success just by making gaming different and interesting again. Since "fighting disinterest" seems to be their goal, I'm interested to see how they'll apply it to more advanced games and concepts (I'm no expert and haven't played that many Wii games, but so far, I don't think they've managed to transcend their original goal - Malstrom seems to think they will, but I am not so sure).
Update:
According to
this page
, there are just over 200 exclusive Wii titles. This is approximately twice what the PS3 or Xbox offer... Also, added another bullet about the challenges of developing new PS3 games versus Wii games...

Sunday, February 08, 2009
Assassin's Creed
As I've mentioned
recently
, I've spent most of my free time these past few weeks playing PS3 games. The first game I got for the PS3 was
Assassin's Creed
. It's on the PS3's "Greatest Hits" budget line, so it was a relatively cheap purchase, and it wound up being a great introduction to the PS3. It seems that the reviews for this game are generally mixed. Some people hate it and some people like it. They all mention pretty much the same complaints, so I guess it's just a matter of how much they grate on you. As I've mentioned
previously
, I think
Yahtzee's review perfectly summarizes the game
. In fact, I'm not sure why I've pointed this out, as his review is probably a lot more entertaining than anything I'm about to say, but onwards and upwards. Maybe I'll say something worthwhile, but if you just want the 5 minute version, watch Yahtzee's video.
Again, I should point out that I'm something of a casual gamer and am usually behind the curve of these sorts of games. The last game I played that could be reasonably compared to
Assassin's Creed
is probably
No More Heroes
, a game for the Wii I didn't particularly love (but didn't hate either). Interestingly, there are a number of parallels between those two games, but Assassin's Creed is by far the superior game. Here are some thoughts on various aspects of the game:
Story: The game starts in a near future scenario, with some random bartender being kidnapped by a huge corporation. It turns out that the bartender is the descendant of a Third-Crusade-era assassin, and the corporation wands to force the bartender to relive his ancestor's memories, which are stored in his DNA. So for the majority of the game, your character is strapped into a machine called the Animus, which is a quasi-VR machine that lets him live out his ancestor's memories. Most of the gameplay is centered around the ancestor, a cocky assassin by the name of Altaïr, who is ordered to assassinate a bunch of people in order to counter the assassin organization's enemies, the Templars. There are these stones called "Pieces of Eden" that apparently hold a lot of power. The Templars want them to help in the Crusade (or something like that) and the Assassins have their own plans. Back in the future, the corporation I mentioned earlier is hoping that the memories they're uncovering will lead them to a "Piece of Eden." The story is actually pretty decent, though it ends on a question mark that will presumably be expanded upon in an upcoming sequel (and I mean that literally - it ends with this line of dialogue "What does it mean?"). There are some "twists" in the story that are somewhat obvious, and most of the exposition is essentially repeating various plot points, but it's a serviceable story. The framing device of having a near future person experience memories of an ancestor is interesting, but ultimately, most of the scenes you play in the future are pointless (they allow you to walk around and there are a few actions you can do, but otherwise, you're severely limited).
Gameplay: For a game about assassins, there are surprisingly few assassinations in the game. Most of your time is spent doing various information gathering tasks leading up to each assassination. The world of the game consists of several cities, and for the most part you are free to wander about and do whatever you want (like climbing atop one of the many spires in a given city, then jumping off... and then repeating that about 10 times because it's so cool). It's not exactly an open-ended sandbox game like the Grand Theft Auto series, but it does work really well. I'll go into more detail in the following sections, but for the most part, the gameplay is a lot of fun. Even just faffing about in the city, jumping from rooftop to rooftop, climbing preposterously high towers and jumping off them, etc... is a lot of fun. The only real complaint is that the game gets rather repetitive. For each assassination, you face pretty much the same exact set of challenges. There are about 9 assassinations (not counting the various "informant" missions along the way), and by the time you get to the third one, you start wondering if anything new will appear. The ending of the game does alleviate this a bit, but for the most part, you're repeating the same tasks over and over again. This didn't bother me all that much. Perhaps it was because this was the first game I played in a while that really pulled me in, and the gameplay itself is fun enough that the repetition didn't get too annoying.
Combat: This is actually a weak point in the game. It's not the worst ever, and it gets the job done, but it could use some serious improvement. At the start of the game, you only have a sword and you only really know one technique for attacking enemies (a somewhat awkward button mashing combo), but as you complete missions, your superior grants you new weapons and abilities. The problem is that after I learned the first couple of skills (the combo, the counter attack, etc...) I pretty much stopped paying attention, because those first couple of sills were getting the job done for me. For instance, I don't think I ever used the throwing knives. This seems to be a relatively common thing with this game. There are lots of subtle maneuvers that you can do if you want, but you don't need to do so to win the game (for instance, to get more throwing knives, you can pickpocket various citizens during the game - something I never did once because I never used the throwing knives in the first place). There is also apparently a combo move you can do with your hidden blade that becomes very important during the last two sections of the game, but which I was never able to get the hang of... The one thing I will say about the combat is that when you do actually get a combo move or counter shot, the resulting animation is actually pretty satisfying. So it can be fun, and I suppose with more practice, I could perhaps have had more fun with the combat system, but I do believe it could use an overhaul in the sequel.
Missions and Tasks: As previously mentioned, before each assassination, you need to perform a series of information gathering tasks. There are essentially four different types of tasks: eavesdropping, pickpocketing, interrogations, and informants. Eavesdropping is the easiest, and thus it appears early in the game and then disappears later on. Pickpocketing is reasonably interesting. I was never sure if I was doing the interrogations in the best way (I gather you're supposed to wait for the subject to be alone, then beat him for the info), but I suppose I did a good enough job with it. The informant tasks can be the most fun, but also the most frustrating. Basically, an informant is another assassin that's in the city who is failing miserably at their own tasks. If you help them out, they'll give you info. This always amounts to sorta mini-assassination missions. These can be really fun, but a couple of them get really frustrating because there's a time limit and some of the guards get extra suspicious after a few failed attempts. It would have been nice if there was more variety to these missions. There's nothing particularly wrong with them, but they do get rather repetitive. The assassinations themselves are pretty fun, though I found myself basically relying on a brute force strategy of just killing everyone in my way, rather than relying on stealth. I'm not sure if this was the intention or not, but I didn't see anything like the Hitman series of games where you can do all manner of things to make the kill seem like an accident, etc... Of course, the Hitman games are mildly frustrating becaues how the heck are you supposed to know that if you ask the bartender for some aphrodisiac, then spike your target's drink, he'll take a girl to his bedroom, then walk out to the balcony where you will be waiting to push him off? But once you know the tricks, it can be a lot of fun devising other ways around the issue. There don't seem to be a lot of tricks or alternate methodologies in Assassin's Creed, thus the replay value isn't really there for me...
Stealth: Quite frankly, there's not much of it. They've pretty much relegated stealth to a button you can hold down if you don't want to attract attention (and there are times when alert guards around around, so this is necessary). One of the things that the Hitman games did really well was to make it seem like everyone is watching you. As you walk past, some people will follow you with their heads, others will scratch their chin as if recognizing that something is awry. The first time I played those games, these behaviors really did get to me and would contribute significantly to the tension of a given level (in a good way too). None of that subtlety is in Assassin's Creed, and consequently, neither is a lot of that tension. That said, it can be kinda neat when you do get caught and you have to find a way to lose your pursuers (which amounts to hiding in stacks of hay or rooftop, uh, hiding place thingies). Later in the game, perhaps because of the repetition, this starts to get rather annoying. As previously mentioned, there are some times during the assassination attempts where you need to use stealth to approach the target, but for the most part, once you get to the target, you have to take the brute force approach.
Visuals and Audio: This is quite possibly the prettiest game I've ever played. The environment and visuals are breathtaking, and this is the game I whip out when I want to show someone how cool an HD game can be (climbing to the top of a spire and doing a leap of faith is a lot of fun, and visually impressive too). The audio is pretty good too - not very showy, but effective and not annoying (which is generally what you ask for in a soundtrack).
Usability: The menus and options on the PC version are infamously difficult to use (check out this video of someone trying to quit the game - amazingly poor usability), but the PS3 is rather better. One other annoyance is the lack of PS3 trophies. I understand that the game was developed before they existed, but it's obvious that the game was designed with XBox achievements in mind, so it should be relatively trivial to port them to PS3 trophies, right? Well, probably not, and I'm sure they won't ever do it because spending more time and money on a game that's been out for a year already is probably not a profitable decision, but still. There are all these things in the game that are obviously meant for such a system, and I even spent some time picking up all the flags in one of the cities (only 20 flags), but it's meaningless and there's no real reason to pursue such things. Of course, PS3 Trophies are pretty meaningless in themselves and I'm surprised at how much I like getting a trophy, but that's another discussion entirely. Otherwise, the game does a reasonable job with this sort of thing. The only real complaints are the ones already mentioned - repetitive gameplay, poor combat system and repetitive gameplay.
Overall, it's a good, solid game, and it made a good first experience on the PS3 for me. It's gorgeous, entertaining, and fun. The game takes about 10-15 hours, depending on how much faffing about you want to do during the course of the game. I don't see a ton of replay value here, unless you have the XBox version and want to get some more achievements.
In comparison to other similar games, I'd say it's better than
No More Heroes
, but perhaps not as good as
Hitman: Blood Money
. They've all got similar structures - an assassin takes on various jobs.
No More Heroes
is even more repetitive than
Assassin's Creed
, and its lame attempt at a sandbox and its stupid pre-assassination missions are much worse than anything in
Creed
. The only thing worthwhile was the boss fights, which were on par with
Creed
. On the other hand,
Hitman
had a much more varied list of missions with all sorts of alternative methods for completing a level and a good amount of tension generated in the process. The variations actually make it tough the first time through - I have no idea how people figure out some of these things - but replaying levels a few times can still be fun.
Assassin's Creed
still stacks up favorably and I liked it a lot, but it's not a classic. I look forward to the sequel though, and if they can improve on some of these issues, it could be a great game.

Wednesday, February 04, 2009
Nerdy
I've always considered myself something of a nerd, even back when being nerdy wasn't cool. Nowadays, everyone thinks they're a nerd.
MGK recently noticed this
:
Recently, I was surfing the net looking for lols, and came across a personal ad on Craigslist. The ad was not in and of itself hilarious, but one thing struck me. The writer described herself as "nerdy," and as an example of her nerdiness, explained that she loved to watch Desperate Housewives.

My god, people, have we allowed "nerdy" to be defined down so greatly that watching Desperate Housewives - a top 20 Neilsen primetime soap opera with no actual nerd content per se - qualifies as "nerdy" now? That is just wrong. The nerdular act cannot be allowed to be so mainstream.
To address this situation, he has devised "a handy guide for people to define their own nerdiness, based on a number of nerdistic passions." I'm a little surprised at how poorly I did in some of these categories.
Batman - Not Nerdy. When I think about it, it's not that surprising. After all, I have never read any of the comic books, not even Year One or The Dark Knight Returns, which MGK specifically calls out later in his creteria as not being particularly nerdy. That said, I wonder how watching The Dark Knight 5 times (three times in the theater) in less than a year qualifies.
Star Wars - Slightly Nerdy. Now this one is surprising. Sure, according to this guide, I'm nerdier about Star Wars than I am about Batman, but only a little. I suppose if he had loosened the criteria or chose a different random fact for the "nerdy" level, I could easily have reached that level, for I have had some experience with the "expanded universe" Star Wars novels. One other gripe is that no self-respecting nerd would defend the idea of Jar Jar Binks!
Harry Potter - Somwhere between Not Nerdy and Slightly Nerdy. I didn't particularly love Harry Potter and the Order of the Phoenix, and my dislike may disqualify me from the Slightly Nerdy level. On the other hand, I didn't particularly hate the novel either, and I had no problem blowing through it rather quickly.
Magic: The Gathering - Slightly Nerdy. I have to say that I didn't play this game that much, but I really did enjoy it when I did. But it got way too complicated later on, and some people took it wayyy to seriously.
H.P. Lovecraft - Dangerously Nerdy. Finally! Though I have to admit that I don't qualify for three of the lesser levels... However, I have read several of his stories, which is apparently dangerously nerdy.
Nerd Television - Dangerously Nerdy. Totally. The two shows I haven't watched much of are the lowest ranked ones. I've seen a significant portion of the other ones, including The Adventures of Brisco County Jr. (at this point, even recognizing what Brisco County Jr. is, is probably nerdworthy).
Star Trek - I think I might be Fairly Nerdy here, otherwise I'm Not Nerdy. It's just that I don't actually remember which one Picard rode the dune buggy in. That probably disqualifies me. I do love TNG though. Could never get into any of the other spinoffs.
Computer Use - Nerdy. Potentially Really Nerdy, but there are definitely a couple of coding jokes in XKCD that I haven't gotten (but I get a pretty good portion of them).
Again, I am a bit surprised at how non-nerdy I am. I mean, aside from a couple of dangerously nerdy subjects, I'm not very nerdy at all. How did you do?

Sunday, February 01, 2009
Consoles
This blog has always covered a mixture of topics that interest me, but in the past year it's definitely become somewhat dominated by movies, with the occassional
Anime
post, culture/technology post or
link dump
thrown in for good measure. I spend a significant amount of time watching movies and indeed even reading or listening about them. So when you consider my tendency to
arrange interests in parallel
, it makes sense that I'd spend most of my blogging capital on movies. But with my recent purchase of a PS3, the whole enterprise has been upended. Most of my free time since its arrival has been spent playing games or watching Blu-Rays. As such, you can expect to see more video game related posts in the coming weeks and months. I might even get around to doing another round or two of my Video Game Retrospective that I pretty much abandoned about a year and a half ago (So far, I've only covered the
Atari 2600
and
Commodore 64
eras, so I'm still a few decades behind here). But today, I'm going to talk about the current generation of video game consoles.
Before I start, I should mention that I'm not what's referred to as a "hardcore" gamer these days. In the past, I've described myself as something of a "casual" gamer, but my experience with the PS3 has shown me that I'm probably somewhere inbetween those two poles of what is actually the false dichotomy of gaming (that I will nevertheless continue to use). My perspective on gaming really comes down to time, in that I don't like to waste any of it. It's valuable to me. On the other hand, I don't consider being entertained to be a waste of time. If a game really grabs hold of me (i.e. it's entertaining or at least compelling in some way), I don't mind spending a lot of time playing video games, even ones that don't seem to have any real "benefit."
A lot of complex games lose me because they start off and nothing meaningful happens. Perhaps I die a lot. Perhaps the story sucks (and there's no shortage of that). Games that have really steep learning curves puzzle me. In general, the way this type of game goes is that it kills me for about an hour straight, and I think "This is stupid, why am I playing this stupid game?" and then go off and do something interesting with my time. Good games usually give you some sort of introduction, building confidence and button-mashing muscle memory before thrusting you into the really advanced gameplay. This isn't to say that there isn't a place for games with steep learning curves, just that I think such games have to earn their bullshit. If you want me to spend hours upon hours learning combo movies so that I can defeat such and such boss, that's fine, but you have to make the learning process worthwhile too. And learning should bring some sort of tangible reward (and I'm not talking about unlockables here either). One other thing that bothers me is a lack of clarity, especially when I know I'm being railroaded, but I'm not really sure where to go (I'm looking at you,
Metroid Prime III
). Now, these complaints and others used to make me think that I was a casual gamer, but since picking up the PS3 and playing a few supposedly non-casual games, I'm not sure what to make of it.
Apparently, we're in the 7th generation of consoles (drastically simplifying with the main consoles of each generation: the first being Pong and its ilk, the second being Atari 2600, the third being the NES, the fourth being the Genesis/SNES, the fifth being N64/Playstation, and the sixth being the PS2). In this generation, three main consoles have emerged. I own two of them and have played the third enough to comment on it. Let's start with the most interesting system:
Nintendo Wii: Not content with competing along the same graphics/power trajectory of its main competitores, Nintendo went off in a wholly different direction. They did some minor upgrades to their previous generation console and then completely changed their entire controller scheme, focusing on creating new and interesting interactions rather than cutting edge graphics and technology. Instead of the typical button-laden video game controller, Nintendo created a remote-control-like device with motion-sensing abilities and relatively few buttons. At first, this seemed rather silly, and Nintendo really was taking a lot of chances with their strategy here. It wasn't uncommon for Nintendo executives to say things like "We really don't know how well the Wii will sell, but we think the market is ready for a change." I'm paraphrasing here, but it turns out that Nintendo has really been focusing on a few key business strategies called The Blue Ocean and Disruption. In short, their goal was to undershoot the market, pick up some non-traditional casual gamers, and build on that base to achieve dominance in the "hardcore" market. Will this gambit work? The Wii certainly does seem to be the winner of this generation, outselling its competitors by a significant margin (especially when you consider that the Xbox 360 came out a year earlier). Furthermore, their reliance on established technology and their focus on innovative interactions seems to be a lot cheaper than their competitors, leading to a much higher profit margin for Nintendo. It certainly seems like their strategic maneuverings have paid off.

From my perspective, the real question is whether or not Nintendo can really sustain what it has built. As near as I can tell, their strategy is to corner the casual market, then move up the ladder to more complex games and interactions in an effort to pry the hardcore gamers away from the competition whilst retaining and perhaps growing their casual base. The only problem here is that I don't see how they're going to do that. So far, their Wiimote has done well, but in my experience, attempts to move up the ladder to more advanced games have been a bit rough. The closest they seem to have come to this is Super Mario Galaxy, which, while a very good game, also suffers from many of the things that more advanced gamers demand. Other attempts at this sort of thing have been an abject failure (at least to a gamer like me - and I'm again looking at you Metroid Prime III, as well as games like Zelda and No More Heroes, which were perhaps not total failures, but not great either.) I think part of the issue is the Wiimote itself. Don't get me wrong, I like the Wiimote, but a lot of what is done with the Wiimote seems gimmicky and sometimes unneccessary. Take Super Mario Galaxy as an example - there's nothing in that game that really pushes the boundries of the Wiimote or controller schemes in general. It would have been just as good with a traditional controller system. In his console rundown, Yahtzee makes a good point about this (emphasis mine):

Nintendo is the oldest contestant still in the console race and it seems they've gotten bored with the usual brick-with-button-pads-attached-with-string model and is trying to mix things up with a fancy motion-sensitive system of controls, a bold effort perhaps to do away with the grind of random button mashing, but in practice it's only really replacing it with random stick waggling.

Games that really do take advantage of the stick waggling features also tend to screw up your arm too, which leads game developers back to the grind of random button mashing until some sort of quicktime event pops up indicating that you shake your controller one way or another.

In the end, I have to give the Wii credit for trying something new, and they've certainly done a decent job capturing the market they were looking for. The console is an absolute blast at parties and social gatherings... unfortunately, it's not so great at the single player experience. For instance, Wii Sports is a brilliant until you've played it alone for 10 minutes, at which point it becomes mildly boring. None of which is to say that Nintendo can't overcome the deficits of their system so far - they're certainly in a good financial place to address those issues and we're still relatively early in their run. Perhaps once they establish their base and truly attempt to expand, we'll see some really great games. But so far, I'm not so sure. It's a strange situation for me personally. I love the Wii, I love what it's trying to do, but I realized in December that I hadn't even turned it on since August, and before that it was relatively sporadic. The only game that really grabbed a hold of me during the summer was Guitar Hero III, but that had nothing to do with the Wii and indeed, I found myself frustrated when I learned that PS3 and 360 owners could download additional free songs to play. Since then, I've played some Mario Cart, which is fun, but otherwise basically the same as any other Mario Cart game (to me, it never got any better than the original for the SNES). I haven't played Wii Fit, but am only mildly interested in it anyway (at this point, I'd much rather spend my money on PS3 games/Blu-Rays). There were a few times when I decided to buy one of them when I was at a store, but of course, they weren't in stock and are generally difficult to find. Just like the Wii itself, now that I think about it (not a good way to start an experience with casual gamers who value their time). In short, it's a fun system, great at social gatherings, and it shows a lot of promise and potential. But in my mind, it still needs to deliver. Fortunately for Nintendo, I don't think they've really been trying to deliver that experience yet. Like I said, their strategy is to build a big base of casual gamers and then use that to target the more advanced gamers... and I think they're still targeting the base right now. By all measures, they're succeeding at that...
Sony Playstation 3: On the other end of the spectrum, you have the PS3: the expensive, overpowered, and cutting edge console for videophile nerds and people who can afford to take out a second mortgage on their house. After their dominance of the market with the first Playstation and then with the PS2 (Sony is the first company to "win" two successive console generations in a row), Sony simply continued to increase complexity and power along the same vectors that made it a successful brand. They've added some nice features along the way, including an included wifi adapter and free access to the PSN for multiplayer (both of which cost extra in the Xbox 360), but these are ultimately nothing new or unique. The PS3 also plays Blu-Ray discs, but for various reasons, that hasn't caught on quite as much as Sony had wanted, perhaps because of the costly HD-DVD format war, followed by general apathy regarding the difference between BR and upscaled DVD. I think that the general story with the PS3 is that they overshot their market. It's a very impressive system, but everything about it is cutting edge and expensive. Plus, to take advantage of its best features, you need to have an HD TV. For me, this wasn't that big of a deal, and HD is making inroads all over the place these days, but back in 2006, it was perhaps a bit too ambitious. The Xbox 360 also focused on HD, but Wii didn't, and I think that might be another part of the puzzle. The biggest initial issue for the PS3 was the astronomical price, which was twice as much as the Wii. Since then, prices have come down a bit, but it's still the most expensive console on the market. The only reason I finally broke down and got one was becaues of a whopping $150 credit if I got a Sony credit card, which put it on par with the Wii and the Xbox 360.

I have to say, in the short time I've had the PS3, I'm impressed with the system. It has its flaws, sure, but by my estimation, I've already played my PS3 about as much as I've played my Wii. What's more is that I actually look forward to playing on the PS3. Even good games like Super Mario Galaxy became a chore towards the end on the Wii... I've already played through 4 games on the PS3, and have had more fun with them than I have with anything on the Wii. What's more, there are about 5 other games I still want to get for the PS3, and lots of stuff is coming too. The PS3 library of games could probably use some expansion (too many shooters and not enough new and interesting games right now), but there are plenty of games to keep me busy for now. And while BR discs aren't that much better than upscaled DVD, they are pretty impressive and there really is a noticeable difference. The online experience could use some work, but being free helps in that respect. Similarly, the relatively new Trophies system needs some work (are gamertags too much to ask for?), but it serves its purpose well enough. PSN and Trophies have a long way to go before they catch up with Xbox Live and Achievements, but they're serviceable at this point.

Alas, the PS3's prospects don't look all that good. It's not going away, to be sure, but it also doesn't look like it has any chance of dominating either. Perhaps it could, but Sony seems rather hellbent on running it into the ground and I can't see them doing anything to propel this system past one of its competitors (despite having bought the system, I really don't like Sony very much - they suck). I suppose the one promising thing about the console is that it's advanced technology could mean that it will have a longer life than its competitors, but that's not much and it leads to Sony making baffling statements about how the PS3 is still for early adopters (2 years after it's release). Sony's behavior really is baffling. Consider their holiday strategy, which seemed to be to create a bundle for the PS3 that cost $100 more than their standard overpriced system. Because raising prices during rough economic times is generally a strategy for success, right? I understand that Sony is still losing money on the consoles, but their behavior is hard to defend. Still, I'm happy with my purchase and my enthusiasm doesn't seem to be fading. The general story here is that it's a great system that has to suffer through Sony's mismanagement and annoying tendencies. It shows some potential as well, though perhaps not as much as the Wii, especially given the Wii's long term strategy.
Microsoft Xbox 360: Of the three consoles covered in this post, I am the least familiar with the Xbox 360. From what I've seen, it seems to be a somewhat toned down version of the PS3 with better online community features. The Xbox was the first to market and thus it got a head start on everyone else... This didn't stop the Wii from steamrolling over the Xbox, but I do believe that's a significant part of why the PS3 still trails. By the time the PS3 came out, a portion of its target audience already had an Xbox. Some of them may have bought the PS3 anyway, but a common story is the one where people buy a PS3 and let it collect dust because the Xbox does what they need. The Xbox certainly seems to have the best library of games at present, including some pretty good exclusives. Like the PS3 library, there's not much that's really new or innovative here, but they've got plenty of solid games with traditional fun gameplay.

A couple of catches though. First, while their online system is fantastic, it's also not free. There's also that whole red ring of death thing that will periodically brick your system. Obviously, every system has issues, but the Xbox issues seem to be more persistent and common.

So what I can see here is a pretty straightforward console. It gets the job done, and that appears to be good enough for most gamers. On the other hand, it doesn't do anything truly innovative or particularly interesting (then again, I guess their online community might fit that bill), and like the PS3, they may have overshot the market (perhaps not as much as the PS3), thus making themselves vulnerable to the Wii's long term strategy.
The thing that strikes me about this generation is just how well balanced it is right now. Each console is targetting different markets, though they all overlap in some spots. The Wii is targeting casual gamers, former gamers, and non-traditional gamers, and it's great fun at social gatherings. It's also the only console to be doing something truly new and unique. The PS3 is going for a more traditional gamer audience who wants cutting edge graphics and advanced gameplay, but they're also the only console that is really going for the videophile audience. The Xbox makes a happy medium, targeting the standard gamer without pushing any real boundries. There's a place for all three of these consoles in the current market, which isn't something that was common in earlier generations. Of course, there's a lot of overlap in the indended audiences, especially between the PS3 and the Xbox. It's also worth noting that owning multiple current generation consoles (as I do) is becoming more and more common (I think that is a part of why the Wii is pulling ahead).
Each of these companies will try to gain ground at the expense of the other, and Wii's long term strategy seems like it could really cut into the Xbox and PS business, but in the near future, I see all three consoles flourishing. The Wii may win, but the Xbox and PS3 won't necessarily fail. What does the eigth generation hold in store? That might be where the Wii's dominance really asserts itself on the market, as I can't imagine that it won't be the primary influence on what the next generation will look like. It'll be a while before we know for sure, but I'm betting that Nintendo will be ideally positioned to retain the thone... but then, so was Sony during this generation, so who really knows?

« January 2009 | Main | March 2009 »