« November 2008 | Main | January 2009 »
Wednesday, December 31, 2008
Reset Button
With my purchase of a PS3, I've been looking around for good games to check out, and lucky for me,
Shamus just posted a video he made about the most innovative game of 2008
. To do so, he backs up a bit and covers a bit of video gaming history, explaining why current generation consoles like the PS3 and Xbox 360 appeal mostly to people who grew up gaming. As usual, Shamus' points are well reasoned and argued, and I generally agree with his points. Check it out:
It turns out that this was
slashdotted today
, and the comment thread for that post is worth reading too (also, the comments on Shamus' original post are pretty good).
I've watched the video a couple of times now, and I really like it. Regardless of whether you agree with Shamus or not, it's not the type of video you see very often. Recent video game documentaries like
The King of Kong
and
Chasing Ghosts: Beyond the Arcade
are great, but they tend to focus on the human aspects of video games... Shamus' video delves into actual mechanics of gameplay and examines why video games are fun or not fun. In the comments he says he has ideas for ten more videos... and I can't wait to watch them. Maybe he'll even get director status on YouTube so he doesn't have to limit his videos to ten minutes...

Sunday, December 28, 2008
The PS3 is Mine
Despite my
misgivings
and Sony's steady
campaign
against their own system, I finally broke down and bought a PS3. The clincher was a
$150 credit
if you apply for their credit card and purchase the PS3 with it (looks like this deal is available until 12/31/08). Of course, it's a credit at the Sony store and I probably won't get it for a gazillion weeks or however long it takes them to process it, but still, that credit puts it in an affordable neighborhood (pretty much the same as what I paid for the Wii). I'm immediately placing an order for
The Dark Knight on Blu-Ray
(which is a no brainer for me, despite a dearth of special features) and will need to figure out what games to get. If anyone has any advice for good PS3 games, I'm all ears. On the shortlist right now is
Fallout 3
(which is getting good reviews and has been
endorsed by someone I trust
... though I should note that I haven't played either of the first two games),
Dead Space
,
Uncharted: Drake's Fortune
,
Star Wars: The Force Unleashed
,
Resistance 2
(and/or the first
Resistance
, both of which just look fun to me), and a bunch of games I've already played a bit of and know I like (like
Call of Duty 4
,
Grand Theft Auto 4
, and one of them
Guitar Hero
or
Rock Band
incarnations). Or maybe I should hit up the bargain basement games like
MotorStorm
. Too many games, too little time.
And now, if you'll excuse me, I've got to spend the next couple of days constantly refreshing my order status at Sony... (Order Status: Processing,
Damn!
*press F5*
Damn! What the hell is taking so long!?
*press F5*
Damn!
)
Update:
Just placed an order for
The Dark Knight
,
Resistance
, and
Call of Duty 4
. Hopefully all will have arrived by next weekend, but that's probably not likely... In other news, order status is still "Processing."
Damn!

Thursday, December 25, 2008
Merry Christmas
And so we come to the last day of the
twelve days of Christmas
. I hope you had a good one! To mark the occassion, here's Eric Cartman's rendition of "O Holy Night":
Merry Christmas all! And now we return to our normally scheduled posting...

Wednesday, December 24, 2008
12DC: Day 11 - The Night Before Christmas
Today, we kick it old school with
The Night Before Christmas
, a 1905 silent film (loosely) based on the
classic poem by Clement Moore
.
Only the big day remains! See you tomorrow...

Tuesday, December 23, 2008
12DC: Day 10 - Seasons Eatings
I'm sure you've already seen this, but it's always worth watching again:
Aside from holiday balls, 'tis also the season for Pizzelles (or Italian death cookies, as my friend Dave calls them)... alas, I do not have any good pictures of my mom's famous Pizzelles. Perhaps later. Anyway, we're getting close now!

Monday, December 22, 2008
12DC: Day 9 - One of these is not like the other...
Seen while Christmas shopping: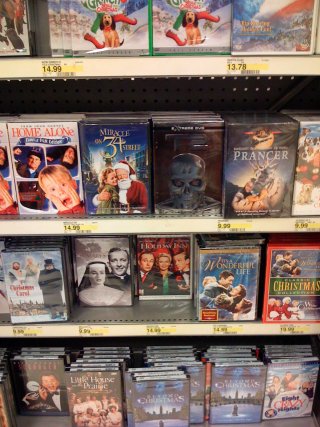 Apparently
T2
has entered the ranks of Christmas Classic. That endoskeleton skull fits right in on that shelf, doesn't it?

Sunday, December 21, 2008
12DC: Day 8 - Holiday Horror
It seems that even after the
Six Weeks of Halloween horror movie marathon
, I couldn't really stop. It doesn't help that there are plenty of Christmas themed horror films... though I must admit that I wasn't able to get to the infamous
Silent Night, Deadly Night
(very long wait on Netflix). Oh well, there's always next year. In the mean time, here's a trio of other Christmas horror films...
Gremlins: First up is a little bit of nostalgia for me. One of my favorites as a kid, this movie still works pretty well even today, though perhaps it's not as great as I remembered it. On the other hand, now that I've seen a lot more films, I started to pick up on a lot of the references in the film (and there are a ton of them). Director Joe Dante had a lot of fun with the referential nature of the film, and it shows. As Christmas films go, it is indeed a bit dark, but still a lot of fun. ***





Jack Frost: It's important to note that this film is not the heartwarming 1998 film starring Michael Keaton as a father who comes back to life as a snowman so he can visit his kids again. I imagine the fact that these two movies share a title has lead to at least a few memorable video rental store blunders. This movie is about a serial killer who crashes into some toxic waste truck during a blizzard. The toxic waste fuzes him with the snow and voila: murderous snowman! This movie is about as good as you'd expect it to be (which is to say it's bad, but a fun bad). You know you're in for a treat when our sherrif hero gets some oatmeal cookies from his daughter. The secret ingredient? Anti-freeze? If there's a more subtle technique for foreshadowing, I certainly can't think of one. The other notable aspect of this movie is that it marks the first appearance of Shannon Elizabeth, who shares an intimate moment in the shower with our abominable friend. Bad puns and ironic Christmas decorations abound. In the end, you get what you expect out of this one... in my case, I had some fun with it, but it's clearly a bad, bad movie. **
Black Christmas (1974 version): Interestingly enough, this film was directed by Bob Clark... director of the polar opposite A Christmas Story. I guess Clark had a lot to say about Christmas. In this case, things are darker and less nostalgic than his other film, but this one is no less a classic. Indeed, it deserves to be recognized as one of 3 or 4 films that created the slasher subgenre... but strangely, it's only really achieved this status in the horror aficionado world. Mainstream audiences don't seem to have heard much about this one, and it's a shame becaues it originates several of the key elements of slasher horror: the long POV shots, the creepy phone calls (and requisite police trackers who shockingly realize that the calls are coming from inside the house!), the final girl syndrome, and more. All of this was done 4 or 5 years before both Halloween (which is still a classic and deserving of all the praise heaped upon it) and When a Stranger Calls (which is perhaps not so much of a classic). Despite being aped by every 80s slasher movie, this film still retains its edge somehow, and is actually pretty effective. The film was remade in 2006, and of course, that didn't go so well (though I have to admit that I liked some of the ideas, I can't say it was executed all that well), but it did have the rather positive effect of getting more people to see the original, which is a plus in my book. It really is a great movie, and probably deserves more mainstream recognition than it gets. ***1/2





That's all for now... only a few days left!

Saturday, December 20, 2008
12DC: Day 7 - Weird Holiday Music
The 12 days of Christmas continues with a couple of strange Holiday songs for your enjoyment. First up is an animated Bob & Doug McKenzie singing
The 12 Days of Christmas
:
Next is the
Carol of the Bells
as performed by guitarist Gary Hoey:
Ok, so not that weird so far, but here's a genuinely odd one from Jonathan Coulton (with Paul & Storm) called
Chiron Beta Prime
. Just his description of the song, before he even starts singing, is worth watching...
Well that's weird enough for me. Special thanks to
Widgett
, who is one-upping me by doing
13
days of Christmas. Anyway, he's responsible for the Bob & Doug McKenzie and Jonathan Coulton songs and has a few other
demented holiday songs
too...

Friday, December 19, 2008
12DC: Day 6 - The Spirit of Christmas
During my freshman year of college, a friend called me into his room to show me this video he
downloaded from the internet
(Dude, it was 50 megabytes! That's huge!) The video featured crudely animated kids with hilarious potty mouths chearing on a fight between Jesus and Santa Claus. This was probably among the first internet video memes out there, and it's fully deserving... A few years later, the creators of this short got their own TV show, which became
South Park
. This original video still holds up though, even after all these years...
More tomorrow!

Thursday, December 18, 2008
12DC: Day 5 - It's an MST3k Christmas
There are lots of great Christmas movies, but of course, there are lots of
really bad
ones too. This is why these Mystery Science Theater 3000 episodes are so great - they make bad Christmas movies into great experiences. Without further ado, here are the full length episodes of both
Santa Claus Conquers the Martians
(with Joel Hodgson and including the infamous Patrick Swayze Christmas carol) and
Santa Claus
(with Mike Nelson).
Santa Claus Conquers the Martians:


Santa Claus:

Over 3 hours of brilliant stuff going on there... enjoy!

Wednesday, December 17, 2008
12DC: Day 4 - Eggnog
A family tradition has grown over the past few years. Every Thanksgiving, we have an Eggnog tasting. Nothing fancy or scientific (though perhaps that can be arranged next year!) and we're pretty bad about organizing this. Point of fact, this year, we only had 4 varieties to try out. Last year, however, was a different story. Again, due to poor planning, several people brought several different varieties, which lead us to have 14 different brands of eggnog.

For reference, these are the eggnogs pictured:
Turkey Hill
Southern Comfort (Traditional)
Southern Comfort (Vanilla Spice)
Organic Valley
Shop Rite
Hood (Sugar Cookie)
Hood (Pumpkin)
Hood (Gingerbread)
Hood (Cinnemon)
Axelrod
Wawa
Tuscan Dairy Farms
Soy Nog
Borden
Like I said, nothing particularly scientific or comprehensive about the process (heck, we don't even add alcohol), but a general consensus arose. First, "flavored" eggnogs (like Vanilla Spice or Pumpkin, etc...), while tasty and a nice change of pace, were generally considered to be out of the running for the prize. Second, Soy Nog was unanimously declared the worst egg nog evar. This may have had something to do with the fact that it didn't actually have egg in it, and thus isn't really eggnog, but still. And finally, the winner (not unanimous, but it scored a decisive victory), was actually Wawa brand eggnog. For those of you non-East-Coasters,
Wawa
is a popular convenience store (a la 7-Eleven, but better) and dairy farm, and their Eggnog is great.
Up until this event started, I'd never been much of a fan of eggnog. There's just something unappealing about a substance that is so scary-bad-for-you that you can only consume it for a limited period of the year. But I've grown into it and am looking forward to next year's tasting...

Tuesday, December 16, 2008
12DC: Day 3 - The Christmas Cactus
What do you use, a
tree
? Pfft!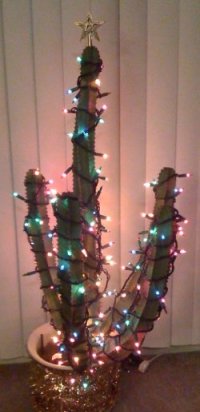 The traditional Kaedrin Christmas cactus strikes again. Also striking again, my poor photography skillz! More to come...

Monday, December 15, 2008
12DC: Day 2 - The Lost Ending of It's a Wonderful Life
A few years ago, the lost ending to the holiday classic
It's a Wonderful Life
was found. It's brilliant.
Tomorrow, we'll handle christmas trees... sorta.

Sunday, December 14, 2008
12 Days of Christmas: Day 1 - Incidental Christmas Movies
In keeping with the tradition of seasonal posts (i.e.
6 Weeks of Halloween
), today marks the first of twelve holiday themed posts (not all will be about movies, I promise!) We start off with what I'm calling Incidental Christmas Movies, meaning movies that take place during the holidays but aren't
about
the holidays.
Die Hard: "Now I have a machine gun. Ho, Ho, Ho." Okay, so that line sounds a lot better with Alan Rickman's eurotrash accent. In any case, the story takes place on Christmas Eve when a bunch of "terrorists" take over an LA highrise building, but neglect to count on NY cop John McClane. It's one of the best action movies of all time, and has spawned its own sub-genre (i.e. Die Hard on a plane, Die Hard on a boat, Die Hard on a bus, etc...) Not at all a holiday film, but there are a few songs and holiday decorations that set the mood...
Trading Places: Probably my favorite incidental holiday movie of all time, I watch this to kick off the holiday season almost every year. It takes place in the timeframe between Thanksgiving and ends just a few days after New Years, and it has some very memorable holiday related scenes. In particular, the scenes where Winthorpe dresses up like Santa and crashes the Duke & Duke party are classic. Unlike a lot of comedies, this movie seems to have something to say and it doesn't do so in a stupid fashion. It kinda resembles the classic comedies of the 30s and 40s, but with a modern sensibility. Fantastic movie...




Winthorpe Claus



Eyes Wide Shut: Stanley Kubrick's final film is perhaps not his best work, but I also think it's underrated. It takes place during the holiday season, and Kubrick takes full advantage of the high contrast lighting opportunities. I suppose the movie is something of a downer, and thus doesn't really make such a great introduction to the holiday season, but it's gorgeous to look at...




My house is decorated like this...



That's all for now, stay tuned for more tomorrow...

Wednesday, December 10, 2008
Movie Podcasts Revisited
I recently posted several
short reviews of movie podcasts
that I listen to... and since then, I've come across a few other good movie podcasts.
FilmCouch - This is Spout.com's weekly podcast, which has rather quickly become one of my favorites. Each show is about a half hour long and they typically use a new release as a starting point for a more general discussion. For instance, instead of just reviewing Quantum of Solace, they had a discussion about what makes a good spy film and how recent spy movies have tended to emphasise action over espionage. They also try to highlight obscure and overlooked films (for instance, Gabriel over the Whitehouse). This sometimes makes the podcast feel like it's more interested in indie movies than popular movies, and they do sometimes focus a little too much on film festivals (which can be interesting, but is usually kinda frustrating because us listeners don't have a way to check out the films they're talking about until months or years later), but overall, it's an excellent podcast, and even when they take on a subject that doesn't sound good, they usually manage to make it interesting. It's become my second favorite podcast (behind Filmspotting, which is still the gold standard).
Left Field Cinema - This weekly 10-15 minute UK-based podcast is a little more formal than most, but it's excellent content. The podcast is run by Michael Dawson, who basically reads a short essay every episode. Each episode is a bit short for my tastes and I prefer the back-and-forth of a multiple person podcast, but when you combine those traits, it actually works out (at least, in this case it does). I particularly enjoyed the 5 part series called Horror Movies as Modern Day Morality Tales.
Filmically Perfect - I actually mentioned this one in my last post, but didn't mention much about it. This is a weekly half hour podcast hosted by Niki Dakota, J. Todd Anderson (who is a storyboard artist that works for, amongst others, the Coen brothers) and George Willeman (who works at the Library of Congress). Each podcast is about a particular film, one which has been chosen by the hosts to be "perfect." Their criteria seems awfully vague at first, but after listening to a bunch of episodes, it's grown on me. I'm still not convinced, but even if it not a great set of criteria, it makes for a decent way to look at the movies. Here are their four rules for a perfect movie:

A perfect movie creates the world it exists in.
It wholly sustains that world.
Regardless of changes in society, it retains its meaning and entertainment value.
A perfect movie is never placed in any preferential or numerical order. Each film is perfect by its own scale.

Rule #3 is probably the most important of these and one of the tougher hurdles to clear. They appear to be on something of a hiatus recently, but there's an ample set of episodes covering everything from Citizen Kane to Office Space.
There are plenty of other podcasts I haven't gotten to yet, but these have been keeping me busy lately...

Sunday, December 07, 2008
Anathem
I finished Neal Stephenson's latest novel,
Anathem
, a few weeks back. Overall, I enjoyed it heartily. I don't think it's his best work (a distinction that still belongs to
Cryptonomicon
or maybe
Snow Crash
), but it's way above
anything
I've
read
recently
. It's a dense novel filled with interesting and complex ideas, but I had no problem keeping up once I got started. This is no small feat in a book that is around 900 pages long.
On the other hand, my somewhat
recent discussion with Alex regarding the ills of Cryptonomicon
has lead me to believe that perhaps the reason I like Neal Stephenson's novels so much is that he tunes into the same geeky frequencies I do. I think
Shamus
hit the nail on the head with this statement:
In fact, I have yet to introduce anyone to the book and have them like it. I'm slowly coming to the realization that Cryptonomicon is not a book for normal people. Flaws aside, there are wonderful parts to this book. The problem is, you have to really love math, history, and programming to derive enjoyment from them. You have to be odd in just the right way to love the book. Otherwise the thing is a bunch of wanking.
Similarly,
Anathem
is not a book for normal people. If you have any interest in Philosophy and/or Quantum Physics, this is the book for you. Otherwise, you might find it a bit dry... but you don't need to be in love with those subjects to enjoy the book. You just need to find it interesting. I, for one, don't know much about Quantum Physics at all, and I haven't read any (real) Philosophy since college, and I didn't have any problems. In fact, I was pretty much glued to the book the whole time. One of the reasons I could tell I loved this book was that I wasn't really aware of what page I was on until I neared the end (at which point dealing with the physicality of the book itself make it pretty obvious how much was left).
Minor
spoilers
ahead, though I try to keep this to a minimum.
The story takes place on another planet named Arbre and is told in first person by a young man named Erasmus. Right away, this yields the interesting effect of negating the multi-threaded stories of most of Stephenson's other novels and providing a somewhat more linear progression of the story (at least, until you get towards the end of the novel, when the linearity becomes dubious... but I digress). Erasmus, who is called Raz by his friends, is an Avout - someone who has taken certain vows to concentrate on studies of science, history and philosophy. The Avout are cloistered in areas called Concents, which is kind of like a monastary except the focus of the Avout is centered around scholarship and not religion. Concents are isolated from the rest of the world (the area beyond a Concent's walls is referred to as Extramuros or the Saecular World), but there are certain periods in which the gates open and the Avout mix with the Saecular world (these periods are called Apert). Each concent is split up into smaller Maths, which are categorized by the number of years which lapse between each Apert.
Each type of Math has interesting characteristics. Unarian maths have Apert every year, and are apparently a common way to achieve higher education before getting a job in the Saecular world (kinda like college or maybe grad-school). Decenarian maths have Apert once every ten years. Raz and most of the characters in the story are "tenners." Centenarian maths have Apert once every century (and are referred to as hundreders) and Millenarian maths have Apert once every thousand years (and are called thousanders).
I suppose after reading the last two paragraphs, you'll notice that Stephenson has spent a fair amount of time devising new words and concepts for his alien planet. At first, this seems a bit odd and it might take some getting used to, but after the first 50-100 pages, it's pretty easy to keep up with all the new history and terminology. There's a glossary in the back of the book for reference, but I honestly didn't find that I needed it very often (at least, not the way I did while reading
Dune
, for instance). Much has been made of Stephenson's choice in this matter, as well as his choice to set the story on an alien planet that has a history that is roughly analogous to Earth's history. Indeed, it seems like there is a one-to-one relationship between many historical figures and concepts on Arbre and Earth. Take, for instance, Protas:
Protas, the greatest fid of Thelenes, had climbed to the top of a mountain near Ethras and looked down upon the plain that nourished the city-state and observed the shadows of the clouds, and compared their shapes. He had had his famous upsight that while the shapes of the shadows undeniably answered to those of the clouds, the latter were infinitely more complex and more perfectly realized than the former, which were distorted not only by the loss of a spatial dimension but also by being projected onto terrain that was of irregular shape. Hiking back down, he had extended that upsight by noting that the mountain seemed to have a different shape every time he turned round to look back at it, even though he knew it had one absolute form and that these seeming changes were mere figments of his shifting point of view. From there, he had moved on to his greatest upsight of all, which was that these two observations - the one concerning the clouds, the other concerning the mountain - were themselves both shadows cast into his mind by the same greater, unifying idea. (page 84)
Protas is clearly an analog to Plato (and thus, Thelenes is similar to Socrates) and the concepts described above run parallel to Plato's concept of the Ideal (even going so far as to talk about shadows and the like, calling to mind Plato's metaphor of the cave). There are literally dozens of these types of relationships in the book. Adrakhones is analogous to Pythagoras, Gardan's Steelyard is similar to Occam's Razor, and so on. Personally, I rather enjoyed picking up on these similarities, but the
referential
nature of the setting might seem rather indulgent on Stephenson's part (at least, it might seem so to someone who hasn't read the book). I even
speculated as much
while I was reading the book, but as a reader noted in the comments to my post, that's not all there is to it. It turns out that Stephenson's choice to set the story on Arbre, a planet that has a history suspiciously similar to Earth, was not an indulgence at all. Indeed, it becomes clear later in the book that these similarities are actually vital to the story being told.
This sort of thing represents a sorta meta-theme of the book. Where
Cryptonomicon
is filled with little anecdotes and tangents that are somewhat related to the story,
Anathem
is tighter. Concepts that are seemingly tangential and irrelevant wind up playing an important role later in the book. Don't get me wrong, there are certainly a few tangents or anecdotes that are just that, but despite the 900+ page length of the book, Stephenson does a reasonably good job juggling ideas, most of which end up being important later in the book.
The first couple hundred pages of the novel take place within a Concent, and thus you get a pretty good idea of what life is like for the Avout. It's always been clear that Stephenson appreciates the opportunity to concentrate on something without having any interruptions. His old website quoted former Microsoft employee Linda Stone's concept of "continuous partial attention," which is something most people are familiar with these days. Cell phones, emails, Blackberries/iPhones, TV, and even the internet are all pieces of technology which allow us to split our attention and multi-task, but at the same time, such technology also serves to make it difficult to find a few uninterrupted hours with which to delve into something. Well, in a Concent, the Avout have no such distractions. They lead a somewhat regimented, simple life with few belongings and spend most of their time thinking, talking, building and writing. Much of their time is spent in Socratic dialogue with one another. At first, this seems rather odd, but it's clear that these people are first rate thinkers. And while philosophical discussions can sometimes be a bit dry, Stephenson does his best to liven up the proceedings. Take, for example, this dialogue between Raz and his mentor, Orolo:
"Describe worrying," he went on.

"What!?"

"Pretend I'm someone who has never worried. I'm mystified. I don't get it. Tell me how to worry."

"Well... I guess the first step is to envision a sequence of events as they might play out in the future."

"But I do that all the time. And yet I don't worry."

"It is a sequence of events with a bad end."

"So, you're worried that a pink dragon will fly over the concent and fart nerve gas on us?"

"No," I said with a nervous chuckle.

"I don't get it," Orolo claimed, deadpan. "That is a sequence of events with a bad end."

"But it's nonsensical. There are no nerve-gas-farting pink dragons."

"Fine," he said, "a blue one, then." (page 198)
And this goes on for a few pages as well. Incidentally, this is also an example of one of those things that seems like it's an irrelevant tangent, but returns later in the story.
So the Avout are a patient bunch, willing to put in hundreds of years of study to figure out something you or I might find trivial. I was reminded of the
great unglamourous march of technology
, only amplified. Take, for instance, these guys:
Bunjo was a Millenarian math built around an empty salt mine two miles underground. Its fraas and suurs worked in shifts, sitting in total darkness waiting to see flashes of light from a vast array of crystalline particle detectors. Every thousand years they published their results. During the First Millenium they were pretty sure they had seen flashes on three separate occasions, but since then they had come up empty. (page 262)
As you might imagine, there is some tension between the Saecular world and the Avout. Indeed, there have been several "sacks" of the various Concents. This happens when the Saecular world gets freaked out by something the Avout are working on and attacks them. However, at the time of the novel, things are relatively calm. Total isolation is not possible, so there are Hierarchs from the Avout who keep in touch with the Saecular world, and thus when the Saecular world comes across a particularly daunting problem or crisis, they can call on the Avout to provide some experts for guidance.
Anathem
tells the story of one such problem (let's say they are faced with an external threat), and it leads to an unprecedented gathering of Avout outside of their concents.
I realize that I've spent almost 2000 words without describing the story in anything but a vague way, but I'm hesitant to give away too much of the story. However, I will mention that the book is not all philosophical dithering and epic worldbuilding. There are martial artists (who are Avout from a Concent known as the Ringing Vale, which just sounds
right
), cross-continental survival treks, and even some space travel. All of this is mixed together well, and I while I wouldn't characterise the novel as an action story, there's more than enough there to keep things moving. In fact, I don't want to give the impression that the story takes a back seat at any point during the novel. Most of the world building I've mentioned is something that comes through incidentally in the telling of the story. There are certainly "info-dumps" from time to time, but even those are generally told within the framework of the story.
There are quite a few characters in the novel (as you might expect, when you consider its length), but the main ones are reasonably well defined and interesting. Erasmus turns out to be a typical Stephensonian character - a very smart man who is constantly thrust into feuds between geniuses (i.e. a Randy/Daniel Waterhouse type). As such, he is a likeable fellow who is easy to relate to and empathize with. He has several Avout friends, each of whom plays an important role in the story, despite being separated from time to time. There's even a bit of a romance between Raz and one of the other Avout, though this does proceed somewhat unconventionally. During the course of the story, Raz even makes some Extramuros friends. One being his sister Cord, who seems to be rather bright, especially when it comes to mechanics. Another is Sammann, who is an Ita (basically a tecno-nerd who is always connected to networks, etc...). Raz's mentor Orolo has been in the Concent for much longer than Raz, and is thus always ten steps ahead of Raz (he's the one who brought up the nerve-gas-farting pink dragons above).
Another character who doesn't make an appearance until later on in the story is Fraa Jad. He's a Millenarian, so if Orolo is always ten steps ahead, Jad is probably a thousand steps ahead. He has a habit of biding his time and dropping a philosophical bomb into a conversation, like this:
Fraa Jad threw his napkin on the table and said: "Consciousness amplifies the weak signals that, like cobwebs spun between trees, web Narratives together. Moreover, it amplifies them selectively and in that way creates feedback loops that steer the Narratives." (page 701)
If that doesn't make a lot of sense, that's because it doesn't. In the book, the characters surrounding Jad spend a few pages trying to unpack what was said there. That might seem a bit tedious, but it's actually kinda funny when he does stuff like that, and his ideas actually are driving the plot forward, in a way. One thing Stephenson doesn't spend much time discussing is the details of how the Millenarians continue to exist. He doesn't explicitely come out and say it, but the people on Arbre seem to have life spans similar to humans (perhaps a little longer), so it's a little unclear how things like Millenarian Maths can exist. He does mention that thousanders have managed to survive longer than others, but it's not clear how or why. If one were so inclined, they could perhaps draw a parallel between the Thousanders in
Anathem
and the Eruditorium in
Cryptonomicon
and the
Baroque Cycle
. Indeed, Enoch Root would probably fit right in at a Millenarian Math... but I'm pretty sure I'm just reading way too much into this and that Stephenson wasn't intentionally trying to draw such a parallel. It's still an interesting thought though.
Overall, Stephenson has created and sustained a detailed world, and he has done so primarily through telling the story. Indeed, I'm only really touching the surface of what he's created here, and honestly, so is he. It's clear that Stephenson could easily have made this into another 3000 page
Baroque Cycle
style trilogy, delving into the details of the history and culture of Arbre, but despite the long length of the novel, he does keep things relatively tight. The ending of the novel probably won't do much to convince those who don't like his endings that he's turned a new leaf, but I enjoyed it and thought it
ranked well within his previous books
. There are some who will consider the quasi-loose-ends in the story to be frustrating, but I thought it actually worked out well and was internally consistent with the rest of the story (it's hard to describe this without going into too much detail). In the end, this is Stephenson's best work since
Cryptonomicon
and the best book I've read in years. It will probably be enjoyed by anyone who is already a Stephenson fan. Otherwise, I'm positive that there are people out there who are just the right kind of weird that would really enjoy this book. I expect that anyone who is deeply interested in Philosophy or Quantum Physics would have a ball. Personally, I'm not too experienced in either realm, but I still enjoyed the book immensely. Here's to hoping we don't have to wait another 4 years for a new Stephenson novel...

Wednesday, December 03, 2008
Anime Meme
So there's an
Anime Meme
making
the rounds
, and I figured I'd give it a shot:
•
What anime are you watching now?
Disc 1 of
Trigun
just came in the mail today. After that, I think I'm going to watch
Noir
.
•
What is your favourite time to watch?
I don't really have a set time to watch anime (or, well, anything really). Or, to put it another way, I'll watch anime at any time the mood strikes (unless I'm at work, or otherwise engaged.)
•
And your favourite place?
On my TV in my living room. My couch is comfy.
•
Who is your favourite auteur?
I'm not sure I've watched enough Anime to have a favorite auteur, but the closest thing I can think of would be Hayao Miyazaki... probably the most obvious choice out there. And even he has movies and themes that I'm not a huge fan of. I suppose another choice would be Mamoru Oshii (of
Ghost in the Shell
fame), but I've only seen 2 of his movies.
•
Your favourite OST?
Yokko Kanno's music in
Cowboy Bebop
is exceptional. I saw the movie and bought a bunch of CDs before I even thought about watching the series. My favorite songs would have to be
Rush
,
Tank!
, and
Gotta Knock a Little Harder
.
•
What is the most difficult anime you've ever watched?
Grave of the Fireflies
, for reasons belabored in that post. I still find it odd that most people find this film so sad... I found it infuriating. But then, both of those traits make it difficult to watch. It is an exceptional film though, and it's one of those films that you could pull out to traumatize people who think that you can't tell real stories with animation.
•
What was the first anime you remember watching?
A friend of mine in college introduced me to
Akira
. It was a crappy VHS copy of the movie, with a poor transfer and bad subtitles, so I didn't think much of it until I
revisited the movie somewhat recently
. I vaguely remember also watching
Vampire Hunter D
around that time (may have been before
Akira
, I don't remember). For more of my early experiences with Anime, check out
this post
. I suppose if you consider stuff like Voltron to be Anime, then that was my first Anime, but I don't think that counts...
•
Do you have a comfort show that you re-watch?
Not especially, though this may have something more to do with my tendency to Netflix my anime rather than buy it.
•
What is the most erotic anime you've watched?
To be honest, I don't even really understand the fan service side of the Anime world, let alone freaky stuff like Hentai. I'm sure some of that stuff could be erotic, but I'm so disinterested in that side of things that I don't think I'll be able to answer this question for some time.
•
Which classic should you have watched?
Given my current experience, it would probably be easier to list the classics that I have seen (or even, all the anime that I've seen period). Again, see
this post
for more of what I've seen and check out the
Anime archives
for other series that I've seen since then...
•
Which series did you never want to end?
One of the things I like about Anime is that most series actually do have an ending. That said, there are series I've seen that I've wanted to go on. For instance, I wish
Cowboy Bebop
would have kept going, if only because
I found the ending unsatisfactory
. On the other hand, I can't imagine that the creators would take that series where I'd like to see it go...
•
What is your most overrated anime?
Once again, I'm not sure I have enough experience with Anime to say for sure.
•
Which character could you have an affair with?
I have no idea, but this question did make me wonder, is there an anime female that isn't cute or attractive (with the potential exception of evil villains, etc...)? Seriously, even girls who are supposed to be dorky or unpopular are cute.
•
Who is your favourite character?
I stink at choosing favorites, but the first person that came to mind was Major Motoko Kusanagi from the
Ghost in the Shell
movies and series.
•
Which character do you most dislike?
I guess Seita from
Grave of the Fireflies
. So infuriating.
•
Which character do you identify with most?
I can't think of a particular character, but I suppose I have connected the most with the existential themes of the
Ghost in the Shell
series.
•
Which anime changed your life?
I can't think of anything that's had that sort of effect, unless you take an overly sensitive chaos-theory approach, in which case all anime I've watched has technically changed my life (as has every experience I've ever had, right down to sitting quietly in the freezing cold (with some rain too!) for 2 days waiting for a deer to pass by but not seeing anything, not even a doe, not that I'm bitter or anything).

« November 2008 | Main | January 2009 »