« June 2007 | Main | August 2007 »
Sunday, July 29, 2007
Recent Viewing
I've made significant progress with my
list of movies I need to see
, so I figured I'd give an update on what I thought of what I've seen, and the chances of inclusion on my top 100 list.
These were all good films, and I'm glad I watched them all, but I am again curious as to whether or not I'll really be able to connect with these films enough to include them on my top 100 list. The only ones that come close are the two Hitchcock films described above (which stand a good chance of inclusion). Perhaps, in time, some of these others will stick with me more. I'll continue working through my list of films I need to see, but I suspect that few of these will make it onto my top 100...
Upgradation
I'm going to attempt to upgrade to the new
Movable Type
(my blogging software) today, so things are liable to get a bit dicey around here. Or not, but let's not jinx it. It's the "release candidate" version of the software, meaning that it's out of beta, but not quite the final release. In other words, it's still in beta, but it seems stable enough that I'm going to give it a try. See you on the other side (and soon, I hope).
Update:
Upgrade complete. Sorta. Some of my template tags appear to be throwing errors. If you're reading this, then I've figured it out, but it's annoying that this worked with MT3.3 and is broken now.
Again Update:
It appears that the comments popup is no longer supported. Indeed, they deprecated its use a long time ago, and it's been acting funky ever since, so now when you click on "comments" you go to the individual post page (anchored down to the comments section). To be honest, I've been meaning to do this for a while, but I've never gotten around to it. Anyways, I'm still putzing around with the new system. Lots of interface changes make everything seem strange again, but I'm not sure if they're for the better or not.
Yet Another Update:
Lots of breakage in the archives. I still have to switch over the comments to the new style links, and it seems that MT4 and
Opera
don't play well together when it comes to the template editor, as I managed to screw up this page (should be fixed now) and some other templates (still working on them). There are a bunch of annoying bugs that only seem to affect Opera, and I'm finding it frustrating.
One More Update:
All the archives should be pretty much fixed, but there might still be some issues here or there that I'm not aware of yet.

Friday, July 27, 2007
Movie Screenshot Game Round 13
The game continues, but has yet to really break free. I won the
last round
, so here's my next screenshot. Before I go, the rules:
I'm going to post a screenshot from a movie. If you're the first person to guess the movie, you win!
If you win, you have to continue the game by posting a screenshot on your blog with the same rules outlined here (please to the main post as well). The winner of your round will host the next round, and so on.
If you don't have a blog (and if you don't want to start one), I'll host the next round as well (the screenshot should still come from the winner, if possible). If you do have a blog, but the winner of your round doesn't, you should host the next round too.
Once the winner posts their screenshot, I'll link to it from this post. Each winner needs to link to the next winner, and so on.
Only movies are eligible. No television shows.
If no one can figure out the answer within 3 days, then you've stumped the internet. If you want, you can give hints. If we still have no winner, then congratulations, you've won. Maybe I'll start a hall of fame or something. Give everyone the answer, and post another screenshot (or pass the baton to someone else, and link them). If you decide to host the next round, be nice, and post an easier screenshot. This game would be no fun if you keep posting random landscapes from obscure Italian films.
Here goes nothing (click image for larger version):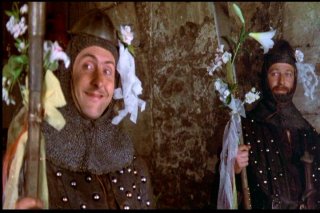 There you go. This is probably pretty easy, but again, I'm trying to get this to catch on. At least I didn't make it
really easy
. For previous rounds, see the
main post
...
Update:
Dave wins. Swipe for answer:
Monty Python and the Holy Grail
. Next round has been posted at
Dave's blog
.

Wednesday, July 25, 2007
Liveblogging Harry Potter (again), Part 4
Well then. As suggested by Alex, I succumbed to the "unrelenting greatness" of the last couple hundred pages of the book and read them straight through instead of pausing to liveblog. Starting around page 550, things picked up considerably and all of my nitpicks were forgotten due to the aforementioned "unrelenting greatness." It's a fitting and satisfying end to the series, much more so than some other series I've read (*cough, cough*
Dark Tower
*cough*). I'm not sure it will pass Hitchcock's infamous refrigerator test, but at this point I don't think it matters. It's a series of books about magic, for crying out loud. Anyway, more commentary with
major spoilers
beneath the fold... Maybe an additional update on Wednesday night, to see how it sank in (as I just finished now)...
Page 503: This passage stuck out for me. Perhaps not so important to the story, but an interesting nugget of human behavior:

[Harry] could not even explain satisfactorily why he had decided against it: Every time he tried to reconstruct the internal arguments that had led to his decision, they sounded feebler to him.

I think this sort of thing happens more often than we, as humans, care to admit. We like to think we act reasonably and with careful consideration, but I think a lot of what we decide, especially when forced to do so under some sort of time constraint (as Harry was in the book), just happens instinctually. We can generally rationalize our decisions, but sometimes we're stuck, like Harry. To use a more trivial example, I think a lot of people like or dislike movies or music (or art in general) because of some sort of initial, subconscious instinct. Again, we rationalize our choices, citing the acting or cinematography or whatever, but sometimes, even when we can find no real fault, we're left not liking a certain movie (most recently, this happened to me after watching The Fountain). It's a strange feeling.
Page 560: Ah, so it was Dumbledore in the mirror, but not Albus. It was his brother, Aberforth! And now we find our more about Dumbledore's past. Again, it is not as horrible as Skeeter had portrayed, but neither is it saintly. In other words: human.
I don't have much to say about the lost diadum or the battle of Hogwards, though the whole sequence from this point on was really fantastic and at some points, heartbreaking. The biggest thing that happened, to me, was the validation of Eric S. Raymond's speculations regarding Severus Snape. It's uncanny; he came breathtakingly close to the truth with his post. Snape, it seems, didn't need to be redeemed (or had already redeemed himself, much earlier in his life). He'd been working for Dumbledore all along, as many had speculated. The reason for this, as not as many speculated, was his feelings for Lily Potter. The chapter "The Prince's Tale" is among the best, and it fills in many blanks in both Snape and Dumbledore's history in a satisfying way. It strikes me that this series is almost as much about them as it is about Harry and Voldemort. It also contains one of the biggest shocks of the series, as Harry finds out that he is destined to die. I thought for a time that Rowling was going to do it, but she didn't, and I found myself relieved. She even managed a good enough explanation for why he did not die (and we get to talk to Dumbledore again, who gives some answers we've been craving, including more about his past).
There were several deaths during the battle at Hogwarts, among them Fred Weasly, Tonks, and Lupin. These were some of my favorite characters, and it was indeed hard to see them go... Many other characters died as well (some, it seems, were not even named). Even with all of that, the death toll was perhaps not as high as I was expecting (or dreading, I should say).
The final showdown between Harry and Voldemort was well handled and satisfying, with a proper explanation for what happened and why. Again, I'm not sure any of these explanations would stand up to close scrutiny, but that doesn't really matter. It was well a well done and satisfying ending.
Nineteen years later... I actually like these sorts of afterwords where we see what came of everyone, even if they're usually unnecessary (as this one pretty much is). I'm a little surprised that Harry did not take up a position at Hogwarts (though they don't really say what he does, other than being a father - I guess the message is clear.) but it was a fun little exercise, and a nice way to end the book and series.
Ultimately, I was very satisfied with the series. The last book drags a little at times, when it reverts back into the repetitive and whiny (and repetitive and whiny and repetitive...) tendencies of the fifth book, but it picks up towards the end and makes for a fitting end to the series.

Monday, July 23, 2007
Liveblogging Harry Potter (again), Part 3
I'm a little past the halfway point, so I figured I'd post some more thoughts. Again, many
spoilers
are likely, so I'm putting everything beneath the fold.
Update 9:30 pm:
More comments added...
Update 10:15 pm:
More additions...
Update 12:30 am:
Last update for the night...
Part 1, covering initial thoughts and the first couple chapters.
Part 2, covering the next several chapters and some other thoughts.
Page 186: A ha! So R.A.B. was indeed a member of the Black family, as I'd speculated a few years ago (along with a few million other fans:P), though I had the name wrong. It's Regulus Arcturus Black, and unfortunately, it seems that he's only taken care of one of the Horcruxes (and not several, as I had speculated yesterday). Also, Kreacher becomes a more sympathetic character. That makes two previously stalwart anti-Potter factions that have made moves in the other direction (the other being Dudley Dursley's surprising admission earlier in the book). Does this foreshadow Snape's eventual redemption?
Page 284: One of the things I'm realizing is that the book seems to bog down a bit when it's just Harry, Ron, and Hermione. Not that it gets bad or anything, but that things really only pick up when they venture out or talk to someone from the outside. Otherwise, they seem to just be sitting inside their tent, snapping at each other and whining about how Dumbledore didn't tell them enough of his secrets (they seem to be doing this a lot, particularly Harry. This sort of thing has been my least favorite part of the series, especially in book 5, and it's annoying that it's reappeared after a blissful respite in book 6). Also, the wearing of the Horcrux seems to be a silly practice, as it appears to demonstrate One Ring of Power-like symptoms. The Lupin subplot is heating up, but I have no idea where it's going. And finally, Ron is acting like a turd. Big shock. He never seems to play a real important role in the series...
Page 346: Nearing the halfway point, and we're not much further into resolving the plot lines, though it appears that all the chess pieces are being put into place. Some mysteries have been revealed (R.A.B.), but some remain (Snape's spy) and new ones have come up (who is Dumbledore's blond friend?). Some of these action sequences are a little confusing, but somewhat short and effective. I think Rowling is actually going for a certain sense of disorientation, but it can be a little frustrating.
Page 362: There has been a lot of talk about the history of the Dumbledore family, particularly about Albus' youth. Coming from a source like Rita Skeeter, I don't believe the implications, though I'm betting there's some nugget of truth to the revelations. Harry, on the other hand, immediately believes everything he hears. At first, I found this odd. Why would Harry be so insistent that Dumbledore wasn't a great man? But then, I realized that this is something we deal with all the time. Hardly a national holiday goes by that we don't hear some lecture about how such-and-such founding father was a good man, but that he owned slaves (or some other such observation)! Somehow, people seem to expect that great leaders are great because they're perfect or something. But no one is perfect, and so even great men have their weak points. Harry is going through this realization now, I guess. Rowling is doing a pretty good job here though. By introducting these disturbing rumors early in the book thorugh the unreliable source of Rita Skeeter, she's setting herself up so that she can reveal that Dumbledore was indeed not perfect, but nowhere near as evil as Skeeter is portraying him. Indeed, it seems like the Weasley's aunt Miriam has tempered some of the rumors a bit (though they're still a little strong). I'm betting that when we finally find out the truth, it won't be anywhere near as bad as Skeeter portrays it...
Page 388: Finally, some progress. The sword found and the locket destroyed, and Ron has returned. And redeemed himself, I suppose. Again, I'm sensing a theme here. Wanna bet Lupin will redeem himself and return to his wife and child? Also, we find out that at least some of what Dumbledore left to the kids in his will is useful. And it helps explain how Ron was able to find Harry and Hermione (who've been hiding for the majority of the book).
Page 413: And so we find out what the Deathly Hallows are: another set of magical artifacts. Still, it shows promise, and suddenly the loss of Harry's wand doesn't seem so important. Incidentally, I've always wondered about the wands. They seem awfully flimsy, and it seems to be a blindingly obvious vulnerability. Of course, the last book introduced the concept of silent spellcasting, which perhaps doesn't require a wand either (or am I remembering that wrong). In any case, Rowling seems to be increasing the number of things that need to be resolved, rather than resolving them. Our heros might have one of the Hallows already, but the other two?
I just had another thought. The Deathly Hallows were created by death, and supposedly, they represent death's defeat (or something like that). Earlier in the book, we see James and Lily Potter's tombstone, and there was an unusal inscription: "The last enemy that shall be destroyed is death." The whole Hallows concept puts that in a different light...
Page 502: Now we're getting somewhere. Another death has befallen us, the house elf Dobby has died, in the heroic act of saving Harry, Ron, Hermione and several other prisoners. Just how Dobby knew where they were is still a little unclear - Harry thinks it has something to do with the mirror fragment and Dumbledore, but I'm still not sure. In any case, some of the various plot lines are starting to converge and make more sense. Harry appears to have grasped the situation thoroughly and is acting with authority (for the first time in the book, really, and thankfully). Only 250 pages or so to go, but there's still a lot of ground to cover.
More commentary on the way...

Sunday, July 22, 2007
Liveblogging Harry Potter (again), Part 2
Well, a few chapters later, and I'm already forced to warn about
spoilers
. I'll try to keep them vague, but I'm putting my thoughts into the extended entry in case anyone doesn't want even a hint of spoilers.
I'll most likely be adding to this post later tonight, so stay tuned...
Update 9:30 pm:
Added some more thoughts
Update 10:00 pm:
More thoughts added... (last update for the night) About a hundred pages in, and it looks like those quotes at the beginning of the book were accurate. That's all I'll say for now.
Liveblogging Harry Potter (again), Part 1 - Initial thoughts and first two chapters...
Chapter 3: The Dursley's Departing - The Dursleys make their first (and possibly last) appearance, and we get some surprising reactions, especially from Dudley, who seems to have appreciated what Harry did for him a few books ago (Harry saved him from dementors).
Chapter 4: The Seven Potters - The Order of the Phoenix appears, and they're attempting to help Harry escape from the Dursley's house. We know from earlier in the book that Voldemort knows their plans, but the paranoid Mad Eye Moody has anticipated this and called a change in plans. Many familiar characters show up to enact the plan, which, of course, doesn't go as planned. It's a little unnerving to have a major battle sequence, complete with a Voldemort showdown, this early in the book. Rowling is wasting no time, it seems. Also, our first death of what appears to be many (I guess those quotes a the beginning of the book weren't just for show), Hedwig the owl dies.
Chapter 5: Fallen Warrior - Well, color me surprised. Another major character is down, and one injured. A lot of speculation about who betrayed the Order. We learned earlier in the book from Snape that it's from "... the source we discussed." which could be just about anyone. At the time, I had my money on Kreacher (the surly house elf of the Black family), but at this point I have no idea. So we can add that mystery to the R.A.B. mystery heldover from the previous book. Another mystery is why Harry's wand seemingly acted of it's own accord - Genevieve, from the Onion A.V. Club (who was liveblogging last night, along with Tasha), thinks it's possible that Dumbledore is acting through Harry somehow. I'm not sure, but if it is, then it fits in line with what I said before about Dumbledore. While the book started a bit slow for my tastes, I have to admit that I'm right in the thick of things right now. Rowling's got a lot of loose ends to tie up and only 600 pages or so to do it!
Chapter 6: The Ghoul in Pajamas - I always forget the details of the previous books by the time I start reading the next book. As such, the first hundred pages or so always make me wonder various things, but eventually I manage to clear out all the cobwebs. I'm getting to the point now where I'm pretty much up to speed with everything and am really getting into the spirit of things. There are a lot of loose ends that Rowling needs to tie up in this book, chief among them are the Horcruxes. There are apparently 4 of them left, and they're apparently not so easy to destroy. Plus, no one knows where they are and then you've still got Voldemort himself to deal with. The only thing I can think of is that this R.A.B. fellow has actually taken care of a few of these Horcruxes in addition to the one we know about.

The other thing that struck me in this chapter was that Ron actually seemed to be mildy competent with magic. This is one of the things that always bothered me about the series - Hermione appears to be the only student at Hogwarts who takes her studies seriously. Harry and Ron have always been serious slackers. This was particularly bothersome during the 5th book, when Harry started teaching everyone defense against the dark arts. Aside from the Patronus charm which Lupin taught him, where did Harry get all this knowledge from? I guess there's a bit of sly commentary about the usefulness of school (I certainly don't use a lot of what I was taught in school out here in the real world) here, but at the same time, how did Harry and Ron get good at magic? A lot of the time, they seem like they just get lucky. All of this is, of course, just a nitpick. But still, it always seemed like they should be a little more knowledgeable if they're every going to defeat Voldemort.
Page 130: Excuse me while I abandon the concept of chapter-by-chapter commentary. This is something I kept forgetting to mention: The entire wizarding world seems to be dependant on a single newspaper, The Daily Prophet. Much has been made in this book about how the Prophet isn't reporting high profile news items like the havoc wreaked by Death Eaters, or a mass breakout at Azkaban prison, or the death of a powerful Auror. Don't wizards have some sort of competitive market for newspapers? Do they have some sort of First Amendment type protections? At the very least, they could use more newspapers. They could also probably use the wizarding equivalent to the internet and blogs. If I were a student at Hogwards, I'd read Harry Potter's blog. I bet Hermione would make a great blogger. Ron's would suck though. His brothers, on the other hand... Hell, I bet Voldemort's blog would be interesting, if a little scary (he'd probably try to infect you with the wizarding equivalent to spyware though. Unless you're using the wizarding equivalent to Opera. Then you'd probably be safe, because even Voldemort wouldn't develop his software to work on that browser. He probably uses an unpatched version of IE 6.) Again, I nitpick. I should stop with the nitpicking. But wizard blogs would be cool, wouldn't they?
Part 3 is up, with lots of spoilers.
More updates coming, though tonight might be a busy night... Stay tuned to this post.
Liveblogging Harry Potter (again), Part 1
When
Harry Potter and the Half Blood Prince
came out 2 years ago,
I liveblogged it
. Sorta. I pretty much abandoned the liveblogging concept towards the end of the book. I expect the same thing to happen with the latest and final installment of the series,
Harry Potter and the Deathly Hallows
, but I'll start with the pretense of liveblogging anyway. Also like last time, I expect the spoilers to be low towards the beginning of the book, but by the time I reach the end, I'll almost definitely be slinging spoilers.
Before I start reading, I figure I'll collect any preconceived notions I have about the last book:
Each book in the series has a similar structure: the book opens with Harry having a crappy summer with the Dursleys, followed by the trip to Hogwarts (usually there are a few pitstops before he leaves), the introduction of the new Defense Against the Dark Arts teacher, some Quidditch, whatever conflict is in the story comes to a head just around the end of the school year, and then we're done. Of course, there's more than that in each book, but they all have a similar school-year themed structure. Interestingly, the end of the sixth book seems to suggest that most of these Potter conventions will be thrown out the window for the final installment.
I have high expectations for this book. I think Rowling will be able to deliver. More than anything else, the introduction of the concept of Horcruxes in the last book has raised my expectations. To quote myself: The Horcruxes don't seem tacked-on in the way that, for example, some things were in Stephen King's Dark Tower series. (Or, grandaddy of all tacked-on mistakes: midi-chlorians.) I'm convinced that Rowling actually did have a good long term plan for the series and, as such, I'm expecting a satisfying ending. (I've checked, and the last several pages aren't totally black, and the book doesn't seem to be equipped with any audio devices programmed to play Journey's Don't Stop Believin, so I'm reasonably sure the ending can't be that bad.) (Yes, I'm also aware that I'm not the first person to make that joke.)
I don't believe that Harry Potter will die, though I guess anything's possible.
Those thoughts in mind, I opened the book and read the first two chapters. Short thoughts are below. Again, I'm trying to avoid
spoilers
for this book, but if you haven't read previous books, then you might find out something you didn't want to know.
"Bless the children, give them triumph now." As authors often do, Rowling precedes the book with a few quotes, and if they're any indication, we're in for a rough ride. The quotes, one by Aeschylus and the other by William Penn, prominently feature death, children and friendship. Where have we seen that combination before?
Chapter 1: The Dark Lord Ascending - The book opens an indeterminate time after the last book ended. Clearly some time has passed, but not a lot. A few weeks or months maybe. Snape is unnervingly calm and at home with the death eaters, but I'm still thinking that he will redeem himself by the end. Perhaps not the way Eric S. Raymond speculated he would, but a redemption most certainly seems in order.
Chapter 2: In Memoriam - Now this is strange. Harry is at the Durseley's? And it appears to be nearing the end of summer... maybe Rowling will stick to the schoolyear format after all? In any case, we're still dealing with repercussions from the end of the previous book, though in this case, we get some rather interesting background info on Dumbledore. Lots of speculation has been made on whether or not we'll see Dumbledore in this book. While certainly possible, Rowling seems to be pretty straightforward when it comes to this sort of thing, and her mysteries are usually pretty clear. You don't have to go hunting through the text to find out what she wants you to be curious about. If Dumbledore makes another appearance, it will be in an obtuse way - some sort of magical recording, or perhaps in a painting or something.
Part 2, covering chapters 3-6 (and lots of other stuff) is up.
Part 3 is up, with lots of spoilers.
Update:
Lots of
updates
. Updates everywhere!

Thursday, July 19, 2007
No Post Yesterday
Sorry, I just got home from work. Long day. In lieu of a proper entry, I shall simply link to the
next round
of the
Movie Screenshot Game
. Go forth and post yon answers.
Update:
Dave has posted the next round
.
Another Update:
Roy wins. He'll be posting the next round at one of his 300 blogs, possibly one created just for this occassion. Just kidding:P It'll probably be at
79 Soul
.
Yet Another Update:
Roy has posted the
next round
.
One More Update:
Another round is up over at 79 Soul

Sunday, July 15, 2007
Notorious
Filling in some of the
holes in my movie viewing history
, I recently watched Alfred Hitchcock's classic,
Notorious
. As
Roger Ebert notes
, it "contains some of the most effective camera shots in his--or anyone's--work" and so I figured let's take a closer look at some of those great shots. Some are more famous than others, and I'm certainly going to leave off a few, but this should be interesting.
Major
spoilers ahead
, mostly below the fold.
First up is a minor shot, not really significant among the
Notorious
scenes, but more significant of Hitchcock's work as a whole. Many of Hitchcock's films indirectly employed the use of voyeuristic framing to make the viewer feel like they are witnessing the events portrayed on screen. The shot below is literally framed in a doorway, and the distance from the actors implies that we're not supposed to be there. It's an unsettling technique, one which Hitchcock would reprise effectively in his later classics
Psycho
and
Rear Window
. This dynamic is reversed in Notorious during the final shot of the film in which our villain is called back to his house to meet a fate we are only left to imagine, as Hitchock
closes
the door. Interestingly, both approaches can be upsetting: one because we see something we think we shouldn't, another because we fill in the blanks with our imagination.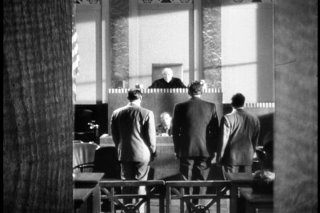 More screens, commentary, and spoilers below the fold... I've included several screencaps of the next shot to convey the motion on the screen, but looking at screencaps really doesn't do it justice. Ingrid Bergman's character has just seen her father imprisoned for treason, and has spent the night drinking. The scene starts with an establishing shot of Cary Grant, shrouded in shadows and leaning in a doorway (and also Ingrid Bergman laying in bed, waking up with a headache). Hitchcock then follows Grant in a dizzying point of view shot as he walks across the room, the camera rotating as he moves, until he stands above Bergman. The
oblique angles
of these shots suggest anxiety and tension, and they underscore not only her hungover state, but also the turbulent state of her life. This technique calls attention to itself, but does not overstate the situation. Interestingly, the situation is recalled towards the end of the film, when Grant enters a different bedroom where Bergman lays sick in a bed. That time, the angles are not oblique, as Grant and Bergman's relationship is solidifying in that scene.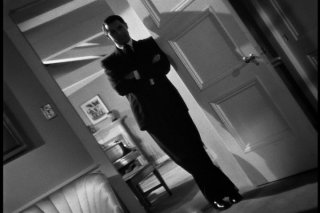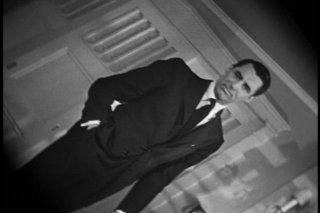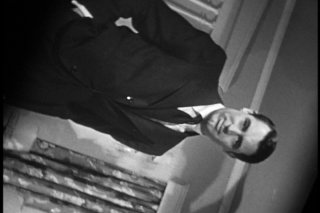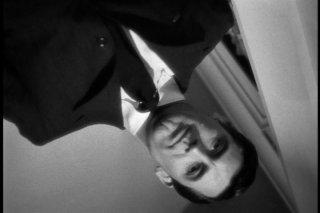 Next is probably the most famous shot in the film. Again, I've got a series of screencaps below, but they don't really do the scene justice. The scene starts with a sweeping high-angle crane shot that pans across the room, then pushes down towards Bergman's hand, which is holding the Unica Key (the key that will open the wine cellar, where it is thought that the villains have hidden something). The high angle of the shot reveals the characters on a checkerboard floor, thus likening the film to a chess match, where the characters are mere pawns. This, of course, has duel meanings. The story revolves around Bergman's relationship with Grant, but the film employs a spy plot in which American intelligence has recruited Bergman to spy on Nazis. So, in a sense, the people involved are really just pawns of war. In another sense, because the shot calls attention to itself, it is clear that the characters are also pawns of the filmmaker. On a commentary track from the
Criterion Collection DVD
, film scholar Marian Keane notes.
The shot demonstrates Hitchcock's supremacy as the author of the film, and does so by revealing the camera's presense; its magical ability to move freely in a house where such freedom is prohibited. And that in Hichtcock's hands, the camera is capable of revealing his intentions, hence his presense behind it.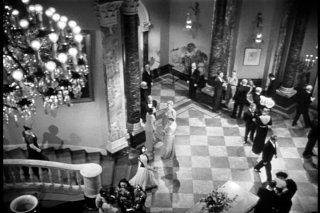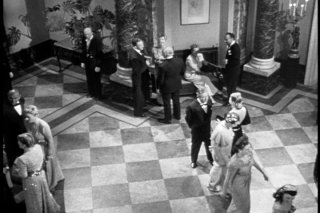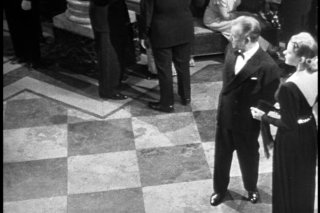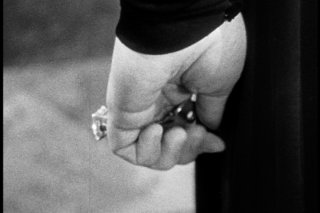 As previously mentioned, Bergman has stolen a key off of the villain's keychain. They key is to the wine cellar, and Grant wants to see what's hidden in there. Hitchcock employs a brilliant plot element to heighten the tension of these scenes: they are at a party, and the champagne is flowing freely. Perhaps too freely. They might run out, thus necessitating a trip to the wine cellar to fetch some more. But the moment this happens, the villain will be aware that someone has stolen his key. Towards the beginning of this sequence, Hitchcock makes one of his infamous cameos. Typically, when a director makes a cameo, it's seen as a bit of an egotistical thing. Perhaps it is, but in this instance, Hitchcock brilliantly imbues it with a double meaning. As Bergman and Grant move towards the bar to check on the champagne supply, we catch a glimps of Hitchcock downing a glass himself. It's as if he's telling us that he's not going to take it easy on his characters, and that they had better get a move on if they're going to successfully find out what's in the wine cellar.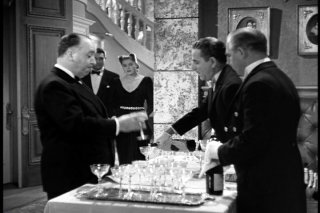 Of course, the villain notices that his key is gone, and later that night, he goes down to the wine cellar to investigate. Grant and Bergman had accidentally broken a bottle that contained a suspicious powder (which we later figure out is uranium), then hastily cleaned it up as they had to leave the room quickly to avoid detection. Later that night, our villain sees nothing wrong... but decides to look closer. He scans the wine bottles on the shelf. The camera moves from bottle to bottle, displaying a finger and a year. The first several bottles say 1934, but eventually we get to one that is out of place, a 1940 bottle. This is the sort of thing that bad cinema would avoid, favoring lengthy exposition about how the Nazi's employed a labeling system for all their work and that looking at the years would confirm whether or not they had been tampered with. Instead, Hitchcock simply shows us the years, and we figure out what he's looking for.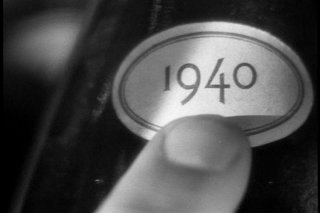 Of course, there are many other famous shots in the film (such as the first appearance of Madame Sebastian), but I don't have time to go through them all. This film will most certainly end up on my Top 100 list, when I get around to creating it. Last week, I listed a bunch of films I wanted to catch up with before I compiled the top 100 list. I was a little unsure if this was a good idea, though, as great films usually get better with repeated viewings. Would I really find something worth putting on the list after a single viewing? Well,
Notorious
certainly fits the bill. Of course, I've watched it twice this weekend, and I've watched some of these scenes several times while writing this post, but what do you expect from a truly great film that I loved. It's perhaps not totally perfect, but it's close, and the story hangs together much better than Hitchcock's earlier works (see my
Hitchcock category archives
for more). To be sure, the spy story is a bit contrived, but the important thing isn't the spying or the Nazis or the uranium, it's Bergman and Grant's relationship. The rest is just window dressing (what Hitchcock infamously refers to as the
MacGuffin
). There were already 4 Hitchcock films on my preliminary top 100, so this would make 5. It's possible that a sixth will emerge as well, though I think that if that happens, one of the initial 4 will be driven off the list. We'll see, I guess.

Friday, July 13, 2007
List Day is Friday
Strange night. I'm mildly drunk right now, so these lists should reflect that.
The Random 10:
Mr. Bungle - "Goodbye Sober Day"
Barenaked Ladies - "Alcohol"
Propellerheads - "Cominagetcha"
Louis Armstrong - "What a Wonderful World"
Nine Inch Nails - "A Warm Place"
UNKLE - "Lonely Soul"
Genesis - "Hairless Heart"
Tool - "The Pot"
Tweaker - "Crude Sunlight"
Willie Nelson - "Gotta Get Drunk"
5 Great Beers I've Recently Drank

Wednesday, July 11, 2007
Odds & Ends
The
movie screenshot game
is still chugging along, and someone just answered
Round 6
today.
He should be posting Round 7 soon (it should show up here).
Round 7
posted (I think I know the answer, heh, but I'll let you answer so as to allow the spread of the game). At some point, I'm going to have to do a post of learnings from this experience. For instance, the requirement for hosting the next round seems to turn off lots of folks (even folks who know the answer). Also, attempting to start a meme on a low traffic blog is probably not the wisest thing to do...
In other news, I've already caught up with 2 of the films from my
Greatest Movies I've Never Seen
list:
12 Angry Men
and
Network
. Both are excellent films, though they are also very, very different (both are directed by Sidney Lumet).
Part of the reason I'm watching all these films is that I'm looking for more films to put on a Top 100 movie list. One of my arbitrary requirements for this list was to avoid films made in the last 5 years. The idea is that films have to be able to stand at least a small test of time before they can be included in my all time best list... and I think that's a good reason too. For one thing, some movies can become obscenely dated or irrelevant, and I think this rule helps avoid such embarrassing choices. But if a movie has been around for 30 years and I'm only just watching it now, how likely is it that my initial reaction will be accurate? I've often found myself mellowing on films I thought I loved. Then again, there are some films that I only gain an appreciation for after multiple viewings. So is going through this list of great films that I haven't seen really going to help me much? I'm sure some of them will end up on my list, but will they stay there? I guess only time will tell.
Update:
I forgot to mention how I was able to watch those two movies so quickly.
Netflix
has somewhat recently (apparently in January) launched a new feature called
Watch Now
, where instead of putting items in your queue and waiting for them to come in the mail, you can just watch them online, whenever you want. It's a spectacular idea, and as bandwidth becomes cheaper and the quality of this service gets better, I can't imagine how new HD formatted discs (i.e. Blue-Ray and HD-DVD) could compete. Between Netflix and services like Comcast's OnDemand, I think there's a good chance that neither of the new HD formats will really catch on.
Of course, the big issue here is movie selection. Netflix has a huge and diverse selection of movies, but only a small portion of them are available to watch online (there are currently around 3000 and most of those appear to be older films). I don't know if this is because they just launched the feature and will be adding more titles as time goes on, or because they need to get some sort of special clearances, etc...
The actual experience of using the Watch Online feature could probably improve a bit. They use Windows Media Player to drive it, and it includes some DRM (which I don't mind because, as far as I'm concerned, this is basically a rental. Plus, the feature doesn't cost anything extra.). It only appears to work in Internet Explorer 6+, which is really annoying. I'm used to people not supporting Opera (my browser of choice) for the latest and greatest web features, but to
only
support IE is absurd. The only other issue here is that my WMP installation appears to be wonky, as I can't seem to watch anything on full screen mode. The quality of the video could probably be a little better, but it works well enough for me (again, when watching a movie for free on my computer, I'm a little less picky.)
Anyway, it's a fantastic idea. It could use some improvements, and I'd love to see the selection of Watch Now movies expand drastically in the coming months (this would be particularly helpful with Anime series, I think, though I doubt that's high on their priority list), but for now, I'm just happy that I got a good service without even asking for it...

Sunday, July 08, 2007
The Greatest Movies I've Never Seen
On Wednesday, I pointed to several Top 100 movies lists, and mentioned that I'd like to compile my own list. Sitting down to do so, I almost immediately had the first 50. Getting another 25 wasn't that hard either, and now I'm somewhere around 75 movies. I could easily get to 100, I think, but I feel like I'd just be padding it out with mediocre films.
Compiling a top 100 list is a humbling experience, because when you start looking around, you see just how many films you
haven't seen
. This can be somewhat embarrassing until you realize that most amateur film buffs have a lot of holes in their viewing as well (well, at least, I hope so). That's one of the things I love about the Filmspotting podcast - they're not afraid to admit they haven't seen various classic movies, and they've even dedicated portions of
certain
shows
to listing out movies they should have seen (plus, a feature on their old show called "Cinecast Confessions" wherein one of the hosts owns up to not having seen a classic).
So questions are abound. Should I complete the top 100 now, or should I wait until I've had a chance to catch up with some of the greats? Either way, I'd like to at least make a list of movies I need to see. There are certainly a lot of so called "classics" that I really don't have much interest in seeing, but a lot of the movies below have elements that at least make me curious.
For anyone who wants to play along, I created
this list at the Lists of Bests website
. Come join the fun (or create your own list and let me know!)
Alfred Hitchcock: My list already has 4 Hitchcock films on it (2 of which are near the top), but as much as I love Hitchcock, I have to admit that I haven't seen many of his classic films. I do have a minor excuse though, as I started watching films from the beginning of his career (I even created a Hitchcock category and have made my way through the first 5 or 6 films). However, those films, while not actually bad, are nowhere near what he later achieved.
Akira Kurosawa: I've actually only seen one Kurosawa film - Seven Samurai (which I loved). I'm not sure why I've never moved on from there, but it's high time that I did! I'm putting the 4 I most want to see here, but there are probably 10 others that I should also watch...
Miscellaneous Classics: For whatever reason, I haven't been able to catch these films. All of them seem to be popular in the top 100 arena though, so I figure I should check them out... I've always thought some of them sounded interesting (i.e. Treasure of the Sierra Madre, The Wild Bunch, Rio Bravo, etc...), others I'm doing just so that I have some frame of reference for various types of films (i.e. Marx Brothers) without going into the level of detail I did with Hitchcock or Kurosawa. In no particular order:
Foreign Films: I've probably seen more foreign films than most people, but that's mostly contemporary stuff and I'm not sure how much of it would really qualify for a top 100 list. So here are a few foreign films I'd like to catch up with:
I considered adding another section for silent films, a period I'm not terribly familiar with,
and also more foreign films (there's not many on my list),
but there's
20
25 films on the above list, so that should keep me busy for a while. I'm still not sure if I should post my Top 100 list just yet. Even if I do hold off, am I really going to be able to make the judgement call on a film I just watched? It's tough, as a lot of films seem to get better with repeated viewings...
So that's
20
25 films, about 10 Anime series and dozens of books that I want to watch/read. That's a lot of consuming. I should get crackin'. One neat thing that I recently noticed is that Netflix has a
Watch Now
section where I can watch movies right away, without having to wait for the mail. Only a handful of the films above are available on that service, but it's a great idea (provided that the quality is there and that the experience is good, which is hardly a given).
Update:
Added some foreign films to the list. This brings us to an unweildy 25 films, but I wanted to broaden my horizons a bit...

Saturday, July 07, 2007
Movie Screenshot Game Round V: Presented in Glorious Extra Color
The game has been a modest success so far, though it still hasn't really broken out of my limited readership. I actually won the last round, so here's the next image. Before I go, the rules:
I'm going to post a screenshot from a movie. If you're the first person to guess the movie, you win!
If you win, you have to continue the game by posting a screenshot on your blog with the same rules outlined here (please link here as well). The winner of your round will host the next round, and so on.
If you don't have a blog (and if you don't want to start one), I'll host the next round as well (the screenshot should still come from the winner, if possible). If you do have a blog, but the winner of your round doesn't, you should host the next round too.
Once the winner posts their screenshot, I'll link to it from this post. Each winner needs to link to the next winner, and so on.
Only movies are eligible. No television shows.
If no one can figure out the answer within 3 days, then you've stumped the internet. If you want, you can give hints. If we still have no winner, then congratulations, you've won. Maybe I'll start a hall of fame or something. Give everyone the answer, and post another screenshot (or pass the baton to someone else, and link them). If you decide to host the next round, be nice, and post an easier screenshot. This game would be no fun if you keep posting random landscapes from obscure Italian films.
Without further ado: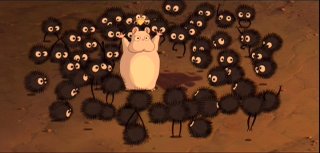 This should be relatively easy, especially for a certain segment of my readers... Here's the game so far:
Round 2: Alex stumps his readers and posts round 3.
Round 3: Spencer wins! Alex posts next round.
Round 4: I won!
Update:
We have a winner!
Fledgling Otaku has posted the next round
.

Friday, July 06, 2007
Friday is List Day: Second Time In Two Weeks
Well, what do you know. Maybe I can do list day more than once a month.
Screenshot game
update: We're on
Round 4
folks. Hop to it!
Random 10
Lynyrd Skynyrd - "Free Bird"
Eels - "Trouble With Dreams"
Crystal Method - "Keep Hope Alive"
U2 - "Where The Streets Have No Name"
Mansun & 808 State - "Skin Up Pin Up"
Cake - "Italian Leather Sofa"
Clint Mansell & Kronos Quartet - "Summer Overture"
Radiohead - "Paranoid Android"
Pearl Jam - "Deep"
Moby - "God Moving Over The Face Of The Waters"
6 Cartoons I Loved When I Was a Kid (Off the top of my head)
G.I. Joe
Batman: The Animated Series
Tiny Toons/Animaniacs
Voltron
Duck Tales
Thundercats
That list could probably keep going on for a while...

Wednesday, July 04, 2007
Link to Someone New: Top 100 Movies Edition
A quick note: after a promising start, the
screenshot game
has stalled a bit.
Alex posted a screenshot
(update:
new screenshot posted, and we have a winner!
), but I have no idea what it is, and apparently neither do his readers. If you've got a keen cinematic eye, go check it out and see if you can answer it (if you get it right, you get to host the next round!) When I started the game, I was a little worried that something like this would happen. One of the perils of trying to start a meme on a low traffic blog, I guess. That's why my screenshot was so easy. I bet this could take off if it ever hits a reasonably high traffic blog.
In any case, it's time to make another attempt at escaping the echo chamber of blog reading that I've constructed around myself by linking to people I've never linked to before. The theme here is Top 100 movie lists.
Edward Copeland's Top 100: Inspired by the recently revised AFI list, Copeland tries his hand at putting together a top 100. Excellent work, complete with screenshots and even goes the extra mile by putting a description for each film. Excellent.
Damian's Top 100: Another top 100 list, also inspired by AFI and others like Ed Copeland. A very good list.
Lazy Eye Theater: My Hundred: Another great list and contains a lot of films that you probably wouldn't find on other lists (though several will definitely be on my list).
Also worth noting is
James Berardinelli's All-Time Top 100
, but I've linked him before. Compiling a top 100 list is a daunting task. I think I'll give it a shot, but reading lists like these always makes me realize how many of the "great films" I haven't seen. I've seen enough movies that I think I can put together a decent Top 100 list, but I've got a lot of backfilling to do if I want it to be as authoritative as some of these other lists...
The other challenge is how subjective to be. There are a lot of incredible films in terms of film techniques or
innovation
, but do they really belong on my list?
Citizen Kane
is an incredible film, and on any objective list, it should probably be somewhere near the top. But should it be on my list? I recognize the greatness of the film, and I got into it while watching it, but in the end, I didn't really connect with it the way I do with some of the films that will be at the top of my list. On the other end of the spectrum, I have an inexpicable love for
Phantasm
. While undeniably creepy at times, it's also a pretty bad film. Should either of those films be on my list? Who knows? Maybe filling up 100 slots will be harder than it seems, but I have a feeling that I'm going to have lots of honorable mentions...
I doubt I'll be able to compile a good list by Sunday, but you never know. Maybe I should start with the
cinecast
confessions
list: Movies I Can't Believe I've Never Seen.

Sunday, July 01, 2007
Movie Screenshot Game
I'm not in a writing mood, so let's play a little game. I'm starting it off, but if you win, you can continue the game. Here's how the game is played:
I'm going to post a screenshot from a movie. If you're the first person to guess the movie, you win!
If you win, you have to continue the game by posting a screenshot on your blog with the same rules outlined here (please link here as well). The winner of your round will host the next round, and so on.
If you don't have a blog (and if you don't want to start one), I'll host the next round as well (the screenshot should still come from the winner, if possible). If you do have a blog, but the winner of your round doesn't, you should host the next round too.
Once the winner posts their screenshot, I'll link to it from this post. Each winner needs to link to the next winner, and so on.
Only movies are eligible. No television shows.
If no one can figure out the answer within 3 days, then you've stumped the internet. If you want, you can give hints. If we still have no winner, then congratulations, you've won. Maybe I'll start a hall of fame or something. Give everyone the answer, and post another screenshot (or pass the baton to someone else, and link them). If you decide to host the next round, be nice, and post an easier screenshot. This game would be no fun if you keep posting random landscapes from obscure Italian films.
Update! Optional Rule: If you want, winners can "tag" 5 other bloggers they'd like to see post screenshots on their blogs. This rule was added in November of 2007 to see how it affected adoption of the game.
I guess that's a good start. I'm sure the rules could use some tweaking here or there, but we'll cross that bridge when and if we get there.
Let's kick things off with a ridiculously easy screenshot (click for larger image):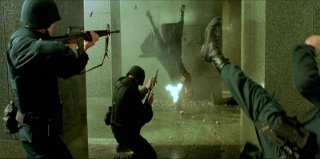 Please answer in the comments. First right answer wins! And yes, I know, this is probably too easy, but I'm interested to see how this game spreads (or if it speads).
Update:
We have a winner. Swipe for answer:
The Matrix
. Alex is hosting
Round 2
of the game!
Updates:
I'll keep a list of all future rounds here:
Update:
Added a new optional rule, and brought the game back from death with
round 24
.

« June 2007 | Main | August 2007 »