« November 2004 | Main | January 2005 »
Sunday, December 26, 2004
Is Patriotism Self-Organizing?
Scott
has been writing
a lot
about
patriotism
and recently emailed me suggesting that it would be interesting to consider that subject from the perspective of self-organizing systems.
Scott asks:
Are we genetically predisposed to work together in large groups for the common good of the group? How large the group? Are we genetically predisposed to organise ourselves into large nations?
One of the problems I have with discussions about patriotism is that there is no adequate definition for the term. In my mind, patriotism is more of an amalgam of several other, more general, properties of man. One such property is that human beings tend to work together in groups. Doing so gives the group greater overall strength. This occurs frequently in nature, with packs of wolves, flocks of birds, schools of fish, and so on. It is clear that there is some sort of evolutionary advantage to working together in a group. So this particular property of man acts as a selection mechanism. Those who stubbornly act alone cannot compete with others who are cooperating. Over the millenia, man has become more and more likely to work together in groups.
It's interesting to consider, though, that this property developed spontaneously. It is an emergent property of a self-organizing system - evolution. It's also important to remember that no single property exists in a vacuum. The property we're talking about, the tendency for humans to work together in groups, is interconnected with several other properties: communication skills, loyalty, physical strength, and so on. The point is that the group is configured more efficiently than the individual. An individual needs to be good at several activities in order to survive. But individuals who are part of a group can specialize, and other members of the group will take care of any shortcomings. Being a self-organized system, it is also constantly improving on itself. It does so through a continuous reproduction and selection process.
So what is the optimal size of the group? There is no answer to that question, but lucky for us, this is exactly the sort of question nature is designed to answer. Just as nature has selected people who work in groups, it will select groups which work more efficiently. Part of what makes a group efficient is the group's size.
It seems obvious that the larger the group, the better, but as the group gets larger, it begins to experience scaling problems. In a small group, communication and coordination between the members is important, but can be accomplished with relatively simple means. As the group gets larger, it becomes more important and much more difficult to coordinate. Governments and nations arose out of the need for a useful framework for large groups of individuals (and large groups of groups, as it were).
There are, of course, several competing forms of government. Some are better than others, but the important thing is that governments allow for large scale collaboration. They institute laws and regulations which are intended to make the group operate more efficiently. Currently, it seems that governments which employ democratic mechanisms are the most successful. Depending on your view of things, there is considerable room for improvement though. To quote Winston Churchill:
"Democracy is the worst form of government except for all those others that have been tried."
Large scale collaboration is difficult. It quite often produces poor results (see
groupthink
) and those who are adept at recognizing such properties can exploit them. However, it is a matter of tradeoffs. Human beings don't so much solve their problems as they trade one set of problems for another (with the hope that the new set is more advantageous than the old).
Humanity has imposed patriotism on itself
because
of nature (not in spite of it), and it has done so because all of the alternatives we have tried could not compete with a system that exhibits "patriotism." Scott writes:
I would suggest that the patriotic field will prove to be just as ephemeral as the first born sacrifice field. The fact that a field flourishes does not mean that the field is more beneficial to human survival than a field that does not flourish. Witness the ravages of war, racism, or the pollution of the environment. There exists in the space of potential fields, one which governs us to view humanity as a single species who share one fragile planet. Whether this field will ever find a hospitable environment remains to be seen.
Personally, I think patriotism is here to stay. It may be further refined by the evolutionary process, but it is quite clear that human beings benefit from working together in groups, and as long as that is the case there will exist people who seek to exploit such instincts. The real question here is whether the current situation is the most efficient possible configuration of the system, and how to improve the system of collaboration. The idea is to keep expanding the group's size until the point in which all of humanity is a member. To a certain extent, we are proceeding along those lines with things like international organizations and globalization, though there is, again, considerable room for improvement (this is, perhaps, because there is also considerable room for improvement in individual governments - the problems of the smal writ large). Patriotism would still exist in such a system, though it probably would not operate in the same way it does now.
Scott wonders whether or not his ideal world will ever find a hospitable environment. This is the wrong way to think about the problem. The environment is governed by nature which is continuously seeking to maximize efficiency. If it is hospitable to a specific configuration, it will gravitate towards that configuration (it would be an attractor).
Again, this subject is enormous, and the discussion above is a very high level analysis. Take it with a grain of salt. I'm still trying to get my head around the general concept of self-organizing systems. Part of that is that I see it operating everywhere, probably sometimes where it is not...

Sunday, December 19, 2004
The Final Baghdad Journal
The
final entry
in an exceptional series of articles written by a New York artist, Steve Mumford, on his experiences in Iraq has been posted. As always, it is compelling reading and depicts an Iraq not normally seen from the usual sources.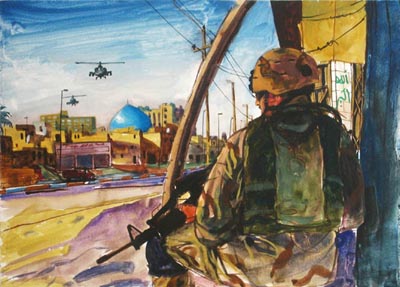 Apparently Mumford's work has been gathering more and more attention; those who have been following his work will be interested in this
NY Times article
(registration required) which provides a little background into Mumford's motivations and inspiration.
Now 44, Mr. Mumford had been comfortably embedded in the London and New York gallery worlds. He was known for paintings that seemed to pit two disparate Americas - wilderness and society - against each other by depicting, for example, a car seen against a sublime landscape or a wild animal about to pounce at a house. ... Mr. Mumford says his inspiration for the project stemmed directly from his admiration for the painter Winslow Homer, who was sent to the front during the Civil War to sketch for Harper's Weekly.

... Like Winslow Homer before him, Mr. Mumford spent most of his time at military bases, chronicling the routine, monotony and constant togetherness of soldiers' daily lives. Often they are seen dozing on cots, doing paperwork, watching television or playing cards. But he also shows them standing guard, attending neighborhood council meetings, searching homes and hunched inside tanks, tensely watching the road.
The article mentions that this latest installment is unfortunately also the final one (though one wonder whether his newfound friendships with Iraqi artists will lead to further "journal" entries in the future). As always, it is an excellent read. Artnet has collected all of the
Baghdad Journals here
, if you're interested.

Sunday, December 12, 2004
Stigmergic Notes
I've been doing a lot of reading and thinking about the concepts discussed in my
last post
. It's a fascinating, if a little bewildering, topic. I'm not sure I have a great handle on it, but I figured I'd share a few thoughts.
There are many systems that are incredibly flexible, yet they came into existence, grew, and self-organized without any actual planning. Such systems are often referred to as
Stigmergic Systems
. To a certain extent, free markets have self-organized, guided by such emergent effects as Adam Smith's "invisible hand". Many organisms are able to quickly adapt to changing conditions using a technique of continuous reproduction and selection. To an extent, there are forces on the internet that are beginning to self-organize and produce useful emergent properties, blogs among them.
Such systems are difficult to observe, and it's hard to really get a grasp on what a given system is actually indicating (or what properties are emerging). This is, in part, the way such systems are supposed to work. When many people talk about blogs, they find it hard to believe that a system composed mostly of small, irregularly updated, and downright mediocre (if not worse) blogs can have truly impressive emergent properties (I tend to model the ideal output of the blogosphere as an information resource). Believe it or not, blogging wouldn't work without all the crap. There are a few reasons for this:
The System Design
: The idea isn't to design a perfect system. The point is that these systems aren't planned, they're self-organizing. What we design are systems which allow this self-organization to occur. In nature, this is accomplished through constant reproduction and selection (for example, some biological systems can be represented as a function of genes. There are hundreds of thousands of genes, with a huge and diverse number of combinations. Each combination can be judged based on some criteria, such as survival and reproduction. Nature introduces random mutations so that gene combinations vary. Efficient combinations are "selected" and passed on to the next generation through reproduction, and so on).
The important thing with respect to blogs are the tools we use. To a large extent, blogging is simply an extension of many mechanisms already available on the internet, most especially the link. Other weblog specific mechanisms like blogrolls, permanent-links, comments (with links of course) and trackbacks have added functionality to the link and made it more powerful. For a number of reasons, weblogs tend to be affected by
power-law distribution
, which spontaneously produces a sort of hierarchical organization. Many believe that such a distribution is inherently unfair, as many excellent blogs don't get the attention they deserve, but while many of the
larger
bloggers
seek to
promote
smaller blogs
(some even providing
mechanisms for promotion
), I'm not sure there is any reliable way to systemically "fix" the problem without harming the system's self-organizational abilities.
In systems where many people are free to choose between many options, a small subset of the whole will get a disproportionate amount of traffic (or attention, or income), even if no members of the system actively work towards such an outcome. This has nothing to do with moral weakness, selling out, or any other psychological explanation. The very act of choosing, spread widely enough and freely enough, creates a power law distribution.
This self-organization is one of the important things about weblogs; any attempt to get around it will end up harming you in the long run as the important thing is to find a state in which weblogs are working most efficiently. How can the weblog community be arranged to self-organize and find its best configuration? That is what the real question is, and that is what we should be trying to
accomplish
(emphasis mine):
...although the purpose of this example is to build an information resource, the main strategy is concerned with creating an efficient system of collaboration. The information resource emerges as an outcome if this is successful.
Failure is Important
: Self-Organizing systems tend to have attractors (a preferred state of the system), such that these systems will always gravitate towards certain positions (or series of positions), no matter where they start. Surprising as it may seem, self-organization only really happens when you expose a system in a steady state to an environment that can destabilize it. By disturbing a steady state, you might cause the system to take up a more efficient position.
It's tempting to dismiss weblogs as a fad because so many of them are crap. But that crap is actually necessary because it destabilizies the system. Bloggers often add their perspective to the weblog community in the hopes that this new information will change the way others think (i.e. they are hoping to induce change - this is roughly referred to as Stigmergy). That new information will often prompt other individuals to respond in some way or another (even if not directly responding). Essentially, change is introduced in the system and this can cause unpredictable and destabilizing effects. Sometimes this destabilization actually helps the system, sometimes (and probably more often than not) it doesn't. Irregardless of its direct effects, the process is essential because it is helping the system become increasingly comprehensive. I touched on this in my
last post
among several others in which I claim that an argument achieves a higher degree of objectivity by embracing and acknowledging its own biases and agenda. It's not that any one blog or post is particularly reliable in itself, it's that blogs collectively are more objective and reliable than any one analyst (a journalist, for instance), despite the fact that many blogs are mediocre at best. An individual blog may fail to solve a problem, but that failure is important too when you look at the systemic level. Of course, all of this is also muddying the waters and causing the system to deteriorate to a state where it is less efficient to use. For every success story like
Rathergate
, there are probably 10 bizarre and absurd conspiracy theories to contend with.
This is the dilemma faced by all biological systems. The effects that cause them to become less efficient are also the effects that enable them to evolve into more efficient forms. Nature solves this problem with its evolutionary strategy of selecting for the fittest. This strategy makes sure that progress is always in a positive direction only.
So what weblogs need is a selection process that separates the good blogs from the bad. This ties in with the aforementioned
power-law distribution
of weblogs. Links, be they blogroll links or links to an individual post, essentially represent a sort of currency of the blogosphere and provide an essential internal feedback loop. There is a rudimentary form of this sort of thing going on, and it has proven to be very successful (as
Jeremy Bowers
notes, it certainly seems to do so much better than the media whose selection process appears to be simple
heuristics
). However, the weblog system is still young and I think there is considerable room for improvement in its selection processes. We've only hit the tip of the iceberg here. Syndication, aggregation, and filtering need to improve considerably. Note that all of those things are systemic improvements. None of them directly act upon the weblog community or the desired informational output of the community.
They are improvements to the strategy of creating an efficient system of collaboration.
A better informational output emerges as an outcome if the systemic improvements are successful.
This is truly a massive subject, and I'm only beginning to understand some of the deeper concepts, so I might end up repeating myself a bit in future posts on this subject, as I delve deeper into the underlying concepts and gain a better understanding. The funny thing is that it doesn't seem like the subject itself is very well defined, so I'm sure lots will be changing in the future. Below are a few links to information that I found helpful in writing this post.

Sunday, December 05, 2004
An Epic in Parallel Form
Tyler Cowen has an interesting post on
the scholarly content of blogging
in which he speculates as to how blogging and academic scholarship fit together. In so doing he makes some general observations about blogging:
Blogging is a fundamentally new medium, akin to an epic in serial form, but combining the functions of editor and author. Who doesn't dream of writing an epic?

Don't focus on the single post. Rather a good blog provides you a whole vision of what a field is about, what the interesting questions are, and how you might answer them. It is also a new window onto a mind. And by packaging intellectual content with some personality, bloggers appeal to the biological instincts of blog readers. Be as intellectual as you want, you still are programmed to find people more memorable than ideas.
It's an interesting perspective. Many blogs are general in subject, but some of the ones that really stand out have some sort of narrative (for lack of a better term) that you can follow from post to post. As Cowen puts it, an "epic in serial form." The suggestion that reading a single blog many times is more rewarding than reading the best posts from many different blogs is interesting. But while a single blog may give you a broad view of what a field is about, it can also be rewarding to aggregate the specific views of a wide variety of individuals, even biased and partisan individuals. As Cowen mentions, the blogosphere as a whole is the relevant unit of analysis. Even if each individual view is unimpressive on its own, that may not be the case when taken collectively. In a sense, while each individual is writing a flawed epic in serial form, they are all contributing to
an epic in parallel form
.
Which brings up another interesting aspect of blogs. When the blogosphere tackles a subject, it produces a diverse set of opinions and perspectives, all published independently by a network of analysts who are all doing work in parallel. The problem here is that the decentralized nature of the blogosphere makes aggregation difficult. Determining a group as large and diverse as the blogosphere's "answer" based on all of the disparate information they have produced is incredibly difficult, especially when the majority of data represents opinions of various analysts. A deficiency in aggregation is part of where groupthink comes from, but some groups are able to harness their disparity into something productive. The many are smarter than the few, but only if the many are able to aggregate their data properly.
In theory, blogs represent a
self-organizing system
that has the potential to evolve and display emergent properties (a sort of
human hive mind
). In practice, it's a little more difficult to say. I think it's clear that the spontaneous appearance of collective thought, as implemented through blogs or other communication systems, is happening frequently on the internet. However, each occurrence is isolated and only represents an incremental gain in productivity. In other words, a system will sometimes self-organize in order to analyze a problem and produce an enormous amount of data which is then aggregated into a shared vision (a vision which is much more sophisticated than anything that one individual could come up with), but the structure that appears in that case will disappear as the issue dies down. The incredible increase in analytic power is not a permanent stair step, nor is it ubiquitous. Indeed, it can also be hard to recognize the signal in a great sea of noise.
Of course, such systems are constantly and spontaneously self-organizing; themselves tackling problems in parallel. Some systems will compete with others, some systems will organize around trivial issues, some systems won't be nearly as effective as others. Because of this, it might be that we don't even recognize when a system really transcends its perceived limitations. Of course, such systems are not limited to blogs. In fact they are quite common, and they appear in lots of different types of systems. Business markets are, in part, self-organizing, with emergent properties like Adam Smith's "invisible hand". Open Source software is another example of a self-organizing system.
Interestingly enough, this subject ties in nicely with a series of posts I've been working on regarding the properties of
Reflexive documentaries
,
polarized debates
,
computer security
, and
national security
. One of the general ideas discussed in those posts is that an argument achieves a higher degree of objectivity by embracing and acknowledging its own biases and agenda. Ironically, in acknowledging one's own subjectivity, one becomes more objective and reliable. This applies on an individual basis, but becomes much more powerful when it is part of an emergent system of analysis as discussed above. Blogs are excellent at this sort of thing precisely because they are made up of independent parts that make no pretense at objectivity. It's not that any one blog or post is particularly reliable in itself, it's that blogs collectively are more objective and reliable than any one analyst (a journalist, for instance), despite the fact that many blogs are mediocre at best. The news media represents a competing system (the journalist being the media's equivalent of the blogger), one that is much more rigid and unyielding. The interplay between blogs and the media is fascinating, and you can see each medium evolving in response to the other (the degree to which this is occurring is naturally up for debate). You might even be able to make the argument that blogs are, themselves, emergent properties of the mainstream media.
Personally, I don't think I have that exact sort of narrative going here, though I do believe I've developed certain thematic consistencies in terms of the subjects I cover here. I'm certainly no expert and I don't post nearly often enough to establish the sort of narrative that Cowen is talking about, but I do think a reader would benefit from reading multiple posts. I try to make up for my low posting frequency by writing longer, more detailed posts, often referencing older posts on similar subjects. However, I get the feeling that if I were to break up my posts into smaller, more digestible pieces, the overall time it would take to read and
produce
the same material would be significantly longer. Of course, my content is rarely scholarly in nature, and my subject matter varies from week to week as well, but I found this interesting to think about nonetheless.
I think I tend to be more of an aggregator than anything else, which is interesting because I've never thought about what I do in those terms. It's also somewhat challenging, as one of my weaknesses is being timely with information. Plus aggregation appears to be one of the more tricky aspects of a system such as the ones discussed above, and with respect to blogs, it is something which definitely needs some work...
Update 12.13.04:
I wrote some
more on the subject
. I aslo made a minor edit to this entry, moving one paragraph lower down. No content has actually changed, but the new order flows better.

« November 2004 | Main | January 2005 »