I stumbled upon
Kernunrex
's
annual
six
weeks
of
Halloween
posts
a bit late last year, so I only did
four weeks myself
. This year, I'm prepared. This is my favorite time of the year, and
like Kernunrex
, I think it's a great excuse to explore one of my favorite genres.
When else can you impersonate another person all day and not be arrested? On what other day would it be socially acceptable to decorate your yard with imitation corpses? Only during Halloween do hollow, burning fruit look good on your porch. Most of all, Halloween somehow makes most everyone in the country a fan of my favorite genre. One day just isn't enough for this type of fun; I make it six weeks.
Excellent. To start things off, I watched some
Friday the 13th
movies. I've seen most of them before, but mostly only in pieces.
Last year, I revisted the original
, this year, I've revisted the next three installments.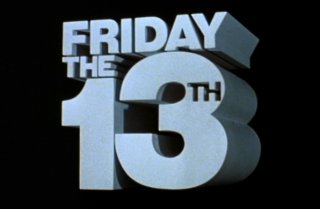 One of the most interesting things about the series so far is the surprising restraint that has been shown. Sure, the series is more violent and gory than, say, the original
Halloween
, but Jason barely appears in the first 30-40 minutes of most installments (and thus the kill count is surprisingly low), and you often don't see his mask or face until even later in the movie (in part IV, you don't see the mast until 1 hour and 9 minutes into the movie). Another interesting bit: there don't appear to be much in the way of guns in these movies. There are some projectile weapons, but it's mostly bladed stuff. Of course, later installments have lots of guns, but I'm surprised by the lack of guns in the first few installments. I've quite enjoyed revisiting the series so far, though I think I'll take a break to get some variety into the SWoH. Or maybe I'll just check out
Sleepaway Camp
. Heh. In any case, if you're a fan of the series, I highly recommend
Weasello's fun writeups on E2
. Well, that about wraps up week 1. Stay tuned next weekend for some Werewolf fuelled fun.
Also, since we're pretty early in the season, feel free to leave some recommendations in the comments. I have a bunch of movies in my queue, but nothing I consider very essential, so recommendations are welcome.