Sunday, March 22, 2015
Weird Book of the Week
Last time on Weird Book of the Week
, we pondered a sorta recursive centaur-thing. This time, we've got a mystery on our hands. Behold!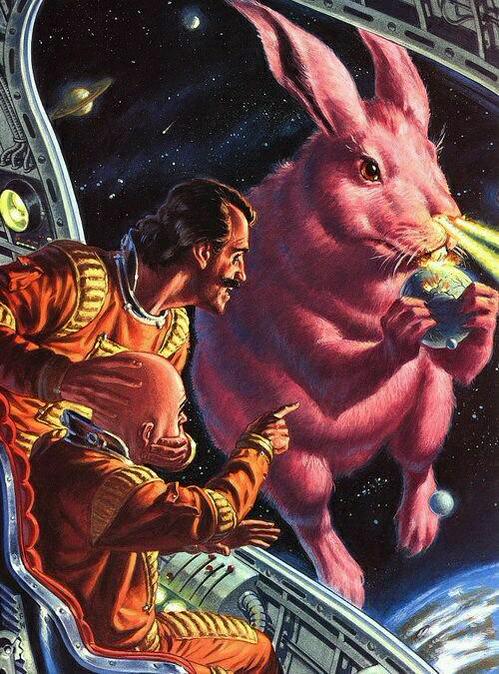 There are many things to marvel at in this illustration, most notably to my mind, the unconventional yet still quite effective choice to portray the laser beams emanating from the giant, pink space bunny's nostrils as opposed to the more traditional eye-beam. This is an illustration that just begs to be explained. Why is the mustachioed man attempting to silence the bald guy, can the Galactic Bunny hear things in space? What is it eating, a moon? Are those other moons floating around out there? What planet is this? What are those lasers actually pointed at?
I found this on Twitter a while back, on the
Pulp Librarian's feed
(which is just chock full of awesome pulpy book covers), but there is no title on the artwork, and no one mentions it in the responses (one person does ask, but there did not appear to be a response). I would really love to read the book this was created for. Barring that, I'd settle for a high quality print, because wow, just look at that thing. Sheer brilliance.

Sunday, March 15, 2015
Link Dump
More interesting stuff from the depths of the internets.

Wednesday, March 11, 2015
My 2015 Hugo Award Nominations
The Hugo Award Nomination Period ended last night, and miracle of miracles, I managed to get my ballot in on time. I suppose the value of posting this list
after
the deadline is questionable, but we're that kind of timely here at Kaedrin (meaning, not timely at all). But I suppose if you're looking to see what I enjoyed from last year's spate of Science Fiction, this is a pretty good place to start. For the most part, this is just an expanded version of the
list I posted in January
, and that commentary is generally just as relevant here (most of the comments here will be about the additions and possibly some general expectations). Additions are noted with an asterisk (*)
Best Novel:
A Darkling Sea
has a very outside chance (but I'm guessing it unlikely, and its buzz factor seems to be waning),
The Martian
suffers from an eligibility question (more on
why I'm still including it here
, though at this point, I think everyone's fears mean that even if is eligible, it won't get nominated because everyone is leaving it off their list), and
A Sword Into Darkness
is self-published mil-SF that the literati probably would hate. The two additions are considerably more likely to be nominated.
Annihilation
is a near certain shoe-in for a nomination (it's already got a Nebula nom) and pretty good odds on taking the prize. I just finished
The Three-Body Problem
myself and will probably write a full post about it at some point, but it's been steadily picking up steam since it's release in November. Unfortunately, a lot of mainstream buzz (like this
New Yorker article
) appear to be hitting a little too late to really influence the nomination process. On the other hand, it did garner a Nebula nomination and it ticks a bunch of typical Hugo checkboxes, so it's got a good chance. While I wasn't a huge fan, I would also predict Leckie's
Ancillary Sword
will grab a nomination because of the runaway success of
Ancillary Justice
(last year's winner) and generally positive reviews. Scalzi's
Lock In
has a decent chance, but I wouldn't be surprised if it gets left out either. I'm betting Correia will be one of the few beneficiaries of the Sad Puppy campaign, and possibly Butcher's
Skin Game
while we're at it. There's usually some sort of fantasy novel in contention as well, but I'm not too familiar with those...
Best Novelette
The Bonedrake's Penance
, which I guess has some mild buzz, and Yoon Ha Lee seems like a rising star type (I'm certainly a new fan). No idea what else would tickle fandom for these short fiction categories.
Best Short Story:
Tuesdays With Molakesh the Destroyer
by Megan Grey is not eligible for this year's awards (something about the magazine being a January 2015 edition that just happened to be available in December). It will, however, be eligible next year (at which point, I genuinely expect it to be nominated).
Covenant
seems to have buzz and
Hieroglyph
was a popular anthology, so it has that going for it.
Passage of Earth
also feels like it has some buzz. However, the short story category is infamously fickle, with votes spread out amongst the widest range of stories (many stories which could potentially be nominated aren't because they fall short of getting 5% of the overall vote). It's always something of a crapshoot. All I know is that I liked just about all of the short stories I read this year much better than any of the nominees from last year.
Best Dramatic Presentation, Long Form:
Coherence
and
The One I Love
are far and above my favorites of the year and I'm pretty sure they won't even come close to being nominated (both recommended though!). I swapped out
The Lego Movie
for
Interstellar
(though I think both of those will end up making the cut) I also wouldn't be surprised if movies I didn't care for do well, notably
Snowpiercer
.
Best Related Work:
A Report on Damage Done by One Individual Under Several Names
by Laura Mixon. It's placement in terms of categories is unclear though. George R.R. Martin apparently recommended her for Best Fan Writer, which didn't seem quite right, and I just plain forgot to add it to my ballot last night. Which is a shame, because that is some tour-de-force shit that Mixon put together there.
Best Professional Artist:
Best Fan Writer:
And that just about covers it. Official nominations will be announced, as usual, during the inexplicable Easter day timeframe, so look for some comments on the subject then.

Sunday, March 08, 2015
Adventures in Brewing - Beer #16: DIPA
Around this time of the year, I'm normally brewing up a batch of
Fat Weekend IPA
, a beer brewed for a specific gathering of portly individuals from across the country. Well, it looks like Fat Weekend will be scaled down a bit this year due to an inability to align schedules. A quorum of chubby friends will be traveling to New York, but we'll be spending most of our time at bars or restaurants, so no brew needed.
But just because it's not strictly needed doesn't mean I shouldn't make anything, right? I've actually been woefully inactive on the homebrewing front. My last brew, a
barleywine
that I ended up calling Trystero,
turned
out
ok, though it never carbonated in the bottle and I had to dump it into a keg, where I was able to force that carbonation, at which point it was rather great. Well, it's kicked and I need something else to put in there, so here goes nothing.
I started from the base
Fat Weekend IPA
recipe and amped it up a bit, now hitting DIPA territory (though still on the lower end of that scale):
Beer #16: Double IPA
Full-Batch (5 gallons)
March 7, 2015
12 oz. CaraPils (specialty grain)
8 oz. Crystal 20 (specialty grain)
6 lb. Muntons Extra Light DME
1 lb. Muntons Wheat DME
8 oz. Turbinado Sugar
1 oz. Simcoe (bittering @12.3 AA)
1 oz. Amarillo (flavor)
1 oz. Amarillo (aroma)
1 oz. Citra (aroma)
1 oz. Amarillo (dry hop)
1 oz. Citra (dry hop)
GigaYeast GY054 Vermont IPA Yeast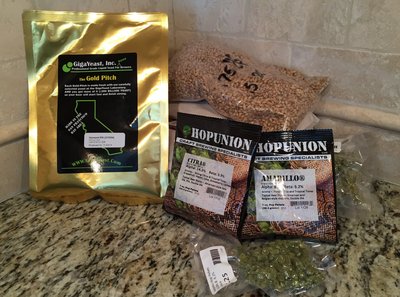 (Click to embiggen)
Several tweaks to the Fat Weekend IPA recipe are worth mentioning. First, the inclusion of wheat in the grain bill. Nothing fancy, just a pound of basic wheat DME (which is actually only 55% wheat). So this isn't going to be a white IPA or anything, but it will hopefully soften things up a little and provide a nice platform for the hops. Second, the hop schedule is tweaked a bit as well. Last year's brew turned out a bit too bitter, so I'm just sticking with 1 ounce of Simcoe this year. As with last year, Amarillo pulls flavoring duty and a blend of Amarillo and Citra will serve as the aroma and dry hop additions. I may actually grab some more hops for that dry hop addition, depending on what's available and when I can get to the shop...
Finally, the biggest change of all, the use of
GigaYeast GY054 Vermont IPA Yeast
. This is the infamous "Conan" strain of yeast that is used in
Heady Topper
(and seems similar to the yeast used by other Vermont heroes as well), and is finally available to homebrewers (albeit in limited, hard to find quantities). The general description sounds perfect. It's a mostly clean fermenting yeast that yields some slightly fruity, citrusy esters that are "amazing with aromatic hops" (like, hopefully, Amarillo and Citra). There are a few reasons I think Heady Topper enjoys the popularity it has, and one of the major ones is the yeast. The yeast costs a little more than your typical Wyeast smack pack, but it seems worth the stretch.
So the target here is an aromatic 8% ABV Double IPA. With attenuation in the 75-80% range, it won't be too thin, and with the adjustment to bittering hops, it shouldn't be too bitter. One of the things I've noticed from drinking so many Tired Hands IPAs is that they tend to be on the lower range of bitterness.
Anecdotal observations
indicate that their IPAs rarely exceed 60 IBUs (for reference, last year's IPA was somewhere on the order of 90-100 IBUs). This year's should be around 50 IBUs, which is actually a little lower than the style guidelines (which has a minimum of 60 for a DIPA). I'm hoping this will come out to be bright and citrusy rather than bitter and dank.
Original Gravity: 17.8 Bx, or 1.074 (exactly on target).
I have high hopes for this batch. It should be ready to drink right around the time my little break from beer ends, which is good timing. Up next, I'm thinking an easy drinking summer saison. Perhaps something of the more funky variety (I have some ideas about that, having learned from my previous attempt). All in good time. For now, I'm just trying to figure out what to call this batch. Going with the Conan theme, I was thinking Crom, but that might be too simplistic. "The Enigma of Steel" sounds like something Tired Hands would brew, a not entirely unwarranted comparison. Or perhaps I could combine the two and call it Crom: The Engima of Steel. But that sounds too ornate. This will bear some deep thought.
(Cross posted on
Kaedrin Beer Blog
)

Wednesday, March 04, 2015
SF Short Story Review, Part 1
I was pretty disappointed by last year's Hugo slate of short stories, so I wanted to make sure I read enough stories this year to nominate worthwhile stuff. Of course, the short fiction categories are infamously fickle and don't enjoy quite as much in the way of convergence as the novels do (meaning that a very wide array of stories are nominated with little chance of any individual story standing out from the crowd - this is why there often isn't a full ballot nominated, as many of the contenders never reach the 5% threshold needed to make the Hugo ballot). The good news here, though, is that I enjoyed almost all of the stories in this post a lot more than almost any of the stories nominated in short fiction categories last year. Go figure. That being said, I will probably only nominate a couple of these because there's only so many slots...

Sunday, March 01, 2015
SF Book Review, Part 19
As we near the Hugo nomination deadline, I have been surprisinly lax in my reading. That being said, I have made pretty good progress in terms of reading
books I thought might be worthwhile
, even if I won't end up nominating most of them. I'm going to make a last minute push for a couple books and/or stories though, so we'll see (nomination deadline is March 10). Here's some stuff I've read recently:

Wednesday, February 25, 2015
Link Dump
Extra delicious, yummy links for your enjoyment. Sorry, some of these have to do with food, so yeah, it's on my mind. Crunchy!
* What the hell Movable Type? The word "gangb@ng" (where the @ is an a) seems to throw a 403 error when I try to use it here. Just that one word. Or if I make it two words. "Gang B@ng". Stupid blogging software. First commenting doesn't work, now this bullshit.

Sunday, February 22, 2015
The Oscars
The funny thing about the Academy Awards is that your opinion about them is pretty boring. You think the Oscars are just a cynical circle jerk of self-satisfied Hollywood elites? Boring! You're outraged at [insert snub here]? Super fucking boring! You're genuinely excited about seeing films receive the recognition they deserve? You are both naive
and
boring! But the one thing that unites us all is the abject hatred of the short films categories. I think we can all agree on that.
In all seriousness, I have fun watching the Oscars. Probably more because I see it as an opportunity to mock celebrities and drink a bunch of alcohol, but still. Oh, and predictions! Back in the day, I used to do this thing called "liveblogging". For you young whipper snappers out there, back in the dark days before Twitter, people would just update their blog every 2 minutes during an event like the Oscars. A few years ago, I finally got with the times and took it all to Twitter. And to be honest, I'm not that funny, so I usually end up just retweeting a bunch of people who are funnier and more incisive than I am. But hey, if you want to chat, I'll be on
Twitter @mciocco
saying dumb crap. If, for some ungodly reason, you want to see a decade's worth of previous predictions and commentary on the Oscars, check them out here: [
2014
|
2013
|
2012
|
2011
|
2010
|
2009
|
2008
|
2007
|
2006
|
2005
|
2004
]
Alrighty then, enough preamble, let's look at predictions.
Twitter @mciocco
to see what I'm saying during the show itself. I used to put a little widget thing here that would embed my tweets but come on, I think you can click on a link, can't you?